 Bali safari
Bali safari

Details
Address:
Jalan Bypass Prof. Dr. Ida Bagus Mantra Km. 19,8 Kec. Gianyar, Bali 80551, Indonesia
A visit to the Bali Safari Marine Park is the perfect day trip for families with kids or for everyone that loves spending time around animals! The park is located in the Gianyar area and is home to over a thousand amazing animals and represents more than 120 species, including rare & endangered species such as the Komodo Dragon, Orangutan and the Bali Starling bird. Don't expect an ordinary zoo visit here, as the goal of the Bali Safari Marine park is to really focus on offering their visitors a real experience rather than just a 'walk around the park watching animals'.
Our Best Selling Tour
All-Inclusive

Bali Instagram Tour: The Most Famous Spots

From famous rice terraces, stunning waterfalls and breathtaking views of Mount Agung, our Bali Instagram Tour is perfect for travelers who want to experience the best of Bali's beautiful landscapes, as well as its other natural and cultural offerings. Visit a local coffee plantation, have fun on a jungle swing and enjoy a delicious lunch - all whilst being transported in a private car! Voted as our best tour in Bali 3 years in a row, this is must-take tour on your Bali vacation!
There are plenty of activities and tours for everyone and every age: the smallest ones will absolutely love the petting zoo, the interactive photo spaces, the animal shows, the waterpark and the mythical Bali Agung Show, while the bigger kids (at heart) will enjoy the night (and day) safaris, having breakfast with lions and the elephant back rides!
Conservation is and will always be an important element of wildlife parks and nature reserves. At Bali Safari and Marine Park, education and conservation is greatly emphasized through the various in-house breeding programs, shows and exhibits highlighting the current concerns for various species. And not only are they one of the leading wildlife conservations in Indonesia, they also ensure the highest standards of wellbeing are given to all their animals!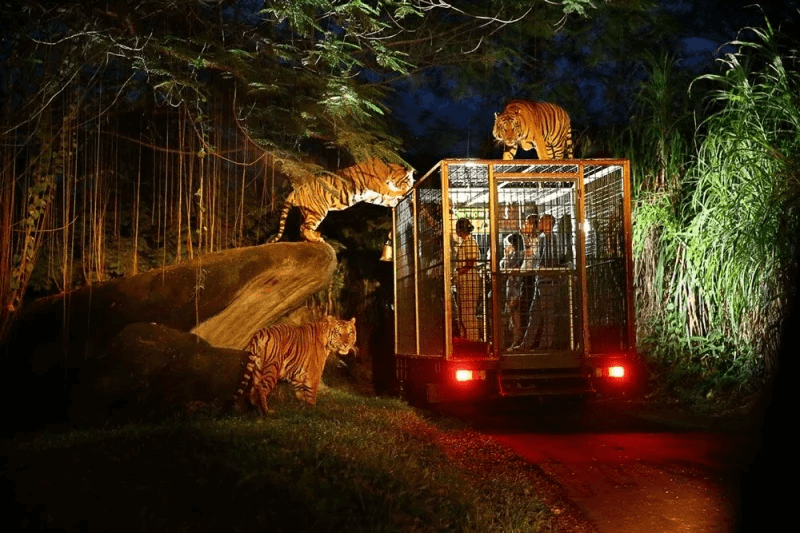 Best time to visit:
You will need a full day to cover the whole park, so it's recommended to come as early as the park opens. In the afternoon you can cool down in the waterpark. For those who want to escape the afternoon heat, one of your options is to take a night safari!
Our Top Trending Bali Tours
Best spot to take photos
The park has interactive photo spaces, where you and the little ones can enjoy posing with some fluffy and less fluffy animals!
How to get there
The park is located in Gianyar, an easily accessible place in Bali. If you' re coming in a group or family it's best to rent a private driver to drop you off or take a taxi. You can reach the park in just 40 minutes from Denpasar.
The park also offers shuttle services from certain places, including Nusa Dua, Kuta, Seminyak, Legian, Sanur, and Ubud.
Tips
Bring a bathing suit and a towel if you want to enjoy the water park!
Details
Address:
Jalan Bypass Prof. Dr. Ida Bagus Mantra Km. 19,8 Kec. Gianyar, Bali 80551, Indonesia