 Ubud Palace
Ubud Palace
Details
Address:
Jl. Raya Ubud No. 8, Ubud, Gianyar Regency, Bali 80571
Want to add a royal touch to your holiday? Visit the Ubud Royal Palace for a little magic on your next trip to Ubud. Located in the heart of Ubud, this modest palace has been a home of Ubud's royal family since the late-19th century and has witnessed the triumph of the Kingdom of Ubud. The palace used to be reserved only for the royal family, but now they made some sections open to the public, and it functions as a museum and center of Bali traditional arts.
Visit Ubud Palace on Our:
All-Inclusive

Balinese Local Experience Culture Tour

If you really want to immerse yourself in the local culture, our private Balinese Local Experience Culture Tour will be right up your street. This 9-hour, all-inclusive Bali tour takes you into the lives of the people. See gold, silver and wood being handcrafted and head to the local market to buy some souvenirs. The last visit of the day will be to Ubud Palace, the residence of Bali's Royal Family.
It' a great place to get a quick glimpse into the royal family's former daily life and Balinese culture and it's also the perfect location to snap some colorful pictures of the intricate architecture and lovely courtyards.
The main attraction of Ubud Royal Palace is the Balinese dance performances that are held almost every night, but this is not the only cultural activity that can be found here. The palace's stage and meeting halls also host international events, including the opening ceremonies of the annual Ubud Writers & Readers Festival.
You can easily combine Ubud Palace with a visit to one of the many other popular attractions in the area, such as: Monkey forest, Ubud market, Campuhan Ridge walk or Goa Gajah (The elephant cave).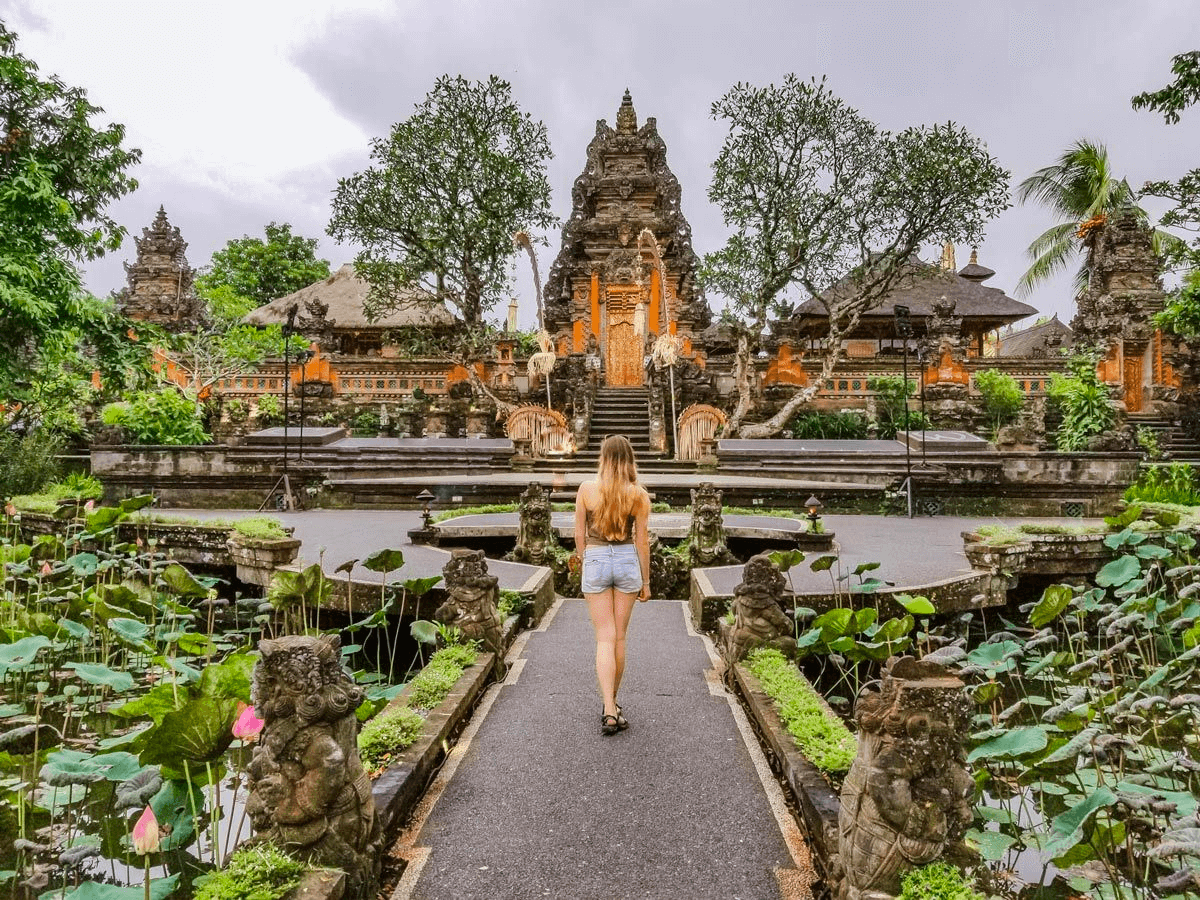 Best time to visit:
Only a small portion of the palace is open to the public, so it does get crowded quickly. Make sure to visit early before the crowds set in, so the earlier the better.
How to get there:
The Ubud Palace is located in the town center of Ubud, only 2-minute walk from Ubud Art Market. Being this central, you can easily walk here, if you are staying in Ubud centre.
Your other options are to rent a scooter or book a private driver or a guided tour that will take you here! From Ngurah Rai International Airport, the travel time is approximately 1 hour by car, depending on traffic.
Tips
Do not drink water from any of the tap waters you see.
There isn't any specific dress code to wear while visiting the Ubud Palace. However, it is always advisable and suggested to wear something that pays respect to the culture and spiritual importance of the place.
Details
Address:
Jl. Raya Ubud No. 8, Ubud, Gianyar Regency, Bali 80571