Best Islands Near Singapore
Best Islands Near Singapore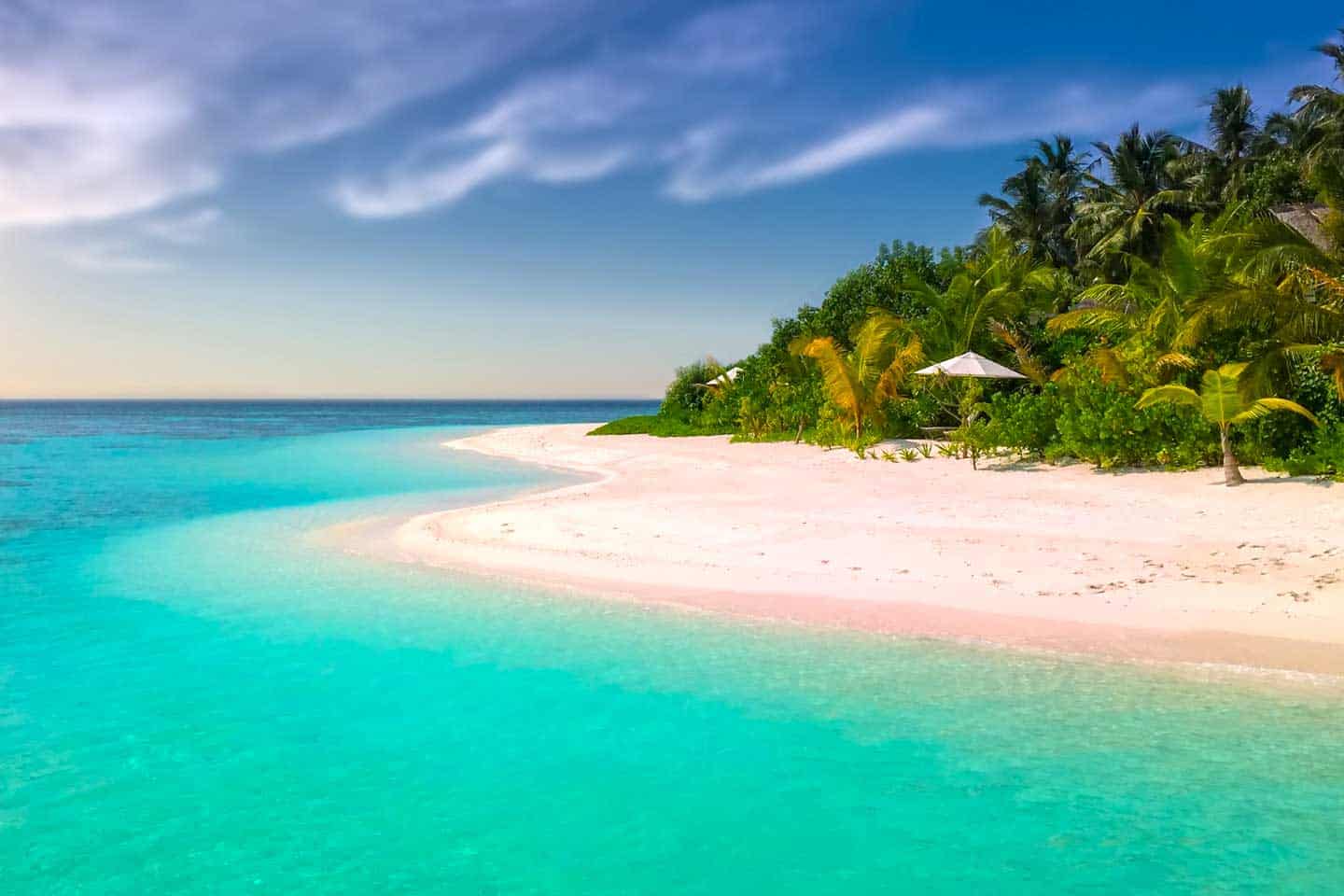 While Singapore may be small in size, don't let that fool you—it's bursting with attractions that can keep you entertained for days on end. But the hustle and bustle of city life can take its toll, and might leave you yearning for a break from the daily grind. Well, guess what?
We're giving you full permission to check out of reality and check into your own private island resort. While Singapore may be renowned as a global financial hub, it also serves as the gateway to a treasure trove of island paradises. With over a dozen stunning islands just a stone's throw away, Singapore offers a haven for those seeking an idyllic escape. And let's be fair, who doesn't love a delightful island getaway?
Our Best Selling Tour
All-Inclusive

Singapore Instagram Tour: The Most Famous Spots

If you're looking for a tour in Singapore to take you round some of the greatest and most instagrammable sights there are, then our Singapore Instagram Tour: The Most Famous Spots is a great place to start! With private transport and a friendly, English-speaking guide at your disposal, there'll be plenty of opportunity to get culturally immersed and capture some amazing pictures across the country with this Singapore trip. Experience some incredible sights like the Marina Bay Sands and the Helix Bridge, as well as many other famous landmarks that will create truly unforgettable memories; all you need to bring is some suntan lotion, a camera and your best smile on this once-in-a-lifetime private Singapore tour!
So whether you're seeking scenic beauty or thrilling excursions, these nearby islands provide an ideal weekend trip for travelers eager to explore beyond the city's borders.
In the realm of tourism, Singapore has continuously evolved and flourished, making it a sought-after destination for travelers from around the world. And that's not really a big surprise! The city has so much to offer in terms of architecture, food, shopping and famous landmarks such as the Garden By The Bay, The helix bridge and the Marina Bay Sands hotel.
And let's not forget all the different neighborhoods like Little India, Chinatown, The Muslim quarter etc. With so many things to do and see, it's hard to decide where to go first! That's why we've created the best private tours in Singapore, especially for those looking for an extra hand to tackle the city! We are proud to say our tours in Singapore were voted as some of the best in the city and we've helped many travelers over the years!
But let's get back to our main subject: the islands! We've handpicked the crème de la crème—the top 5 islands that promise an unforgettable experience. We're about to reveal our curated list of top-notch recommendations that will transport you to paradise!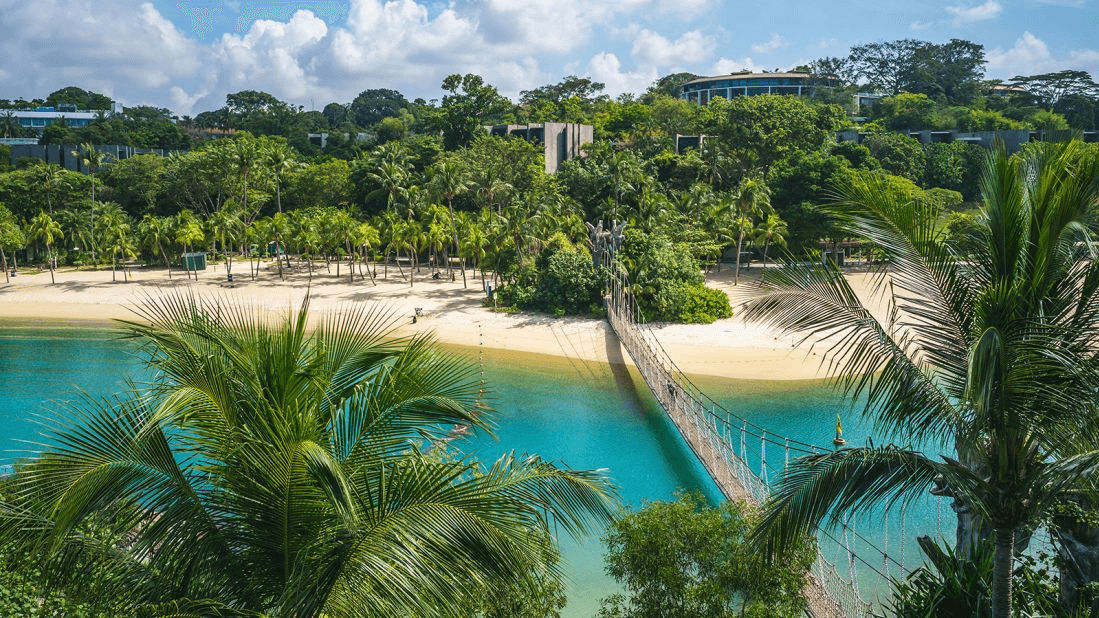 Sentosa Island: the closest beach to Singapore
Sentosa island is not just the closest beach to Singapore—it's practically a local institution and a go-to getaway spot for both locals and tourists alike. And the best part? You don't need a passport or a long flight to experience this tropical paradise! Would you believe it if we told you that you can reach Sentosa in as little as 15 minutes from Singapore city center? Yep, you heard it right—15 minutes! It's like a mini tropical paradise right at your doorstep!
Here, you can not only live out all your beachy dreams, but you can also wake up the adrenaline junkie in you, as the famous Universal Studios Singapore are located here!
But wait, there's more! You can dive into a mesmerizing underwater world at the S.E.A. Aquarium, where you can get up close and personal with sharks, manta rays, and a kaleidoscope of colorful fish. Perfect for families with kids!
And let's not forget about the epic nightlife scene on Sentosa! From swanky beach clubs with cool beats to funky bars with live music, the island comes alive as the sun goes down!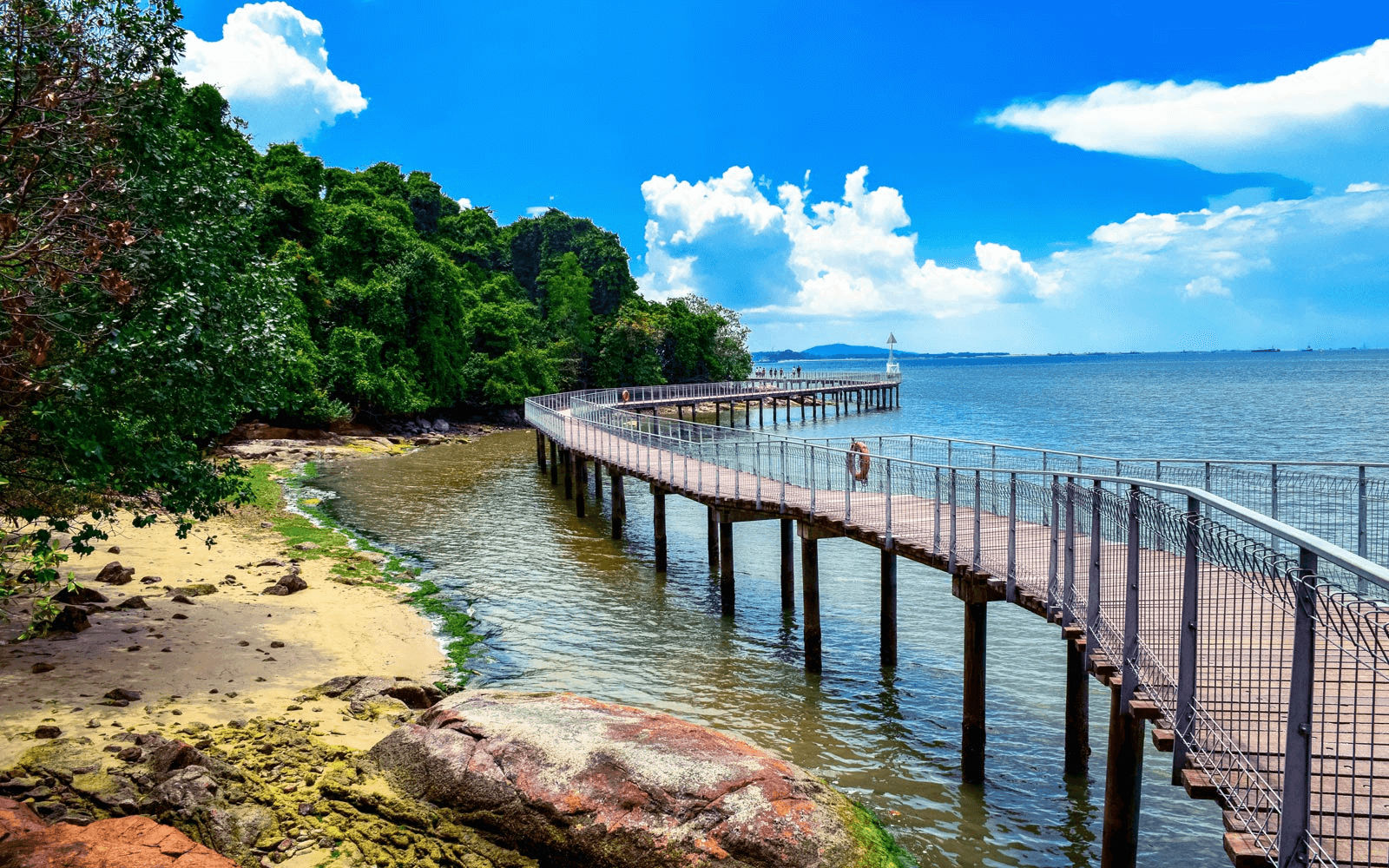 Pulau Ubin
Just a hop, skip, and a boat ride away, Pulau Ubin is here to fulfill your wildest dreams of embracing the great outdoors! Pulau Ubin is renowned for its rustic charm and untouched beauty. Rent a bicycle to explore the island or check Jawa Wetlands, a biodiverse haven teeming with unique flora and fauna.
Keep your eyes peeled for cheeky wildlife like monkeys, wild boars, and monitor lizards. Oh, and did we mention the delicious seafood? Indulge in a feast fit for a sea-loving adventurer at the local eateries that offer dishes like chili crab and black pepper prawns. Pulau Ubin is nature's playground, where you can unwind, reconnect, and soak up the slow island life!
How to get there
Palau Ubin is just a short 15-minute boat ride away from the main island of Singapore. Head to Changi Point Ferry Terminal and board a bumboat headed for the island. The boats run from 7am to 7pm daily and each boat takes a maximum of 12 passengers.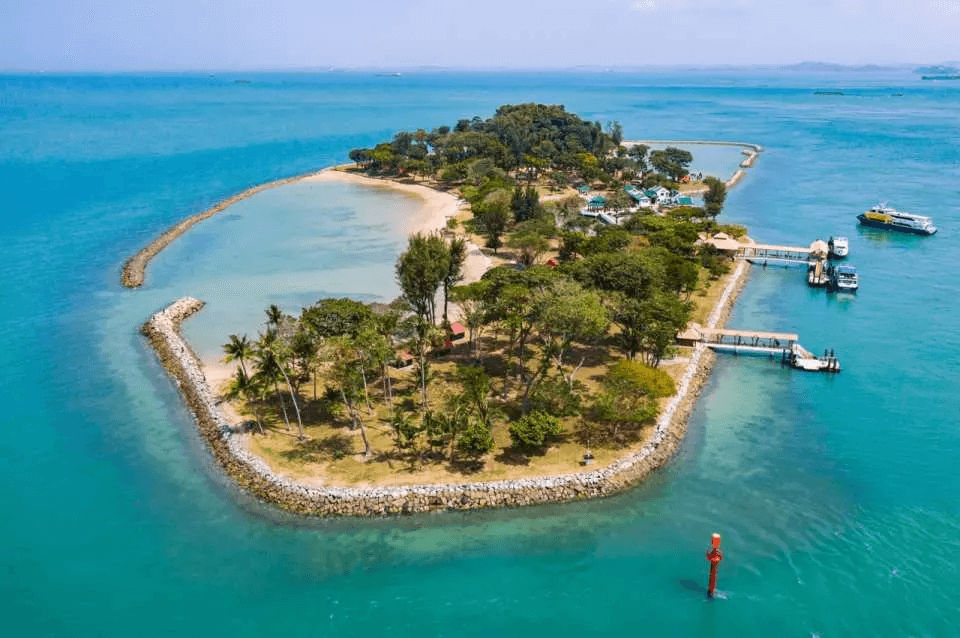 Lazarus Island
Psst! Have you ever dreamt of stumbling upon a hidden paradise? Well, you'll probably experience a pinch-me moment at Lazarus Island. Nestled among the Southern Islands of Singapore, this gem is all about pristine sandy shores and waters so turquoise you wouldn't think it's real! Lazarus Island, together with its neighboring island, St. John's Island, forms a tranquil sanctuary away from the bustling city life. The island offers a sense of exclusivity, with limited development and fewer crowds. Spend your day sun-kissed and carefree on the beach, swimming in the crystal-clear waters, or simply strolling along the shoreline. The vibrant coral reefs surrounding Lazarus Island are a haven for snorkelers and divers, offering a unique marine life and underwater wonders to explore!
How to get there
Lazarus island is just a quick 30-minute trip away (or 15 mins from Sentosa!). There is no direct ferry to Lazarus Island, so you'll have to take the ferry to St John's Island first, before walking 10 minutes to Lazarus Island over a 100-meter paved causeway.
To kickstart your Lazarus Island escapade, head over to Marina South Pier. You have two ferry companies to choose from: Marina South Ferries and Island Cruise. Both of them will whisk you away to the Southern Islands, including the breathtaking Lazarus Island.
If you're all about convenience and exploring multiple islands, Marina South Ferries is your go-to choice. With their regular departures, you can hop between St. John Island, Lazarus Island, Kusu Island, and Sisters' Island. They've got you covered for a fantastic island-hopping experience!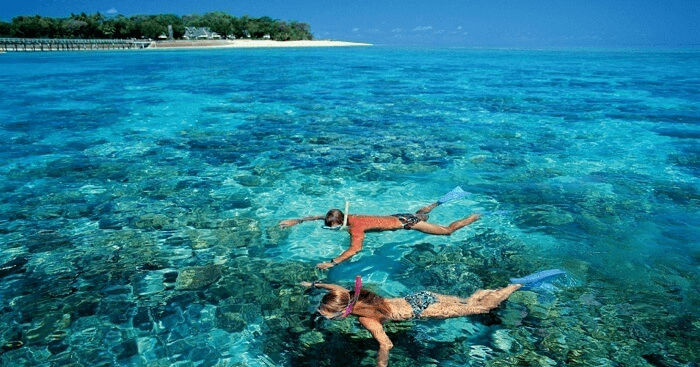 Pulau Hantu: Every diver's wildest dream
We've got an island that will make your underwater dreams come true—Pulau Hantu. Located off Singapore's southwestern coast, this hidden gem is an absolute paradise for divers. Known for its crystal-clear waters and rich marine biodiversity, Pulau Hantu is a playground for underwater explorations.
Dive into an underwater wonderland and prepare to be mesmerized by a kaleidoscope of colorful coral reefs and never seen marine creatures. Whether you're a seasoned diver or just dipping your toes into the world of scuba diving, Pulau Hantu offers an unforgettable experience.
Swim alongside tropical fish, spot graceful sea turtles, and witness the intricate beauty of coral formations up close. If diving isn't your cup of tea, don't worry! There are also many opportunities for snorkeling, allowing you to explore the underwater marvels from the surface.
How to get there
Pulau Hantu is only about 30 minutes in the South of Singapore and the ferry ride is an adventure in itself! There are no regular ferry services to Pulau Hantu, hence you will need to charter a boat (with a capacity of 12 pax) for the two-way journey. You can either charter a boat from West Coast Pier or Marina South Pier.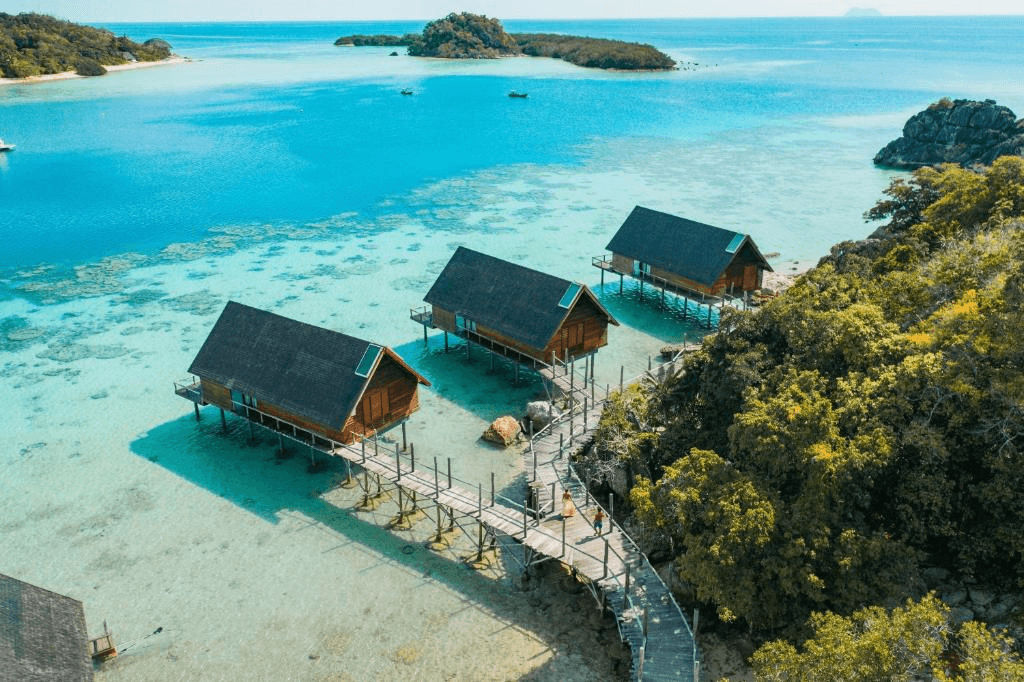 Bawah Reserve : the most beautiful place in the world
We've saved the best for last! If your schedule (and wallet) allows it, take a once in a lifetime trip to Bawah reserve. Bawah Reserve is a hidden gem nestled in the Anambas Archipelago of Indonesia. It's a private island sanctuary that promises a luxurious and immersive escape from the everyday hustle and bustle. The reserve consists of six untouched islands, each more breathtaking than the other!
One of the standout features of Bawah Reserve is its commitment to sustainability and conservation. The entire resort is designed with eco-conscious principles, blending harmoniously with the natural surroundings. From the luxurious overwater bungalows to the beachfront suites, every aspect of the accommodation is crafted with sustainability in mind, without compromising on comfort and style.
How to get there
First, hop on a ferry from Singapore to Batam. Once you reach Batam, it's time for a short road transfer to Batam airport, where you'll get on a private seaplane ride to Bawah Reserve! The journey spans more or less three and a half hours.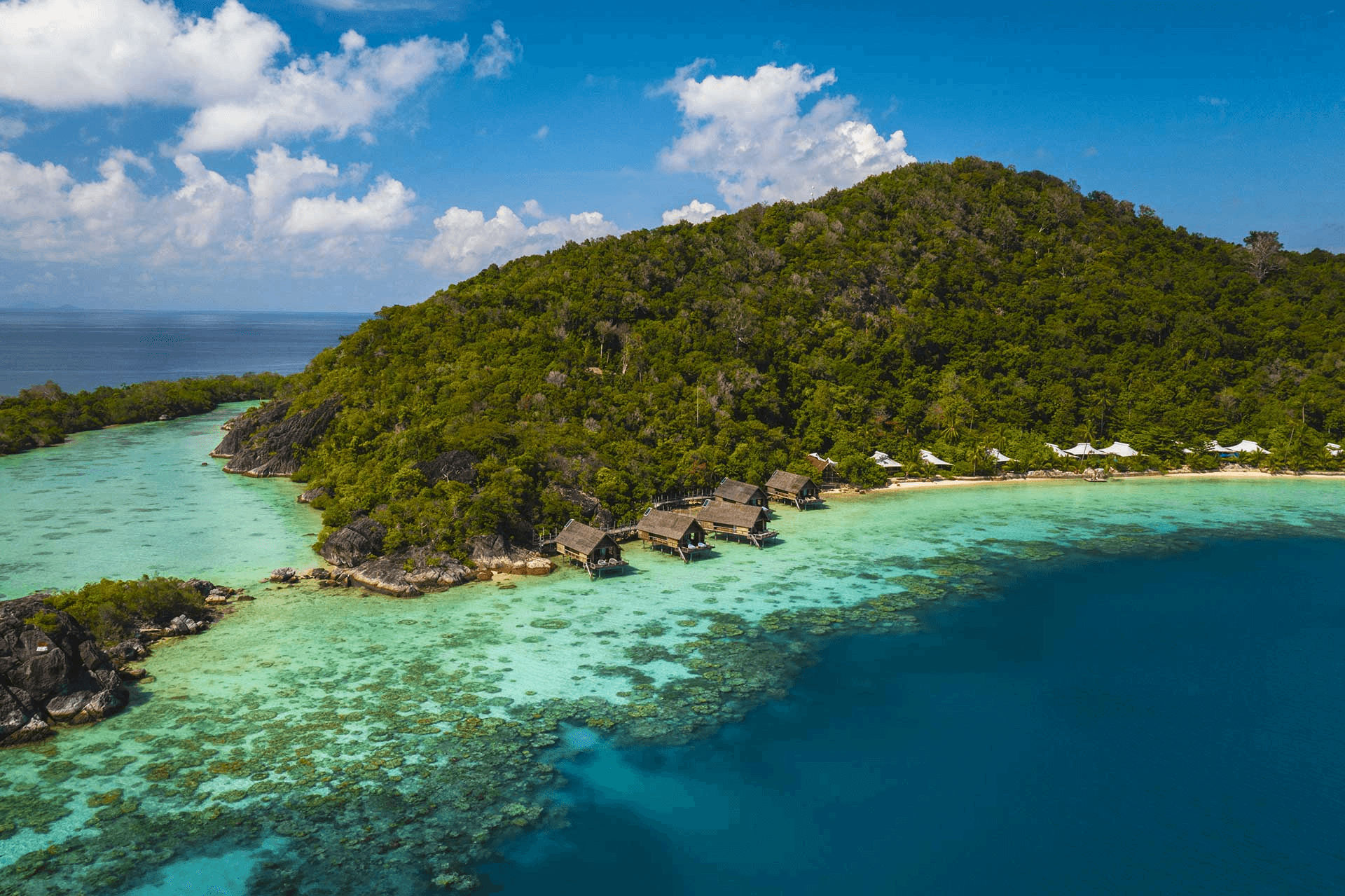 Conclusion:
And there you have it, a glimpse into the captivating islands near Singapore that will make your tropical dreams come true. From the rustic charm of Pulau Ubin to the thrilling attractions of Sentosa Island, and from the hidden paradise of Lazarus Island to the underwater wonders of Pulau Hantu, each island offers a unique and unforgettable experience.
So, the next time you're in Singapore, be sure to set aside some time to explore these hidden gems. But also don't forget tho visit Singapore city, as it is a unique place in south east Asia and can't be compared to any other city in this part of the world!
We hope this guide was helpful and you now feel 100% confident and ready to explore Singapore and its islands! And don't forget, if you need a helping hand to discover the city, make sure to have a look at our amazing tours in Singapore we offer! You can find them here!
Get your VACATION on!
Expertly curated emails packed full of vacation inspiration, travel tips and more!