Top 7 things to do in Singapore
Top 7 things to do in Singapore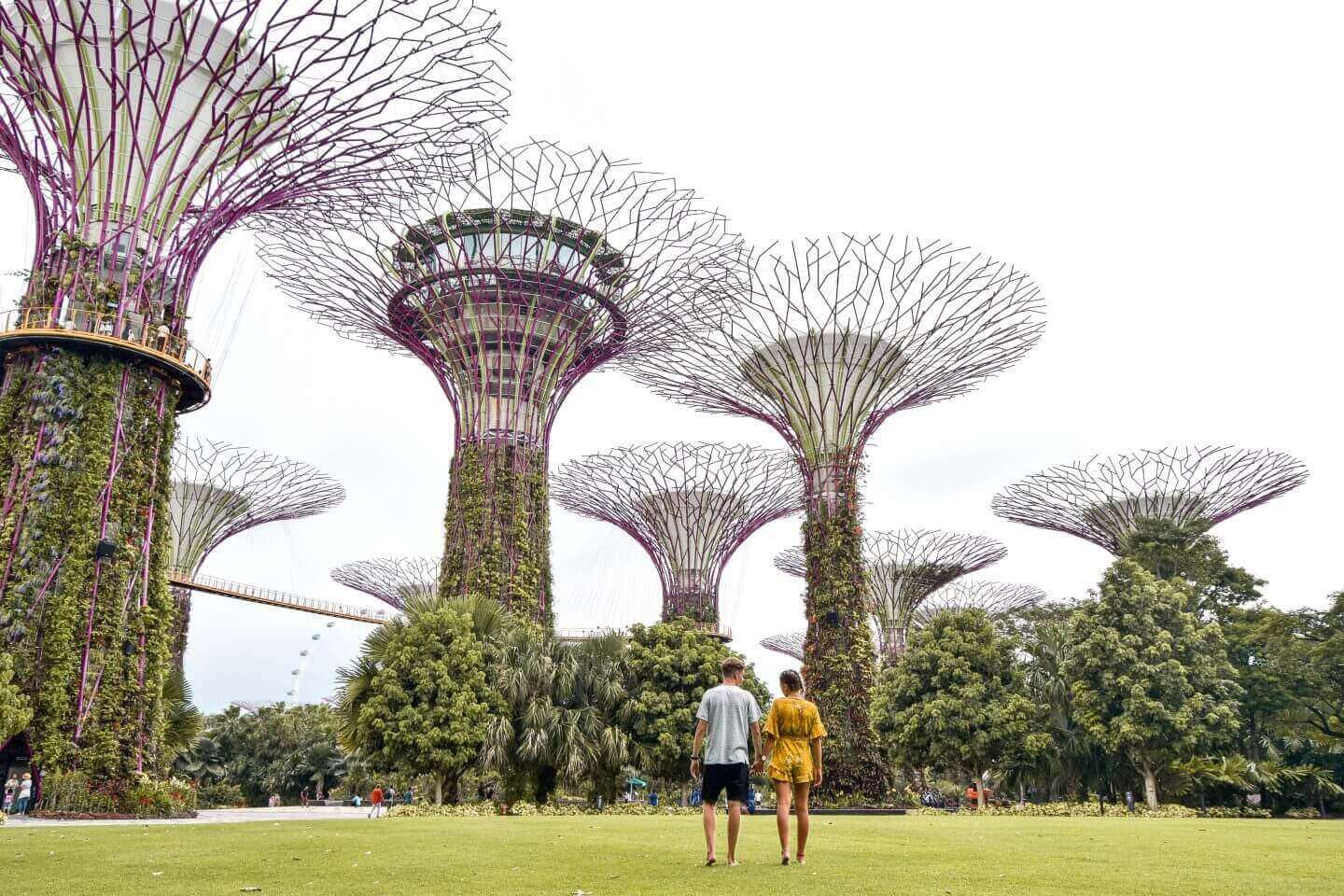 Singapore is easily one of the most interesting & unique cities in South East Asia and a place that turns dreams into reality! Sure, it may make your wallet groan a little with its price tag, but trust us, it's a superstar in every other way possible.
We're talking squeaky-clean streets that would make a germaphobe swoon, and a city plan so perfectly executed, it's like it was handcrafted by mastermind architects from another dimension. But that's not all…
Our Best Selling Tour
All-Inclusive

Singapore Instagram Tour: The Most Famous Spots

If you're looking for a tour in Singapore to take you round some of the greatest and most instagrammable sights there are, then our Singapore Instagram Tour: The Most Famous Spots is a great place to start! With private transport and a friendly, English-speaking guide at your disposal, there'll be plenty of opportunity to get culturally immersed and capture some amazing pictures across the country with this Singapore trip. Experience some incredible sights like the Marina Bay Sands and the Helix Bridge, as well as many other famous landmarks that will create truly unforgettable memories; all you need to bring is some suntan lotion, a camera and your best smile on this once-in-a-lifetime private Singapore tour!
What makes Singapore truly special is its enchanting fusion of the old and the new, where ancient traditions blend seamlessly with modern innovation. Brace yourself for a journey through time and tradition as you explore centuries-old temples that have witnessed the passage of history.
Historic temples, colonial shop houses and heritage sites coexist harmoniously with modern skyscrapers, innovative structures, and cutting-edge technology. This fascinating blend creates a cityscape that is simultaneously nostalgic and forward-thinking, where tradition meets modernity in an enchanting dance.
Amidst the urban landscape, Singapore will also surprise you with its abundant green spaces and commitment to nature. The city is aptly known as a "Garden City," boasting meticulously maintained parks, stunning gardens and a harmonious coexistence of concrete and foliage. These lush and serene spaces provide an escape from the urban hustle and bustle, inviting you to reconnect with nature's beauty.
Singapore is also a sustainability champion! Despite its modest size, the city-state is at the forefront of sustainable development. It is a shining example of environmental conservation, renewable energy adoption, and sustainable urban planning. Singapore inspires the world, demonstrating that sustainability and progress can go hand in hand.
And when it comes to safety, Singapore is unrivaled. It has earned a well-deserved reputation as one of the safest cities in the world! With low crime rates and a strong emphasis on security, you can wander the streets day or night with a sense of ease and tranquility.
As you can tell, this tiny country has a lot to offer! And we've created this blogpost to help you navigate the city like a pro! Please find below the top 7 best things to do in the city! Let's go!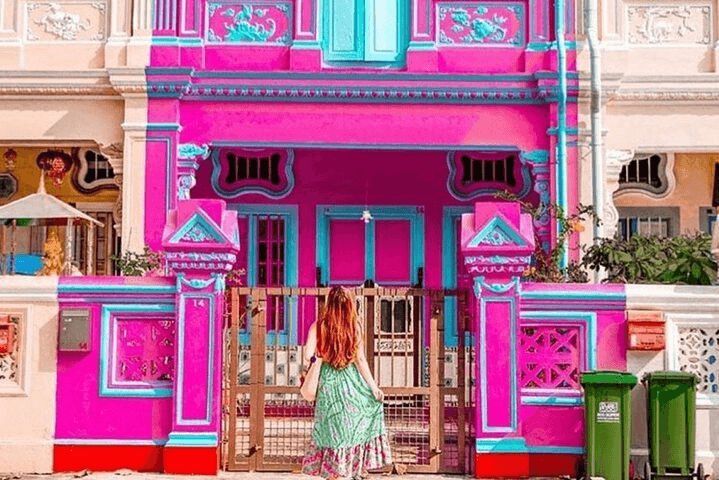 Take a Singapore Instagram tour
If you're short on time or you just want to see the city's top attractions in one day, make sure to book a Singapore Instagram tour! With Marina Bay Sands, Helix Bridge, Gardens by the Bay and Merlion Park on your itinerary, you'll capture the essence of Singapore's beauty, culture and architectural brilliance. Throughout the tour, your local guide will share insider tips and secrets to help you capture the perfect shots.
So whether you're a seasoned influencer or a casual Instagram enthusiast, a Singapore Instagram tour is the ultimate way to curate a stunning feed and unlock a treasure trove of picture-perfect moments that will leave your followers in awe!
You can book the Singapore Instagram tour and the tour guide will help take some amazing photos for you as well.
Go see the largest indoor waterfall in the world at Changi airport
Forget everything you know about airports because Jewel Changi is in a league of its own! This transportation hub is not just your average airport—it's a nature-themed wonderland packed with shopping, dining, and entertainment options, all designed by the legendary architect Moshe Safdie.
Prepare to be amazed as you encounter the breathtaking Rain Vortex, a majestic indoor waterfall that stands an impressive seven stories tall. And that's not all! You'll find yourself strolling through an indoor forest with suspended walkways.
With almost 300 stores to explore, shopping enthusiasts will be in their element. From trendy fashion boutiques to specialty shops, there's something to satisfy every retail craving. And here's the best part: Jewel Changi is so incredible that 20 airlines actually allow you to check in a full 24 hours in advance, just so you can maximize your time and soak up every moment of this game-changing airport experience.
So, if you find yourself on a layover or passing through Singapore, make sure you don't miss the opportunity to step into this remarkable oasis. Jewel Changi is a true game-changer, a place that's so popular and undeniably worth it that it's revolutionized the way we view airports!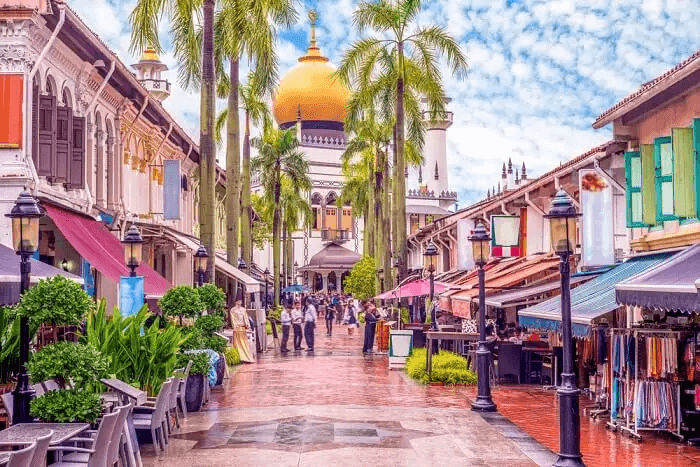 Explore Kampong Glam
Are you a hipster extraordinaire or a devout Muslim with a flair for adventure? Do you crave the quirky allure of unconventional modern art or find yourself enchanted by the timeless beauty of traditional Arab crafts? Are you on a quest for that Instagram-worthy snapshot or itching to unravel the captivating history of this district, from its scandalous red-light past to its profound religious significance? Or maybe, just maybe, your taste buds are yearning for a slice of the famous kaya Swiss roll from the legendary Rich & Good Cake Shop? If any of these get you nodding with excitement, then make sure to go and discover the magical realm of this delightfully eclectic neighborhood!
Kampong Glam will take you back in time to Singapore's vibrant Muslim quarter, a place steeped in history and bursting with character since the 1800s. But don't be fooled by its age, because this neighborhood has evolved into a mesmerizing blend of tradition and modernity, where the past and present dance hand in hand.
To get the best experience, we recommend you book a guided tour. This way you'll get lots of information and facts that you would otherwise miss out on! The local guide will feed your mind with well-preserved historical facts about the Singapore sultans, the Malay community, the bugis villagers, the old traditions and the golden years of the Malay entertainment industry.
Be sure to book your private Singapore Kampong Glam tour to see this amazing area.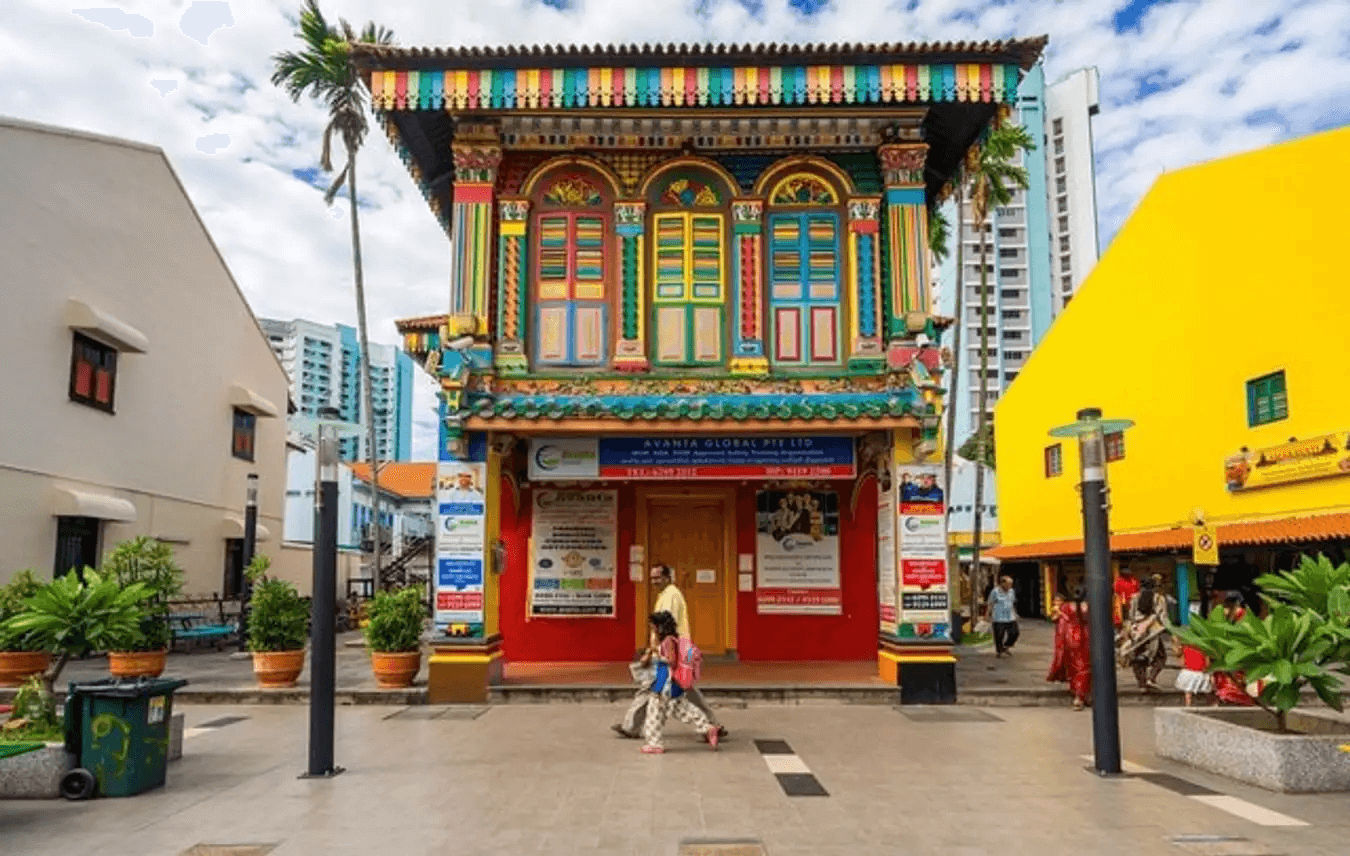 Visit Little India
Little India is like a little slice of India right in the heart of the city and you can't really leave Singapore without having explored this gem! Little India is a melting pot of traditions and faiths where you can explore Hindu and Chinese temples, mosques and churches all coexisting in perfect harmony. The architecture is mind-blowing, with intricate details and vibrant decorations! Make sure to stop at Sri Veeramakaliamman, one of the prettiest and busiest temples in Little India. This Hindu temple dates all the way back to the 19th century and is home to hundreds of tiny colourful statues blanketing the exterior temple structure!
Foodies can expect vibrant streets filled with mouthwatering aromas of delicious street food. We're talking about finger-licking curries, crispy dosas, and so much more!
And if you're in the mood for a shopping spree, you'll find wondrous wares — from sweets and spices to jewellery— at the Little India Arcade, while 24-hour shopping mall Mustafa Centre offers everything from electronics to groceries, aromatic spices and fragrant incense, beautiful textiles and intricate handicrafts, this place really has it all!
We explored Little India with a private guide and found that this is the best way to discover all the hidden gems! You can book our Singapore Little India tour and visit all the best spots.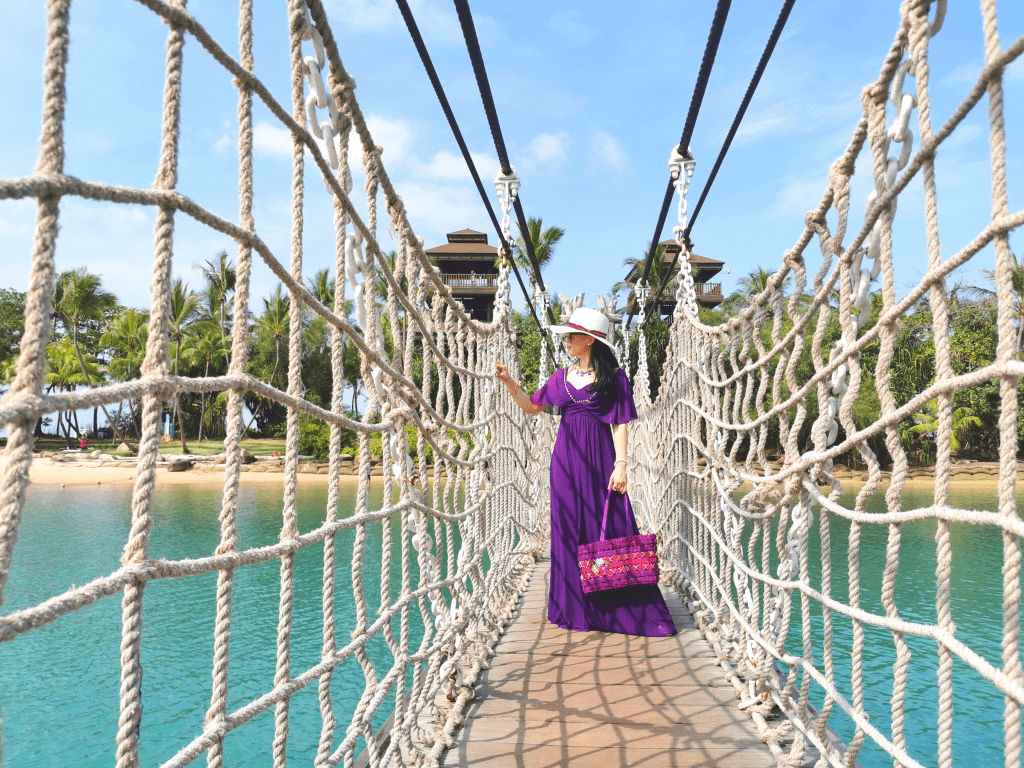 Relax at Sentosa beach
Who says Singapore isn't a beach destination? While Singapore may not be the first place that pops into your head when you think of sandy shores and crashing waves, Singapore's beach scene is a hidden gem that's just waiting to be discovered.
Sentosa Island is not just any ordinary island getaway—it's an action-packed playground with white sandy beaches, thrilling water sports, and luxurious beach clubs. You can relax under swaying palm trees, take a dip in the crystal-clear waters, or indulge in some beachside cocktails. And if you're feeling adventurous, you can even try your hand at surfing or stand-up paddle boarding!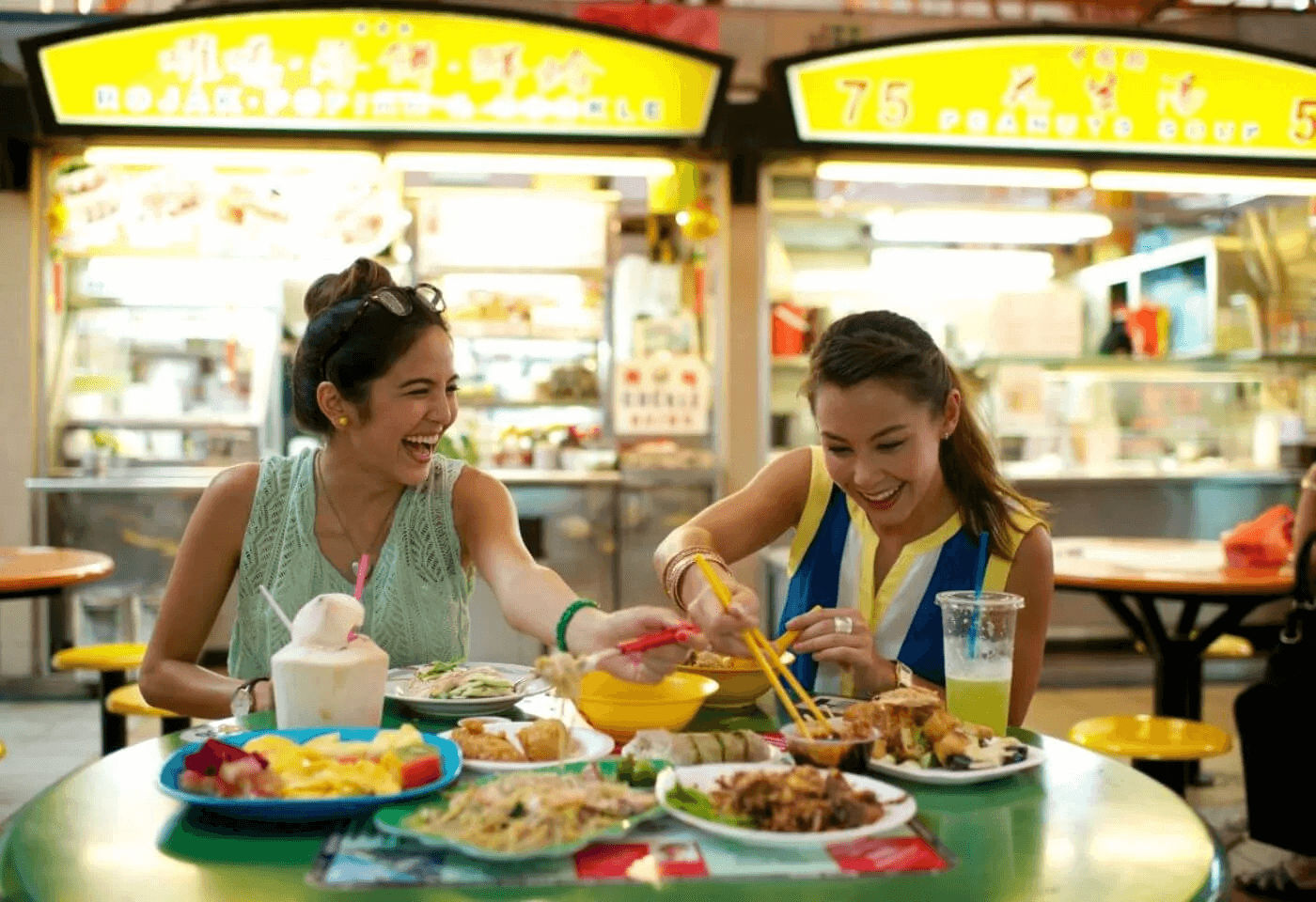 Take a food tour
Although Singapore is mostly known for its incredible skyscrapers, luxurious hotels and big shopping malls, it's really the food that makes it stand out! Singaporean cuisine is as ethnically diverse as its people, blending Malay, Chinese, Indonesian, Indian and western influences, which makes it a true paradise for foodies!
When it comes to eating in Singapore, you won't be disappointed as you will be spoiled with endless options: from traditional local cafes to luxurious Michelin-starred spots boasting all sorts of cuisines, you can never run out of extraordinary food in this city! Make sure to try the famous Chili crab, laksa, Nasi lemak, Hainanese Chicken Rice and of course…the Singapore Sling cocktail!
As it can be a mission to find the best spots to taste all this deliciousness, why not book a private Singapore food tour?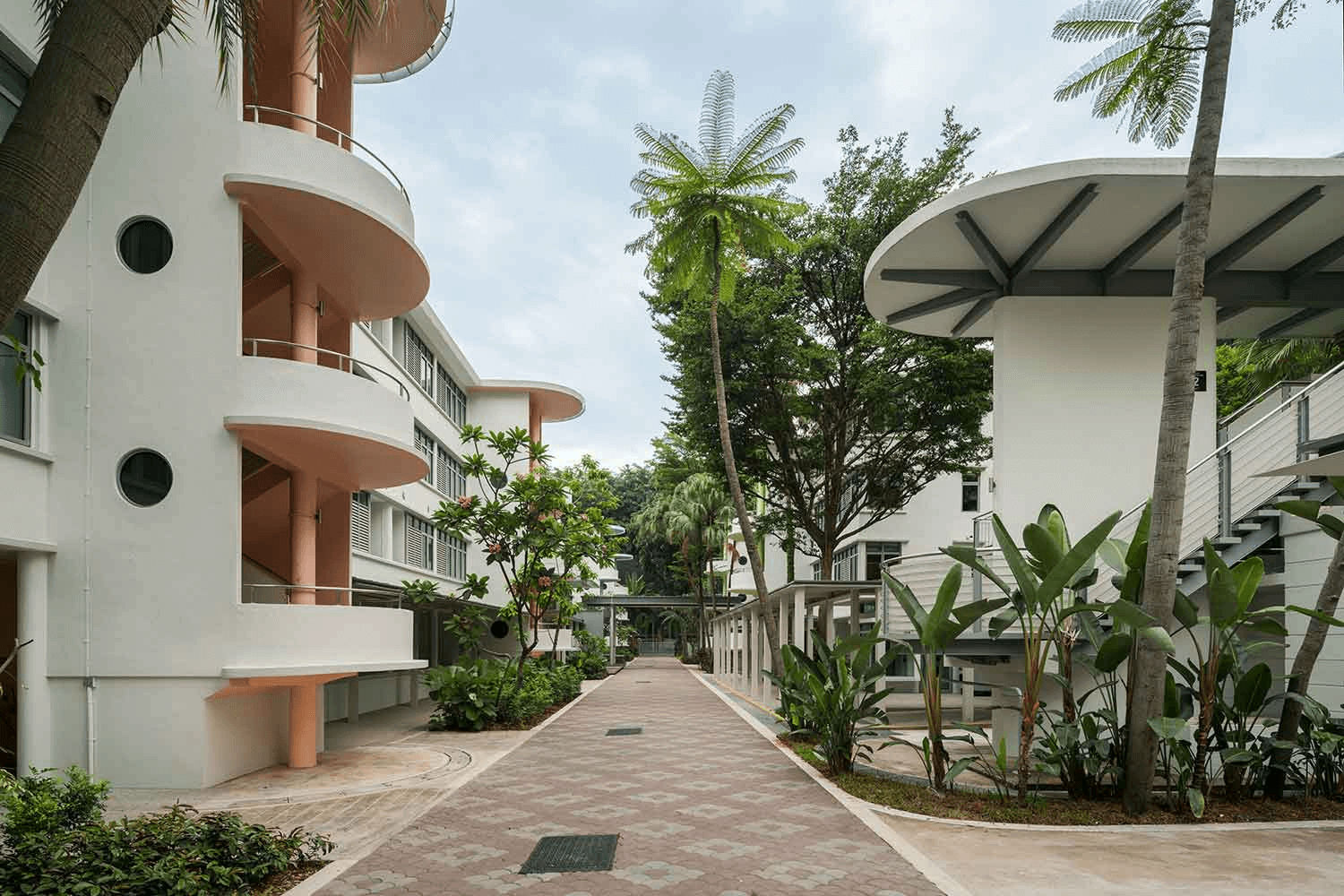 Discover Tiong Bahru, Singapore's oldest residential neighborhood
If you're seeking a slice of Singapore's past with a modern twist, Tiong Bahru is the place to be! Once an exclusive enclave where wealthy tycoons discreetly kept their mistresses, this neighborhood has transformed over the years into a vibrant and eclectic community! You can also take a Singapore Tiong Bahru tour so you can learn about the entire neighborhood.
This area has captured the hearts of younger Singaporeans and has become a magnet for a new generation of creative minds and budding entrepreneurs.They have breathed new life into Tiong Bahru, revitalizing the neighborhood with their innovative businesses. From charming cafes to trendy fashion boutiques, there's something for everyone to enjoy!
Get your VACATION on!
Expertly curated emails packed full of vacation inspiration, travel tips and more!