 Bali Swing
Bali Swing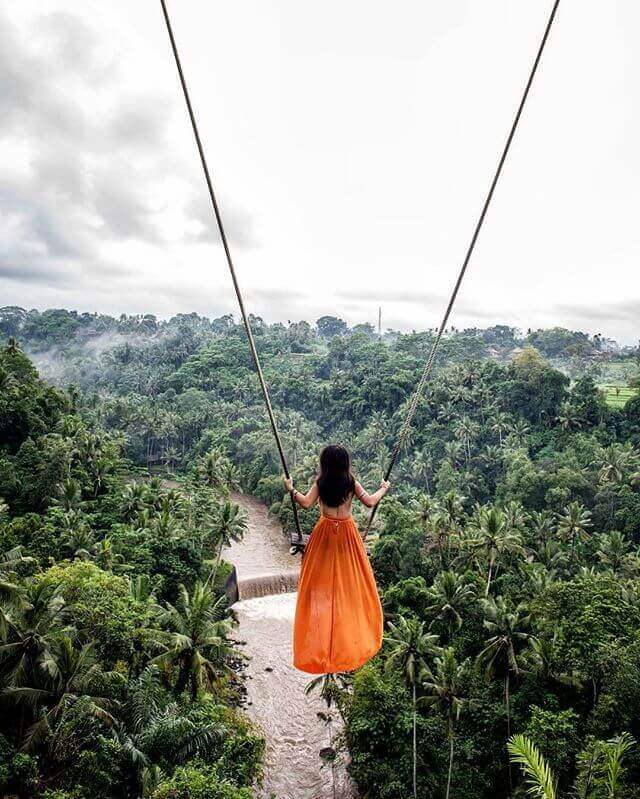 Details
Address:
Jl. Dewi Saraswati No.7, Bongkasa Pertiwi, Kec. Abiansemal, Kabupaten Badung, Bali 80352, Indonesia
Why you should go to the Bali Jungle Swing:
If you're looking for THE ultimate Instagram photo and the original experience, make sure to visit the official Bali Jungle Swing in Ubud. This swing has become such a phenomenon over the last few years that many other 'copycat swings' have popped up all over Bali. But the one we talk about in this post is the one & only original one!
Visit the Bali Swing on Our:
All-Inclusive

Bali Instagram Tour: The Most Famous Spots

From famous rice terraces, stunning waterfalls and breathtaking views of Mount Agung, our Bali Instagram Tour is perfect for travelers who want to experience the best of Bali's beautiful landscapes, as well as its other natural and cultural offerings. Visit a local coffee plantation, have fun on a jungle swing and enjoy a delicious lunch - all whilst being transported in a private car! Voted as our best tour in Bali 3 years in a row, this is must-take tour on your Bali vacation!
The swing's popularity began to peak thanks to social media and specifically instagram, when many influencers in bright flowy dresses started posting dreamy pictures of them being on a large swing, surrounded by epic jungle views.
In the park there are many swings to choose from with varying heights: you have the option of choosing 10m, 15m, 20m and even 78m!! It's up to you to see how brave you are :) But regardless of the swing you choose, you will still be guaranteed a pretty spectacular view unlike any other—one that overlooks the river and the lush tropical Ubud jungle.
Although you will be very high up in the sky, you don't have to worry about falling because you'll be safely harnessed before the ride. Safety at this park is always a priority and the swings are well maintained!
If you are not fond of hights, don't worry because there are other ways to enjoy the Bali Swing park: The Bali bird nests! They are another Instagram favourite and are included in the cost of your entrance ticket! And if you're wondering how to get into the nests (of which a few are perched high in a tree): the staff brings a ladder and after you're in the nest, they'll remove it again. They then will tie a rope around your waist for safety.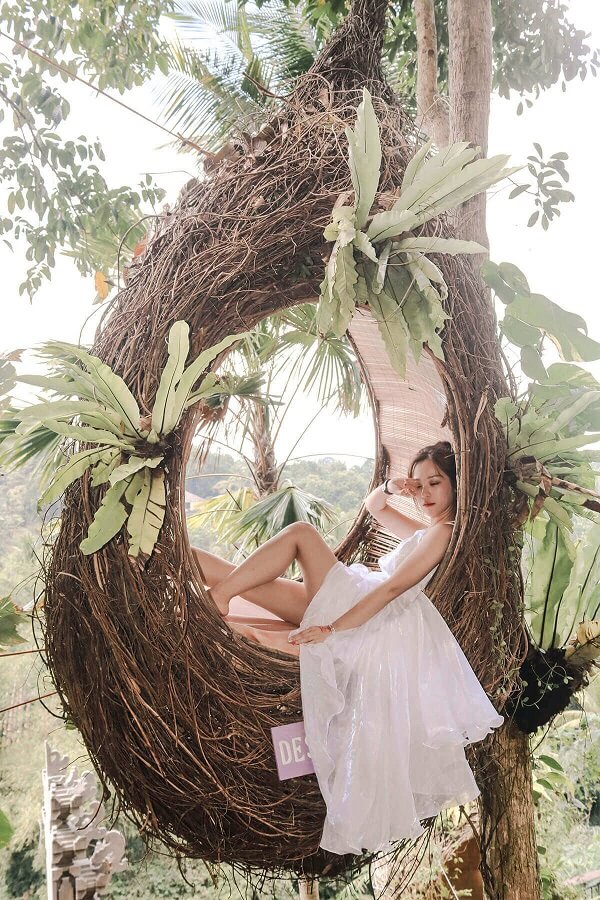 Bali Swing Packages:
Bali Swing Package A. 35 USD - Includes entrance fee, open bar (soft drinks, coffee, tea, water, cake), lunch buffet and 13 activities: 4 single swings (10m, 15m, 20m and 78m above ground), old-school tandem swing, 4 nests, butterfly garden, helicopter, heart-shaped rock in the jungle and huge stone over the edge above the valley with an amazing view of the canyon and waterfall.
Bali Swing Package B. 10 USD - Includes entrance fee, open bar (soft drinks, coffee, tea, water, cake), lunch buffet, butterfly garden, helicopter, heart-shaped rock and huge stone.
The best way to book the swing package is online or book a tour. It's easier and you know you will have your ticket ready so you can avoid the queues.
Our Top Trending Bali Tours
How to get to the Bali Jungle Swing:
The Bali swing park is 4km from the centre of Ubud. It is easily accessible by scooter, taxi or a GoJek car ride . There is also a free shuttle bus that departs from the Queen's of India Restaurant in Ubud (near the Ubud Palace).
Best time to visit the Bali Jungle Swing
As you can expect, the Bali Swing, being the most popular, receives the highest visitors throughout the year. The peak hours mean you have to wait for your turn in long queues to access the swings. The morning hours between 8 AM and 11 AM are the best time to visit because the sunlight is soft and therefor is optimal for great photos.
Best spot to take a picture:
There are tons of photo props and lookout points for you to take pictures. Have your pick at the swings, love hearts,giant bird's nests, waterfall and jungle views.
The Bali Swing now also offers a photography service. For 175k rupiah - roughly USD $12 - you can have a photographer shoot photos of you in the swings or nests! You can even rent a flowy dress too if you want to!
Tips:
Bring a change of clothes, preferably bright flowy dresses , It'll create a fantastic contrast against the lush Balinese jungle
Details
Address:
Jl. Dewi Saraswati No.7, Bongkasa Pertiwi, Kec. Abiansemal, Kabupaten Badung, Bali 80352, Indonesia