 Bali Swing
Bali Swing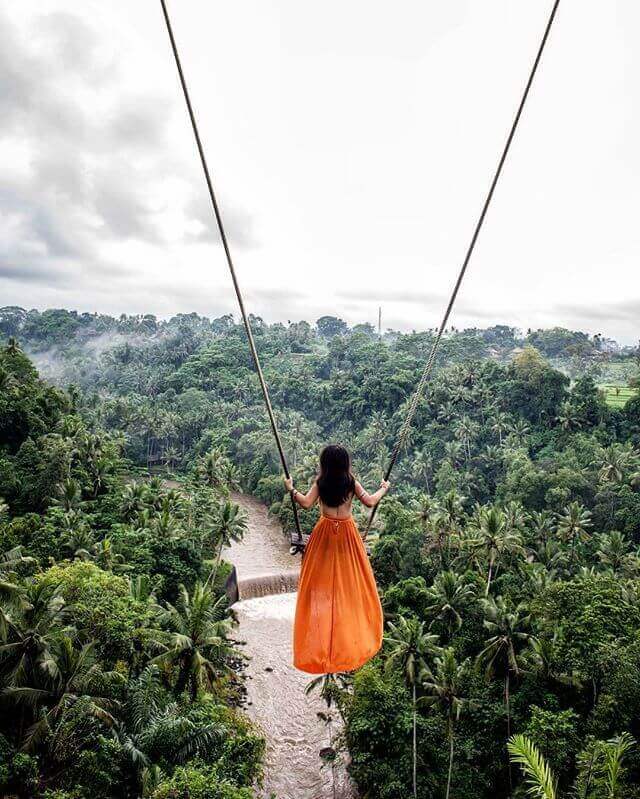 Bali Swing
Bali Swing
Attractions Details
| | |
| --- | --- |
| 📌 Address | Jl. Dewi Saraswati No.7, Bongkasa Pertiwi, Kec. Abiansemal, Kabupaten Badung, Bali 80352, Indonesia |
| ⏰ Opening Hours | 8AM-5PM |
| 💸 Entrance Fee | IDR 450,000 |
Find it on google maps
Why you should go to the Bali Jungle Swing:
If you're looking for THE ultimate Instagram spot combined with an authentic, unique experience, then the Bali Jungle Swing in Ubud should be on your list of Bali tours to take!
The swing has become such a phenomenon in Bali that 'copycat swings' have been popping up all over the place, but we think that the original Bali Swing is worth going to.
Visit the Bali Jungle Swing on Our:
All-Inclusive

Bali Instagram Tour: The Most Famous Spots

From famous rice terraces, stunning waterfalls and breathtaking views of Mount Agung, our Bali Instagram Tour is perfect for travelers who want to experience the best of Bali's beautiful landscapes, as well as its other natural and cultural offerings. Visit a local coffee plantation, have fun on a jungle swing and enjoy a delicious lunch - all whilst being transported in a private car! Voted as our best tour in Bali 3 years in a row, this is must-take tour on your Bali vacation!
The swing's popularity began to peak thanks to social media and specifically instagram, when many influencers in bright flowy dresses started posting dreamy pictures of them being on a large swing, surrounded by epic jungle views.
In the park there are many swings to choose from with varying heights: you have the option of choosing 10m, 15m, 20m and even 78m!! It's up to you to see how brave you are :) But regardless of the swing you choose, you will still be guaranteed a pretty spectacular view unlike any other—one that overlooks the river and the lush tropical Ubud jungle.
Although you will be very high up in the sky, you don't have to worry about falling because you'll be safely harnessed before the ride. Safety at this park is always a priority and the swings are well maintained!
If you are not fond of heights, don't worry because there are other ways to enjoy the Bali Swing park: The Bali bird nests! They are another Instagram favorite and are included in the cost of your entrance ticket! And if you're wondering how to get into the nests (of which a few are perched high in a tree): the staff brings a ladder and after you're in the nest, they'll remove it again. They then will tie a rope around your waist for safety.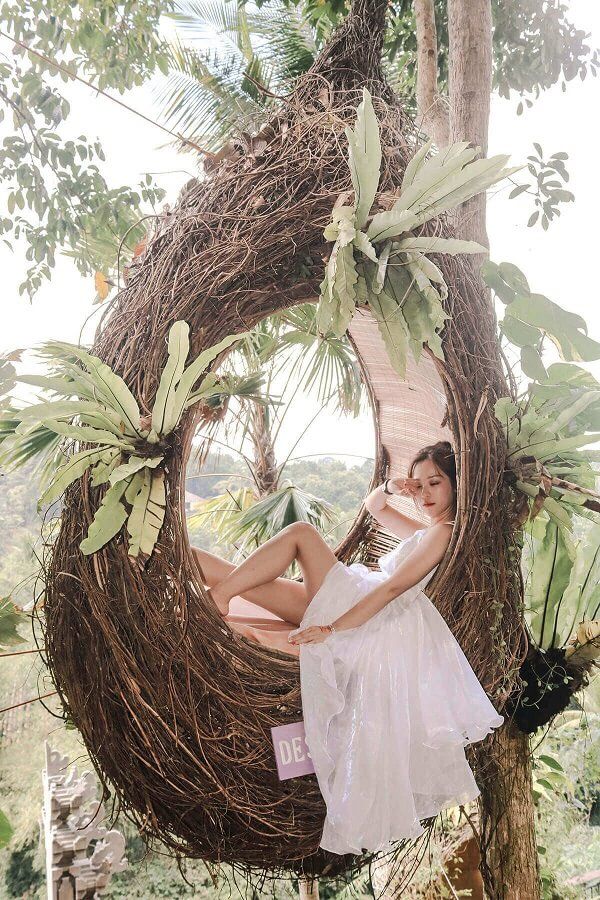 Bali Swing Packages:
Bali Swing Package A. 35 USD - Includes entrance fee, open bar (soft drinks, coffee, tea, water, cake), lunch buffet and 13 activities: 4 single swings (10m, 15m, 20m and 78m above ground), old-school tandem swing, 4 nests, butterfly garden, helicopter, heart-shaped rock in the jungle and huge stone over the edge above the valley with an amazing view of the canyon and waterfall.
Bali Swing Package B. 10 USD - Includes entrance fee, open bar (soft drinks, coffee, tea, water, cake), lunch buffet, butterfly garden, helicopter, heart-shaped rock and huge stone.
The best way to book the swing package is online or book a tour. It's easier and you know you will have your ticket ready so you can avoid the queues.
How to get to the Bali Jungle Swing:
The Bali swing park is 4km from the centre of Ubud. It is easily accessible by scooter, taxi or a GoJek car ride . There is also a free shuttle bus that departs from the Queen's of India Restaurant in Ubud (near the Ubud Palace).
Best time to visit the Bali Jungle Swing
As you can expect, the Bali Swing, being the most popular, receives the highest visitors throughout the year. The peak hours mean you have to wait for your turn in long queues to access the swings. The morning hours between 8 AM and 11 AM are the best time to visit because the sunlight is soft and therefore is optimal for great photos.
Best spot to take a picture:
There are tons of photo props and lookout points for you to take pictures. Have your pick at the swings, love hearts, giant bird's nests, waterfall and jungle views.
The Bali Swing now also offers a photography service. For 175k rupiah - roughly USD $12 - you can have a photographer shoot photos of you in the swings or nests! You can even rent a flowy dress too if you want to!
Tips:
Bring a change of clothes, preferably bright flowy dresses , It'll create a fantastic contrast against the lush Balinese jungle
The Best Copycat Swings in Bali
Precautions
Pregnant women and anyone suffering from heart conditions should avoid going on the swings
Bali has many adventurous activities but they are not always safe. The craze for Instagram photos of swinging out over a valley in front of a rice terrace vista has grown dramatically, and along with this growth, many private operators have constructed swings without proper regard for visitor safety. So make sure to pick an 'official' one. Maybe you'll pay a bit extra but at least you'll be sure it's safe!
Always wear comfortable footwear.
Make sure your swing provider follows all safety protocols.
Wear a harness at all times when you are sitting on the swing.
Uma Ceking swing
Uma Ceking is a rather new, big swing complex, located at the famous Tegallalang Rice Terraces in Ubud and it is by far our favorite swing in Bali! They also have an on-side restaurant where you can enjoy delicious local food and even a tasty cocktail after you had a go on the swing! For a small fee you'll get four swings and several nests, which you get unlimited use of. There are also packages available that include swing+food! The staff is known for being extremely attentive and friendly!
Location:290 Jalan Raya Tegallalang, Gianyar, Bali, Indonesia
Opening hours:Mon-Sun: 8am – 6pm
Website: Uma Ceking Resto A true Authentic Restaurant in Tegalalang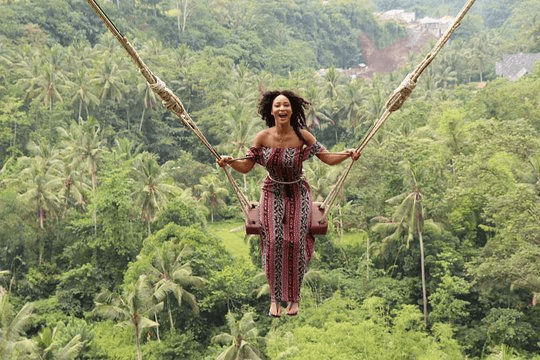 The Bali swing
The Bali swing might be the most famous swing park (and also one of the more pricier ones) in Bali. They are located around a 20 minute drive from Ubud center or about 1,5 hours from Kuta.
In the park there are 15 different swings to choose from with varying heights: you have the option of choosing 10m, 15m, 20m and even 78m!! It's up to you to see how brave you are :) But regardless of the swing you choose, you will still be guaranteed a pretty spectacular view unlike any other—one that overlooks the river and the lush tropical Ubud jungle.
Aside from the swings, they also offer several activities such as zip-lining, waterfall tours and rafting. There are also 4 large stones to pose on (yes, posing on stones is a thing). and 6 nests to pose in!
Good to know: Bali Swing operates a free shuttles from Ubud
Location: Jl. Dewi Saraswati No.7, Bongkasa Pertiwi, Kec. Abiansemal, Kabupaten Badung, Bali 80352, Indonesia
Opening hours: Mon-Sun: 8am to 5pm
Website: Bali Swing Ubud | Book Now @ Flat 30% Off (bali-swing.com)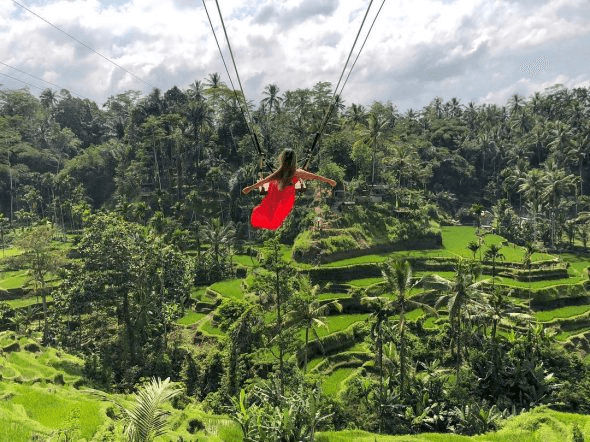 Alas Harum swing
Not far from the famous Tegallalang Rice Terraces, you'll find the agro-tourism area Alas Harum, which is set in a similar setting as Tegallalang and is definitely worth a visit!
Alas Harum offers many fun activities to choose from, such as swings (solo and tandem swings), seven types of bird nests, a dancing bridge, walk around the park, coffee tasting, zip-lining and the most recent addition, sky biking. The picturesque view around Alas Harum adds to the perfection of taking in the excitement of these outdoor activities. Attached to Alas Harum, you'll also find Cretya, a stunning day club with a restaurant and a very impressive pool, where you can unwind after a long day of sightseeing!
Location:Jl. Raya Tegallalang, Tegallalang, Bali, Indonesia
Opening hours: Mo-Sun: 8am – 6pm
Website:Alas Harum Agrotourism and Cretya Ubud by Alas Harum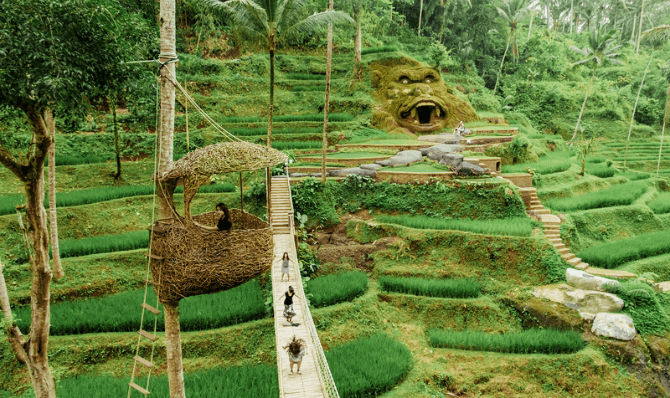 Wanagiri Hidden Hill Swing
The Wanagiri Hidden Hills are located in the lush green highlands of Wanagiri and Munduk village, north Bali and is home to some of the best viewpoints on the island! Originally the viewpoint used too be a few small road side warungs, set up as a rest stop for the locals to have a meal and a coffee with a view. Over the years it turned into a popular 'selfie' spot attracting tourists and locals from all over the island.
After paying for the entrance ticket, you will enter every photographer's dream as there as so many installations with breathtaking backdrops to take pictures from! You will also be surprised by how well maintained this place is and how professionally the locals are operating it.
There are many locations and props for you to choose from and each location offers a different fee structure. Some attractions don't require an entrance fee but you might have to pay for the usage of the prop instead. Each location has different props such as: a variety of different swings, a wooden boat, a large bird nest, a sunflower, a butterfly, a heart-shape bamboo sitting area etc... Depending on the location that you choose, the props will face both Lake Buyan & Lake Tamblingan .
The staff is very helpful and they will help getting you the perfect shot! To make things even better, they also have a little shop where you can rent dresses to wear for the photos!
Location:Jalan Munduk - Wanagiri, Wanagiri, Sukasada, Pancasari, Kec. Sukasada, Kabupaten Buleleng, Bali
Opening hours: Mon-Sun: 6.30 am-7pm
Website: Hidden Hill – wanagiri (visitwanagiri.com)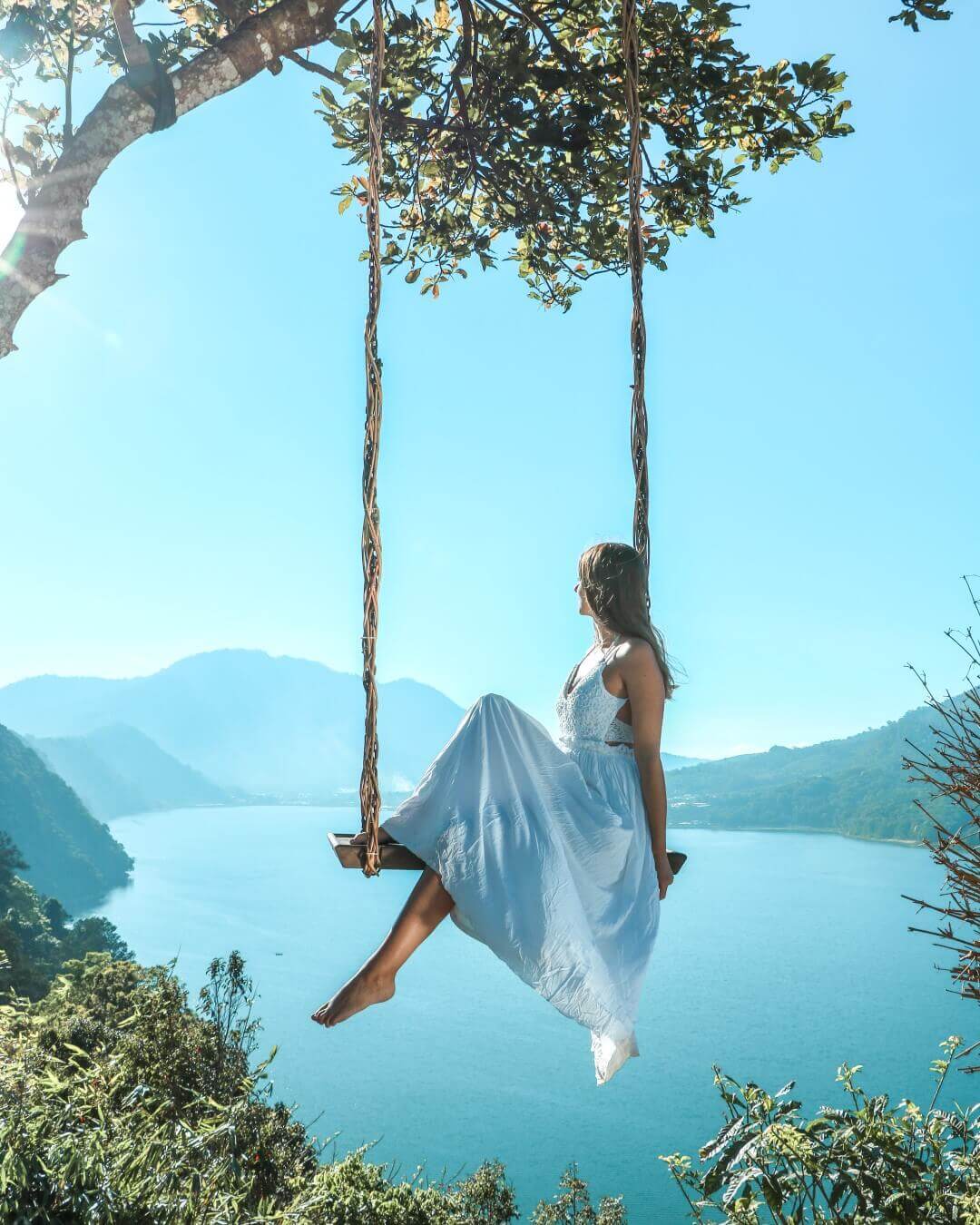 Terrace river pool swing
The ultimate swing experience with 15 types of different swings to choose from with various heights up to 45 meters above the ground. Located in the north of Ubud, the Terrace River Pool Swing is a must-try for all those seeking an exhilarating experience.Even if you don't like extreme swings, the Terrace River Pool Swing is well worth a visit. The rice fields offer plenty of photo opportunities, where you can take pictures at the bird nests or at the quirky statues.
It costs IDR 50K (approx. £3) per person to enter the Terrace River Pool Swing. This price allows you to take pictures with birds nests, bridges and other instagrammable spots inside the park.
Then there are three different swings at the Terrace River Pool Swings: the extreme swing, the super extreme swing and the couple swing. Your swing will be pushed about 15 times/swing.
Location: Jalan Raya Ceking, Tegallalang, Ubud
Opening hours: Mon-Sun: 9.30am-6pm
Website:Terrace River Pool Swing (facebook.com)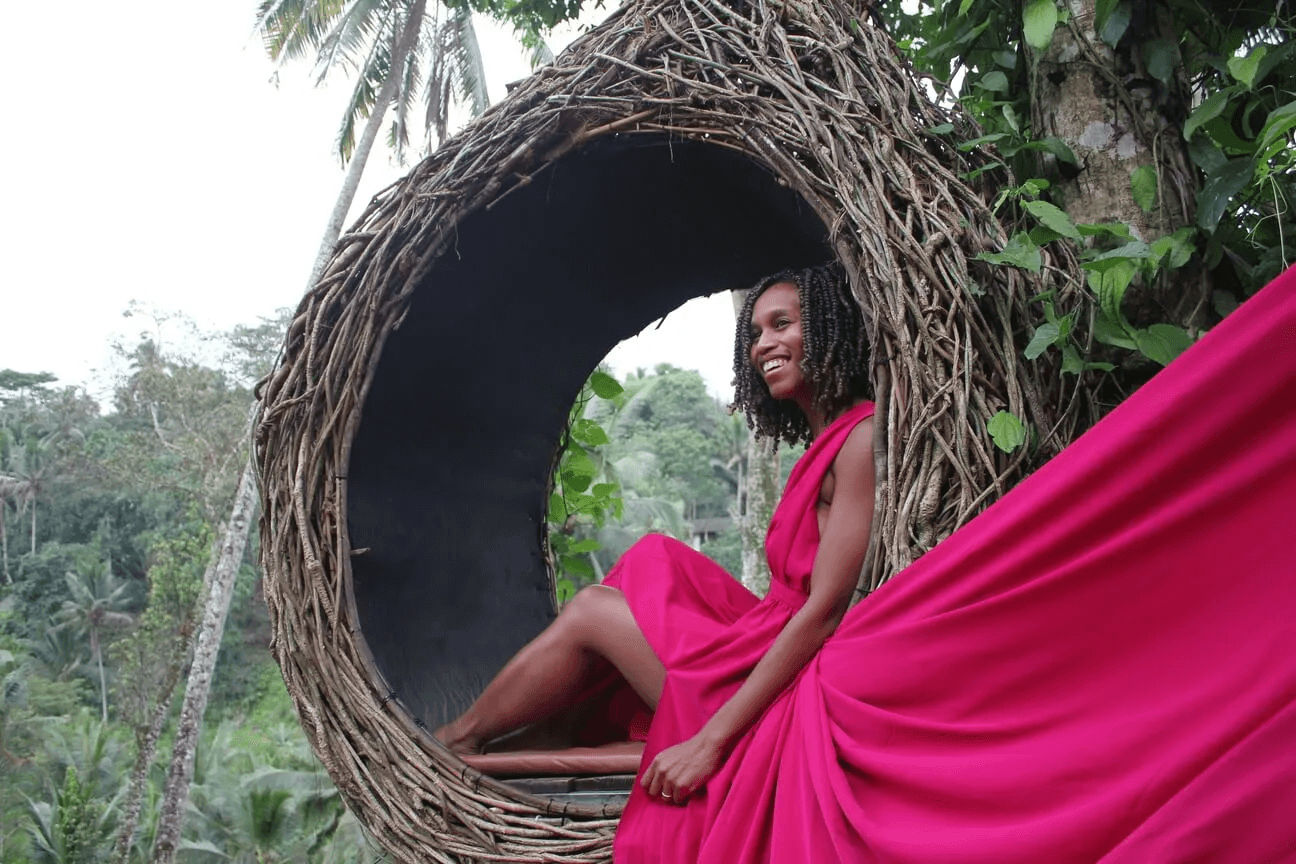 Nusa Penida swing Diamond beach
Swinging across the ocean? You got it! For this swing you will however have to leave the mainland and make your way over to Nusa Penida island, which is located 30 minutes by boat from Bali! Nusa Penida is known for its dramatic green-topped rock formations, glistening beautiful white beach, limestones, crystal clear blue water, and of course, its Instagram photo spots. You will find the swing at the famous Diamond beach on the east side of the island.
For a small fee, you can take a few photos at the Diamond Beach swing, while enjoying the views. Right near the swing, there is a life size bird nest made from wood and branches and it is one of the most instagrammable spots on the island, so make sure to take a photo here.The owner of the small shop at Diamond beach, also manages the swing and the nest.
Location: Diamond Beach, Nusa Penida
Opening hours: N/A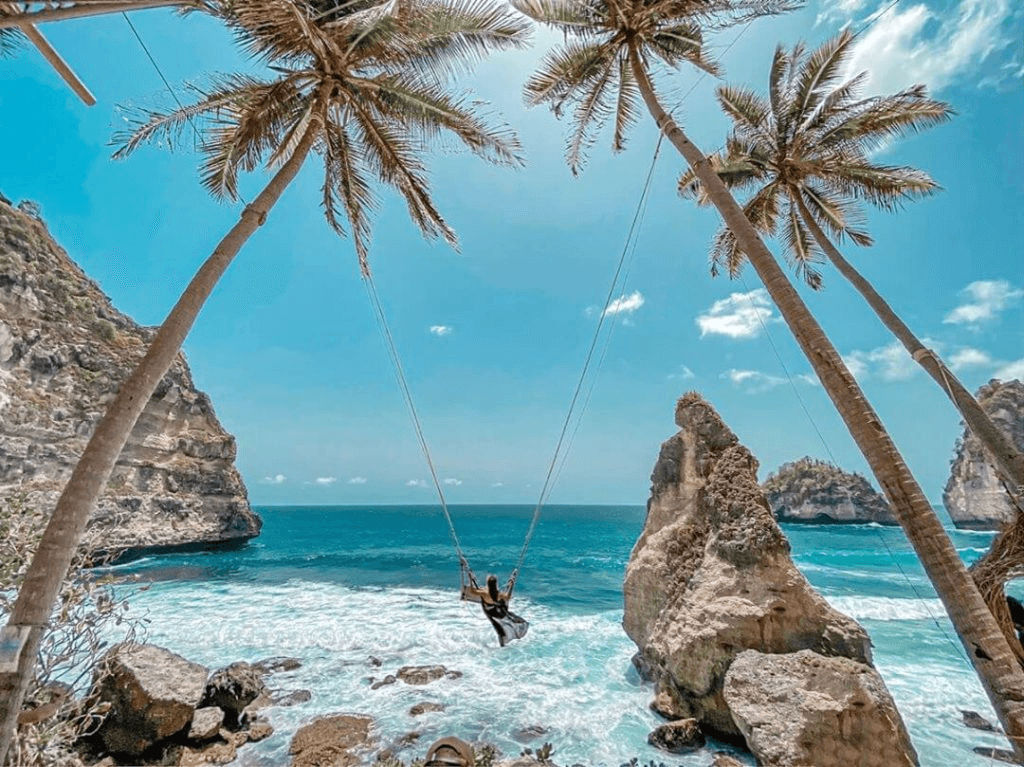 Swing Bas De Atayana
The swing at Bas De Atayana is unique in its kind as it is the only swing set high above the ground with a giant heart-shaped frame in the background, making it a fan favorite for a loveable Instagrammable spot! The thing that makes this place different to others is that you do not have to pay an entrance fee here and in addition to the swing you'll also get the chance to walk around in their local coffee, vanilla and fruit plantations.
Location:Jalan Raya Jurusan Tampaksiring - Kintamani Br. Sribatu, Penglumbaran,Susut, Kabupaten Bangli, Bali 80661
Opening hours: Mon-Sun: 9am-7pm
Website:BAS De ATAYANA (I Love BAS Agrotourism) - Tourist Attraction (business.site)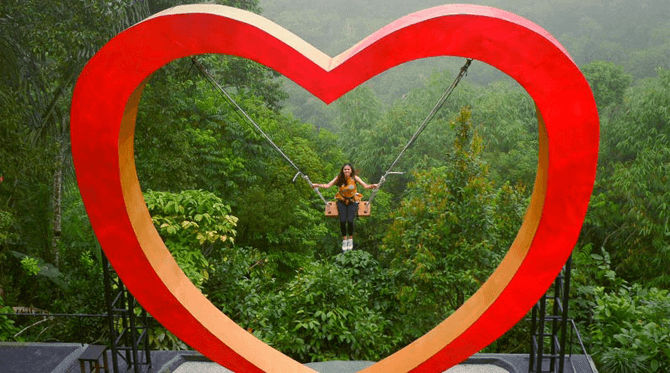 Zen Hideaway Swing
Holding up to its name, this place is the perfect place for serenity and peace, where one can enjoy swinging high on top of a hill between the coconut trees with stunning views of the Ayung River and its mini waterfall as well as beautiful rice fields and the majestic Mount Agung.
Keep in mind that the swing is on the property of an airbnb and the owner sometimes reserves the swing for the guests staying there!
Location: Jalan Dewi Saraswati, Banjar Tegal Kuning, Bongkasa Pertiwi, Abiansemal, Badung Regency, Bali 80352,
Opening hours:There are no specific timings to arrive at Zen Hideaway Bali Swing; however, the most preferred timing is 2 to 3 pm (less crowded)
website: Explore Zen Hideaway Swing & Admire The Lush Green Forests (bali-swing.com)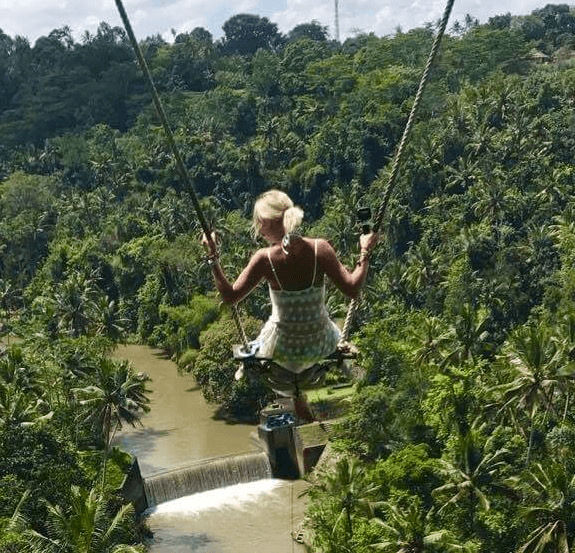 Aloha Ubud Swing
Another great agro-tourism destination with the best swings in the Tegallalang area lies in Aloha Ubud Themed Park. Located only 5 km from the Tegallalang rice terraces in Ubud, the park offers several swings to choose from -one tandem swing and five single swings- ranging from 10-60 meters above the ground. Aside from the swings, you will also find an enormous sky bed, two large birds nests, two chicken nests and a beautiful backdrop where you can take pictures.
If you are done with the swings and the pictures, then head out to Aloha Coffee Plantation where you may appreciate 12 different varieties of Bali coffee!
Location:Jl. Raya Tegallalang, Tegallalang, Kabupaten Gianyar, Bali 80561
Opening hours:Mon-Sun: 9am-5pm
website: Visit Aloha Ubud Swing & Admire the Beauty of Bali (bali-swing.com)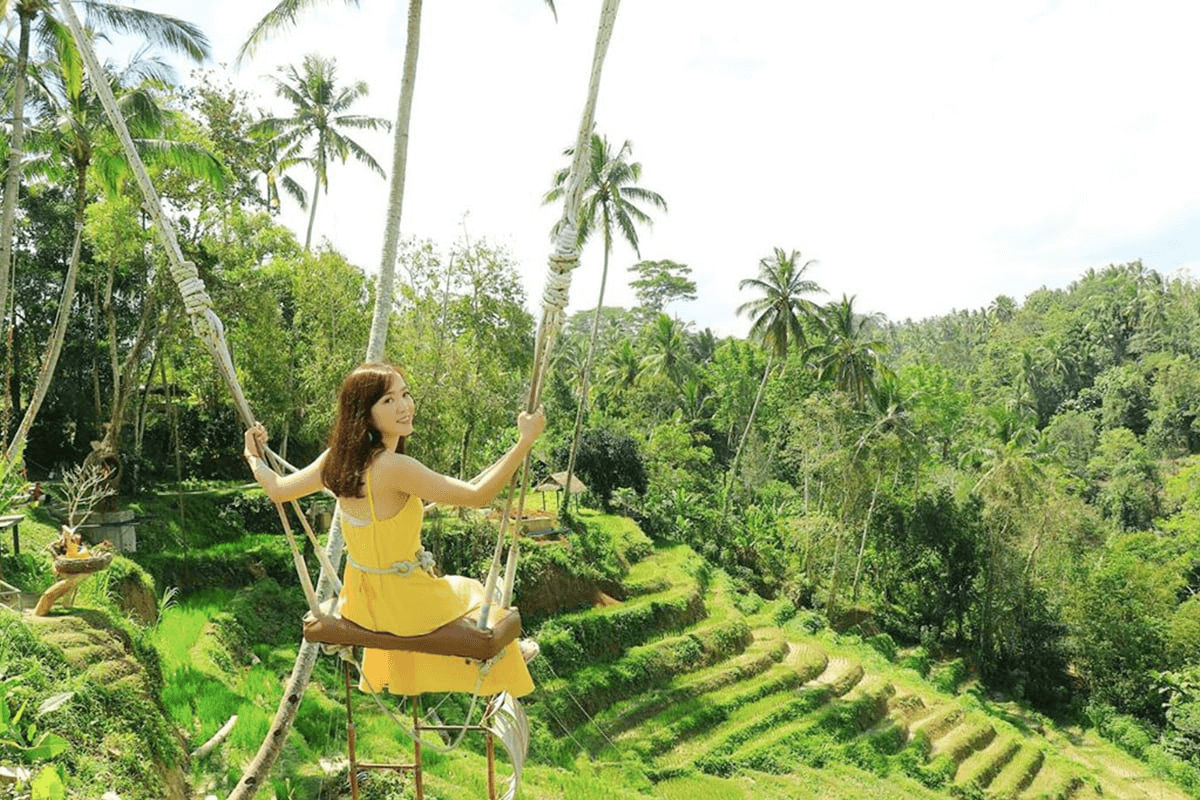 Uma Pakel Swing
Sway back and forth from the edge of the cliff when you ride the Uma Pakel jungle swing in Ubud and enjoy the majestic view of Tegallalang Rice Terraces as you soar into the air! At Uma Pakel swing you can try out the single and tandem swings, pose for shots in the adorable nests or the heart shaped rock!
They will let you swing on it only one time but it's still long enough time to get about a million pictures! You swing facing them for a few minutes (about 8 pushes). Then they stop you and let you turn around so you can face the trees - this way you'll be able to get pictures from different angles!
Location:Jalan Raya Tegallalang 80561 Tegalalang, Bali
Opening hours:Mon-Sun: 8am-7pm
Website: Check it out on TripAdvisor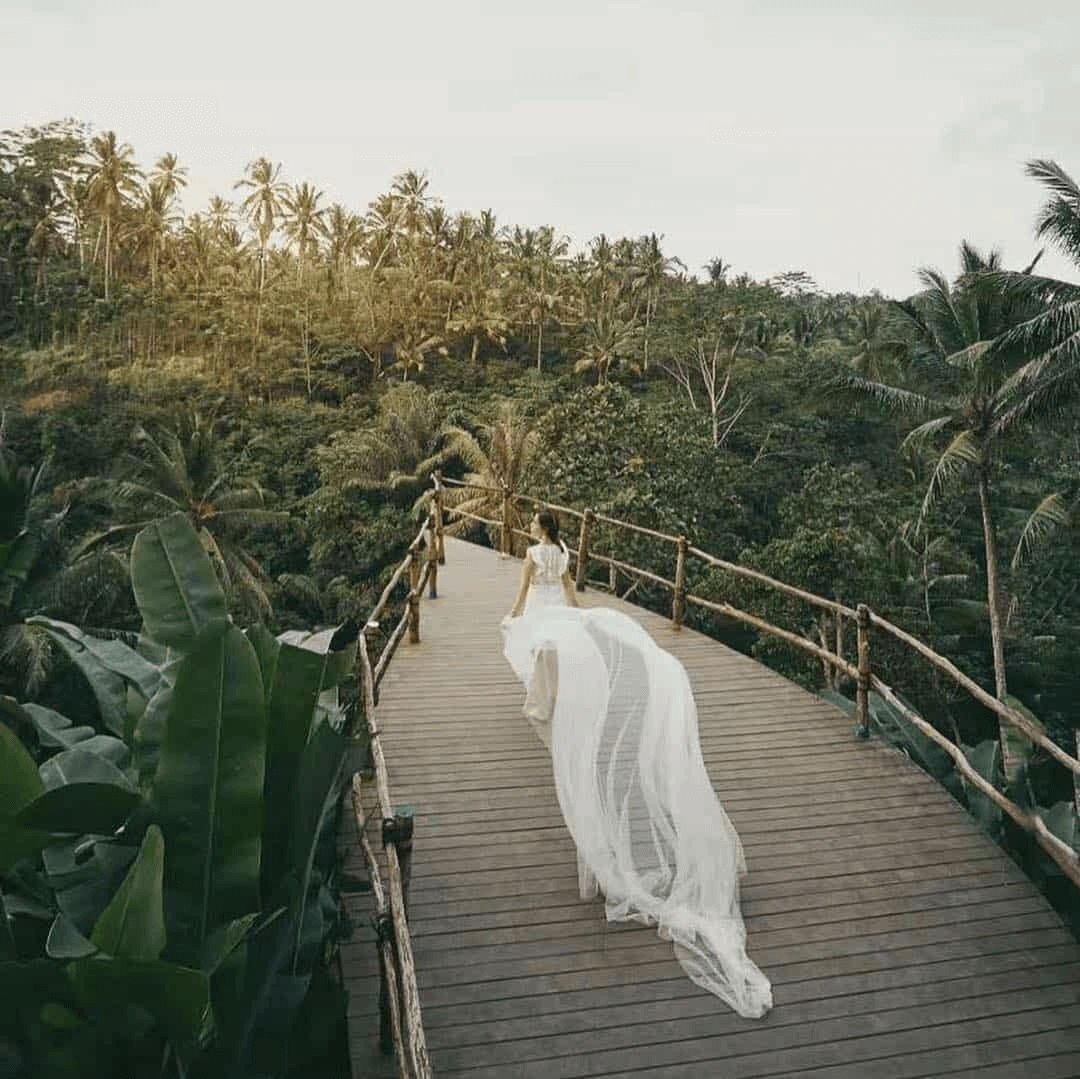 Attractions Details
| | |
| --- | --- |
| 📌 Address | Jl. Dewi Saraswati No.7, Bongkasa Pertiwi, Kec. Abiansemal, Kabupaten Badung, Bali 80352, Indonesia |
| ⏰ Opening Hours | 8AM-5PM |
| 💸 Entrance Fee | IDR 450,000 |
Find it on google maps
Bali Attractions