 Kandy view point
Popular Attraction In Kandy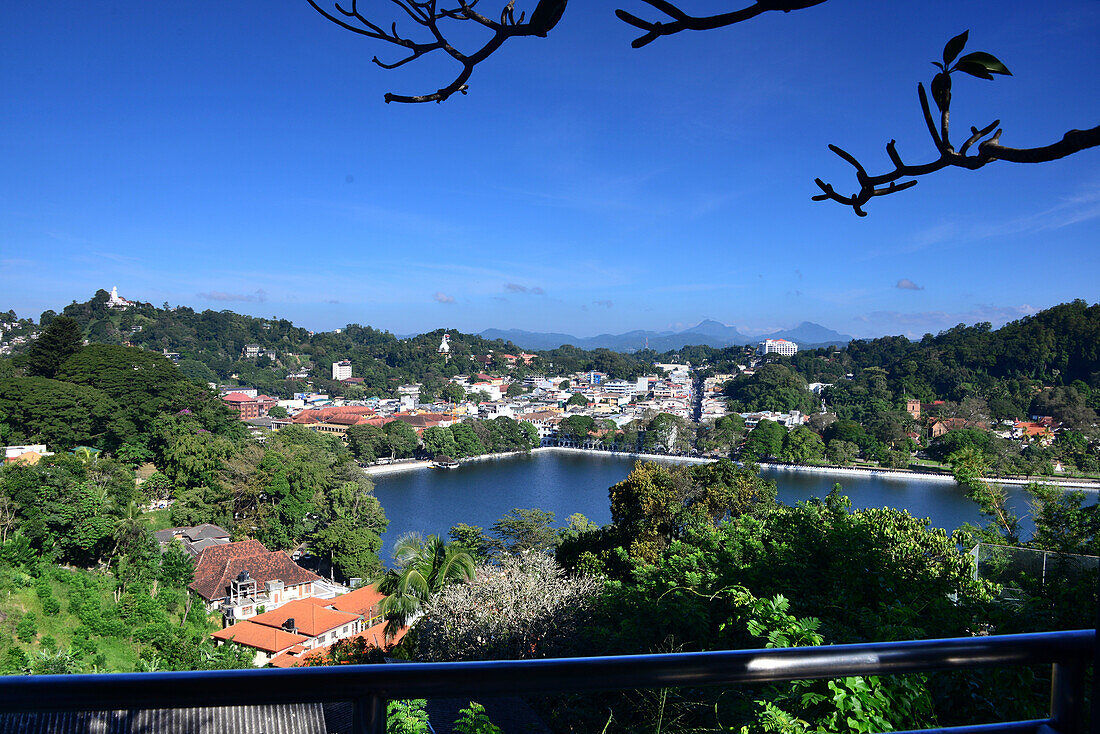 Kandy view point
Popular Attraction In Kandy
Attractions Details
| | |
| --- | --- |
| 📌 Address | 7JQQ+HWM, Rajapihilla Mawatha, Kandy, Sri Lanka |
| ⏰ Opening Hours | 09:00 AM - 17:00 PM |
| 💸 Entrance Fee | Free |
Find it on google maps
Kandy View Point: A Scenic Mountain Retreat in Kandy
Kandy View Point is a breathtaking mountain resort nestled in the scenic city of Kandy, Sri Lanka. Perched on top of a mountain, this attraction offers mesmerizing views of the surrounding landscapes, making it a must-visit destination for nature lovers and adventure enthusiasts. Situated at an elevation of approximately 1,500 meters above sea level, Kandy View Point provides an unforgettable experience for visitors seeking tranquility and natural beauty.
History of Kandy View Point
The history of Kandy View Point dates back to ancient times when it served as a peaceful sanctuary for Buddhist monks seeking solitude. Over the years, the area gained prominence as a hill station due to its cool climate and picturesque scenery. The site became a popular retreat for the British during the colonial era, who built charming cottages and tea plantations in the area. Today, Kandy View Point stands as a testament to the region's rich history and cultural heritage.
When planning your tours in kandy don't forget to visit Kandy View Point.
Visit Kandy view point on Our:
All-Inclusive

Kandy Instagram Tour: The Most Famous Spots

Come spend the day with us at the enchanting city of Kandy, the cultural capital of Sri Lanka! Our 'Kandy Instagram Tour: The Most Famous Spots' tour is designed to take you on a journey through the city's rich cultural heritage and you'll get to experience the city's best highli
Why is Kandy View Point Important?
Kandy View Point holds significant importance for both locals and tourists alike. Firstly, it serves as a major tourist attraction, drawing countless visitors each year and contributing to the local economy. Secondly, it holds religious significance as it is home to several Buddhist temples and meditation centers, offering spiritual solace and enlightenment to devotees. Lastly, Kandy View Point symbolizes Sri Lanka's natural beauty and cultural diversity, showcasing the country's commitment to preserving its rich heritage.
Things to Do & See at Kandy View Point
Kandy View Point offers a plethora of activities and attractions that cater to all interests. Some of the highlights include:
Temple of the Sacred Tooth Relic: A revered Buddhist temple that houses the sacred tooth relic of Lord Buddha.


Peradeniya Botanical Gardens: Explore the stunning botanical gardens, featuring an impressive collection of flora and fauna.


Pinnawala Elephant Orphanage: Witness adorable elephants being cared for and rehabilitated at this renowned sanctuary.


Hiking and Nature Trails: Embark on scenic hikes and nature walks to immerse yourself in the beauty of the surrounding mountains and forests.


Kandy Lake: Take a leisurely stroll around the serene Kandy Lake, surrounded by lush greenery and historical landmarks.
With an array of charming guesthouses and restaurants in the vicinity, visitors can easily find accommodation and indulge in delectable local cuisine.
Our Top Trending Kandy Tours:
Whether you are seeking a peaceful retreat or an adventure-filled getaway, Kandy View Point promises a memorable experience that will leave you captivated by its natural splendor and cultural treasures.
Attractions Details
| | |
| --- | --- |
| 📌 Address | 7JQQ+HWM, Rajapihilla Mawatha, Kandy, Sri Lanka |
| ⏰ Opening Hours | 09:00 AM - 17:00 PM |
| 💸 Entrance Fee | Free |
Find it on google maps
Kandy Attractions
Frequently asked questions
What is Kandy View Point, and where is it located?

Kandy View Point is a scenic spot located in Kandy, Sri Lanka. It offers panoramic views of the city and the surrounding hills, making it a popular attraction for tourists and locals alike.



How do I get to Kandy View Point from Kandy city center?

Kandy View Point is situated atop a hill, and the most common way to reach it is by taking a tuk-tuk or taxi from the city center. The journey offers picturesque views as you ascend the hill.



What are the best times to visit Kandy View Point for the most breathtaking views?

The best times to visit are during the early morning or late afternoon. These times provide ideal lighting conditions and often clearer skies for a stunning view of Kandy.



What can I see from Kandy View Point?

From Kandy View Point, you can enjoy a bird's-eye view of Kandy city, the scenic Kandy Lake, the Temple of the Tooth Relic (Sri Dalada Maligawa), and the lush green hills that surround the area.



Is there an entrance fee to access Kandy View Point?

No, there is no official entrance fee to access Kandy View Point. It's a public spot where visitors can enjoy the views for free. However, it's customary to leave a small donation to help maintain the site and support the locals who often provide services like parking and refreshments.