 Batu Caves
Popular attraction in Kuala Lumpur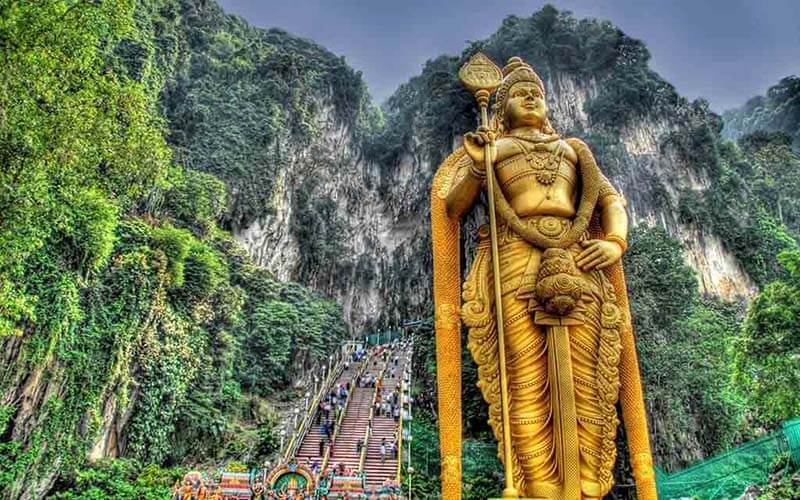 Batu Caves
Popular attraction in Kuala Lumpur
Attractions Details
| | |
| --- | --- |
| 📌 Address | Gombak, 68100 Batu Caves, Selangor, Malaysia |
| ⏰ Opening Hours | 6:00 AM - 9:00 PM |
| 💸 Entrance Fee | MYR 15 |
Find it on google maps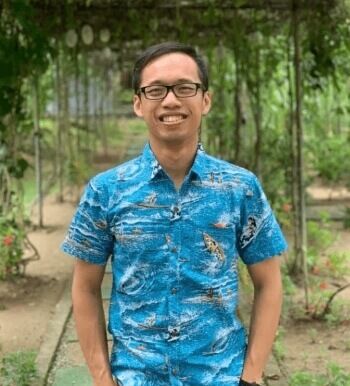 Chen
Local tour guide
"To avoid the crowds and fully immerse yourself in the spiritual atmosphere of Batu Caves, I recommend visiting early in the morning or on weekdays. Don't forget to pack a water bottle and comfortable shoes for the climb up the 272 steps to the main cave temple."
What are the Batu Caves?
The Batu Caves are a limestone hill located in Gombak, Selangor, Malaysia. It is a popular Kuala Lumpur tour and Hindu pilgrimage site.
The caves are made up of a series of caves and temples, the largest of which is the Temple Cave, which is home to a 42.7-meter (140-foot) tall statue of Lord Murugan, the Hindu god of war. They're incredibly symbolic to Hindus, as well as being an incredible destination to visit so it's definitely worth making space on your itinerary to take a look at The Batu Caves!
The series of caves that run through the limestone mountain are filled with more incredible shrines to the Gods. Once you pass the statue, be prepared to make the climb up 272 colorful stairs - and watch out for the monkeys! Here's everything you need to know before you go.
Visit Batu Caves on Our:
All-Inclusive

Kuala Lumpur Instagram Tour: Most Famous Spots

No trip to Malaysia's capital is complete without our Kuala Lumpur Instagram Tour. Jam-packed with all the famous spots, our full-day, all-inclusive Kuala Lumpur tour will show you just how incredible this city is. From the National Mosque to the "I Love KL" sign, Dataran Merdeka (Independence Square) to the Batu Caves, this tour has something for everybody. This mesmerizing city and the sights you'll see are sure to make you the envy of all your Instagram followers! Your fun and knowledgeable tour guide will make this KL tour one you'll never forget.
The Batu Caves are a popular tourist destination, and they are visited by millions of people each year. The caves are also a major pilgrimage site for Hindus, and they are especially crowded during the Thaipusam festival, which is held in January or February each year.
History of the Batu Caves
The Batu Caves were first discovered in the 18th century by a group of Hindu immigrants from India. The caves were originally used as a place of worship by the local Hindu community. In the early 20th century, the caves were renovated and expanded, and they became a major pilgrimage site for Hindus from all over Malaysia.
The Batu Caves are a significant part of Malaysian history and culture. They are a reminder of the country's rich Hindu heritage, and they are a popular destination for both tourists and pilgrims alike.
Why are the Batu Caves Important?
The Batu Caves are important to Hindus because they are one of the most important pilgrimage sites outside of India. The caves are home to a large statue of Lord Murugan, and they are a place where Hindus can come to worship and pray. The Batu Caves are also a popular tourist attraction, and they offer visitors a unique opportunity to learn about Hindu culture and history.
The Batu Caves are a symbol of the Hindu faith, and they are a reminder of the importance of religious freedom in Malaysia. They are a place where people of all faiths can come together to learn and celebrate diversity.
Our Top Trending Kuala Lumpur Tours
Things to do & see at the Batu Caves
There are many things to do and see at the Batu Caves. Visitors can climb the 272 steps to the Temple Cave, where they can see the statue of Lord Murugan. Visitors can also explore the other caves, which are home to a variety of Hindu shrines and temples.
The Batu Caves are also a great place to learn about Hindu culture and history. There are several museums and information centers located at the caves, where visitors can learn about the history of the caves and the Hindu faith.
Arrive early and check the sunrise time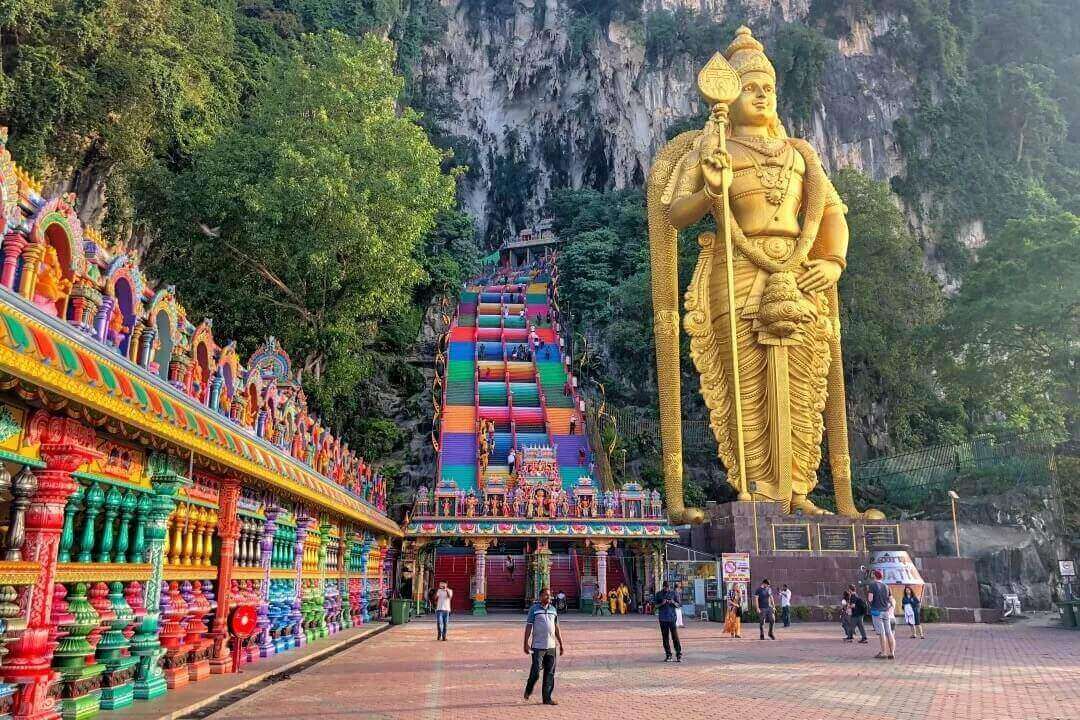 Get setting those early alarms! The walk up to the Batu Caves actually isn't that bad, but don't make it harder for yourself by having to compete with crowds and the blaring sun.
We would suggest getting there early, but not too early. You don't want to be making the climb in the dark.
Around 7:30am is probably best but do check what time sunrise will be on the day you are planning to go.
Follow the dress code
If you've been to pretty much any other religious temple in the world, you'll be aware that there is usually a modest dress code in place.
When you arrive at Batu Caves there will be members of staff scanning the crowd to make sure this is adhered to.
This means a long skirt or pants for women, and make sure your shoulders are covered. For the guys a t shirt and shorts or long pants will be fine.
Don't worry if you do arrive in the wrong clothing though - you can rent a sarong there for less than one dollar.
Be aware of the stairs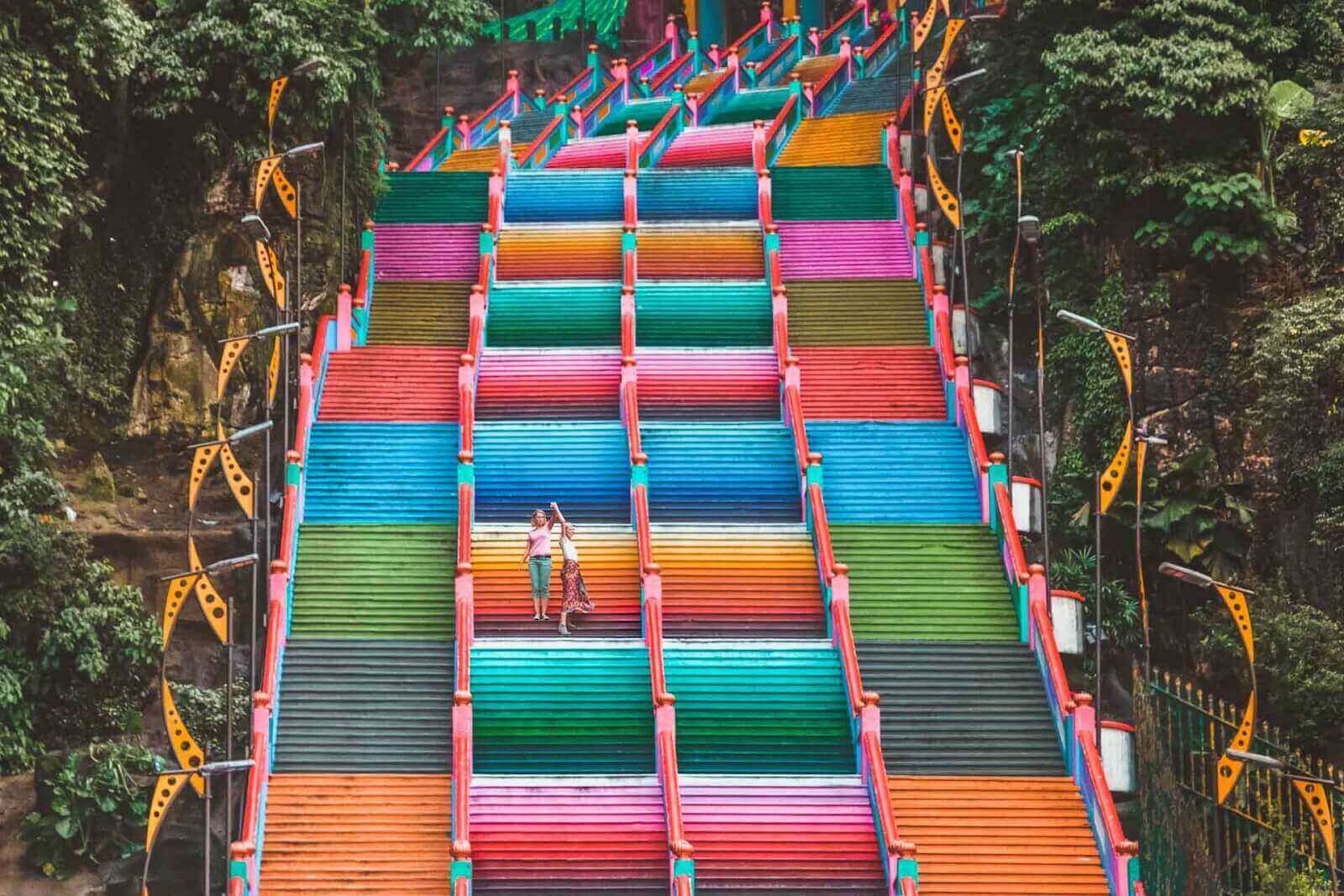 Remember that there are 272 steps to climb to enter the caves - in reality it's not that much but this depends on your age and fitness level!
The climb is not advised for anyone with heart problems, so know your limits.
Watch out for monkeys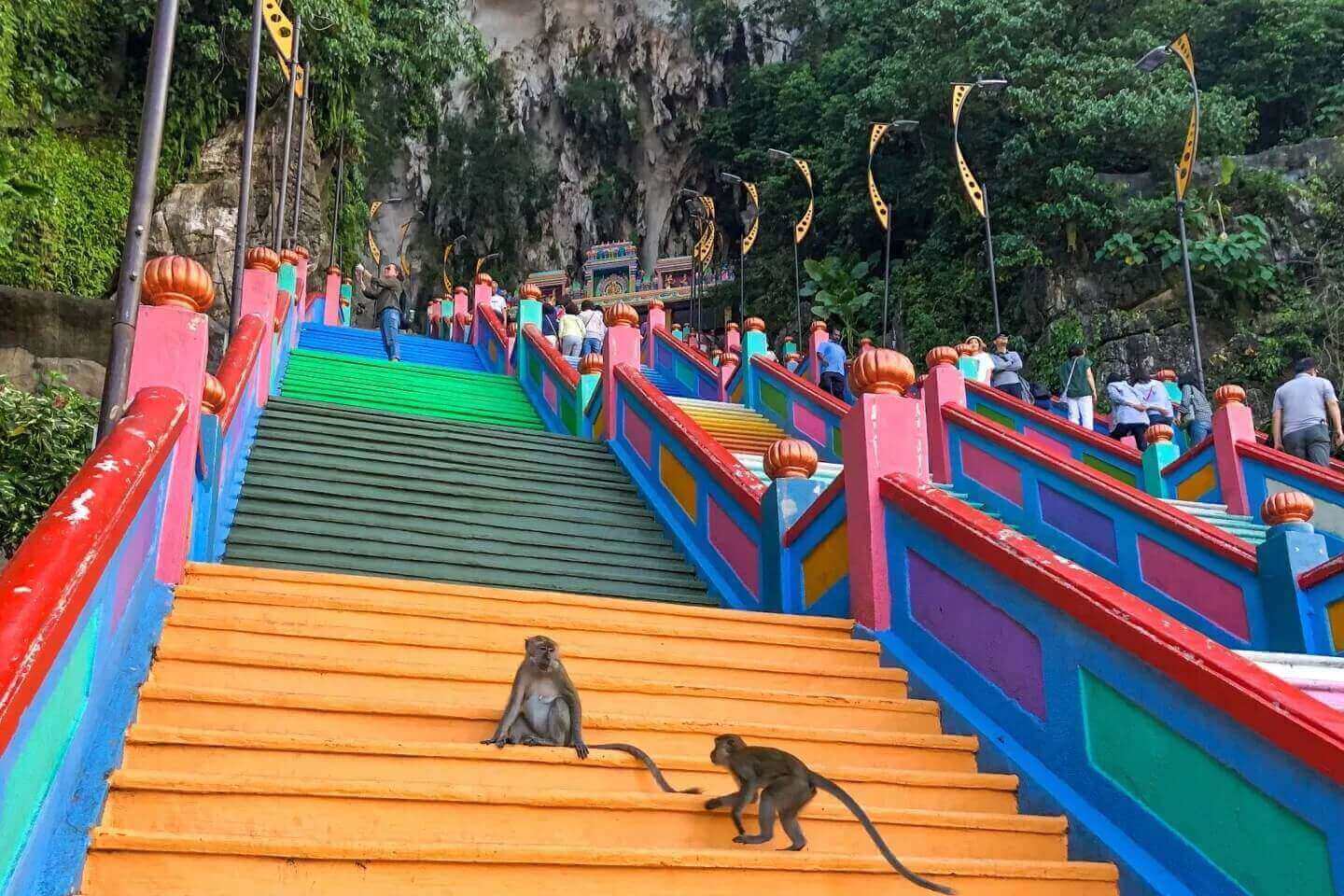 The Batu caves are home to a few packs of monkeys. These guys won't harm you but they do have a bit of a reputation for grabbing phones and bags away from people so just be sure to keep an eye on your belongings!
Here are some additional tips for visiting the Batu Caves:
The Batu Caves are open from 6:00 AM to 9:00 PM daily.
The best time to visit the Batu Caves is during the morning or evening, when it is cooler.
Visitors should wear comfortable shoes, as there are a lot of steps to climb.
Visitors should also dress respectfully, as the Batu Caves are a holy site.
The Batu Caves are located about 13 kilometers (8 miles) north of Kuala Lumpur. The best way to get there is by train. The Batu Caves station is on the Kelana Jaya Line.
The area is not very handicap-accessible, so do bear this in mind
There are many food stalls and restaurants outside the entrance to the Batu Caves, but they are slightly pricier than elsewhere in KL
Do bring your own drinking water
Attractions Details
| | |
| --- | --- |
| 📌 Address | Gombak, 68100 Batu Caves, Selangor, Malaysia |
| ⏰ Opening Hours | 6:00 AM - 9:00 PM |
| 💸 Entrance Fee | MYR 15 |
Find it on google maps
Kuala Lumpur Attractions