 Ultimate Guide To Yoga In Bali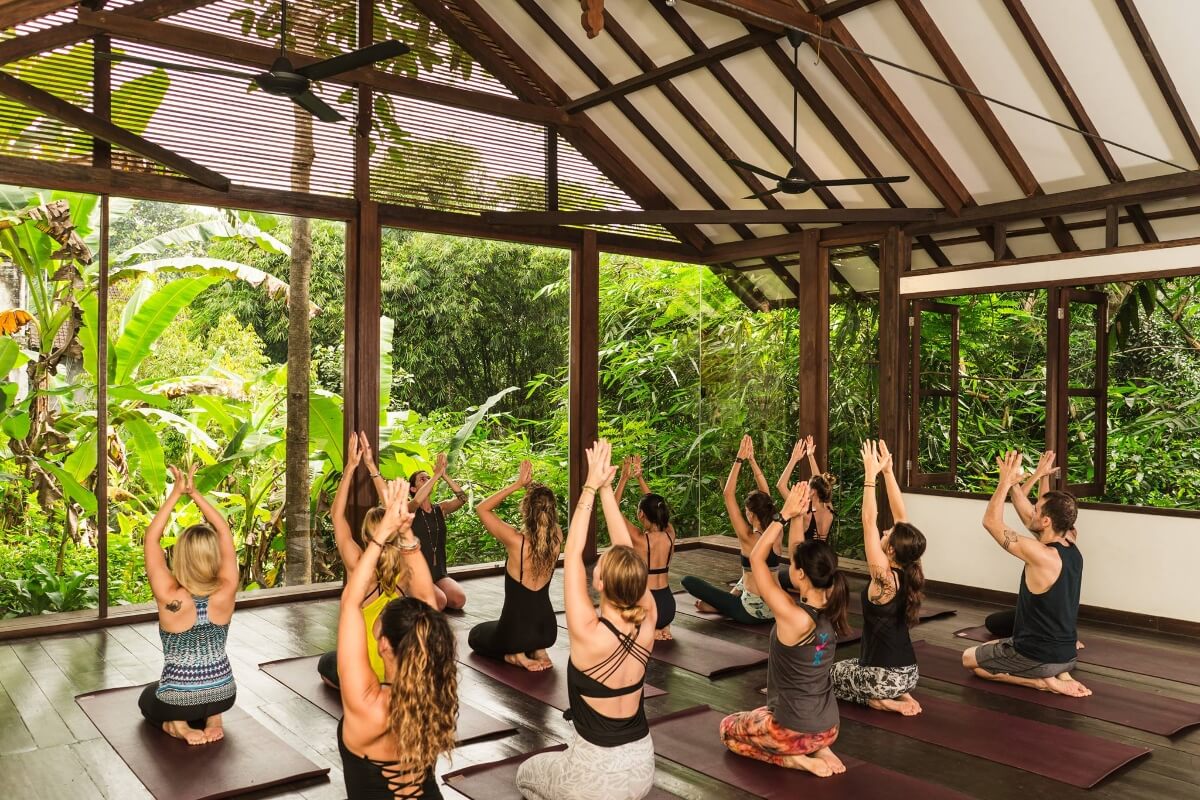 Destinations
Destinations
Blog detail
Warning to all yoga-lovers: once you enter Bali, you will never leave again. Ok, so you probably will leave eventually, but you definitely won't want to! If you're planning a trip to Bali, the chances are you're interested in taking some yoga classes while you're there.
But with yoga becoming more and more popular, and Bali being famous for its healing and spirituality - the yoga market is becoming pretty crowded over here! So, I have dutifully put together this Ultimate Guide To Yoga In Bali that will hopefully help you choose where to go to get your yoga fix while you're here.
Whether it's an immersive retreat you're after or just a couple of casual classes here and there, I've got you covered.
Seminyak

Only 5 minutes away from Seminyak beach in the center of town, you can find Seminyak Yoga Shala. Offering a large selection of different yoga classes, it welcomes you in an oasis only steps away from the hustle and bustle of Seminyak's streets and away from your busy daily life or activity-filled holiday in Bali.
Classes are held in an enclosed room on the first floor so classes are noise (and mosquito) free! Shop all things yoga in the boutique downstairs and treat yourself in the vegan-vegetarian friendly cafe next door after a relaxing and energizing class! You can check out their full class schedule online and classes start at around $9 per class. Enjoy!

One of Seminyak's best spas not only offers amazing beautifying programs but also incredible yoga classes! Offering up to three classes daily, you will be spoilt for choice and what better combination could there be - yoga first, then a massage!
Prana Spa has been designed with a strong Indian and Middle Eastern influence so you'll get to enjoy your yoga in the perfect surroundings. They also offer full retreat packages so check out their website to find what will fit you best. You can also visit the spa with us on our VIP Ultimate Spa Experience and Tanah Lot Temple Visit Tour.

If you're a regular practicing yogi and you've never tried bikram, then I highly suggest you do! Bikram yoga involves practicing a set yoga sequence in a room heated specifically to 37 degrees. Why practice this in the already hot and humid Bali you might ask? There are plenty of reasons!
The teachers here are highly skilled and experienced, so if you're going to try it for the first time, here is a great place to do it. This class is designed to work all parts of your body so will leave you feeling both physically and mentally strong. Classes are around $13 per class - check out the full timetable here.
Canggu

This beautiful eco-friendly guesthouse in Canggu offers double and single rooms as well as dormitories only 150 meters from Canggu beach. Offering one of the largest varieties of yoga classes in Bali, it really is a must-do if you're in Canggu! Classes include Creative Vinyasa, Detox Flow and even Aerial Yoga (so much fun!).
They also have an awesome vegan restaurant called Alkaline. The food is honestly amazing here, even if you're not vegan you have to try it - I swear you wouldn't even know the dishes are vegan, they taste so good! Serenity also offer retreat packages if you fancy a longer stay and have regular workshops and women's circles, so keep an eye out for these!

Sorry guys - this one is definitely more for the ladies! Be Kind Retreats offer retreats, healings and training for women who feel like they want more from life. If you're feeling a bit stuck in a rut or want to explore what holistic healing could mean for you - these guys are the best. Retreats include: self-love retreat, wild women retreat, surf-yoga retreat and more!
This is such an amazing company and they have helped so many women already - I can guarantee you will leave this place with a new found sense of self-love and gratitude. Beautiful!

Desa Seni is probably one of the most beautiful yoga resorts I've ever seen. Set just outside of Canggu, it feels like entering another world when you walk into those beautiful gardens. Offering accommodation and daily yoga classes from dedicated, passionate teachers - you'll never want to leave!
They also run regular yoga teacher trainings if you feel like taking the next step on your yoga journey. Oh and did I mention the spa?!
Bukit Peninsula



One of the only yoga studios in the Bukit that offers longer retreats and yoga teacher trainings - this place is one-of-a-kind. With a strong focus on transformational practice, this place can really be life-changing.
Set on top of Uluwatu Cliff and only 5 minutes from the gorgeous Thomas Beach, you can go surfing in between yoga classes - sounds great right?

Offering drop-in yoga classes every day at 7am, 9am and 5pm, this place is great if you want something a bit more casual. Held at La Joya Bungalows overlooking the stunning Balangan beach this is the perfect way to start (or end) your day!

Another one for the ladies (sorry guys) - Canadian-owned company Salty Souls run incredible retreats in the Bukit for gals that want an action-packed holiday in Bali. These guys will jam-pack your schedule with yoga classes, surfing, workouts and more!
Highlights include a cooking class and empowerment workshop to help you live your best life in Bali. Perfect for the girls out there who want to get stuck-in and meet some like-minded individuals!
Nusa Lembongan & Nusa Penida



Yoga Bliss is an internationally recognized yoga center offering retreats, trainings, workshops and daily classes! Away from the hustle and bustle in Nusa Lembongan, it's the perfect place to relax, reset and deepen your practice. They also promise to invest 6% of all their income back into the local community and protecting the natural beauty of the island.

With a purpose-built yoga shala overlooking the beautiful ocean, this is the perfect place to get grounded. They offer a huge variety of drop-in yoga classes as well as the opportunity to work one-on-one with experienced teachers. Drop-in classes start at $13 per class, but they do have a limited number of spaces so be sure to get there early to secure your spot!

This place is suitable for all levels - beginners to advanced. Set in a beautiful yoga shala and run by friendly and helpful teachers, we know you'll enjoy your time here! Offering a range of daily yoga classes, including SKY yoga (aerial hammock yoga - yes that's a thing), this is a warm and inviting environment.
While you're here why not join one of our Nusa Penida day tours?
Ubud



If you know anything about yoga in Ubud, you will have heard of The Yoga Barn. This is the ULTIMATE place for yoga in Ubud. It's pretty famous and very hyped up - but it turns out the hype is right! Made up of five yoga shalas, a guesthouse, a holistic healing center and a garden cafe - this place has everything you need.
Set among lush greenery, the classes are more than just your standard yoga classes. They even offer Tibetan bowl meditations and ecstatic dance classes! They also host teacher trainings and regular workshops.
The studios are big and classes often have a lot of people in them but the teachers are experts at making sure everyone understands and is comfortable. Couldn't recommend it more!

A beautiful modern yoga studio, kitted out with all the latest props, they really know what they're talking about at this studio! Offering a wide variety of many different types of yoga, this is a must-go if you regularly practice yoga.
The teachers are super knowledgeable so I guarantee you'll learn a lot here as well!

Probably the most picturesque, this place only has one yoga studio - but it's a really good one! Just look at the view you can enjoy from your mat. Nestled amongst the rice paddies, you'll really feel like you're in Bali here.
They only offer a few yoga classes per day but it's definitely worth going to one if you fancy a unique experience! Magic!
Namaste!
2 years ago
Get your
Vacation on!
Vacation more, get inspired
Expertly curated emails packed full of vacation inspiration, travel tips and more!
Expertly curated Emails for travel inspiration, vacation tips and hacks and much more! Subscribe and upgrade your traveler skills with Forevervacation.