Best Hotels in Bali [2023]
Best Hotels in Bali [2023]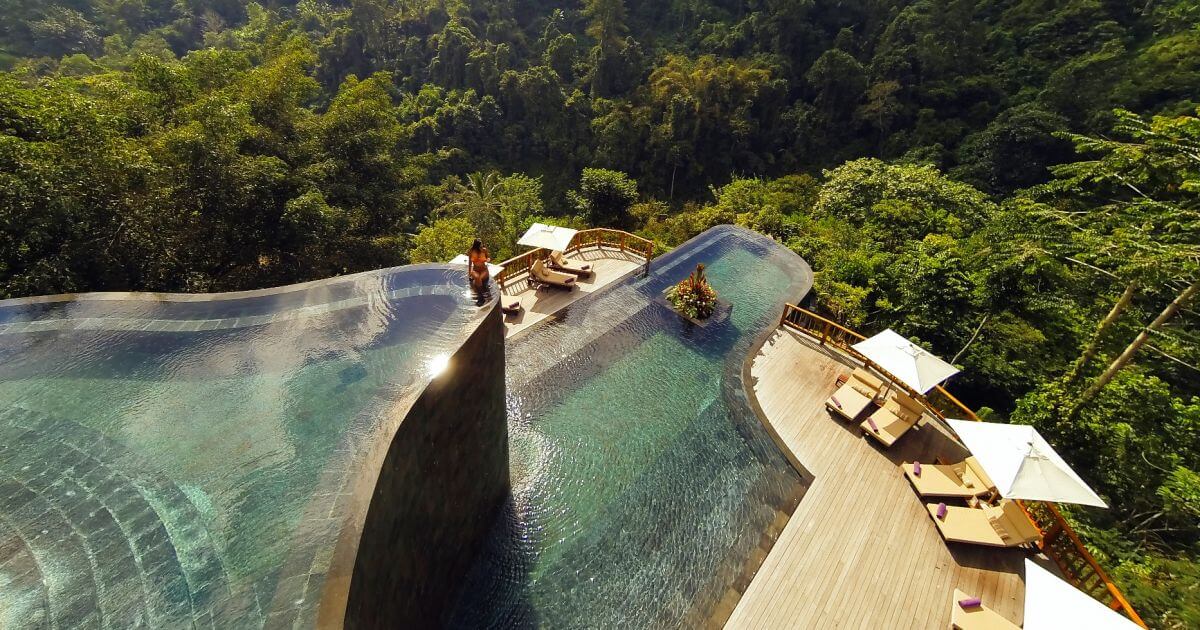 Ah Bali...our favorite tropical paradise island! Where life seems to slow down and the only things that seem to matter are how good the waves are that day and where you'll get your daily smoothie bowl from.
It truly is a dream! I mean, if you haven't seen the amazing photos of Bali all over Instagram, where have you been?
It's the perfect place to get away from it all - here you can fully relax, get your tan on, eat amazing food, take some amazing tours in Bali and stay in some incredible Bali hotels (at really affordable prices)!
Whether you're planning on staying for short or a long time, there are some incredible hotels in Bali that will satisfy your every need. In fact, there are way too many to choose from!
To help you out with this decision, I've put together this list of the best hotels in Bali. Pick one or why not try them all?!
Hotels in Seminyak
Seminyak sits a little way along the coast from the famous Kuta Beach in Bali and is known for being a little less crowded and a little more serene compared to Kuta.
Seminyak has its own pretty beaches which are perfect for surfing, swimming or simply sunbathing. It's also FULL of amazing beach bars and cafes that run along the coastlines - you'll never go hungry or thirsty here.
People also flock to Seminyak for its nightlife although it is a little tamer than neighboring Kuta. Seminyak has a focus on more chilled out beach clubs where you can sip a drink with your feet in the sand. There are also some great shopping malls and of course, hotels. Here are some of our favorite hotels in Seminyak
Anantara Seminyak Bali Resort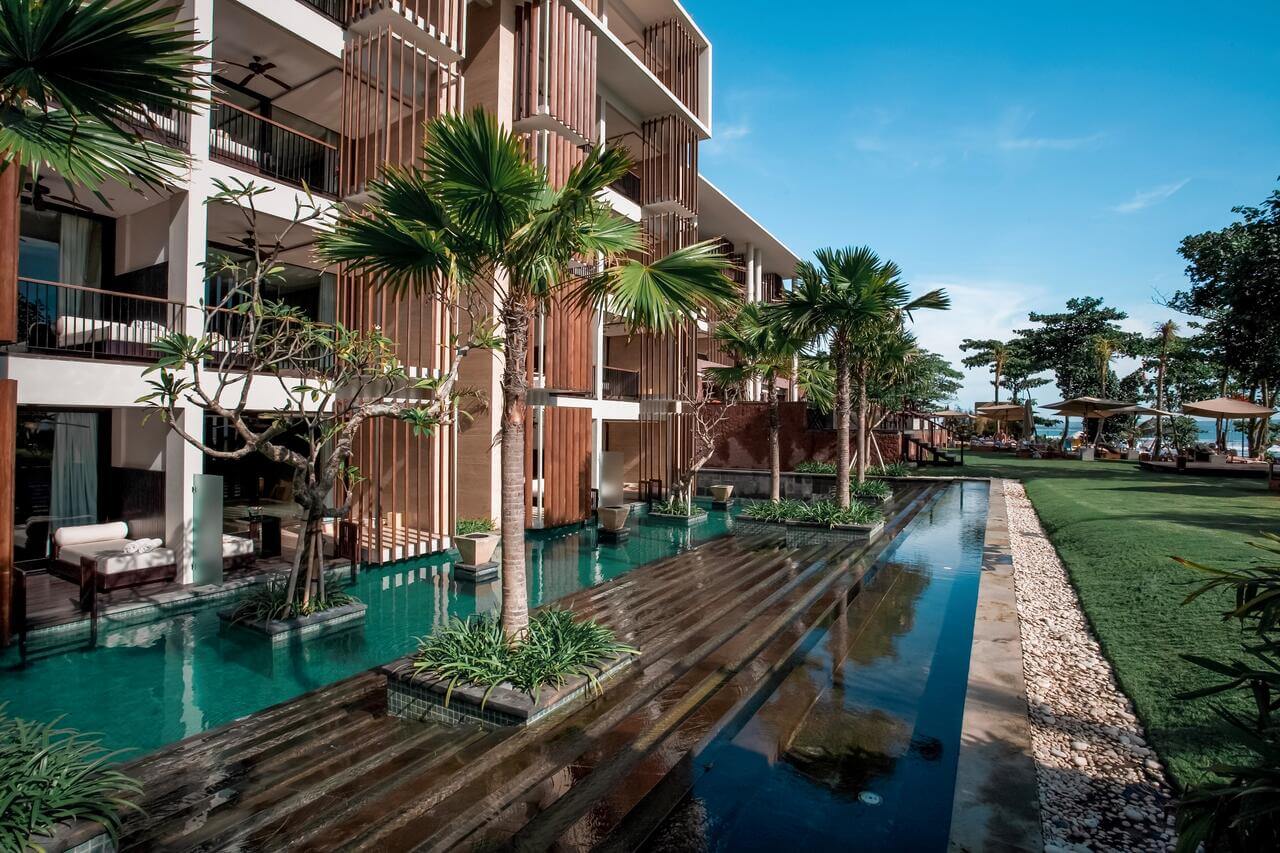 The Anantara Seminyak Resort and Spa in Bali is located on an expansive 3,500 square metres of sandy beachfront, only a convenient 20 minutes from Denpasar International Airport.
Close to restaurants and cafés, shopping and lively nightlife, the location is ideal if walking will be your main mode of transport.
An all-suite property, you'll be treated to stylish accommodation channelling Indonesian design, living areas for extra space and a Jacuzzi bathtub big enough for two. Days can be spent relaxing beside one of the three swimming pools, getting pampered in the Anantara Spa and dining on grilled meats and fresh seafood on the beach as you watch the sunset.
The Legian Bali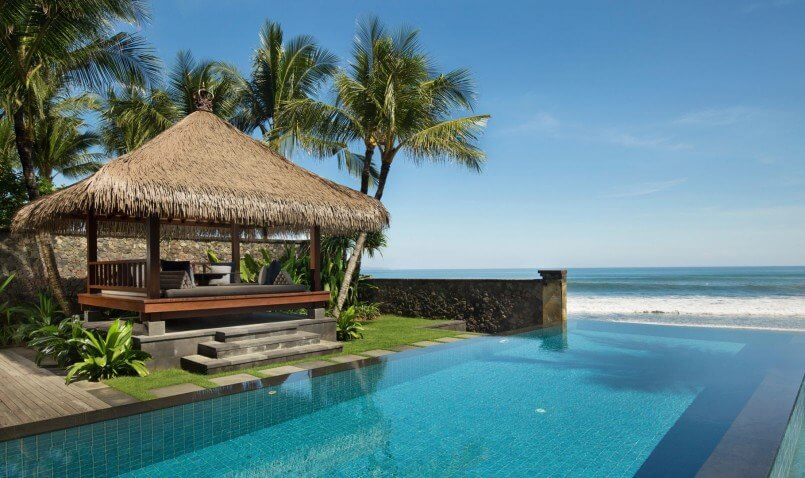 A sophisticated, oceanfront boutique hotel on lively Seminyak Beach, The Legian Bali is a one-of-a-kind hotel. Choose from sleek suites at the Legian hotel and villas with private swimming pools at the Club.
This sea-facing hotel is adjacent to some of the island's chicest shops and nightlife, checking all the right boxes for a tropical getaway.
The hotel perfectly captures the otherworldly charm of the mysterious and magical island of Bali. Dreams become reality when you kick back and enjoy the beautiful sunset views from the Ocean Champagne Bar.
Alila Seminyak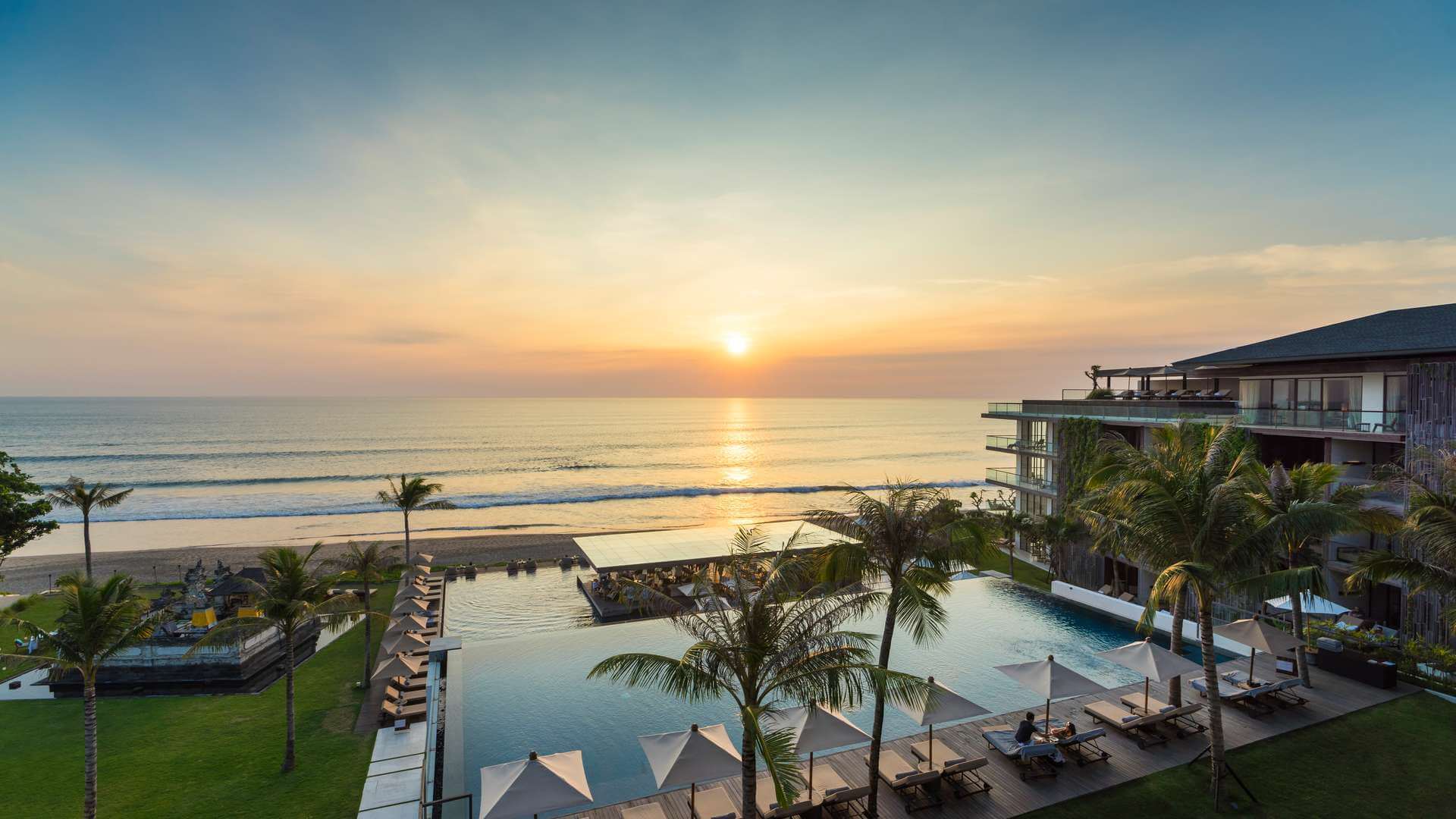 A modern hotel featuring dark wood and floor-to-ceiling glass, the Alila Seminyak sprawls along a stretch of volcanic sands on Bali's buzzy southern coast. It may house a traditional temple in its grounds, but its enticing spa, ocean-view restaurant and three sleek infinity pools showcase a thoroughly modern take on hospitality.
One of the most luxurious hotels in Seminyak, this is the perfect hotel if you're looking for an extra special getaway experience.
Hotels in Canggu
Canggu is the most up and coming spot in Indonesia – if not the whole of Southeast Asia. Only a few years ago, Canggu was little more than rice paddies, surfers and a few local warungs and restaurants. But Canggu has exploded and it's now THE place to be in Bali.
With everything from some of the best hotels in Canggu, luxury villas, surf camps, beach clubs and up-market restaurants, it now attracts celebrities, influencers and a whole lot of hipsters!
It's a pretty busy place these days but if you're planning a trip to Bali, it's a must-visit for sure! With everything you need for a great vacation - great Canggu hotels, places to eat, activities, day trips and more, you're sure to have a blast in the 'Gu!
COMO Uma Canggu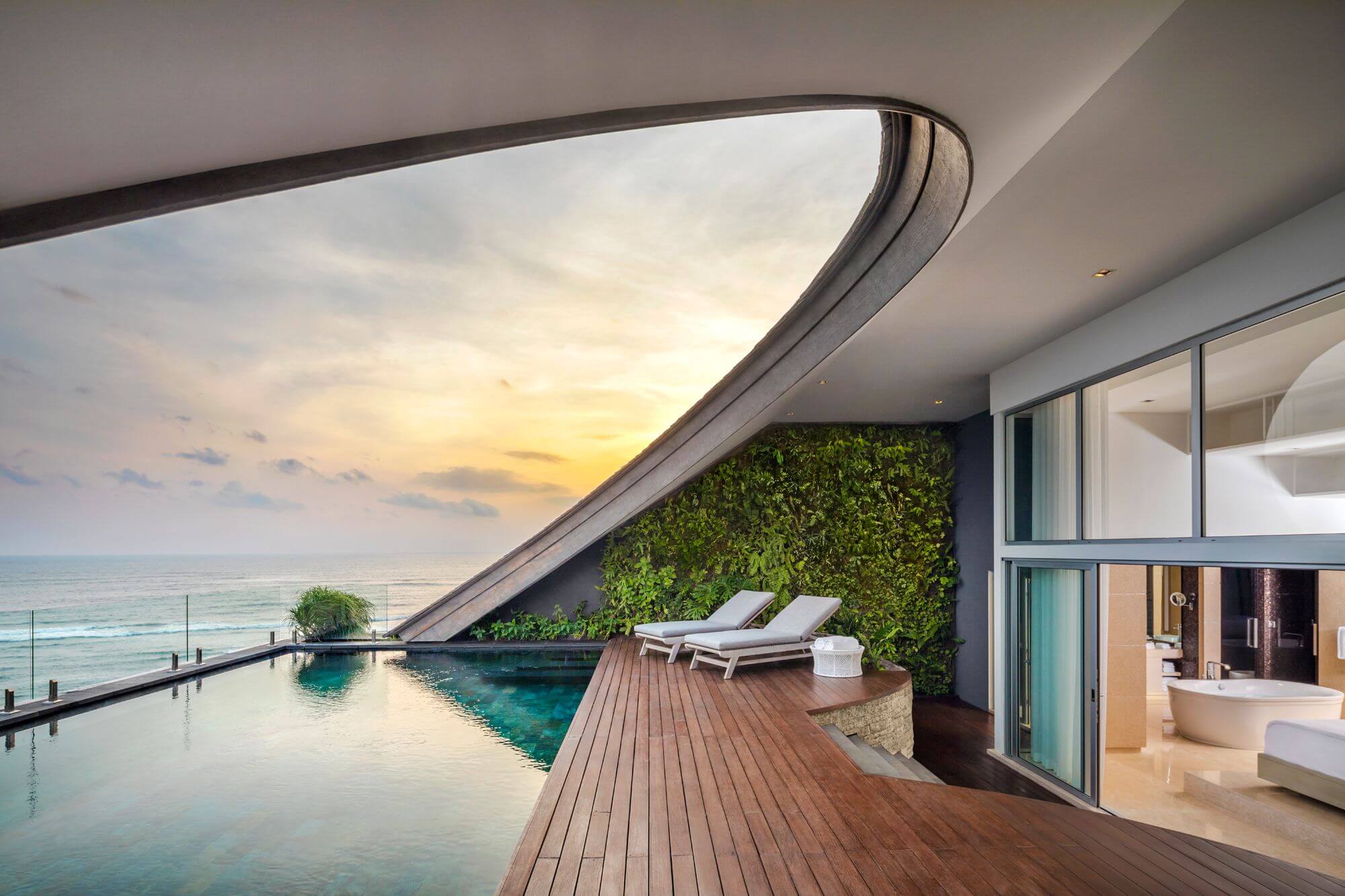 One of the most luxurious hotels in Bali, COMO Uma Canggu is a relatively new addition to the town. The 5 star resort has a bit of a surf theme, suiting it's location close to Echo Beach and Batu Bolong Beach.
It has the exclusivity and privacy you'd expect from a high-end resort with a boho beachy feel. There's a smart beach club, a swimming pool and Como Shambhala, one of the best spas in Bali.
The perfect place to find some peace in the middle of busy Canggu!
The Haven Suites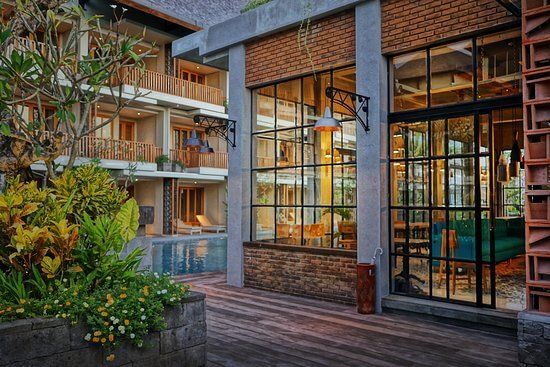 The Haven is a 5 star hotel in the Berawa area of Canggu. With luxury suites, dreamy pools and beach access, it's a great pick if you're splashing the cash.
There's a restaurant on site (Ketumbar Restaurant) which serves up a mix of tasty Asian and international dishes, and it's a short hop from the beaches in the area.
A great place to stay in Canggu if you're hoping to see some great sunsets during your trip – the views from Berawa Beach are legendary on the island!
Aradhana Villas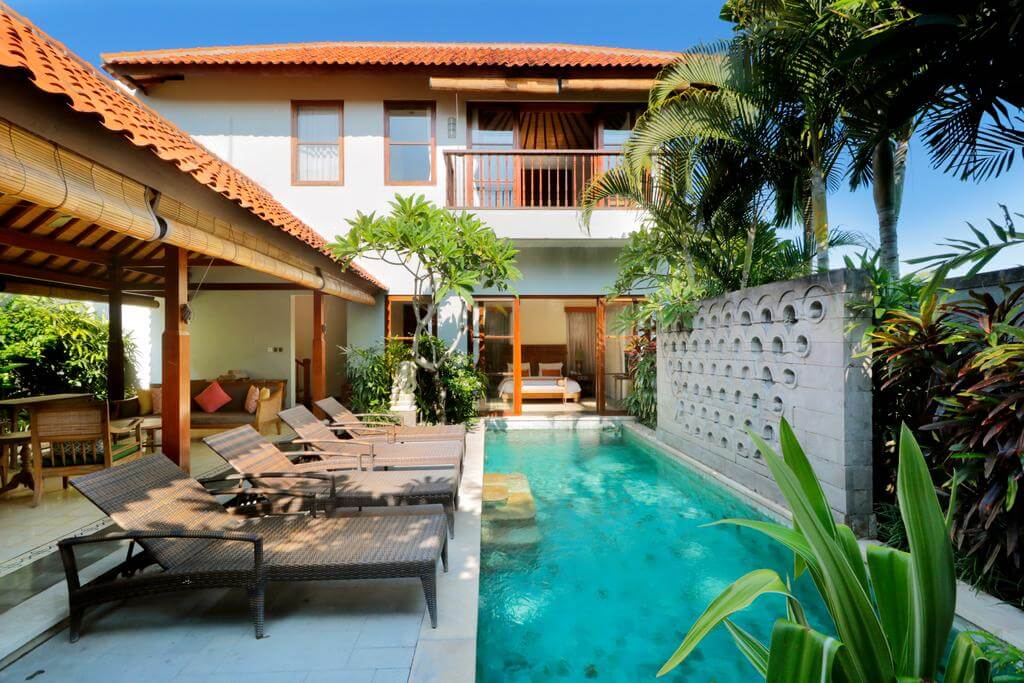 Not far from neighbouring Seminyak, and only a few steps from the popular Finn's Beach Club, Aradhana Villas is a great option if you're looking for a luxury hotel in Canggu.
You won't have to worry about getting around as Aradhana Villas offers their own complimentary transportation services to take you wherever you want to go.
The villas have Balinese style private pools which you'll want to dive into as soon as you check in and the hotel staff will be happy to organise day trips and experiences for you, including surf lessons, trips to the rice paddies, snorkel tours and more!
The Bukit
The southern peninsula, known as 'The Bukit'(meaning 'hill' in Bahasa Indonesia) is becoming increasingly popular with visitors to Bali. Luxurious Canggu hotels perch on beautiful cliffs all along the coastline - hence the name!
The west coast (generically called Pecatu) is becoming a real hotspot. Balangan Beach and Bingin are popular with surfers due to the world-famous surf breaks all the way south to the important temple of Uluwatu.
This is the perfect spot if you fancy something a little less crowded than Canggu or Seminyak. Although The Bukit is becoming more well-known it still has that local small-town feel that many people look for when they come to Bali.
Ayana Resort and Spa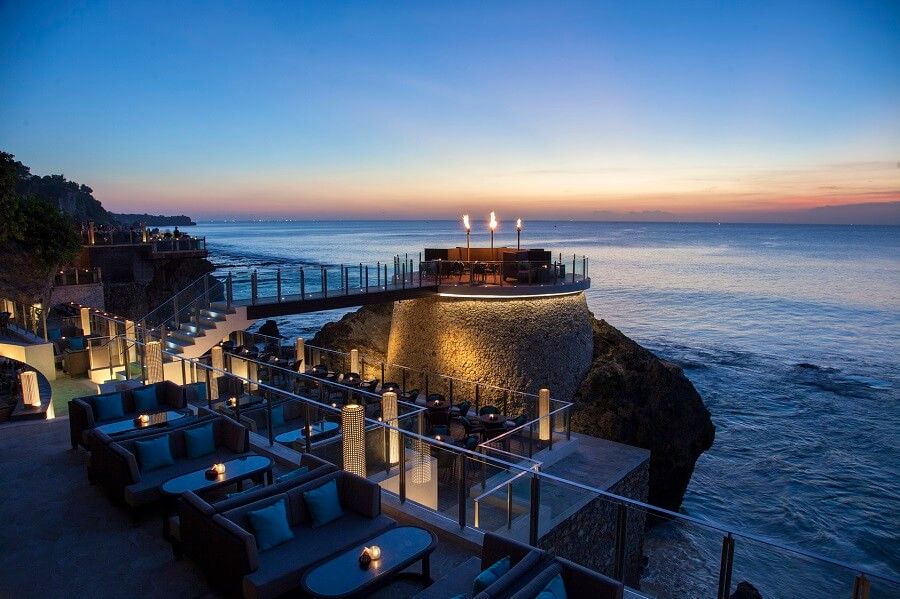 The Ayana is about 10 minutes drive from Jimbaran, which features seafood cafés along a perfectly curved beach. The resort boasts one of the largest grounds in Bali, so golf carts are provided.
The deluxe rooms are in a four-level block facing the gardens and are elegantly furnished with exquisite Balinese furnishings and carvings.
The cliff-top Infinity pool is connected to the renowned Rock Bar on the tiny beach below, the perfect spot to watch the sun go down. Regular shuttle buses to Jimbaran and Nusa Dua make getting around simple and easy.
The Ritz-Carlton Bali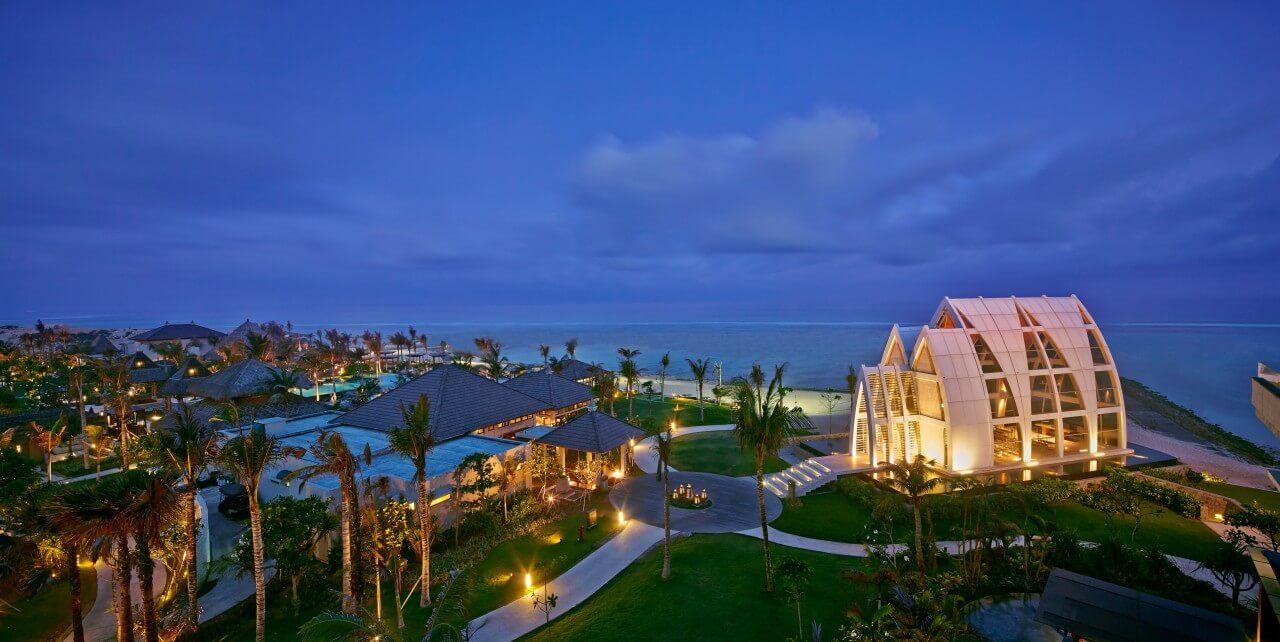 The Ritz-Carlton oozes sheer opulence and utter extravagance. Perched high on a cliff, the views here are incomparable.
The private Cliff Villas with pools are designed as New York-style apartments complete with every modern touch you can think of. The suites in the four-level block are also luxuriously modest, with those at ground-level having direct access to the Infinity pool from their veranda.
The resort caters extremely well for families, and is connected by shuttle bus to Nusa Dua, with its cafés and mall, about 4km away.
Ulu Segara Luxury Suites & Villas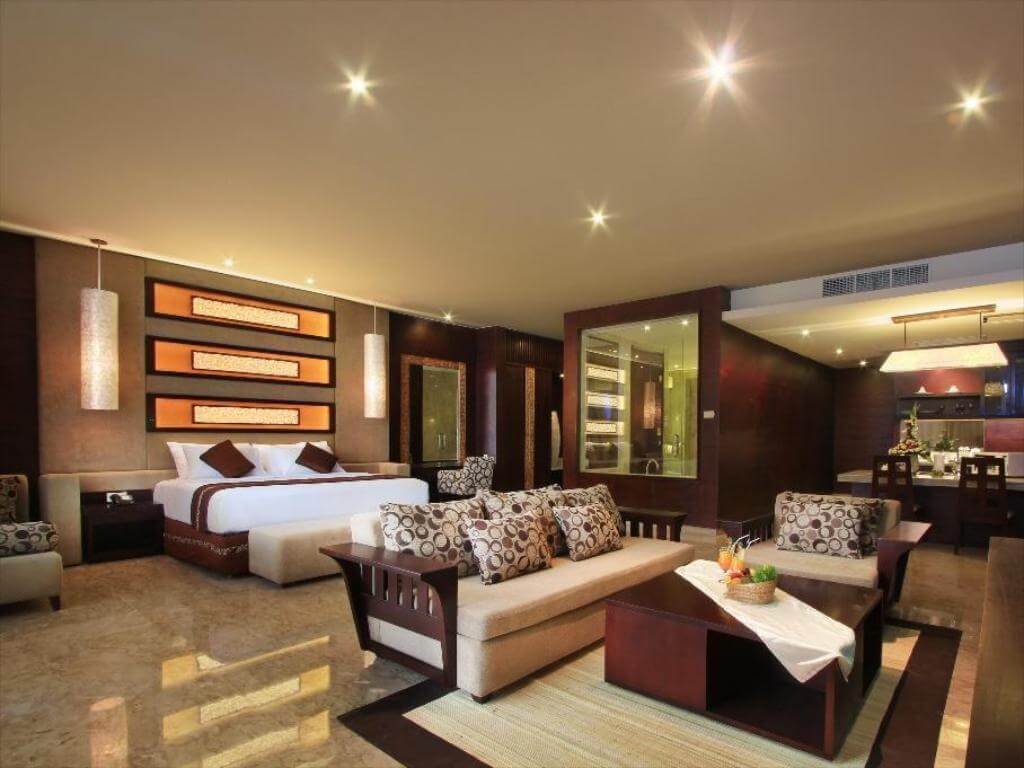 The Segara is contemporary, intimate and elegant, with endless sea views. Far smaller and less pretentious than neighboring mega-resorts, this hotel in Canggu faces a narrow private beach that disappears at high tide.
The Ocean Villas are massive, with a modern décor, garden inside and out, and plenty of windows. They also contain a bathroom as large as the bedroom, plunge pool with a gazebo and wooden decking, and a comfortable living/kitchen/dining area.
In the curved six-level block overlooking the cliff-top Infinity pool, the Ocean Suites feature a stylish Asian décor, kitchenette, huge lounge area and broad balcony from which the sea views are sublime. You can even hear the sound of the waves - lush!
Hotels in Ubud
Known worldwide as the mecca of luxury stays, hotels in Ubud are not to be missed. If you're thinking about treating yourself to a great stay, you should do it in Ubud - there's no other place where you'll find that level of service and luxury at that price!
In Ubud, you can find many different types of stays, but many of the best luxury hotels in Bali are located here.
Also known as a place of healing and retreat, you can expect eco-friendly Ubud hotels nestled in amongst the lush green nature here!
Komaneka at Bisma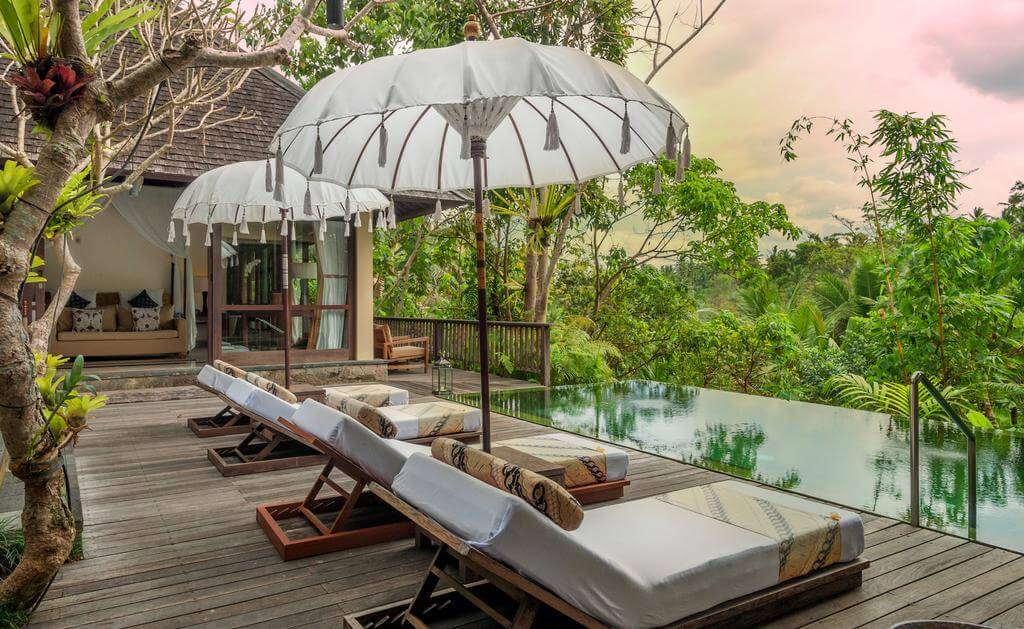 Komaneka at Bisma is a little out the way, but it's totally worth it! With an infinity pool overlooking the rice paddies, a great outdoor area and tastefully decorated rooms, you're sure to have a great stay here.
Get your camera ready, because this is probably one of the most snap-worthy spots in Bali and one of the best infinity pools in Ubud!
Green Village Bamboo Houses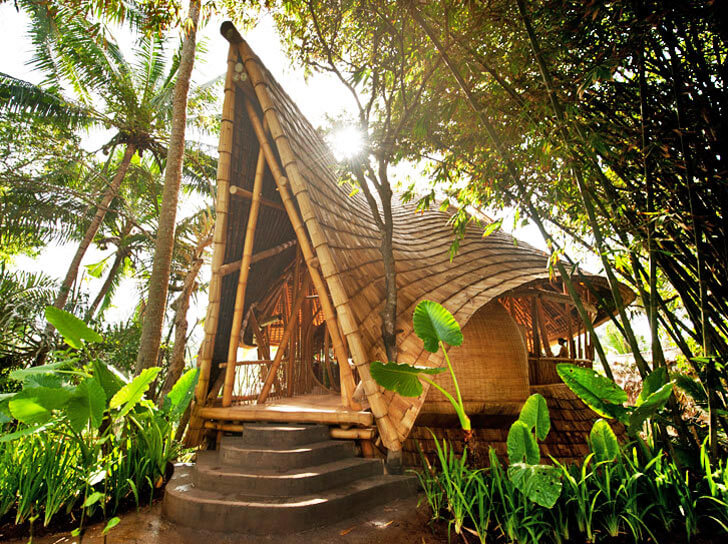 Green Village Bamboo Houses offer a unique stay in Ubud. The hotel features villas made out of bamboo!
This eco-friendly paradise offers more than just a stay as it holds community gatherings and even a sustainability school!
Again, it's around a 30 minute drive from the centre of Ubud, but it's so worth it for the sense of tranquility and isolation you get from staying here.
Our Best Selling Tour
All-Inclusive

Lovina Dolphin Watching & Snorkeling Adventure

Is there anything more exhilarating than seeing dolphins in the wild? Our Lovina Dolphin Watching & Snorkeling Adventure is simply magical. Your private Bali tour guide will pick you up and whisk you off to Lovina to see the dolphins playing at sunrise. This early sunrise tour means you will get to spend time snorkeling in the beautiful clear waters without the crowds. Add in some lunch and a visit to an awe-inspiring temple and this Bali tour is perfect for any type of traveler.
Ubud Village Resort & Spa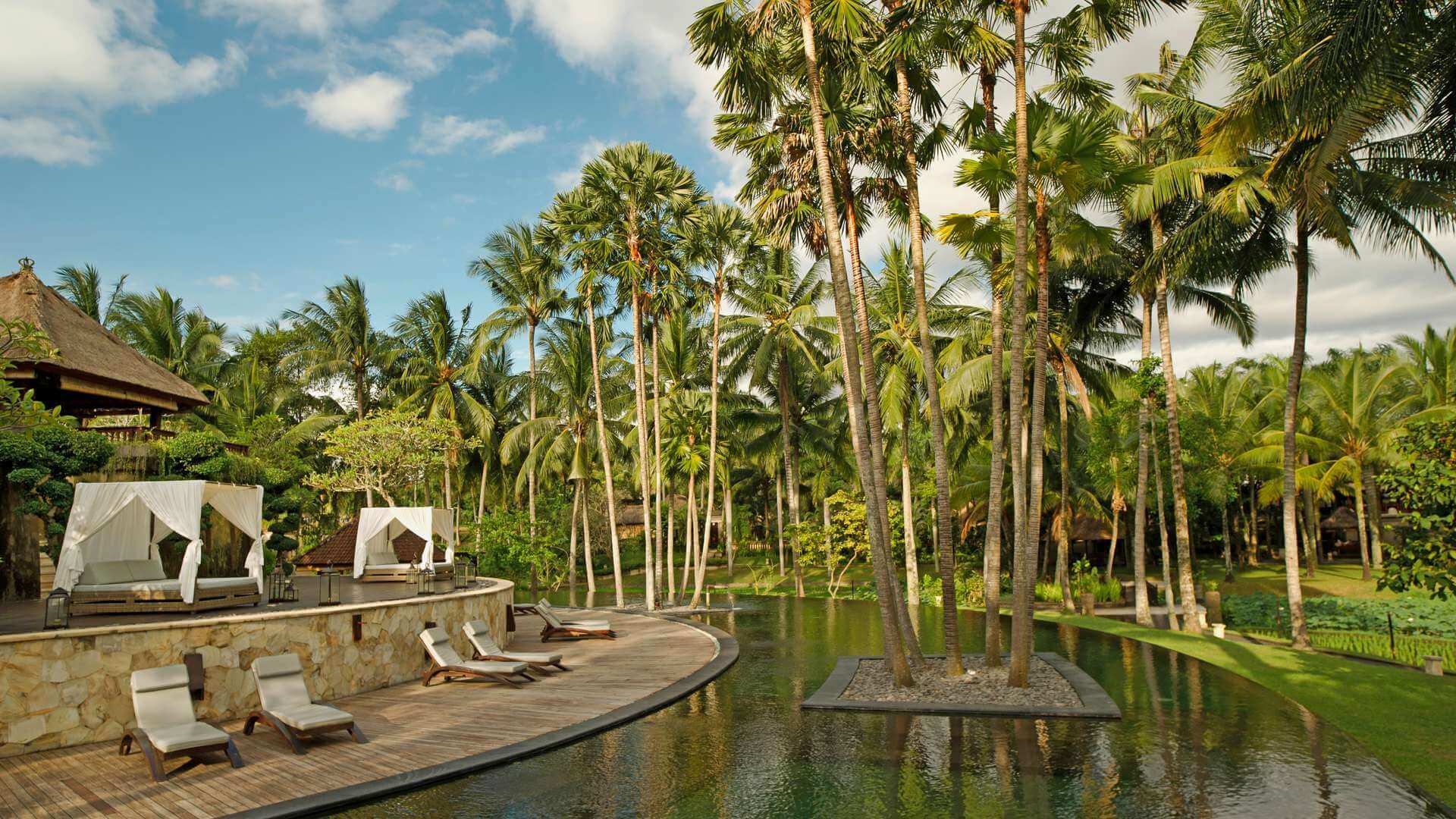 Ubud Village Resort & Spa is perfect if you're looking for a luxurious stay in Ubud but you're also looking to have a little bit of independence.
Reserve one of the Ubud Village private villas complete with private pool, and enjoy your own space away from it all while still experiencing all the perks of a world class hotel.
Great if you're looking for a romantic getaway with your partner.
Hotels in Nusa Lembongan
Nusa Lembongan has slowly grown as a tourist destination thanks to its good surf and chill beach vibes.
It's actually a separate island but is still classed as being part of Bali. The ferry leaves multiple times per day from Sanur (east Bali) and it's super easy to arrange boat tickets through your hotel usually.
It is possible to visit just for the day from Bali (check out our Nusa Lembongan day tour), but the island is also home to tons of great hotels if you fancy staying for a while longer!
Sanghyang Bay Villas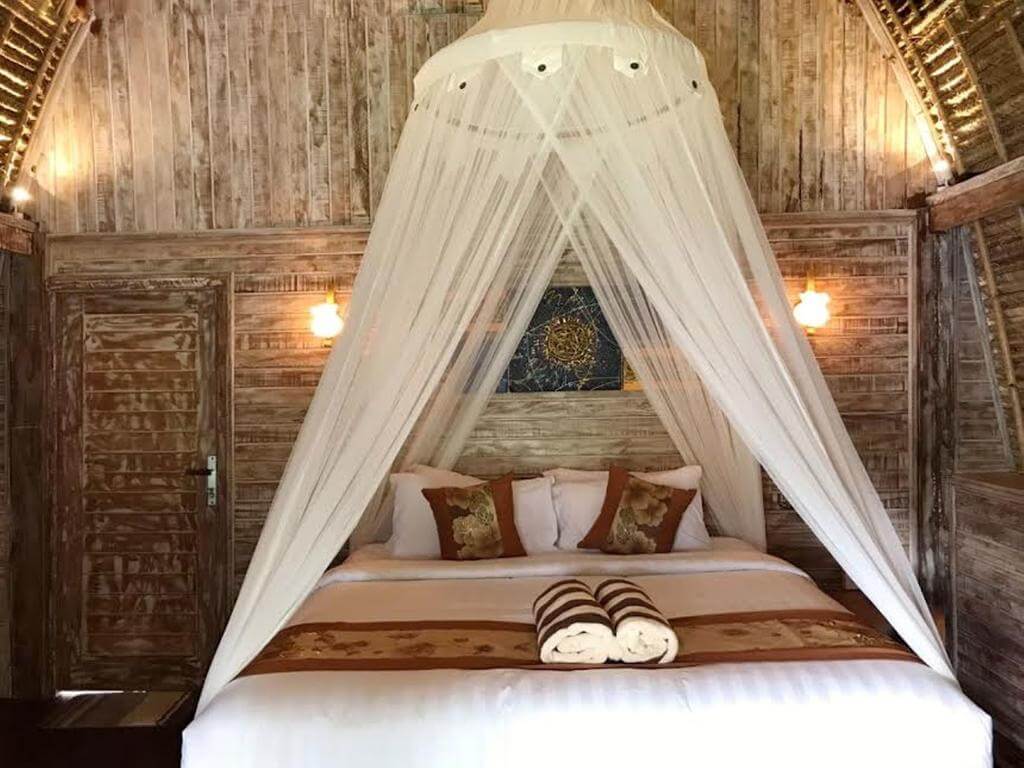 Set in the Mushroom Bay district, at Sanghyang Bay Villas you can swim all you want at this hotel thanks to its huge outdoor pool!
This hotel in Nusa Lembongan is a good fit for couples who want a romantic stay as each room comes with a balcony overlooking the sea. The hotel also offers various activities and day trips to enjoy together.
The location is great as it's only 700 meters away from the famous Sandy Bay Beach Club. The hotel staff can help you arrange the boat transfers, scooter drivers and anything else you might need, so you won't have to worry about a thing here!
The Tamarind Resort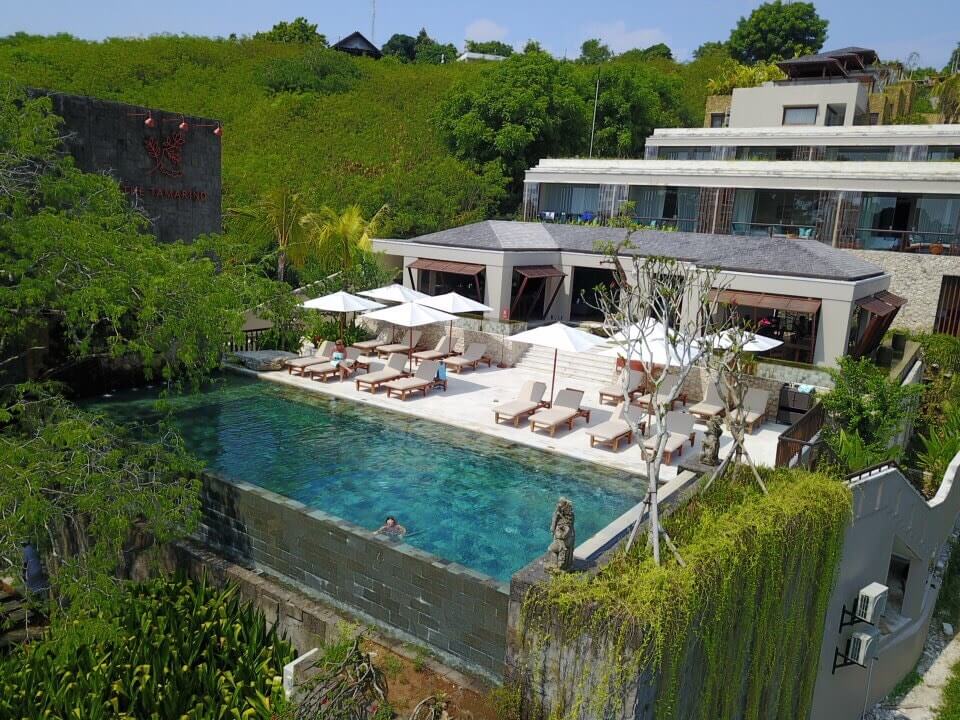 The Tamarind Resort provides everything there is to offer, including a massive outdoor swimming pool and gym. If you're looking for a relaxed hotel in Nusa Lembongan to chill while listening to the refreshing sound of the ocean, this place is definitely for you.
There's also an awesome restaurant on site complete with surrounding infinity pools and the best sunset views on the island. The best part of this hotel though is the staff, there really is nothing they can't do for you!
This high-end resort must be a tick on your list if you're planning a trip to Nusa Lembongan!
Lembongan Sanctuary Villas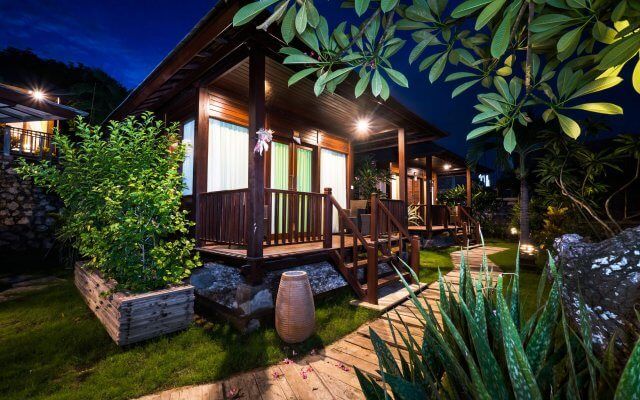 Lembongan Sanctuary Villas is undoubtedly one of the best you can find in Nusa Lembongan! Featuring cozy villas with private pools overlooking the sea and the famous Mt. Agung, it's the perfect spot for sight-seeing, especially with your loved one.
Why not arrange a luxury massage on arrival for the true VIP experience? Then head to your stylishly decorated private villa.
Personalize your meals with the on-site chef so you'll get exactly what you like and even get some kids-free time with the babysitting service provided! .
Get your VACATION on!
Expertly curated emails packed full of vacation inspiration, travel tips and more!