 Pandawa Beach
Beach in South Kuta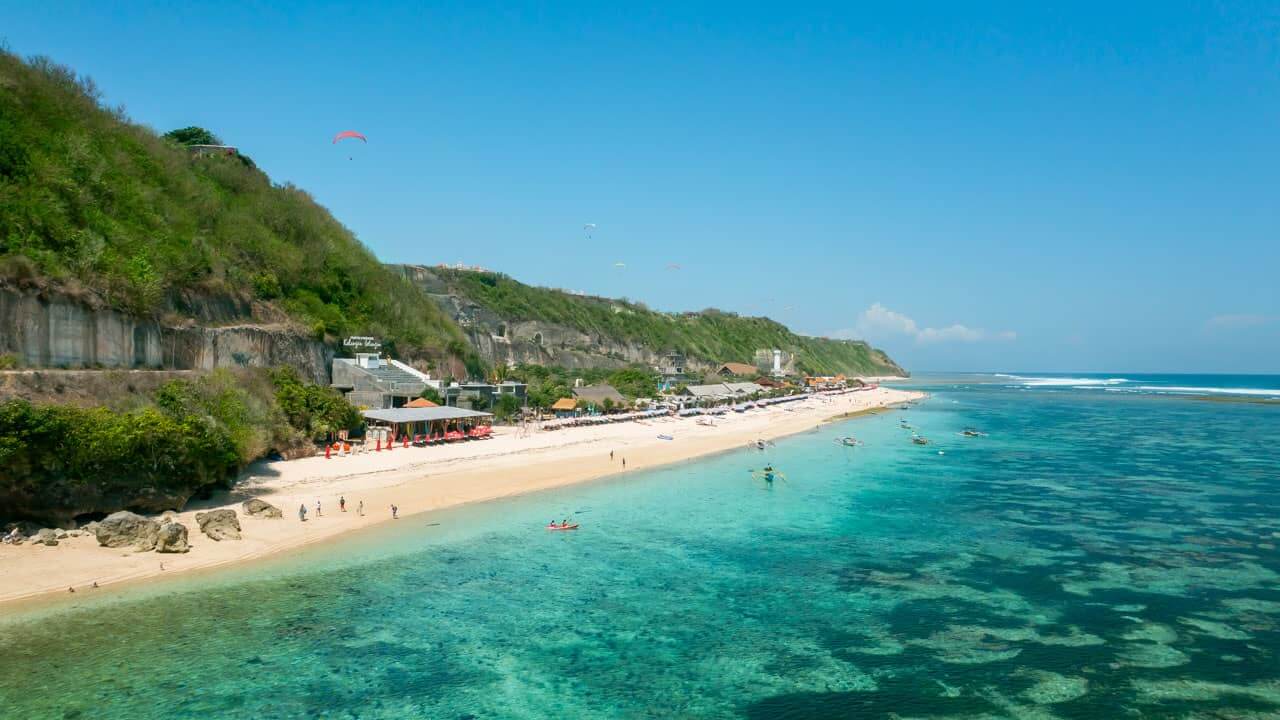 Details
Address:
Regency, Badung; District, South Kuta; Province, Bali; Country, Indonesia
Pandawa beach is - unlike many beaches in Bali with black sand- a white sandy beach, located in the Bukit peninsula (south Bali). But it's no ordinary beach...! It's located in a valley surrounded by huge cliffs. When driving down the road to the beach you will pass huge statues carved out in the rocks, so you'll have a pretty spectacular entrance to look forward to!
Our Best Selling Bali Tour
All-Inclusive

Nusa Penida Snorkeling Adventure

Tours in Bali are just as breathtaking underwater as they are above. Our Nusa Penida Snorkeling Adventure is quite spectacular - your private guide will whisk you to five of Nusa Penida's most stunning bays, including Kelingking Bay and Crystal Bay. You'll snorkel to your heart's content and even have the chance to swim with manta rays. This popular Bali tour is a once-in-a-lifetime experience!
Fun fact: In the past, Pandawa beach was well known to be one of the regions secret beaches because of the location behind a mountainous area that secluded its location to the unknown.
Why you should go to Pandawa beach:
The beach used to be a hidden gem in the bukit but these days more and more tourist find there way down there. It is the perfect place to relax, snorkel and swim in the blue water. It's very family friendly because the ocean here is pretty mellow, compared to other places in the Bukit. You will find lot of sunbeds and there are plenty of watersports that can be done. If you like to spend the day in a more secluded area, I suggest you walk all the way to the left when you get down at the beach, as there will be less people there.
You can combine your beach day with a visit to another beach in the area, called 'Melasti beach'. Recently a stunning beachclub 'Palmilla' opened its doors and it's by far one of the best beach clubs in the area.
How to get to Pandawa beach:
Pandawa beach is pretty easy to reach by car or scooter, although it's a bit outside of the 'normal' tourist routes. Once you arrive you will have to pay a small entrance fee and you can park your scooter or car at the parking lot.
Our Top Trending Bali Tours
Best time to visit Pandawa beach:
The earlier you arrive, the better spot you can claim on the beach! However, we recommend staying for sunset, because it is truly magical here at Pandawa beach.
Tips:
No need to bring food or drinks as there are enough food stalls to by everything you want
Bring cash money - there are no ATMs
Details
Address:
Regency, Badung; District, South Kuta; Province, Bali; Country, Indonesia