Bali Nightlife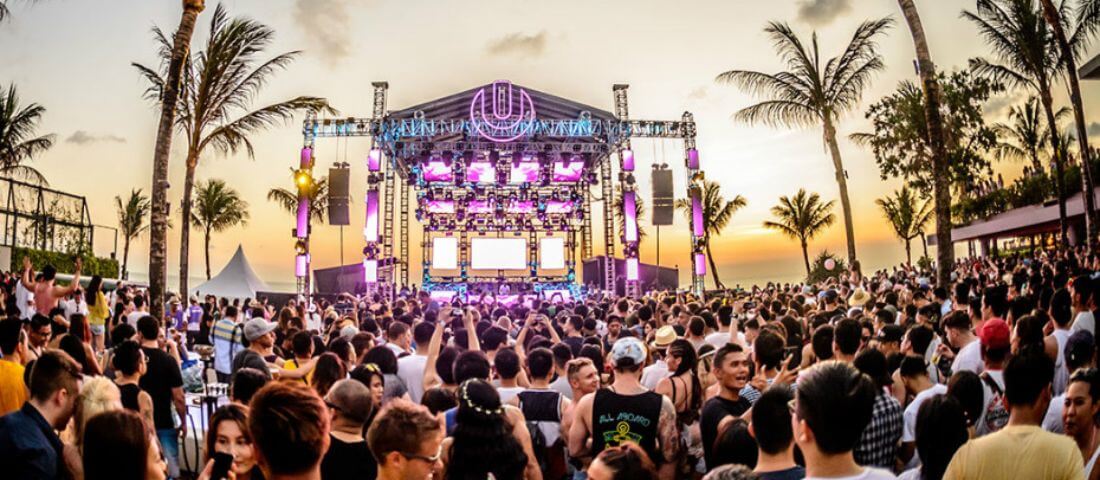 Bali can be the picture of serenity, if that's what you're after. If you want your Bali vacation to be empty beaches, quiet rainforests and waterfalls, visits to temples, mornings filled with peaceful meditation and yoga, and sipping your morning coffee from your own private balcony overlooking the ocean – it totally can be!
But the great thing about Bali is that it also has a totally awesome nightlife to immerse yourself in. Whether it's a night out tasting the local street food, a fine-dining experience in one of the many amazing restaurants on offer, sipping cocktails at an exclusive beach club or dancing the night away on the beachfront, there really is something for every occasion here!
Our Best Selling Tour
All-Inclusive

Balinese Local Experience Culture Tour

If you really want to immerse yourself in the local culture, our private Balinese Local Experience Culture Tour will be right up your street. This 9-hour, all-inclusive Bali tour takes you into the lives of the people. See gold, silver and wood being handcrafted and head to the local market to buy some souvenirs. The last visit of the day will be to Ubud Palace, the residence of Bali's Royal Family.
After a day on your very own private tour exploring Bali's most instagrammable spots or discovering Bali's secret waterfalls with us, spend your evening checking out the very best of Bali's thriving nightlife.
Here, we're giving you all our inside knowledge on Bali's nightlife whether you're staying in bustling Kuta or chilled out Uluwatu. Here's everything you need to know about Bali's nightlife so you can start planning your Bali vacation (and the tours in Bali you want to book with us).
Kuta
Kuta is definitely the busiest part of Bali and it attracts a lot of tourists every year, so if you're looking for a big party then this is the place to go. The development of mega clubs serving ultra cheap food and drinks tends to pull in a wilder crowd and has helped Kuta become a playground for young travelers during holiday seasons.
69 Bar Kuta
Part of the Itsana Rama Hotel, this classy bar is one of the most luxurious spots in Kuta for a nighttime drink. The open space has a beachfront view and live music and dance performances every night to keep you entertained. Sample the long list of classic cocktails or enjoy a glass (or bottle) of one of the many beautiful wines on offer. Come to 69 Bar Kuta for a relaxing, fun night of drinks!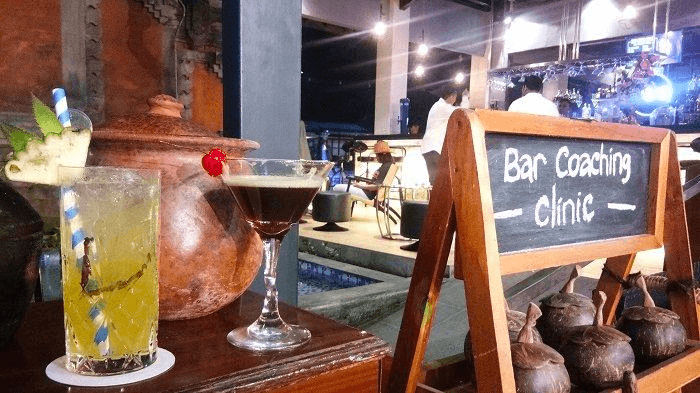 Turtle Sports Bar
If it's sports you're after, this is the place for you. One of the only bars showing all major sports, Turtle Sports Bar is crowded with tourists, expats and locals alike every single night! Join in on the drinking games if you dare or enjoy one of the drag and karaoke nights that run here. With plenty of delicious snacks on offer, you'll be able to stay here all night!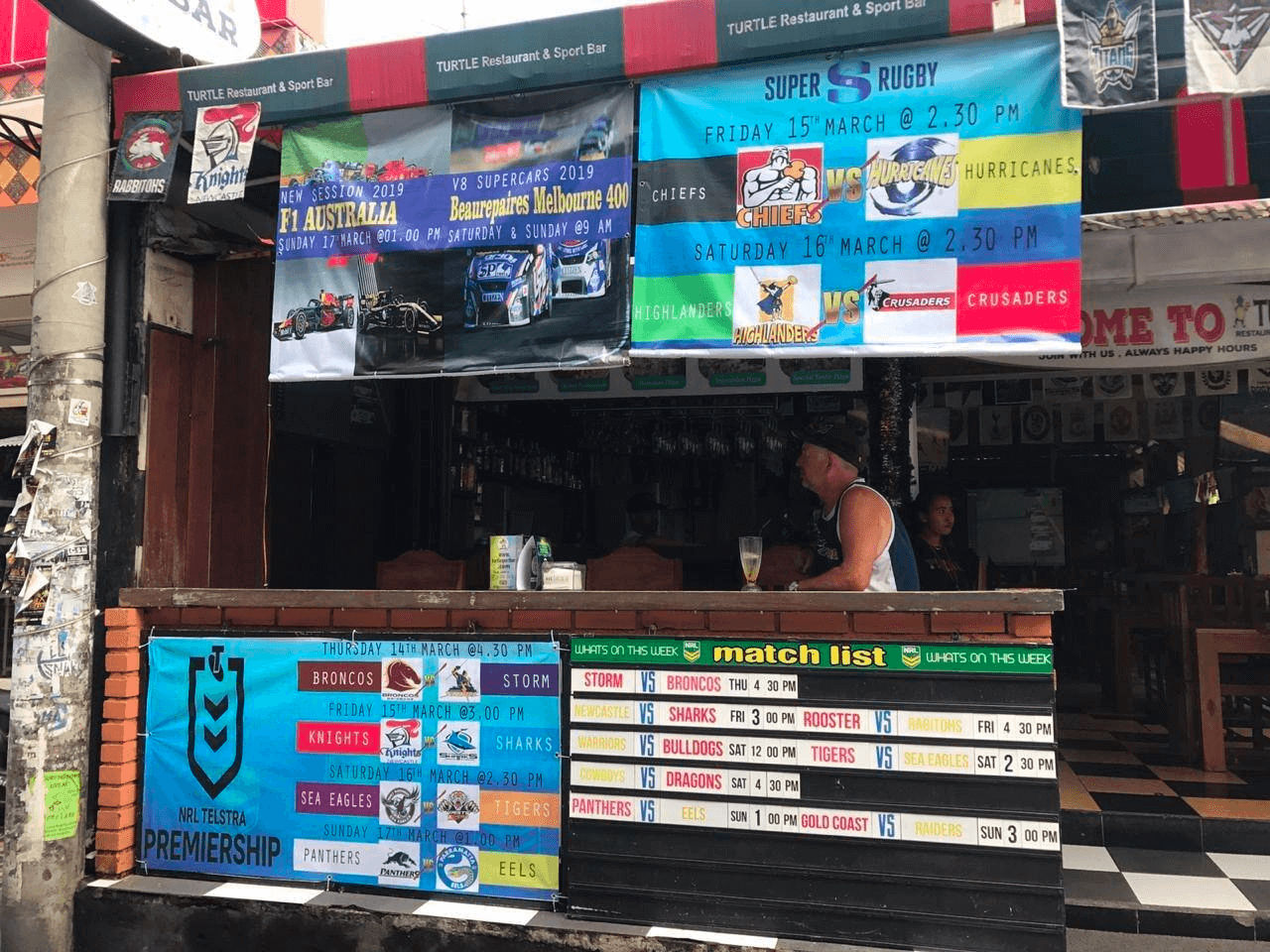 The Seven Rooftop Bar
If you fancy something a little more laid back, head to The Seven Rooftop Bar in the Kutabex beachfront hotel. This chilled out bar boasts a pool with a view of the entire coast – it's so romantic, perfect if you're traveling with your partner! You can even enjoy a live music performance to complete your night out in Kuta.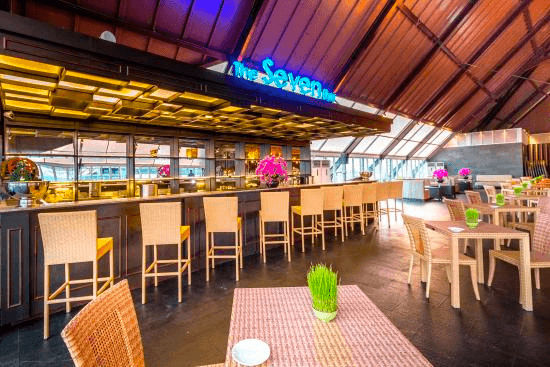 LXXY Bali
If you're looking to go 'out out' then LXXY Bali is the place to be. With a rooftop pool, non-stop EDM and a fully stocked bar, this is the perfect place to let your hair down on your Bali vacation! Dance your heart out to the best DJ's in Indonesia and make some memories you won't forget!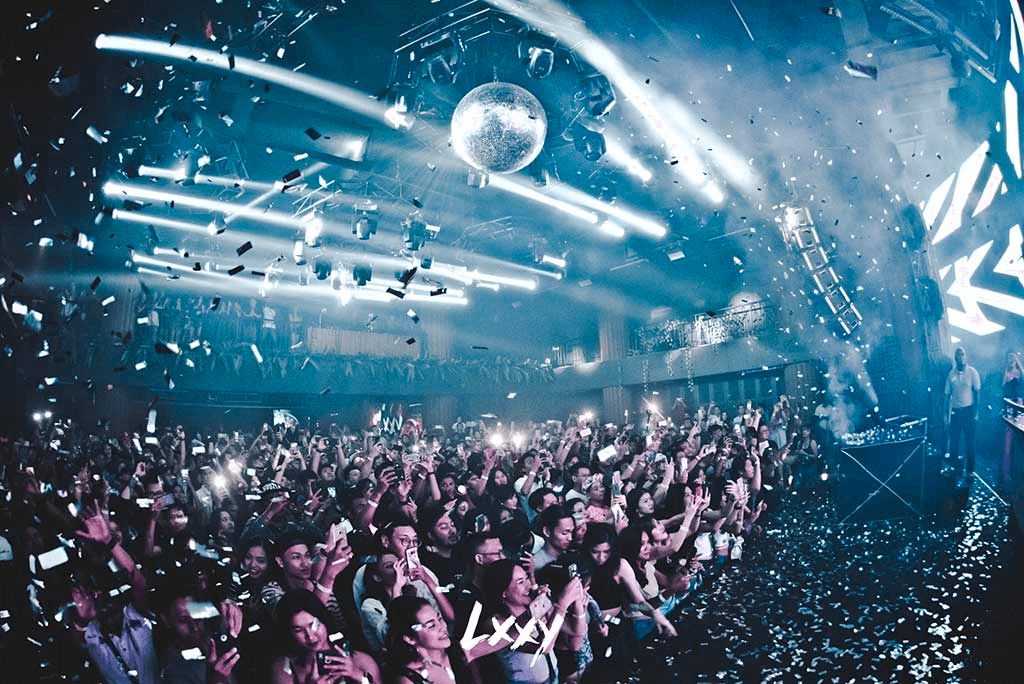 Seminyak
Seminyak has a more mature, chilled out vibe but is still a great place to find a party. Seminyak boasts more trendy clubs and bars compared to Kuta, and is one of the most popular places for expats to hang out. The focus is more on beautiful venues with top of the line sound systems and regular appearances from many internationally famous DJ's – so keep an eye out for who's headlining! The drinks aren't dirt-cheap here but they are top quality, so you can expect some pretty fancy cocktails.
Potato Head Beach Club
Ok, so it might be a bit of an obvious choice, but trust us if you're going out in Seminyak you just HAVE to grab a drink at Potato Head Beach Club. This place is probably the most well known bar in Bali – you must have seen it on Instagram! But, it's one of the longest standing bars for a reason. The architecture, the cocktails and the vibes are on point, so it's the perfect place to start your Seminyak night out. Head here for sunset for a real treat!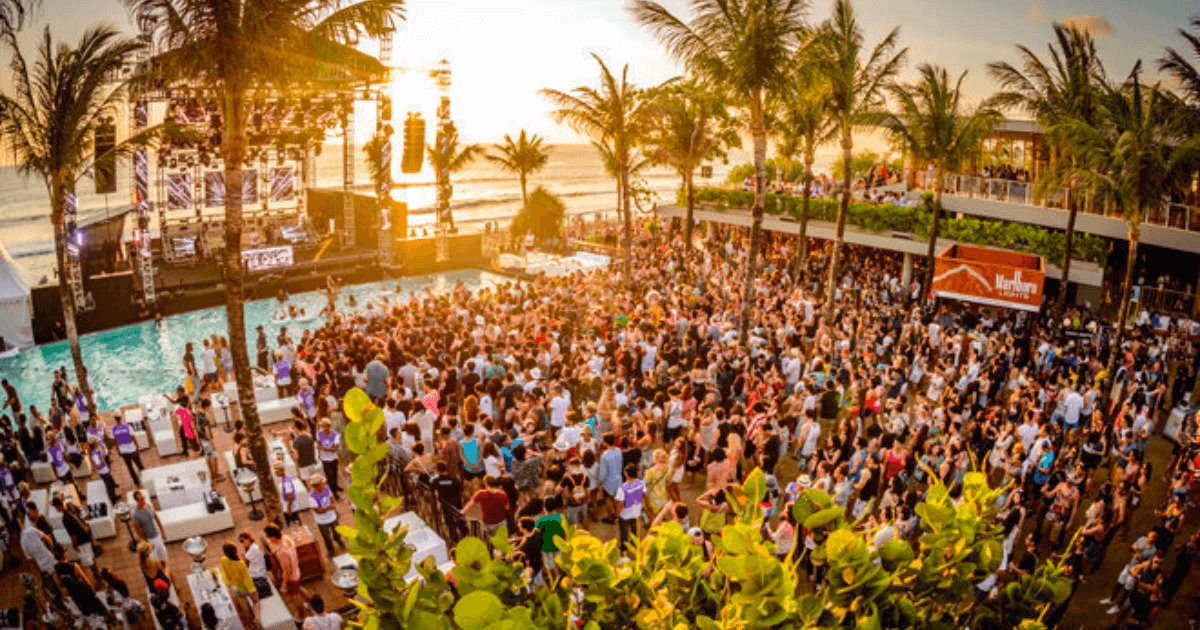 La Favela
No guide to Seminyak nightlife would be complete without mentioning La Favela! Another well-known nightlife spot in Seminyak, La Favela is the place to head to after sunset to really get the night going. Playing fun music over 3 separate floors, you're sure to have a blast here, but remember, it can get super busy so try not to lose your friends on the dance floor!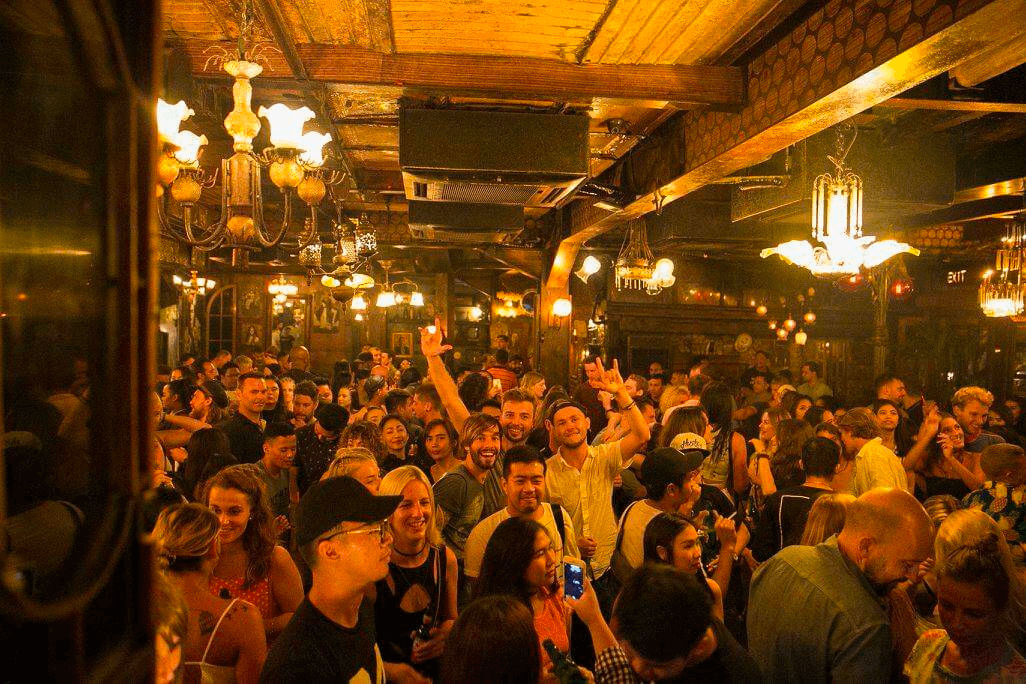 Double Six Rooftop Sunset Bar
For the best sunset view in town, it just has to be the Double Six Rooftop. Head here for relaxing, chilled out vibes and sunset hour cocktail deals – and an amazing view of the sunset of course! A great place to start your night out before the real dancing begins.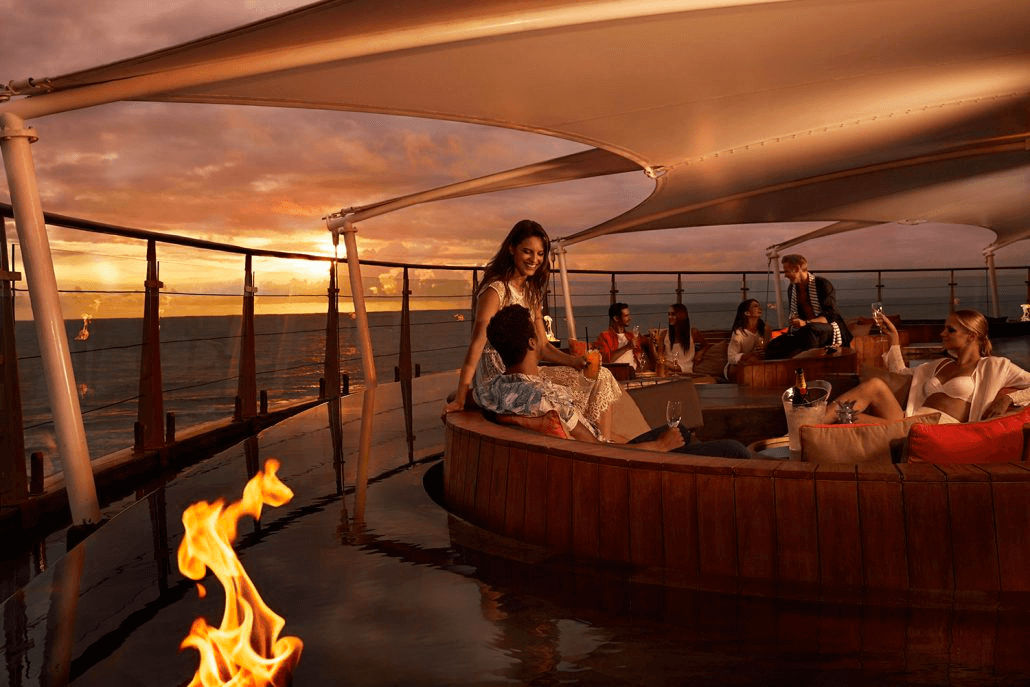 Motel Mexicola
Motel Mexicola not only serves some of the BEST Mexican food you've ever tasted, it's also host to a pretty awesome night out! Once diners are done this place turns into one of the best bars in Seminyak, playing old school tunes all night and regularly offering out free tequila shots. Check out their Cinco De Mayo party for a night to remember!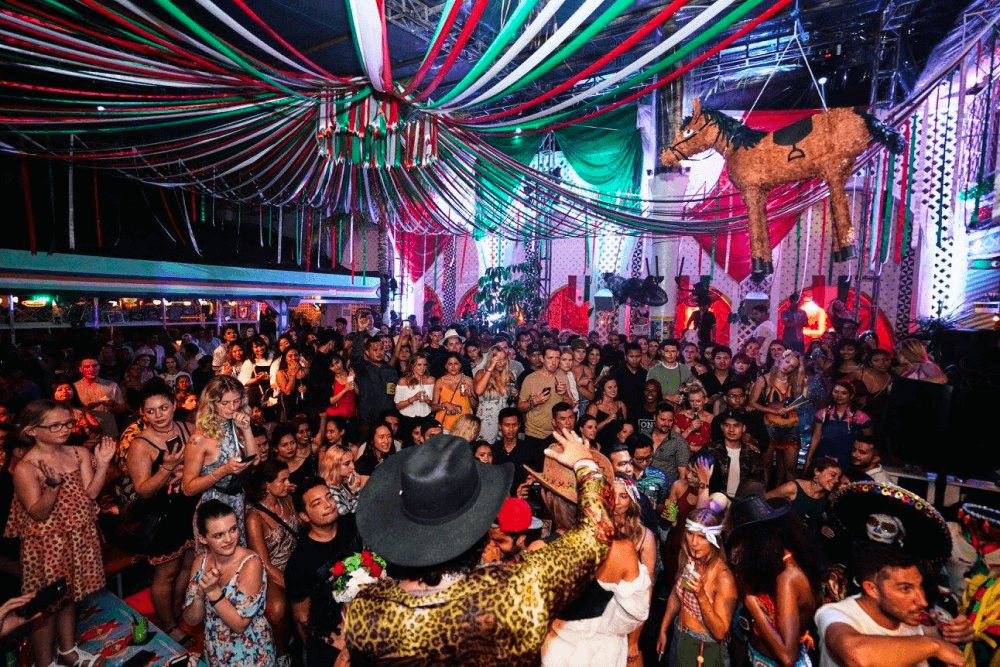 Canggu
Canggu is known for being a bit more bohemian and relaxed, although in more recent years the vast number of hipsters flocking here has made the nightlife one of the liveliest in Bali! In the day you can live your healthiest life at one of the many amazing health food cafes but at night kick back at a trendy beach club and party.
Old Man's
Old Man's was one of the first proper bars in Canggu and it's still one of the favorites for a reason! It's prime location on Batu Bolong Beach and sunset happy hour that runs 5-6pm every day, makes it the perfect spot for some post-surf drinks. This place oozes chilled surfer vibes but if you stay past 10pm then the party really gets started. Watch out for some amazing DJ's playing here too!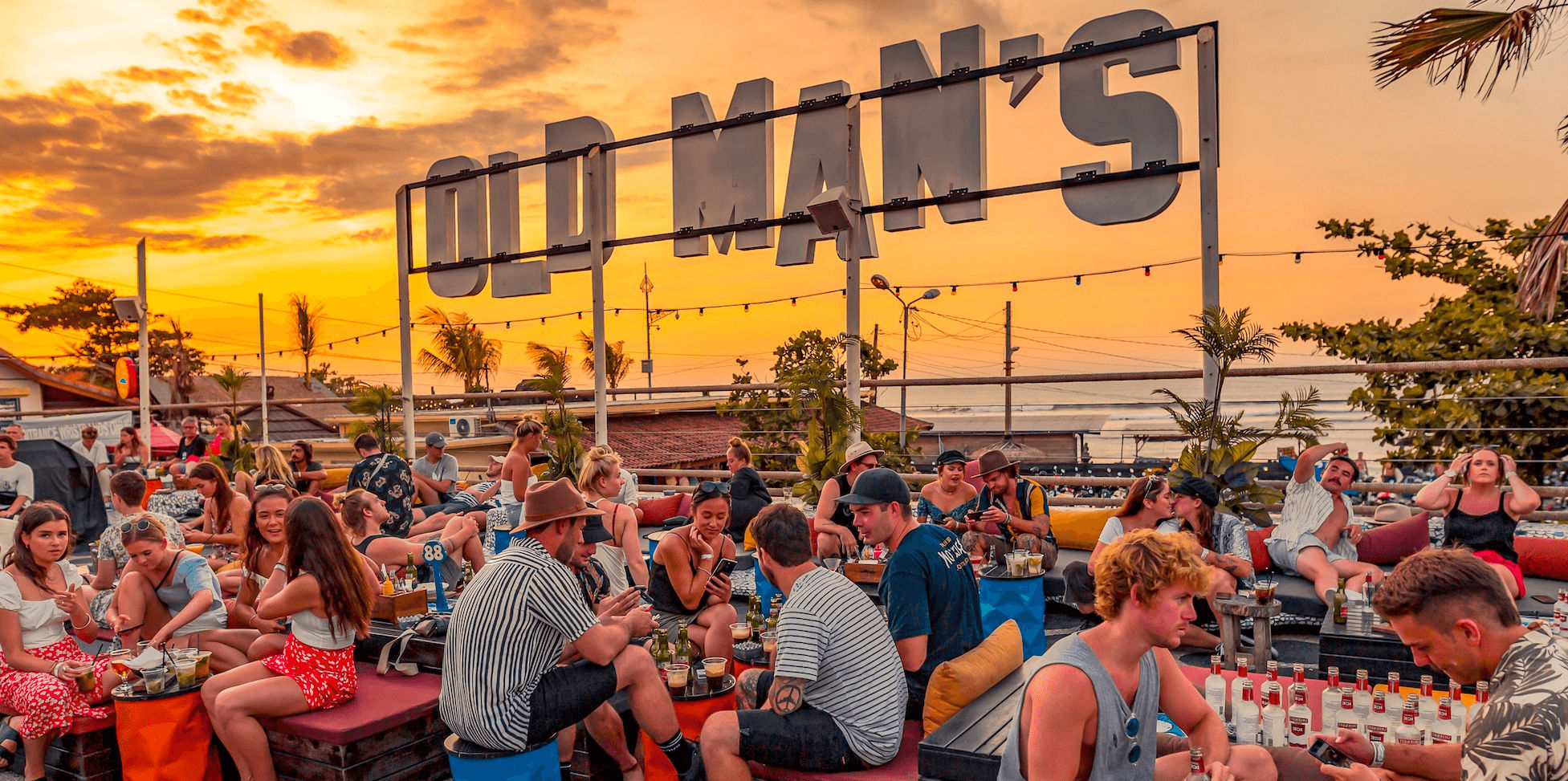 Pretty Poison
Pretty Poison is halfway along the famed Canggu shortcut – so be careful not to miss it - but if you're after a fun night out, you just HAVE to come here. The only bar in Canggu that boasts an actual concrete skate bowl, a night here will be one to remember. Watch the skaters, sip on hand crafted cocktails and dance the night away.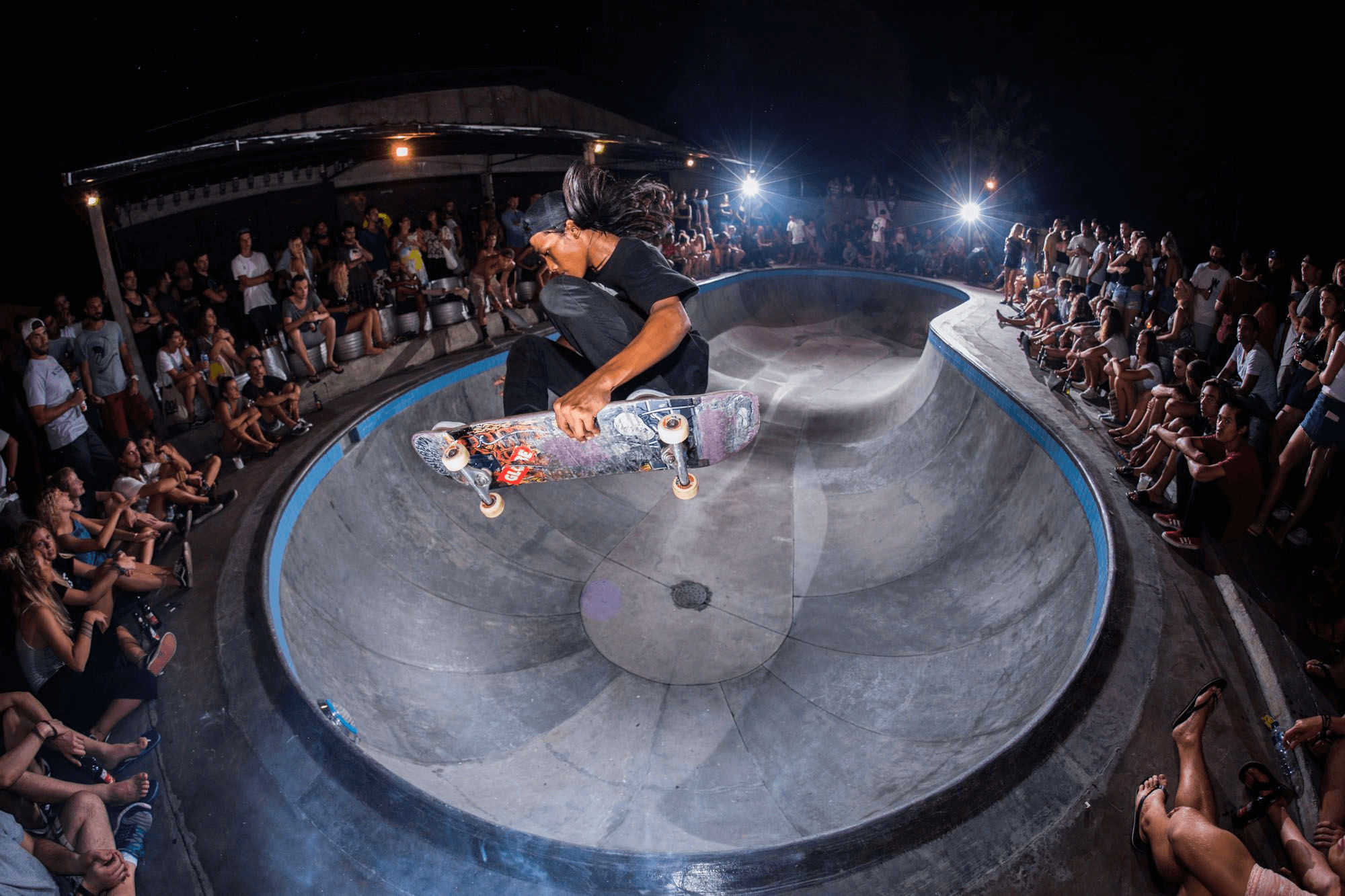 The Lawn
The Lawn is one of Canggu's newer beach clubs but it has quickly become known as one of the best. Located on Batu Bolong (just next to Old Man's), this is the perfect place to watch the sun go down over the beautiful Bali ocean. Enjoy 2-4-1 cocktails every Friday 8-10pm and chill out to some RnB tunes.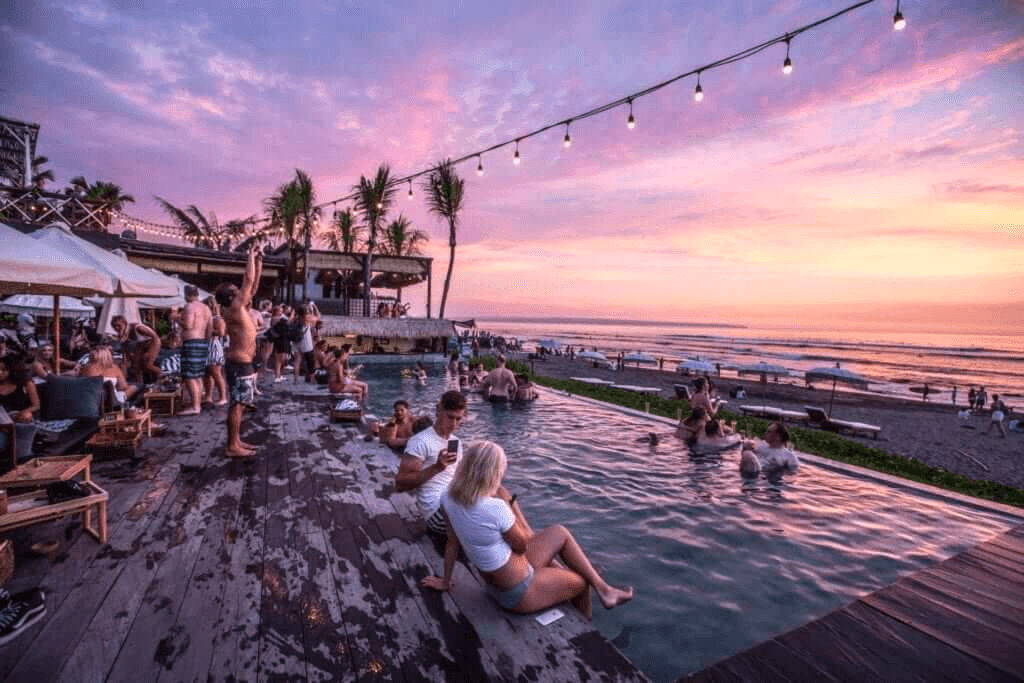 Deus Ex Machina
Deus is another of Canggu's original bars and we also think it's the coolest. Well known for its awesome Sunday night parties, this place has a covered back garden space for you to enjoy the amazing live bands and DJ's they put on. The drinks are also reasonably priced here and on Tuesdays they run a taco and tats night where you can bag yourself some tasty tacos and maybe even a free tattoo if you're up for it!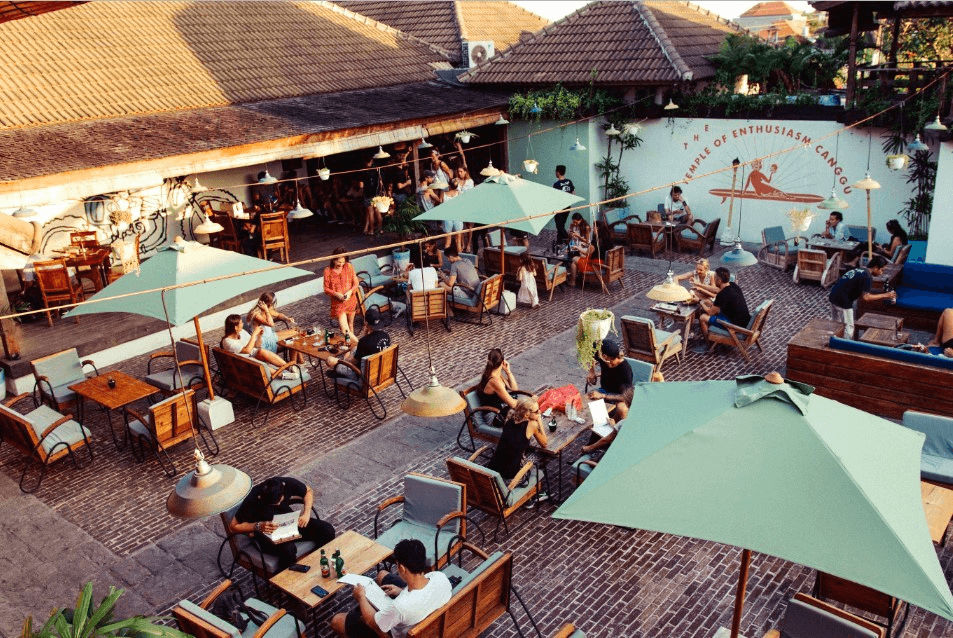 Uluwatu
Much further south, at the shore of the Bukit peninsula, lies the beautiful Uluwatu area. This part of Bali is characterized by its stunning cliff tops and perfect surfing beaches – so you can expect a big surfing crowd here! The surfing crowd need to let off some steam after a full day of surfing so the nightlife is actually pretty thriving in this relatively small and quiet part of Bali. Expect cliff top nightclubs with incredible views that will let you go all night long if that's what you want!
The Edge
Possibly the most insta-worthy spot in Uluwatu, The Edge is known for it's incredible glass-bottomed swimming pool that hangs out over the edge of one of Uluwatu's famous cliffs. It's worth coming for a drink here just to see it for yourself and snap some photos! But the bar also offers beautiful food and drinks for you to enjoy along with the amazing view.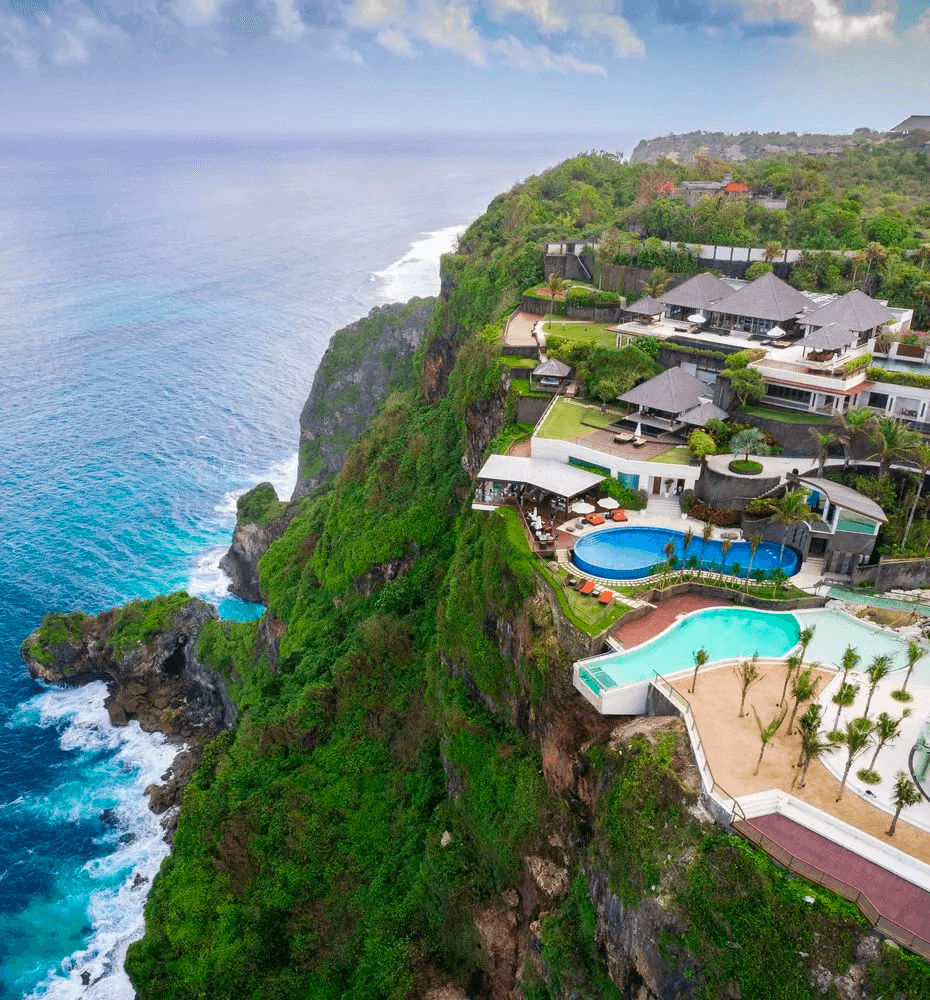 Ulu Cliffhouse
Ulu Cliffhouse is an iconic bar and nightclub in the Uluwatu area. The décor is amazing and it hosts many international artists that draw in huge crowds of tourists and locals alike. Like many of the venues in Uluwatu, it's also set atop a cliff and offers amazing views of the surrounding landscape and ocean, so you can party in style!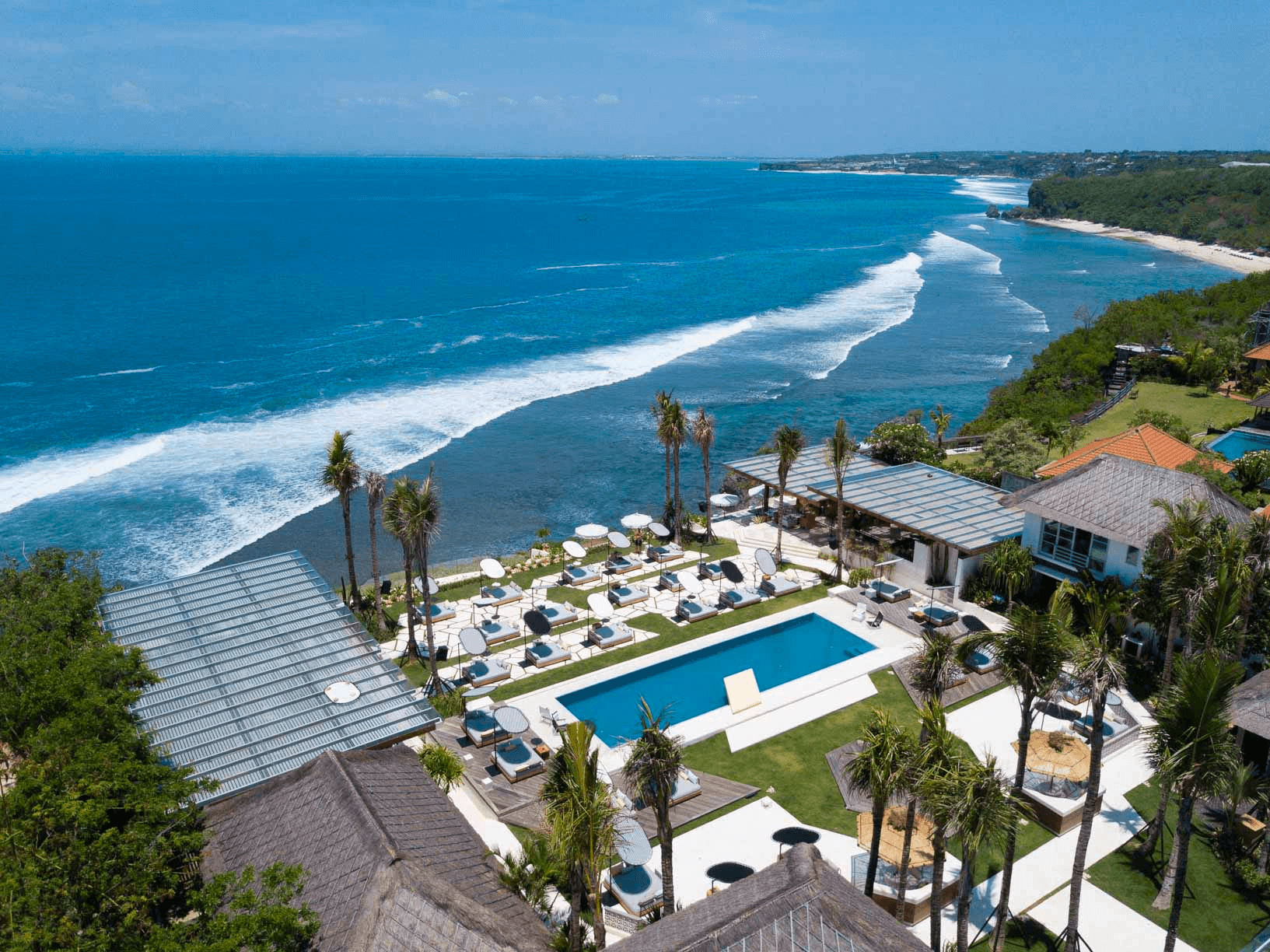 Single Fin
If you're after a night out in Uluwatu, you just have to check out Single Fin. The original Uluwatu venue, 'Single Fin Sundays' have long been a thing in the Uluwatu surf community. Situated on a clifftop close to Ulu Cliffhouse, come here for 2-4-1 pizzas and cocktail jugs while the sun sets to start your night off with a bang – you won't regret it!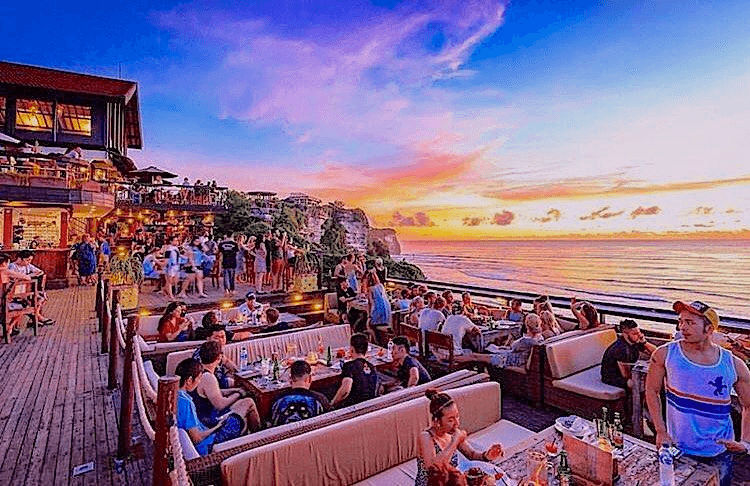 Check out our private tours in Bali to start planning your days as well as your nights!
Get your VACATION on!
Expertly curated emails packed full of vacation inspiration, travel tips and more!