Best Waterfalls in Bali: A 2-Day Itinerary
Best Waterfalls in Bali: A 2-Day Itinerary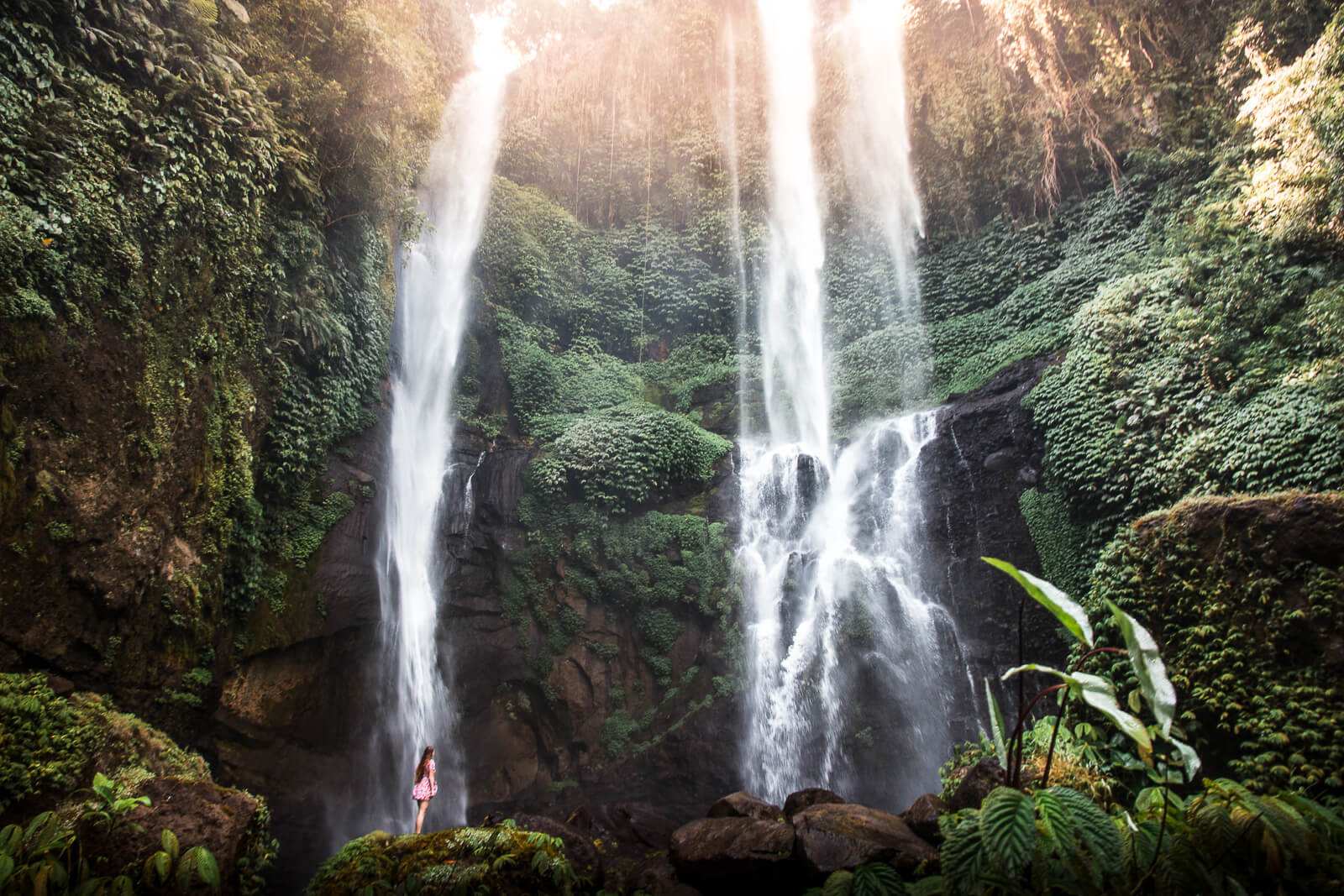 Are you dreaming of a tropical adventure surrounded by stunning landscapes? Look no further than Bali, Indonesia! Bali is an island paradise filled with gorgeous beaches, lush forests, and awe-inspiring waterfalls. If you're looking to embark on an unforgettable two-day tour, join us as we explore some of the best waterfalls in Bali.
From Nungnung to Sekumpul, each waterfall has its unique charm and breathtaking beauty. Get ready for a journey that will take you through Bali's hidden gems and its most epic locations. So, pack your bags, wear comfortable shoes, and let's get started!
Day 1 - Exploring Central Bali's Hidden Gems
To make the most of your time in Bali, it's important to start early, so get up and be ready for a packed two-day waterfall route. Wear comfortable shoes and your swimsuit, and don't forget a towel and your refillable water bottle.
The Bali waterfall map showcases some of the most impressive waterfalls on the island, with the majority located in central or north Bali. Our first stop is the Nungnung Waterfall, located approximately 45 minutes north of Ubud. This impressive waterfall requires a 509-step walk down, so it's best to arrive around 8 AM, giving you plenty of time to enjoy a swim in the waterfall pool and hike back up slowly. The stairs are well-maintained and easy to navigate.
After Nungnung, we'll drive to the relatively unknown Leke Leke Waterfall, just a 30-minute drive away. This beautiful waterfall is a 15-minute walk through the Bali jungle, crossing rivers via bamboo bridges to reach the secluded waterfall. The relatively small waterfall is surrounded by colorful flowers and plants, giving it a unique and serene atmosphere. A ticket to Leke Leke costs 30,000 IDR, which is used for maintenance of the area.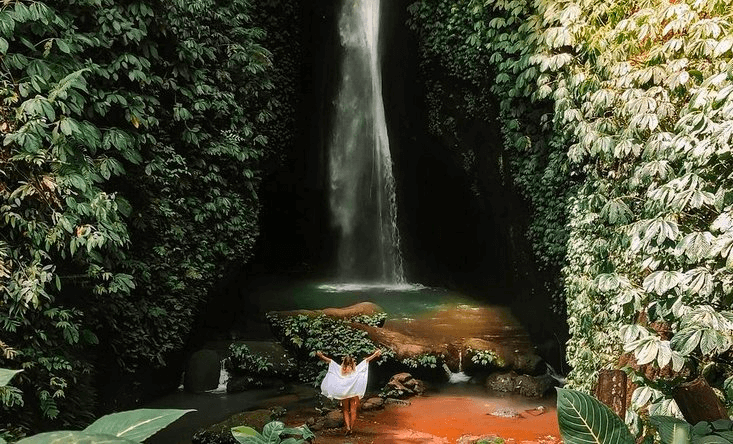 From Leke Leke, we'll drive to the cooler Munduk area, where the Banyumala Twin Waterfall is located. This stunning waterfall is split into two falls, pouring down into a large pool perfect for swimming and relaxing.
Although it may be a bit busier, due to the large area and a second waterfall hidden in the back, you can easily find your own space for relaxation. The drive from Leke Leke takes approximately 60 minutes, followed by a 10-minute walk down.
For the first night of your Bali Waterfall tour, we recommend spending the night in Munduk, a pleasant and super-chilled town near the Banyumala Twin Waterfall.
Day 2 - Discovering Bali's Best Waterfalls
After a good night's sleep, it's time to wake up early and discover the rest of Bali's best waterfalls, and we've saved the best for last. Start your day with a good breakfast and refill your water bottles before heading to the Sekumpul Waterfall, arguably the most incredible waterfall Bali has to offer.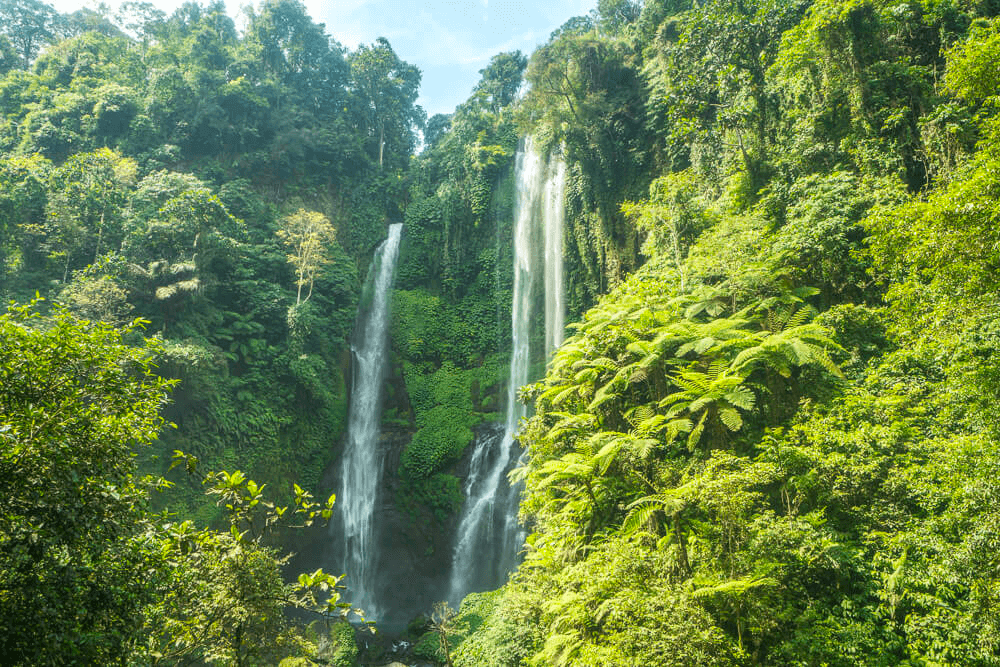 Water drops from a height of 80 meters down into a refreshing natural pool. The relatively long but easy walking trail through the forest takes you to a jaw-dropping panoramic viewpoint. Finally, a 15-minute walk down brings you to the foot of the most epic location of the Bali waterfall tour.
Start driving from Munduk at 8 AM, as it is harder to reach and lesser-known, Sekumpul won't be as busy before noon. The entrance ticket to Sekumpul is 250,000 IDR, which includes a guide, a second waterfall, and drinking water. Although the price may seem high, it is totally worth it. However, a guide and getting a plastic water bottle are not necessary at all.
From Sekumpul, we'll head to the Aling Aling Waterfall, which is different from all the other waterfalls on the Bali waterfall tour as it has natural water slides and jumping points. Aling Aling itself is sacred water and is not allowed to swim in, but there are loads of other waterfalls where you can swim and jump around. To reach Aling Aling, you'll need to drive for about an hour from Sekumpul.
Once you arrive at Aling Aling, you'll have the option to rent a guide for 125,000 IDR to show you the way and provide a bit of background on the area. The guide is not necessary, but if it's your first time visiting, they can be helpful in finding the best places to slide and jump.
Our Best Selling Tour
All-Inclusive

Bali Instagram Tour: The Most Famous Spots

From famous rice terraces, stunning waterfalls and breathtaking views of Mount Agung, our Bali Instagram Tour is perfect for travelers who want to experience the best of Bali's beautiful landscapes, as well as its other natural and cultural offerings. Visit a local coffee plantation, have fun on a jungle swing and enjoy a delicious lunch - all whilst being transported in a private car! Voted as our best tour in Bali 3 years in a row, this is must-take tour on your Bali vacation!
There are five different waterfalls in the area, each with its own unique character. The most popular are Kroya and Kembar, which both feature natural rock slides that are perfect for thrill-seekers. The other three waterfalls, Pucuk, Cemara, and Dedari, are all stunning and much quieter, offering a peaceful place to relax and take in the scenery.
After a full day of exploring, we recommend heading back to your hotel or villa to relax and recharge. Bali's waterfalls offer some of the most stunning and unforgettable scenery in the world, and visiting these natural wonders is a must-do experience for anyone visiting the island.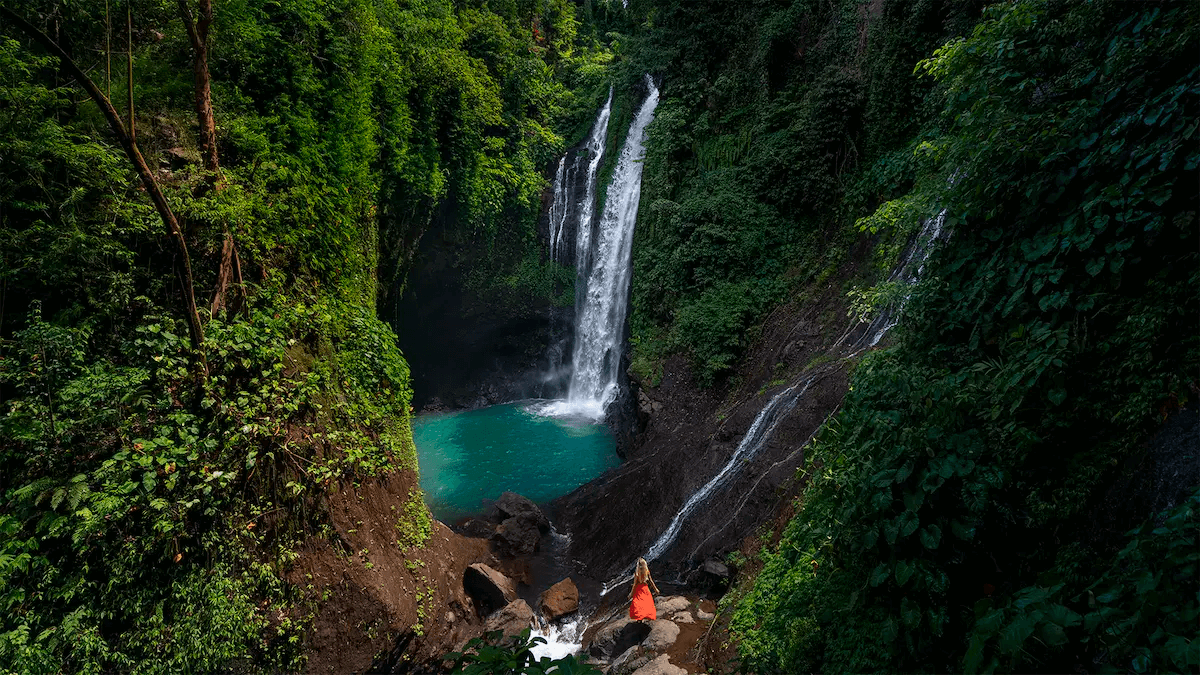 In conclusion, Bali is a paradise for nature lovers and waterfall enthusiasts. From the serene Leke Leke Waterfall to the majestic Sekumpul Waterfall, Bali has it all. A two-day waterfall tour is a perfect way to explore the island's hidden gems and create unforgettable memories.
So, pack your bags, put on your hiking shoes, and get ready to experience Bali's breathtaking waterfalls. Don't forget to capture the mesmerizing beauty of the waterfalls on your camera to cherish those moments forever!
Get your VACATION on!
Expertly curated emails packed full of vacation inspiration, travel tips and more!