Best Restaurants in Singapore [2023]
Best Restaurants in Singapore [2023]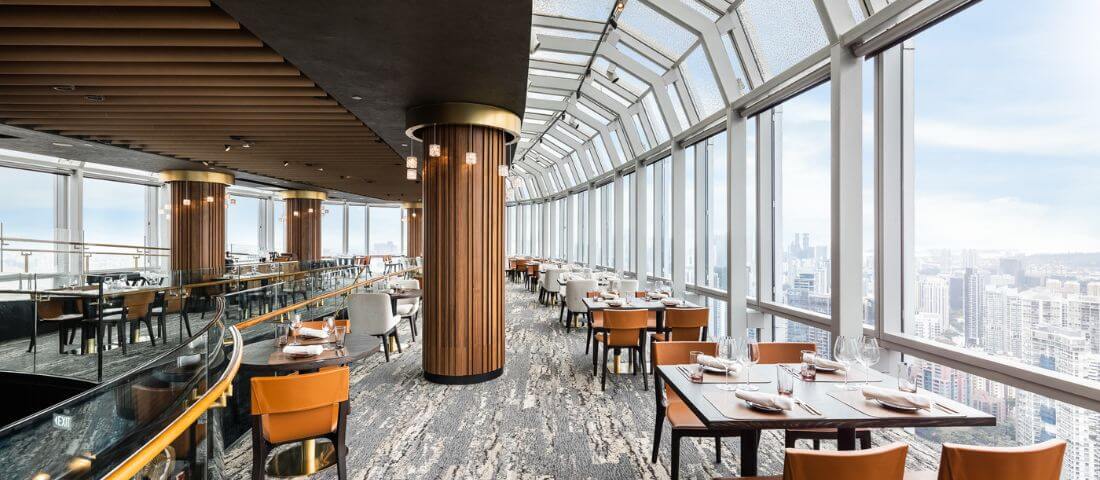 When you're searching for the best restaurants in Singapore it can be a pretty daunting task! From traditional local cafes to luxurious Michelin-starred spots boasting all sorts of cuisines, you can never run out of extraordinary food in this city!
There's no lack of both new and unique restaurants in Singapore. Thanks to a thriving food scene, a constant deluge of hot new eateries will make you spoilt for choice when it comes to picking your next dinner destination. Many of the restaurants on offer are popular stops on our tours in Singapore, a great way to combine fabulous food and an exciting day out!
Singapore has truly become a modern metropolis, with an innovative food scene showcasing an eclectic mix of restaurants and cuisine from all over the world! If you're looking for the best food in Singapore, our list of the best restaurants in Singapore for 2023 is a great place to start.
Focusing on some of the city's most popular areas and the most luxurious and unique restaurant experiences on offer, here are the top restaurants in Singapore for 2023 to get your feast on, in no particular order.
Little India
Kamala Restaurant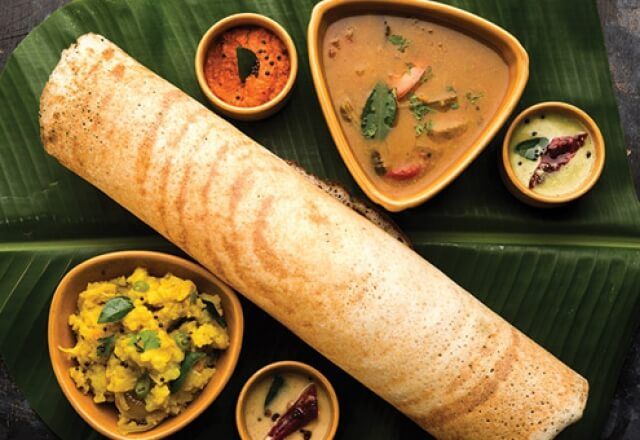 As the name suggests, restaurants in Little India tend to offer primarily Indian cuisine. Kamala Restaurant is a classic restaurant in Singapore famous for their heavenly thosai. Thosai is a huge, pancake-like dish folded and eaten with various condiments. Enjoy a delicious savoury choice, a sweet dish, or maybe even one of each! This restaurant in Little India is super popular with Singaporean Indians - a sign of its authenticity!
Komala Vilas Restaurant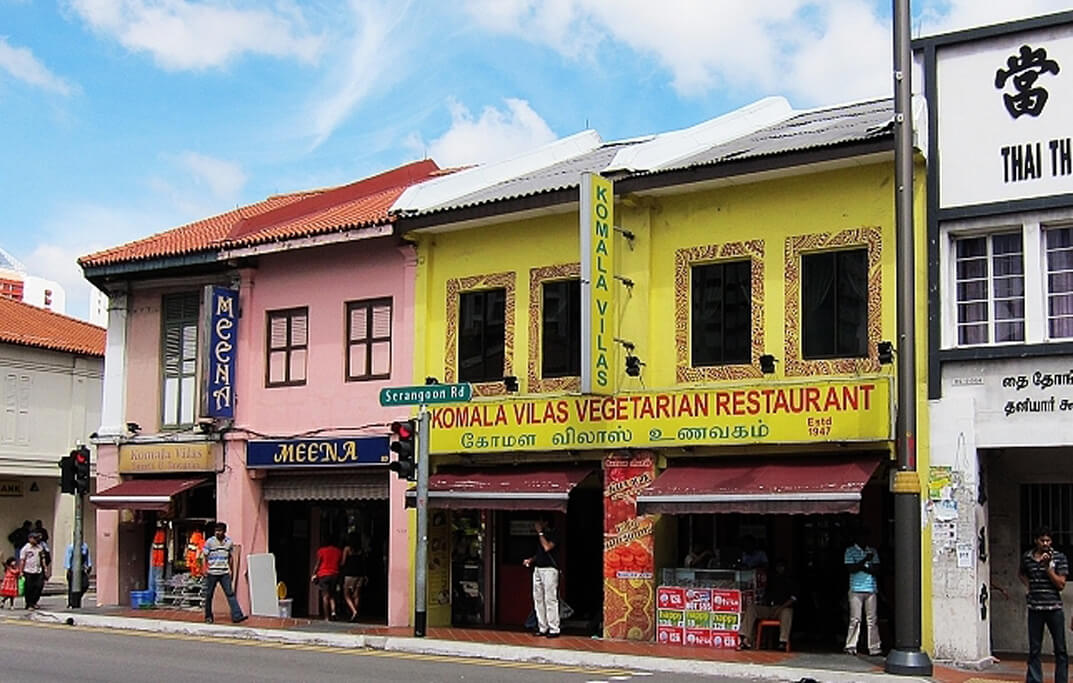 Komala Vilas Restaurant is one of the oldest restaurants in Little India. It's even famous back in its native India for serving some of the most authentic Southern Indian cuisines around – specifically from the Tanjore district of Tamil Nadu.
Authentic food is served on banana leaves, which is how meals are served back in the founder's native state in India. Serving some of the most tasty vegetarian food in the city with a smile, this top restaurant in Singapore is definitely not one to miss!
Kebabs and Curries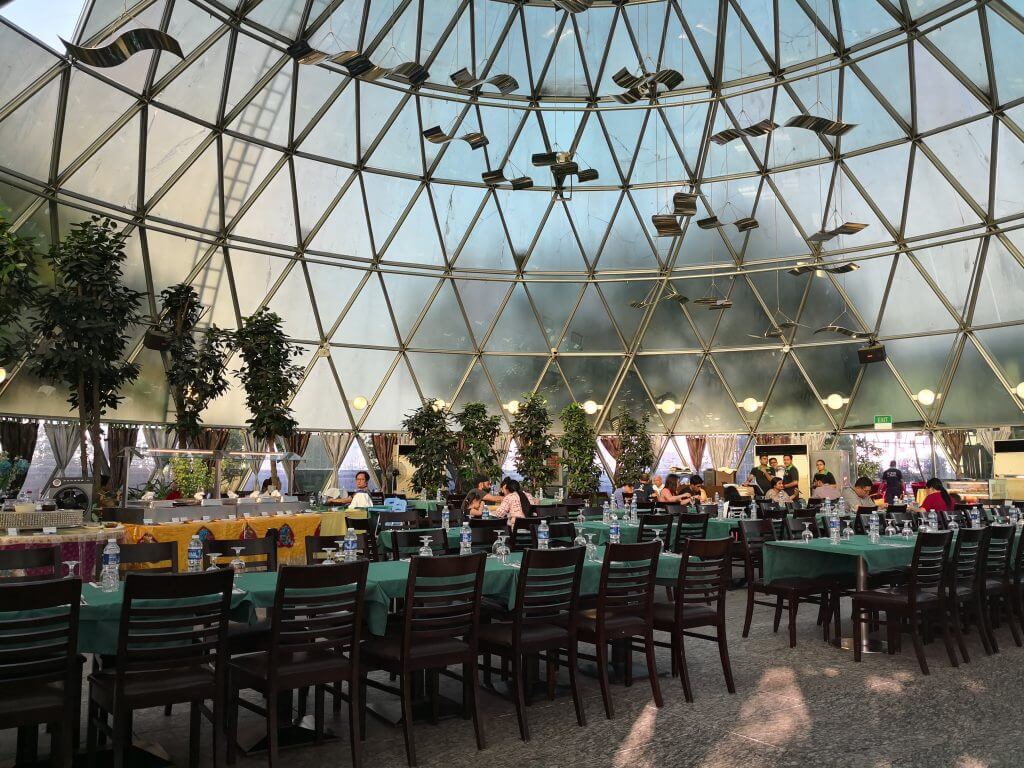 The simple name definitely doesn't reflect the top-class food and luxurious ambience of this restaurant. Located on the rooftop of the famous Mustafa Centre mall, and featuring some of the most brilliant chefs in Singapore, Kebabs and Curries offers a diverse range of South and Central Asian cuisine.
The food is packed with flavor and you can't go wrong when ordering! Another great feature of this fine dining restaurant in Singapore is its outdoor seating area, complete with a dynamic bird's eye view of Little India. Lunch with a view is on the cards!
The Arab Quarter
Nasrin Restaurant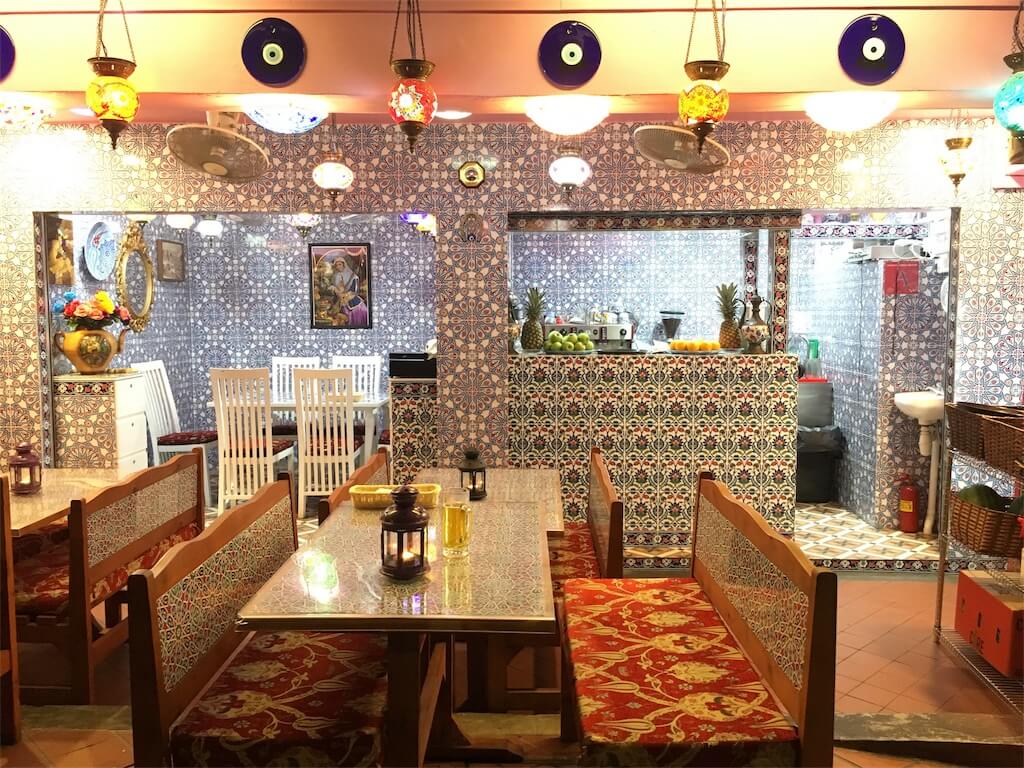 Showcasing another incredible cuisine (that isn't Singaporean), The Arab Quarter mainly features Middle Eastern and Mediterranean cuisine. And Nasrin Restaurant is one of the best restaurants in Singapore featuring this style of cuisine! The gorgeous interiors will make you feel like royalty and the menu will have your mouth watering at the incredible range of appetizers, signature dishes and chef specials, including Turkish faves like kebabs.
All Things Delicious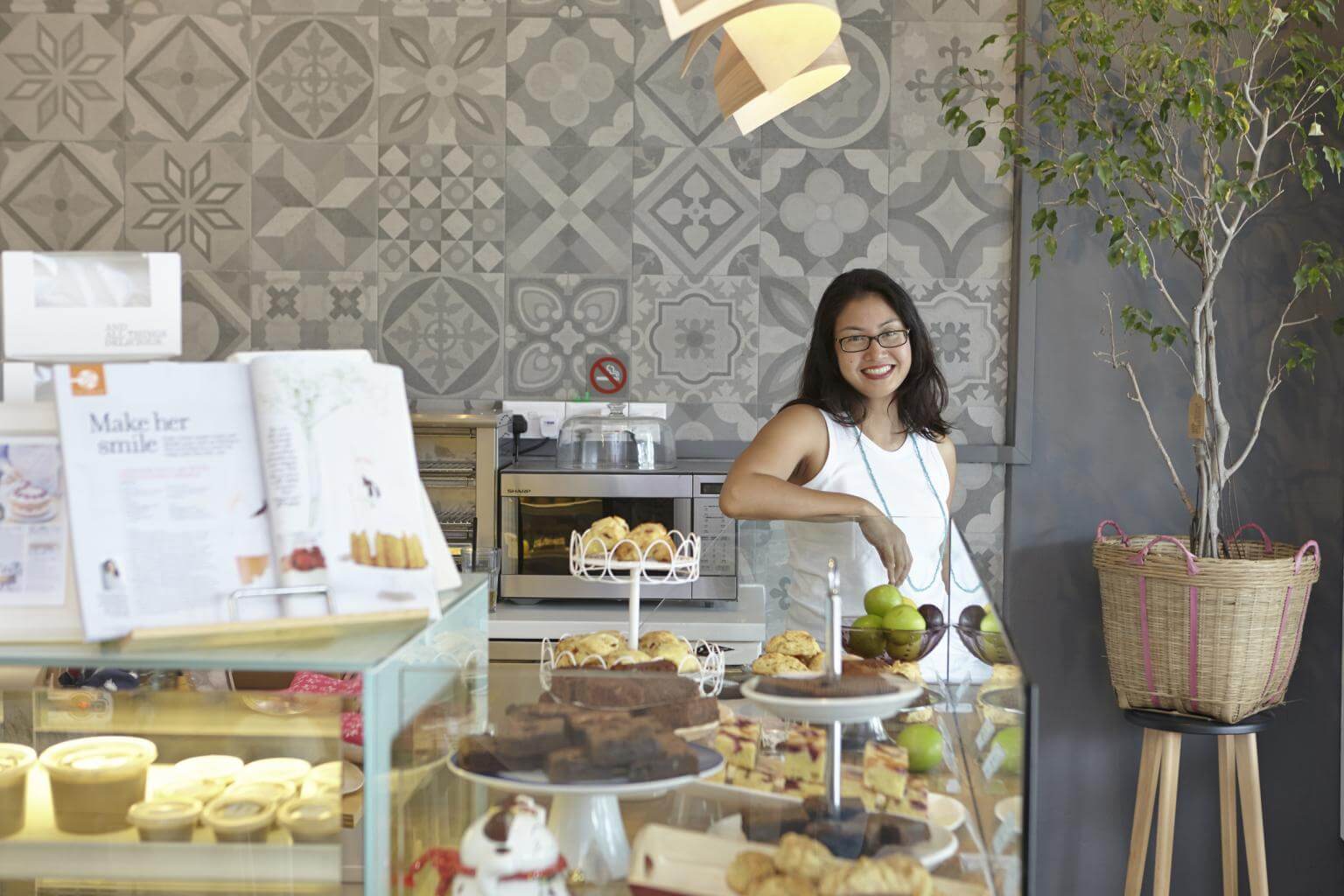 All Things Delicious is a charming little bakery-cafe in Singapore, whipping up bakes that are nothing short of delicious (as the name suggests)! Putting a Mediterranean twist on classics like scones topped with the likes of gula melaka and orange cranberry, you're bound to find a new firm favorite. The Singaporean cafe also serves up hearty breakfast plates, pastas and rice bowls… which are also delicious!
Tabbouleh Lebanese Cafe and Restaurant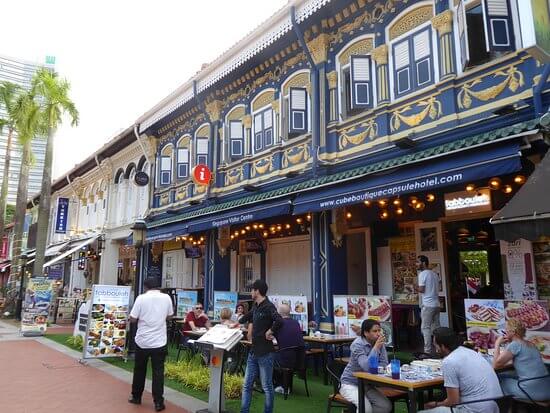 Tabbouleh will transport you straight to Lebanon with its mosaic lamps, red tablecloths and quaint and cosy vibe - undoubtedly one of the most unique restaurants in Singapore. The menu is packed with Middle Eastern favorites such as lamb kofta, fried halloumi cheese, charcoal-grilled meats and of course huge bowls of fresh home-made hummus! Perfect for sharing, get the mezze platter, served with creamy yoghurt and warm pita bread - familiar Middle Eastern food served by one of the top restaurants in Singapore.
Chinatown
Burnt Ends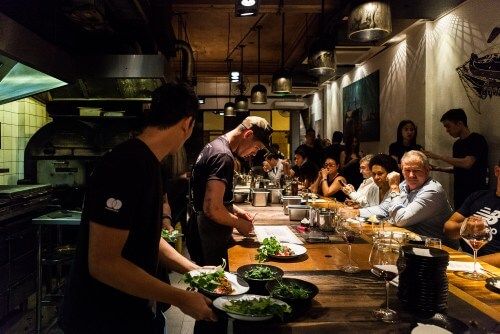 Serving up meaty goodness of all kinds, Burnt Ends will not disappoint the carnivores out there! The menu of this Singaporean restaurant changes daily so it's hard to predict what you'll get, but you can bet it will be tasty!
The Australian barbecue restaurant's distinct barbecue style and flavor is down to its four tonne dual cavity oven that's fired up by coal, apple of almond wood, and choice of quality produce to work with. Go with the chef's recommendation and be pleasantly surprised!
Taikoo Lane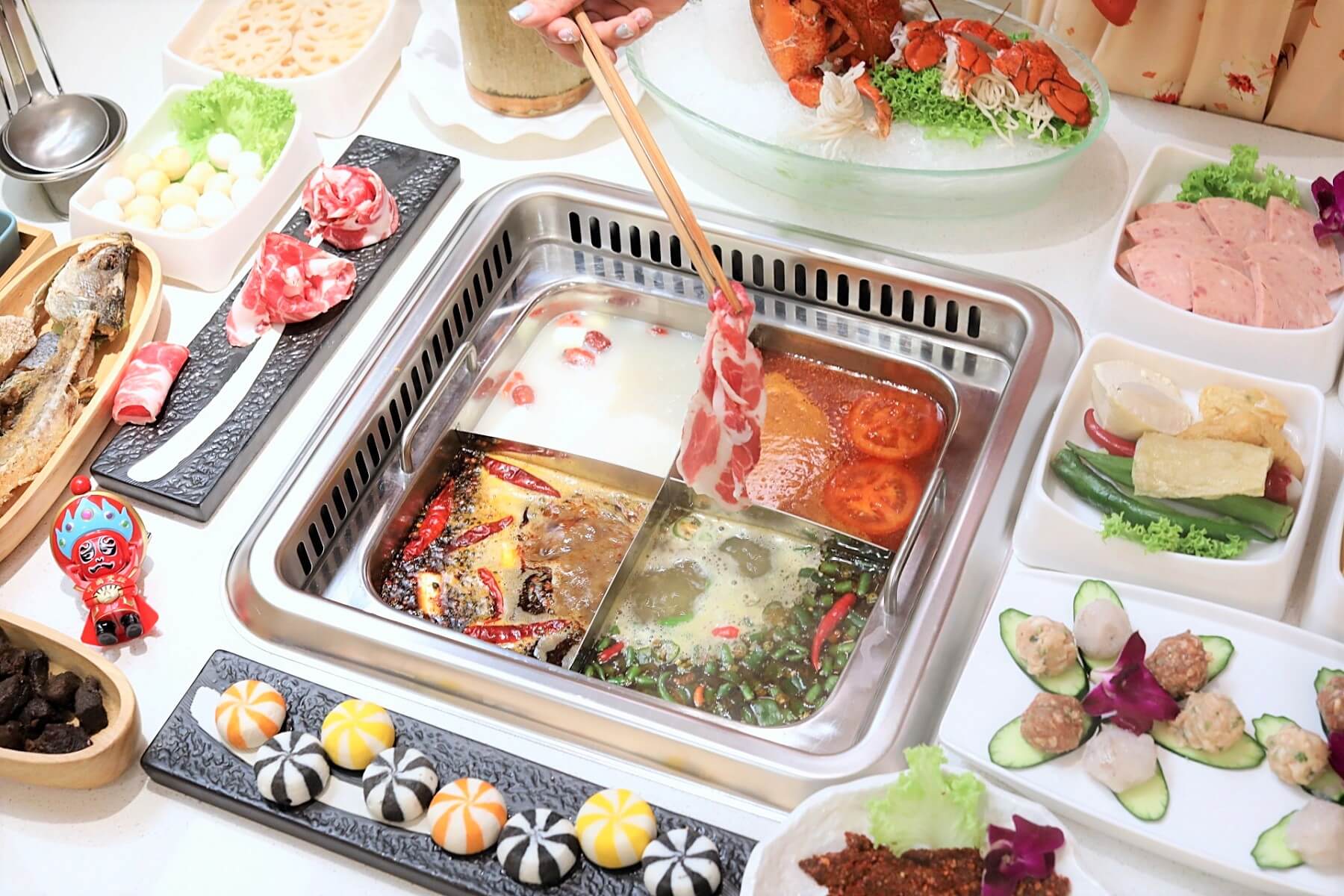 Taikoo Lane is a new hotpot restaurant providing authentic Sichuan and Cantonese broths to dip delicious meats and vegetables in. Get the Sichuan spicy broth made with beef if you're feeling brave, or try the special Chengdu green pepper broth featuring peppercorn oil and green peppercorns, what many would consider to be some of the best food in Singapore. Both serve as a great base for ingredients like lobster noodles, spicy marinated beef or sliced chicken with green peppers.
Poh Guan Cake House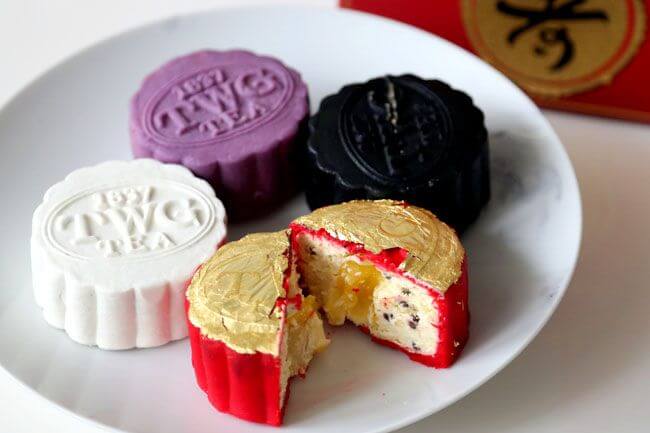 Come to Poh Guan Cake House for the best Mooncakes in town! Don't know what a mooncake is? It's a traditional Chinese cake made from a sweet sticky dough and there are over 30 different variations available. Traditional Cantonese mooncakes are made with Teochew-style flaky pastry and filled with green or red bean paste. Other great ones to try are the white sesame mooncake as well as the la gao (black glutinous rice cake) that are getting increasingly difficult to find.
Our Best Selling Tour
All-Inclusive

Singapore Instagram Tour: The Most Famous Spots

If you're looking for a tour in Singapore to take you round some of the greatest and most instagrammable sights there are, then our Singapore Instagram Tour: The Most Famous Spots is a great place to start! With private transport and a friendly, English-speaking guide at your disposal, there'll be plenty of opportunity to get culturally immersed and capture some amazing pictures across the country with this Singapore trip. Experience some incredible sights like the Marina Bay Sands and the Helix Bridge, as well as many other famous landmarks that will create truly unforgettable memories; all you need to bring is some suntan lotion, a camera and your best smile on this once-in-a-lifetime private Singapore tour!
The Financial District
The Spot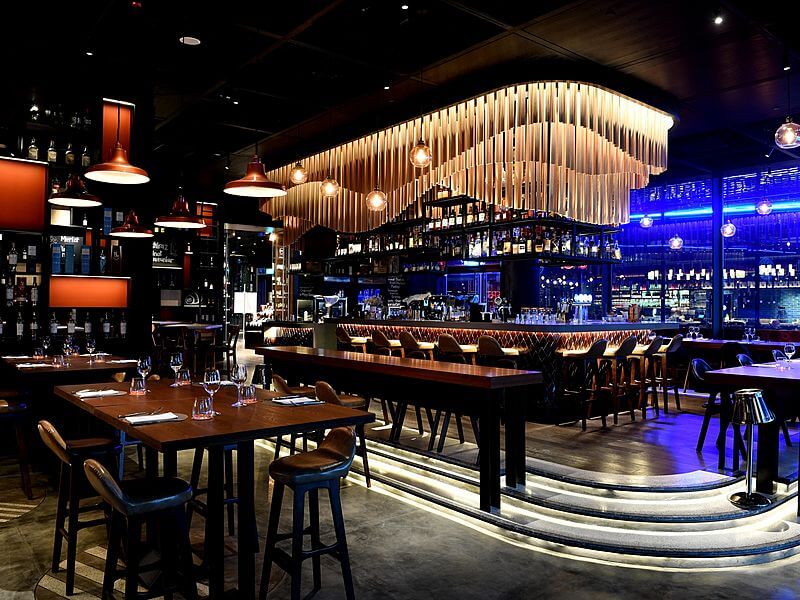 The Spot is a well known holistic Singaporean food destination with very social vibes, located in Marina One. It's an all-day dining restaurant, bar, and cigar lounge all in one! The menu is pretty much as sophisticated as it gets, serving up contemporary European, Southeast Asian sauce-centric dishes using traditional French techniques, with the aim to serve unique food that you'll always remember.
Expect the likes of Boston Lobster & Iberico Chorizo on crispy pork skin, Baked Patagonian Toothfish and Roasted NZ Baby Spring Lamb Rack. For a taste of something more local, try the Pan-Fried Red Snapper with fragrant green curry and eggplants.
Artemis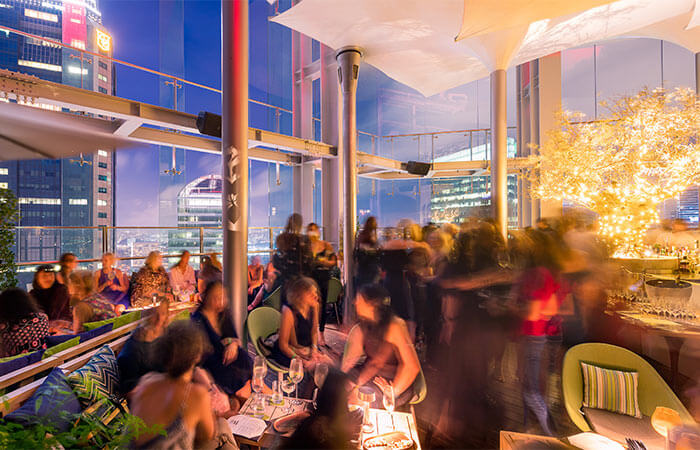 Artemis prides itself on quality and sustainability, serving up strictly grass-fed and hormone-free meat. They also offer one of the largest selections of vegetarian and gluten-free gourmet dishes in Singapore.
Think European al fresco vibes with plates such as Quinoa "Falafel", hummus and white cabbage slaw, Australian Lamb Loin accompanied by leek gratin, and Sakura Pork Loin with cauliflower Purée and marinated prunes.
Si Chuan Dou Hua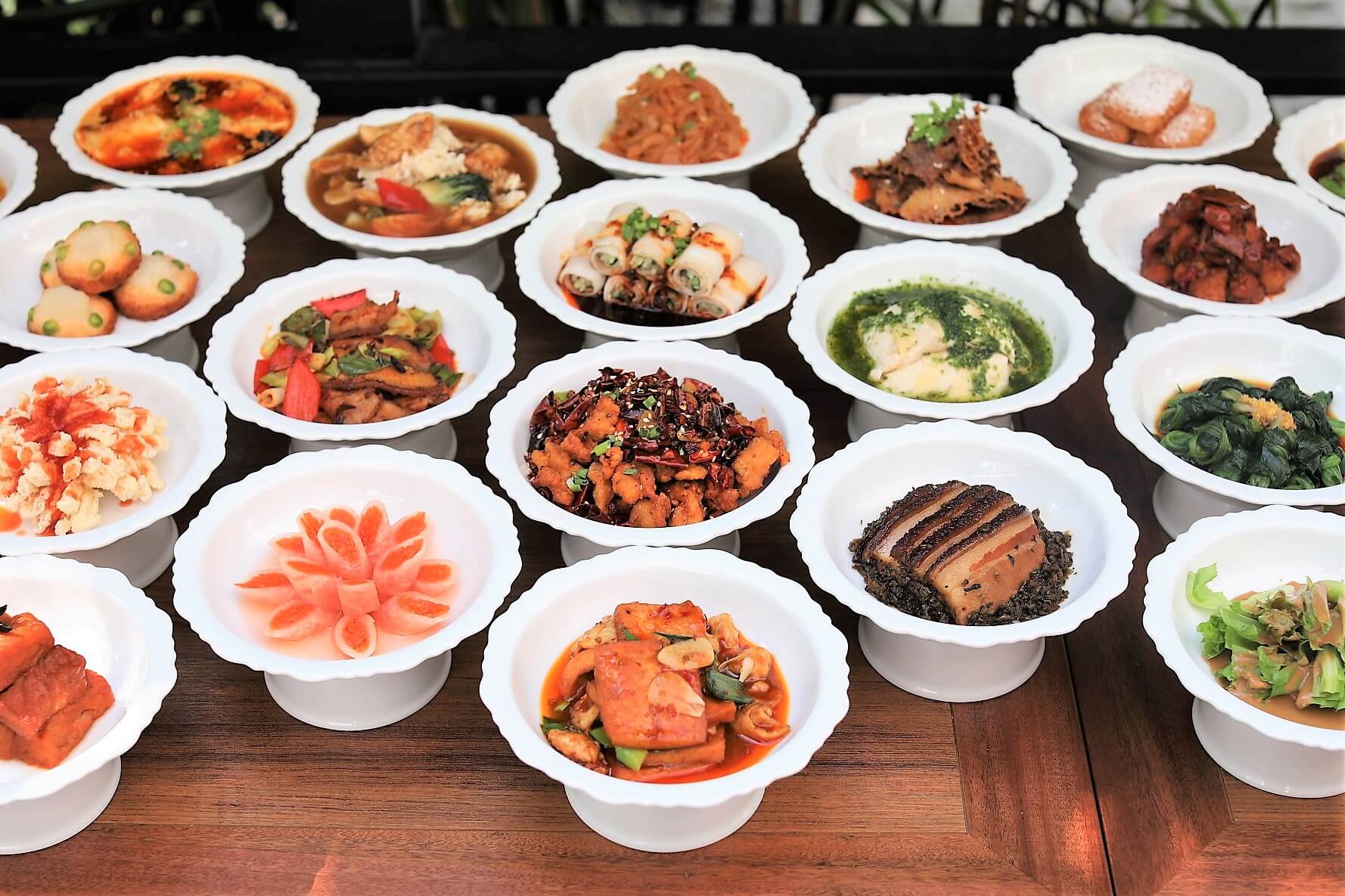 For the best Sichuan Cuisine in Singapore, head to Si Chuan Dou Hua. Perched way up on the 60th story of UOB Plaza, this fine-dining restaurant in Singapore is best known for its mouth-watering and lip-burning delicacies like Chong Qing Diced Chicken with dried chili and the famous Ma Po Tofu. To add to the excitement, Si Chuan Dou Hua has its own gongfu tea master with Tian Fu Tea Room.
Orchard Road
Crossroad Café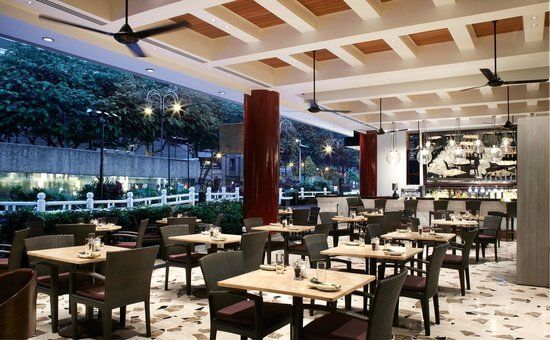 Crossroad Café is more than just a fine dining cafe with a difference. This cafe in Singapore prides itself on fusing together Oriental and Western food seamlessly, with a great accompaniment of premium wines and beers. The wagyu burger and the Hainanese chicken rice are strong favorites, showcasing how the cafe incorporates both Chinese and Western cuisine - a unique take on cuisine you'll be hard pressed to find elsewhere in Singapore.
Esmirada @ Orchard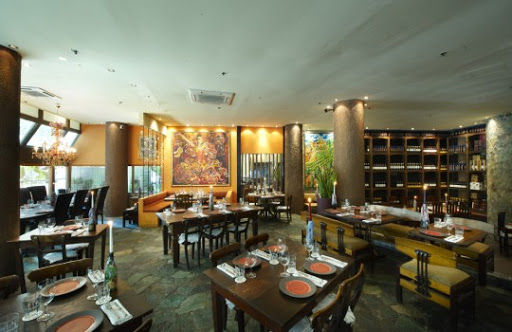 Another Mediterranean eatery, Esmirada @ Orchard is not one to miss! Using traditional cooking techniques, the chef brings you Mediterranean flavors which will satisfy even the most refined palate. The signature here is seafood paella, filled to the brim with exotic herbs. For a satisfying meal in beautiful surroundings, you can't go wrong with one of the top restaurants in Singapore.
Ayam Penyet Ria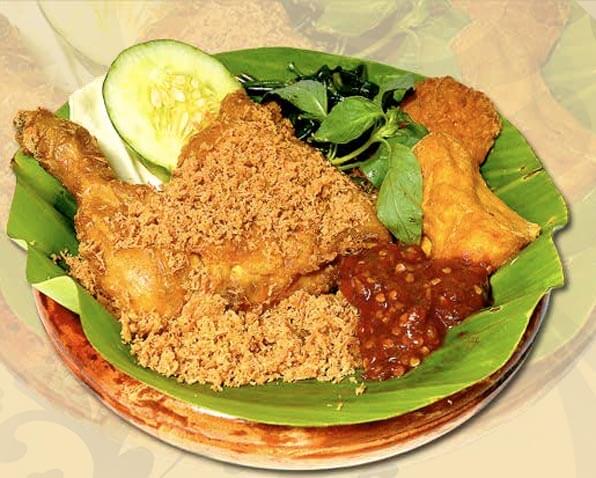 Affordable and authentic, Far East Plaza's Ayam Penyet Ria should be on everyone's Orchard Road to-do list. Especially famous for penyet (smashed) food, it perhaps serves some of the best Indonesian halal food on the island.
The ayam penyet (smashed fried chicken) is a great place to start, then you can work your way down the menu. Oh and the sambal belacan is all kinds of spicy and goes with absolutely everything! If you're wondering where some of the best places to eat in Singapore are, the Ayam Penyet Ria is a great place to start!
Marina Bay
Vue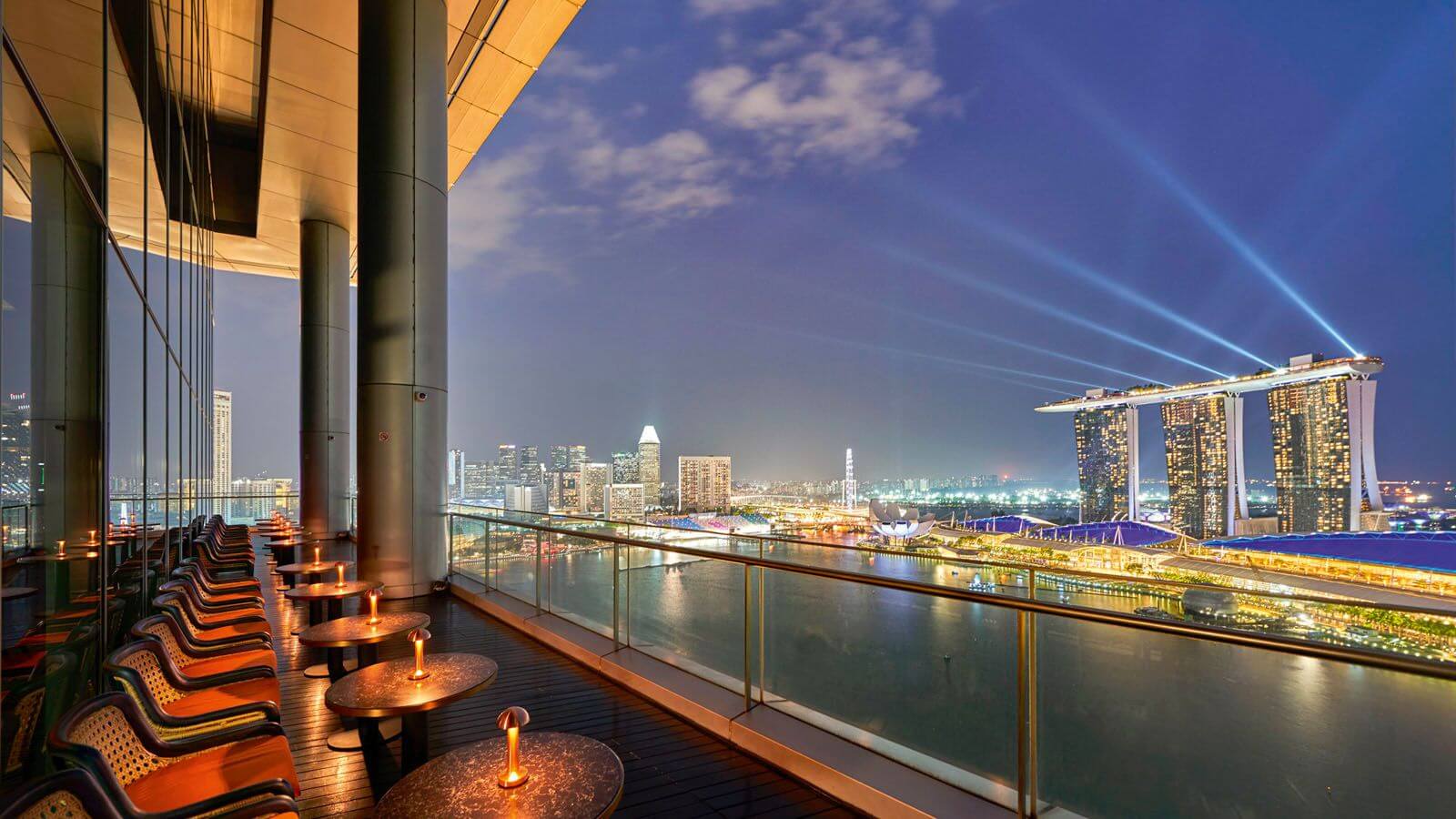 With a name like Vue, it's clear what the restaurant is known for (if you haven't already worked it out, it's the view). Vue is the French translation of the word 'view'. With floor-to-ceiling windows, you can enjoy breathtaking views of Marina Bay from the 19th floor of OUE Bayfront.
Majestic views of Singapore aside, the restaurant also serves a grand menu of binchotan-grilled meats. A four-course tasting menu is also available if you're feeling fancy.
Level33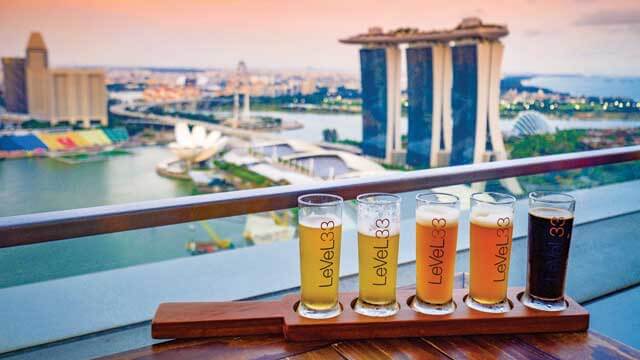 No prizes for guessing on which floor this bar and Singaporean restaurant is perched. Known as the world's highest microbrewery, Level33 overlooks Marina Bay, and is perhaps the most sophisticated place to sample a locally brewed beer. But, just because it's better known for its beers, doesn't mean that Level33 doesn't have some seriously solid dinner options.
The food here, courtesy of executive chef ArChan Chan, is far from the typical chicken wings and fries. Think beer malt risotto with local sea bass and Level33's very own beer ice cream.
The Clifford Pier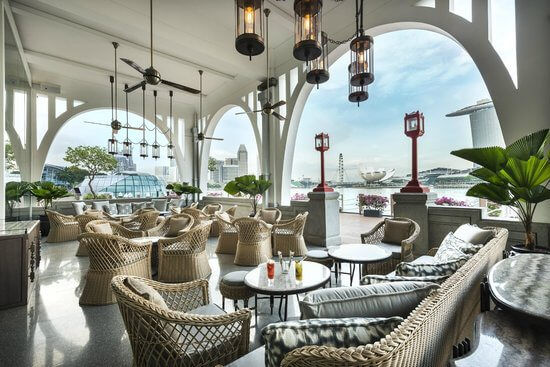 The Clifford Pier is a lot like many other super-pretty hotel restaurants in Singapore with a colonial heritage aesthetic, except it's housed in a historic landmark that served as the first port of call for immigrants in Singapore's early days.
Start things off with a drink in a rattan armchair at their outdoor terrace overlooking the water, then move on to the main event - the food. On the menu are upscale versions of familiar favorites, such as wagyu beef rendang and classics like prawn laksa with quail eggs. The Clifford Pier is a trending restaurant in Singapore right now, and not one you want to miss if you're planning on a visit!
Planning a trip to Singapore and want one of our friendly local tour guides to show you around? Book your Singapore tour with us!
Get your VACATION on!
Expertly curated emails packed full of vacation inspiration, travel tips and more!