Best Rooftop Bars in Ho Chi Minh City
Best Rooftop Bars in Ho Chi Minh City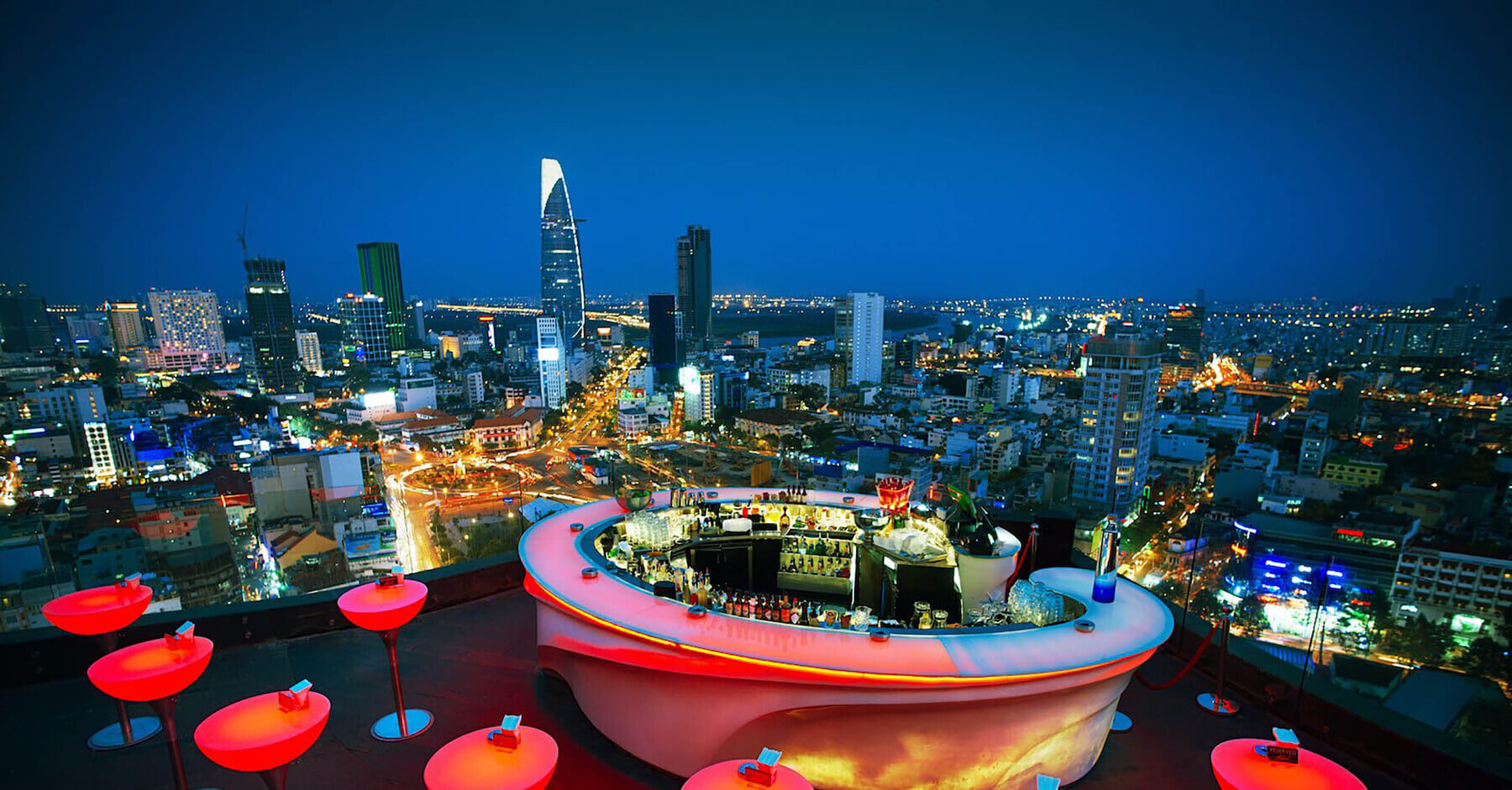 THE BEST ROOFTOP BARS IN HO CHI MINH
When it comes to rooftop bars, Ho Chi Minh is up there with the best in Asia! The city has one of the most impressive collections of rooftop bars in the world. Many high-rise buildings and five-star hotels offer stylish bars with views over the city and there's no better place to party or enjoy a fancy cocktail in style than a sleek rooftop bar.
Attracting a variety of expats, locals and tourists, drinks and food served at rooftop bars in Ho Chi Minh are unsurprisingly on the pricier side. Nonetheless, with excellent service, stylish ambience, and lively crowd, a night out (or two) at Ho Chi Minh's most popular rooftop bars is definitely well worth the extra expense! (But don't worry we've added cheaper options to our list too! Keep reading to find out)
Our Best Selling Tour
All-Inclusive

Ho Chi Minh City Motorbike Tour: A True Local Experience

To immerse yourself in Vietnamese culture, hop onto our Ho Chi Minh City Motorbike Tour: A True Local Experience. This half-day tour is jam-packed with all of the best spots in Ho Chi Minh including; Notre Dame Cathedral, The Central Post Office, local coffee at an Instagrammable coffee shop, Nhat Tao Wet Market, and many more. Your private guide will pick you up from your hotel and take you around the city on the back of a motorbike - there aren't any better tours in Ho Chi Minh City to get the true local experience!
Yes, having a drink all the way up in the breezy air is amazing but that's not the only good thing about them! Rooftops bars also provide an excellent opportunity to get a good orientation to the city!
Roughly you can say that there are two places to look for good rooftop bars in the city: hotels (old and new) and business towers. You have a wide array of choices from historical colonial-era hotels to up-and-coming glitzy nightspots, depending on what's your vibe! You can also have your choice of views from sweeping big city views to broad riverfront views to intimate street-level views, and the views change dramatically from day to night.
So if you are looking for the best place to enjoy panoramic views of Saigon, this list of the best rooftop bars in Ho Chi Minh City will help you find a perfect spot!
After a day on your very own private tours in Ho Chi Minh City, exploring its most instagrammable spots, spend your evening checking out the very best of its thriving nightlife and the best rooftop bars in Ho Chi Minh!
If you like this blog post, we're sure you'll also like our posts where we talk about: 'The best nightlife in Ho Chi Minh' and 'The best restaurants in Ho Chi Minh'.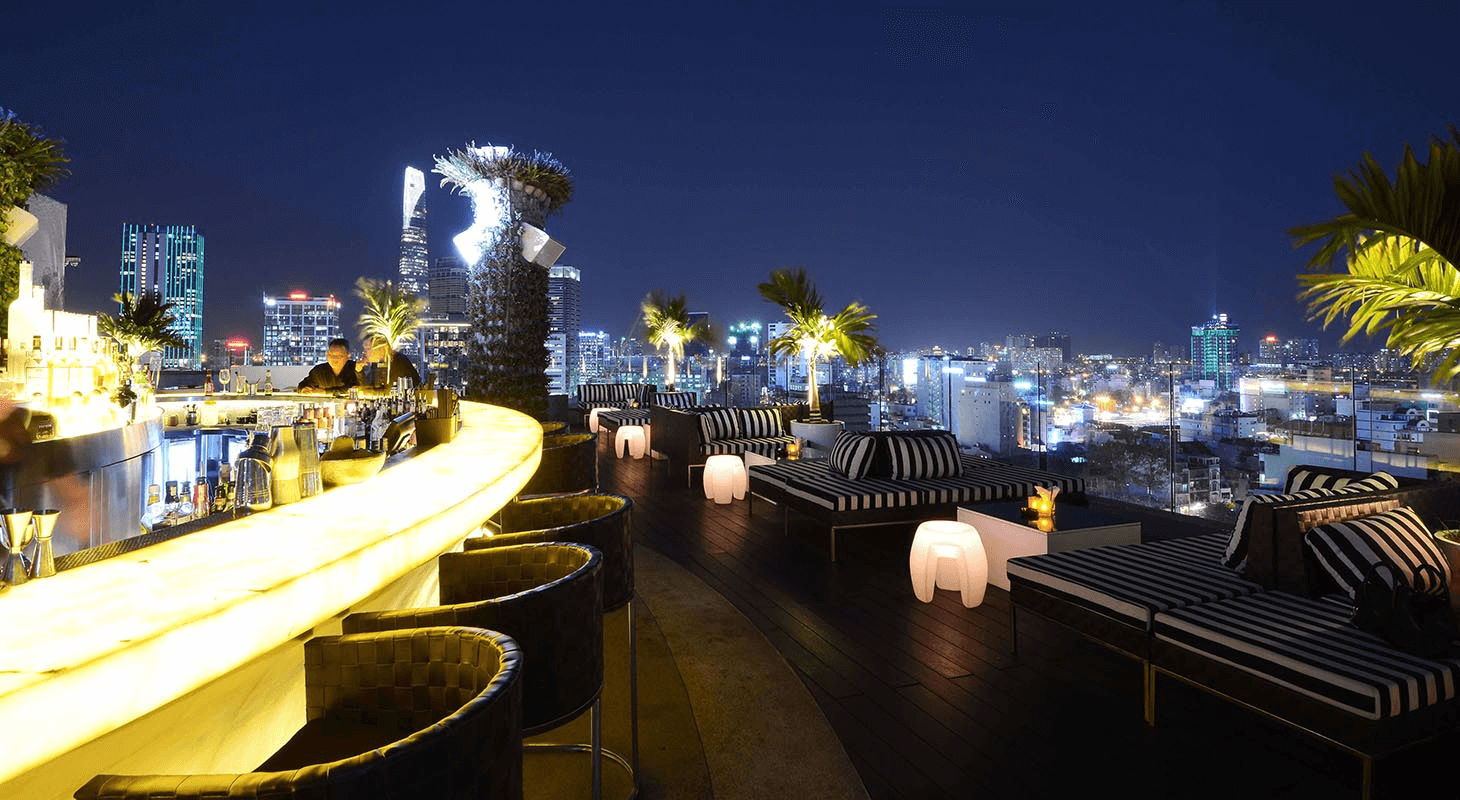 CHILL SKYBAR
Chill SkyBar, located on the 26th floor of the AB Tower, was the first and original sky bar in Ho Chi Minh City and Vietnam (and also one of the only rooftop bars with a dance floor in the city)! From the rooftop bar you can order well-crafted classic and signature cocktails, beers, wine and bubbles. There is also a quite large and tasty selection of bar bites, like sliders, quesadillas, tapas board and sharing platters. And if you're really hungry: the bar also comes with an indoor restaurant, called VIGOR Dining Club. Here you can enjoy delicious food in a very luxurious and romantic setting, with great views over the Saigon skyline!
The bar offers quite a different setting depending on when you visit the rooftop. Come early for great lounge vibes, a fantastic sunset and happy hour. Later at night the atmosphere turns from lounge to great rooftop party, with live DJs and a full house dancing the night away under the Saigon night sky.
TIP: Chill rooftop bar is a popular place, so make sure to make a reservation!
EXTRA TIP: Dress to impress!
You can find the website HERE!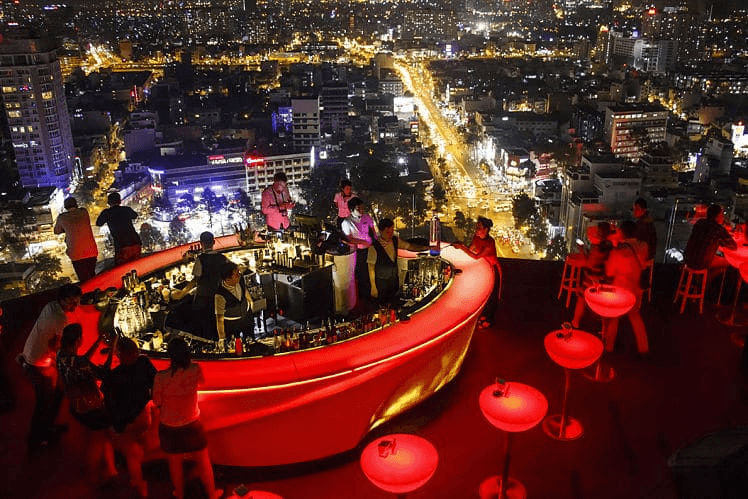 BANANA MAMA ROOFTOP & KITCHEN
Banana Mama Rooftop & Kitchen is one of the most well-known outdoor restaurants in Ho Chi Minh City, which is well-liked by the youth and foreign tourists. The restaurant is located on the rooftop of WMC building, near Bui Vien walking street - the most bustling street in Saigon. The decor of the restaurant took inspiration from a summer's vacation. They serve are a lot of yummy 'summery' drinks and food here and you should definitely try out the signature 'Banana Mama' cocktail consisting of dark rum,Malibu coco rum and fresh pineapple.
You can find the website HERE!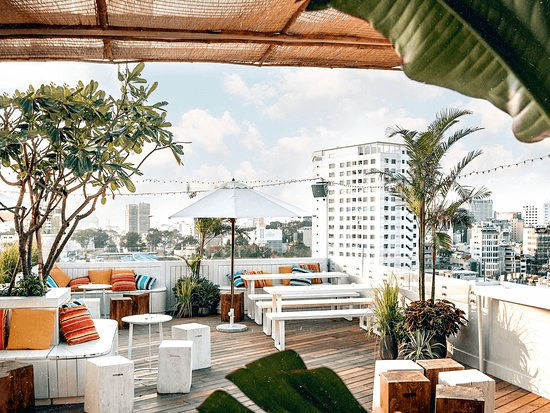 EON 51 HELI BAR
Known as Vietnam's tallest nightlife spot, EON 51 Heli Bar features a cosmopolitan setting, live acoustic performances, talented DJs, and an extensive alcohol list, not to mention vertigo-inducing views of Ho Chi Minh City. Formerly known as Alto, it is located on the 51st floor of Bitexco Financial Tower which is a short five-minute walk from Hotel Majestic Saigon.
Location: 52nd floor, Bitexco Financial Tower, 2 Hai Trieu, Ho Chi Minh City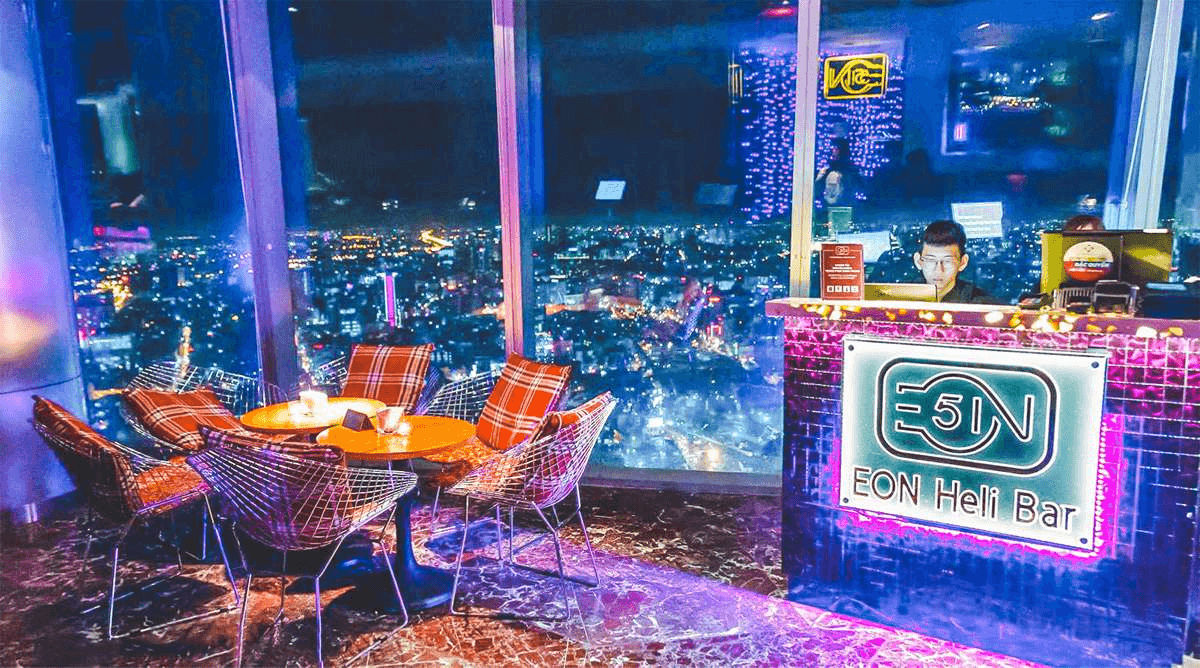 GLOW SKYBAR
Since its opening in 2015, Glow Skybar - perched atop the President Place building- has been a massive hit in Saigon. It's a vibrant and stylish rooftop bar, perfect for mixing great cocktails with fantastic views. Step up the large, illuminated staircase and find a spacious, open-air terrace, with panoramic vistas in all directions.
Usually open daily from 5.30pm, you should visit early for a more relaxing vibe and sunset views. During the chill-out period you can enjoy the large selection of exquisite and well-crafted signature cocktails, along with premium champagnes, spirits, wine and beers.
There are also some bar bites with influences from both Eastern to Western cuisine. As the night wears on, Glow turns into a vibrant club lounge, with live DJs and a larger crowd enjoying the great atmosphere and the elevated nightlife.
Location: 93 Nguyễn Du, Bến Nghé, Quận 1, Thành phố Hồ Chí Minh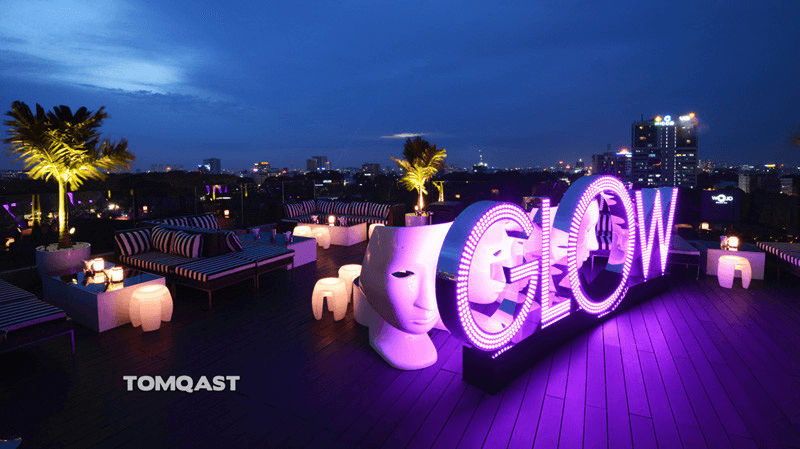 SAIGON SAIGON ROOFTOP BAR
Perched on the 10th floor of the Caravelle Hotel, Saigon Saigon Bar is a solid choice if you're the type who likes your cocktails with a side of history. Saigon Saigon Rooftop Bar opened in 1959 and is an iconic landmark in Ho Chi Minh City as it was the setting for daily briefings for war correspondents during the Vietnam War!
Although the bar's interiors have changed little since it first opened in 1959, the views of downtown Ho Chi Minh City have transformed dramatically. Wooden tables look over the Opera House and the iconic Lam Sơn Square. Kick back with a 'Miss Saigon', one of the bar's most popular drinks and watch as the city shifts into a panorama of twinkling lights below.
Location: 19-23 Lam Son Square, District 1, Rooftop via 9th Floor, Caravelle Saigon Ho Chi Minh City 70000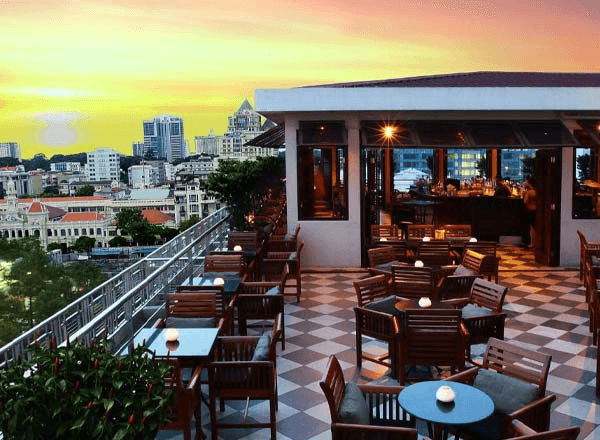 THE VIEW ROOFTOP BAR
The View Rooftop Bar is located on the 9th floor of Duc Vuong Hotel, one of the tallest buildings in Saigon's Bui Vien Street. Well-frequented by backpackers worldwide for serving some of the cheapest drinks in Ho Chi Minh City, you can enjoy a glass of beer and have a great time without breaking the bank!
Entering The View Rooftop Bar will be like entering a world of lanterns. Strings of heart-shaped lanterns are hung around the staircases, illuminated by led light strings at night. Besides romantic red heart lanterns, the bar is decorated with traditional Hoi An fabrics and bamboo lanterns in different shapes and sizes.It's really the place to be if you are looking for a bar without modern night club lights and loud music!
Location: 195 Bui Vien Street. Pham Ngu Lao Ward. District 1, 9th Floor Of Duc Vuong Hotel Ho Chi Minh City 700000
BREEZE SKYBAR
Breeze Sky Bar at Hotel Majestic Saigon has a spectacular view on the Saigon River, Saigon Opera House, and several colonial-era buildings within the city centre. The wooden furniture, Art Deco bar and beautiful French designed interior give this rooftop bar a feeling of times gone by.
Breeze Sky Bar is not your typical Saigon sky bar as it is more focused on eating than drinking. You can have an international buffet breakfast, Barbecue Buffet Dinner or enjoy their á la carte menu.
Tip: We recommend to get seated at one of the quiet, private tables, which can be found on the very top.
Location: 1 Dong Khoi Str., Dist. 1 Hotel Majestic Saigon Ho Chi Minh City - WEBSITE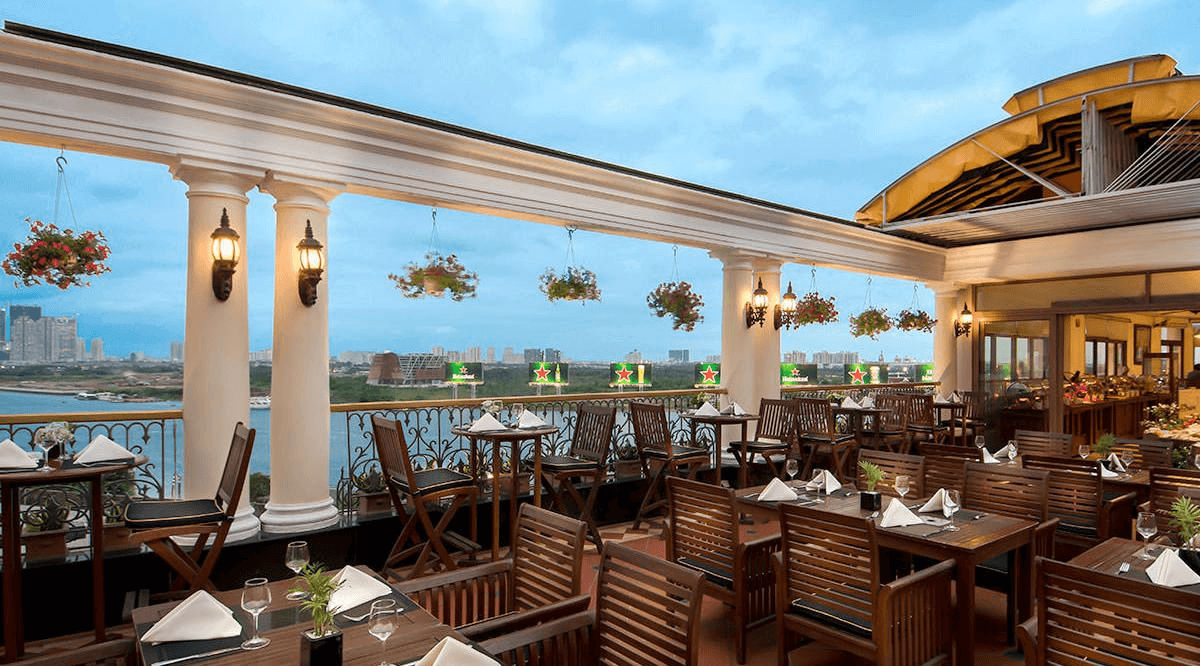 SOCIAL CLUB SAIGON
With a fully open-air bar and infinity rooftop bar, Social Club Saigon is located above the Hotel Des Artes and enjoys one of the best views of Ho Chi Minh City! With informal high chairs and sofas and a relaxed dress code, you can expect a more casual ambience than similar high-end bars.
The bar's craft cocktails, inspired by French perfumes, are the reason why so many people love this place. Some of the favorite signature cocktails include 'Black Opium' and 'Havana Ooh Na-Na' - a Cuban twist featuring rum, raspberry, peach and lime, shaken with yoghurt and egg white.
Location: MGallery Saigon, Floor 24, 76-78 Nguyễn Thị Minh Khai, Quận 3, Thành phố Hồ Chí Minh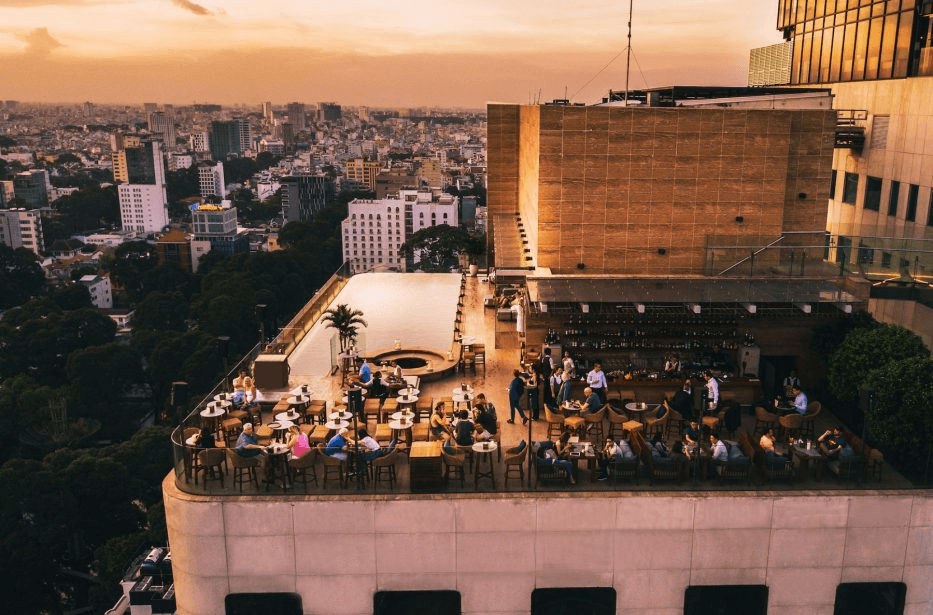 CONCLUSION
We hope you've enjoyed our tips and you feel ready now to start planning your evening activities in Saigon!
Have fun, drink responsibly and we hope to see you soon on one of our tours in Ho Chi Minh City!
Get your VACATION on!
Expertly curated emails packed full of vacation inspiration, travel tips and more!