Best Restaurants in Ho Chi Minh
Best Restaurants in Ho Chi Minh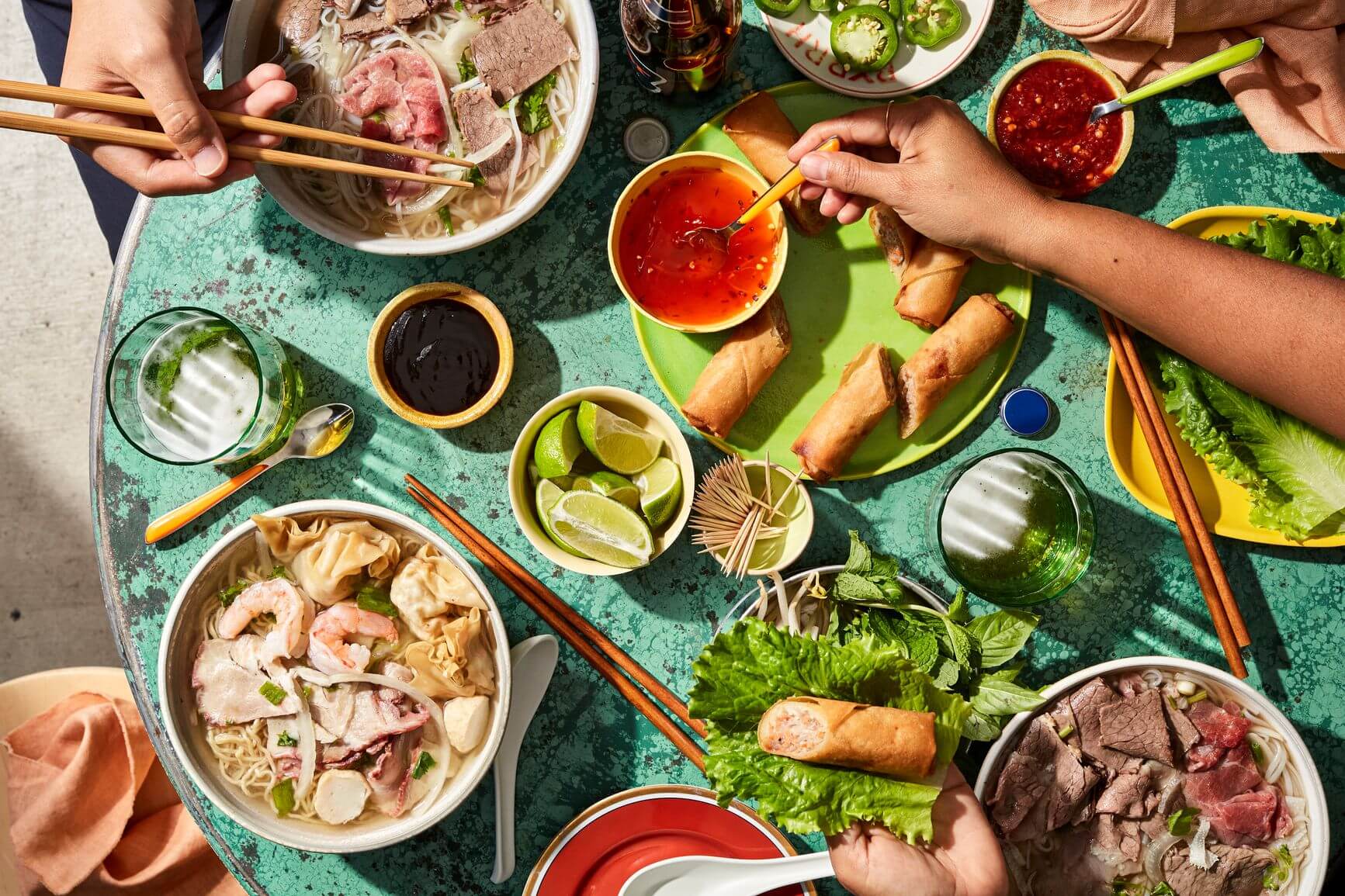 The best restaurants in Ho Chi Minh
Food is important and indispensable on every trip, and when visiting Ho Chi Minh, you should definitely not miss out on all the delicacies it has to offer! Ho Chi Minh has a big street food culture and there are many delicious restaurants to choose from (that also won't break the bank!)! So If you are big foodie and you like the bustling energy of big cities, Ho Chi Minh should definitely be on your Vietnam food bucket list!
Our Best Selling Tour
All-Inclusive

Ho Chi Minh Local Foodie Experience

The food scene in Ho Chi Minh is booming, and there's no better way to experience it than on our Ho Chi Minh Local Foodie Experience. Join us to indulge in the local culture through a love of food! Spend the day tasting some incredible homemade Vietnamese cuisine and learn how it's made. This all-inclusive, full-day Saigon tour will see you visit the famous Ben Thanh Market, try coconut coffee, and enjoy a foot massage. There's even some surprise food to try that is only for the bravest of travelers, so if you love trying local food, there's no better tours in Saigon!
Ho Chi Minh is a vibrant and exciting city with an up-and-coming food scene! From street food to fine dining, the gastronomic landscape of Saigon is growing from strength to strength. Most restaurants are concentrated in District 1 and 3, near Ben Thanh Market and the Pham Ngu Lao area but don't be fooled because the city's food paradise goes way beyond the Ben Thanh Market!
In fact, the city is home to hundreds (if not thousands) of eateries in the form of restaurants, cafes, bars, and lounges! Offering a range of international cuisines, traditional delights, and Ho Chi Minh's best local dishes.
One of the best and unique ways to discover the local food, is by taking a private tour in Ho Chi Minh. That's where we come in....we at ForeverVacation offer some mouth-watering tours for those who are looking to explore the food scene in Saigon. Why not try our Ho Chi Minh Local Foodie Experience? Or for those who are looking for a more 'thrilling' food experience we even have a Saigon at Night: Street Food by Motorbike Tour!
We've tried out many restaurants in Ho Chi Minh City (so you won't have to) and we found the following restaurants to be the best! Make sure to also try authentic Vietnamese dishes and not limit yourself to Western restaurants!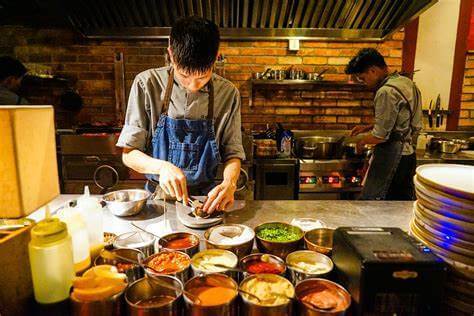 Baba's Kitchen: Best Indian Food in Ho Chi Minh
Traveling foodies can enjoy a world of flavors at Baba's Kitchen. Opening its doors in 2011, Baba's Kitchen is one of the first restaurants in the city to serve authentic Indian fare. Enjoy favorites like the incredibly spicy chicken, vegetable samosas, tikka kebab, mutton vindaloo, and more, offering dishes from several regions across India. Baba's Kitchen is quite popular for Indian food in Vietnam, with other locations in several cities across Vietnam. Find their website
HERE
.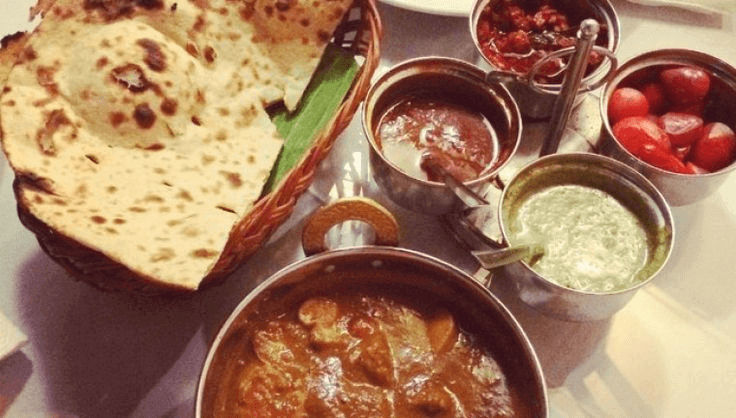 Pho Le: The Best Pho in Ho Chi Minh
Pho is one of the most famous dishes in Vietnam – you'll find it on practically every street corner in every town and city in the country. But as common and unpretentious as pho is, don't mistake it for being a simple dish. Vietnam's best-known pho joints have been run as family businesses for decades. They have perfectly-honed recipes passed down through generations that are closely guarded secrets. The beef broth often takes 6-8 hours to prepare and can include dozens of ingredients – onion, shallots, ginger, cinnamon, anise, cinnamon, and roasted pepper to name just a few.

Pho Le has been serving up delicious southern-style pho since the 1970s. It has become one of the city's favorite noodle shops and for good reason – the portions are huge and the broth is exquisite.

Location: 415 Nguyen Trai Ho Chi Minh City 70000 Thành phố Hồ Chí Minh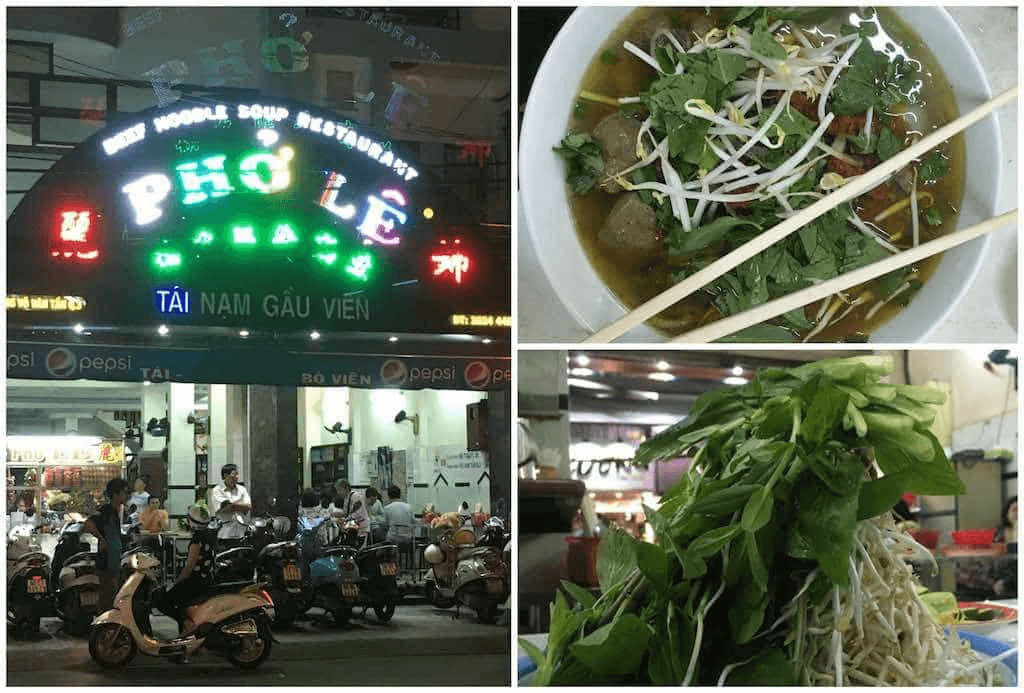 La Cuisine Saigon: One of the Best Fine Dining Restaurants in Ho Chi Minh
The restaurant offers traditional French cuisine in a fancy, romantic interior space, suitable for couples' date nights.
Dishes are directly cooked by the French owners and so you can be sure to get the authentic taste of most traditional French dishes. The Steak tartare, foie gras with Provence figs, and pan-seared duck with Béarnaise sauce are the dishes most worth trying!

Location: 52 Le Thanh Ton Ho Chi Minh City 70000 Ho Chi Minh City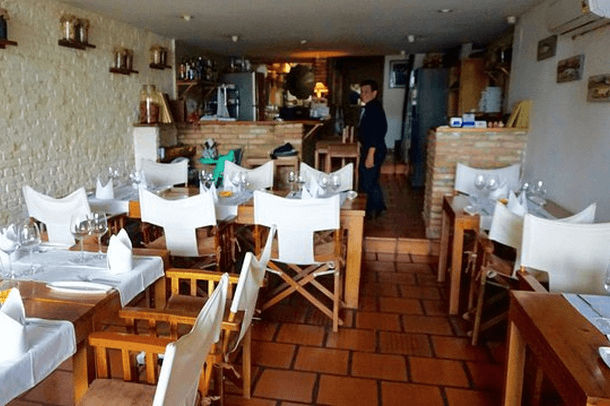 Hum: Best Vegetarian Restaurant in Ho Chi Minh
There is no denying that Hum restaurant is one of the best vegetarian restaurants in Ho Chi Minh. This restaurant won the title of Excellent Service Restaurant in 2014. Since then, Hum restaurant has constantly improved, developed, added, and updated the menu of pure and famous vegetarian dishes.
You can find their website
HERE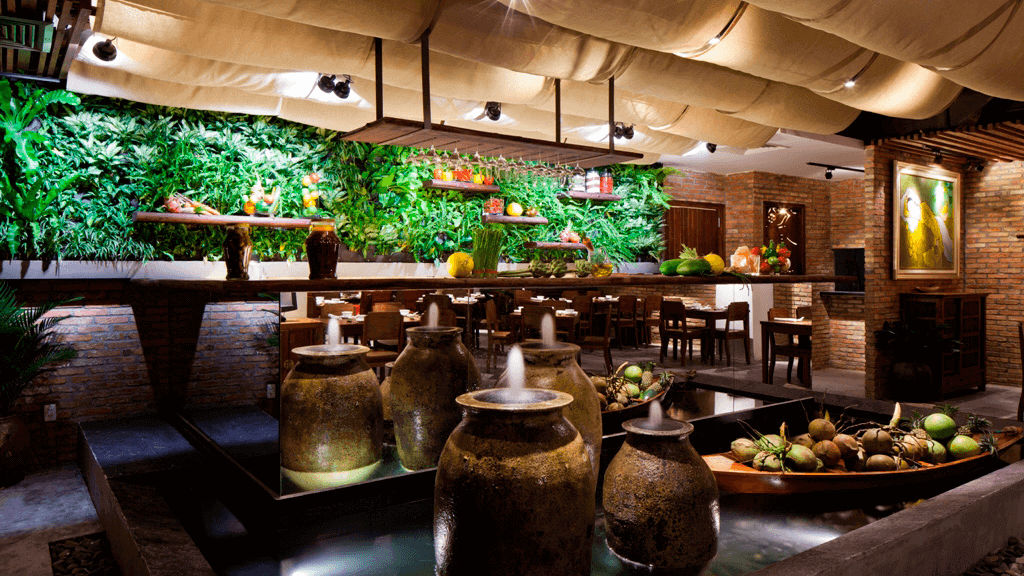 Banh Mi Bay Ho: The Best Street Good Stall
Another super famous Vietnamese dish that will be offered on every corner in Vietnam is – of course – the classic Banh Mi. This is the Vietnamese take on the French baguette. The French brought bread to Vietnam but the classic Vietnamese flavors take a sandwich to a whole new level. A freshly baked baguette is filled with meat of your choice plus cheese, pickled vegetables, fried egg, fresh herbs and chili sauce. This is a sandwich like no other!

The Banh Mi seems like a simple sandwich, but the iconic Vietnamese food is one of the best sandwiches in the world. At least when they're made correctly....and that's exactly what they do at Bay Ho!

You might even recognize this food stall from the Vietnam episode of 'Street Food' on Netflix. We're huge fans of that series and this inspired us to check it out ourselves! And we were NOT disappointed!

Location: The Banh Mi Bay Ho stall is located in District 1, just a few blocks east of Le Van Tam Park.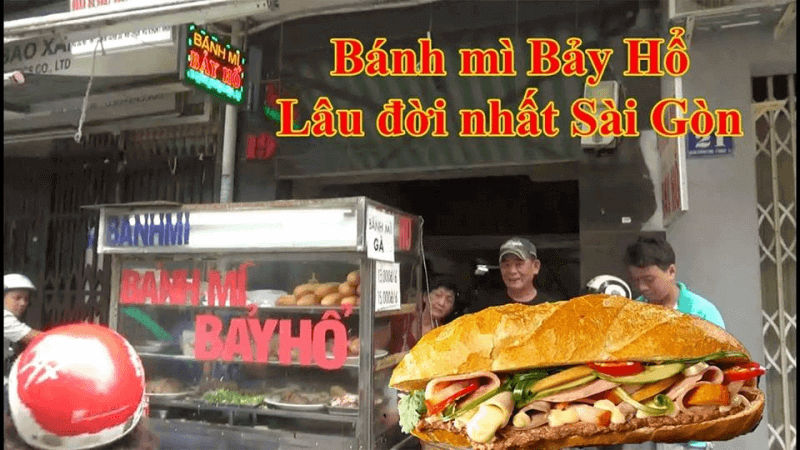 Banana Mama Rooftop & Kitchen: Best Rooftop Restaurant in Ho Chi Minh
Banana Mama Rooftop & Kitchen is one of the most well-known outdoor restaurants in Ho Chi Minh City, which is well-liked by the youth and foreign tourists. The restaurant is located on the rooftop of WMC building, near Bui Vien walking street - the most bustling street in Saigon. The decor of the restaurant took inspiration from a summer's vacation. They serve are a lot of yummy 'summery' drinks and food here and you should definitely try out the signature 'Banana Mama' cocktail consisting of dark rum,Malibu coco rum and fresh pineapple.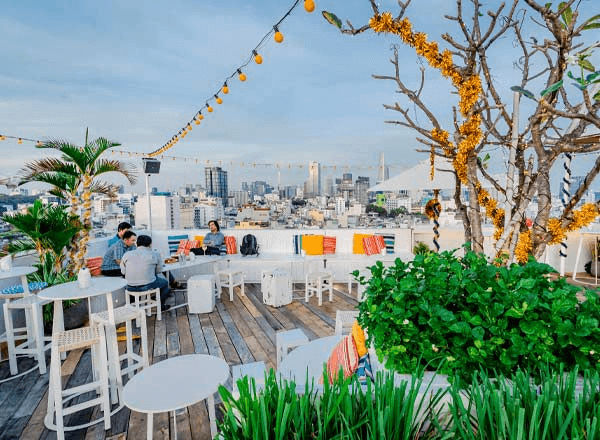 Cuc Gach Quan: Hollywood Approved
Cuc Gach Quan is sheltered inside an old French colonial villa that has been restored and designed by an architect named Tran Binh.The restaurant serves delicious Vietnamese traditional homemade dishes and 80% of the vegetables that Cuc Gach uses, are grown in their own garden! The antique design combined with many greens, plants and a little pond in the middle of the villa create a very cosy environment for a night out!
Cuc Gash Quan became famous after Hollywood movie stars
Angelina Jolie and Brad Pit
t dined here when they were visiting Ho Chi Minh City!
Location:
10 Dang Tat, Tan Dinh Ward, District 1, Ho Chi Minh City -
WEBSITE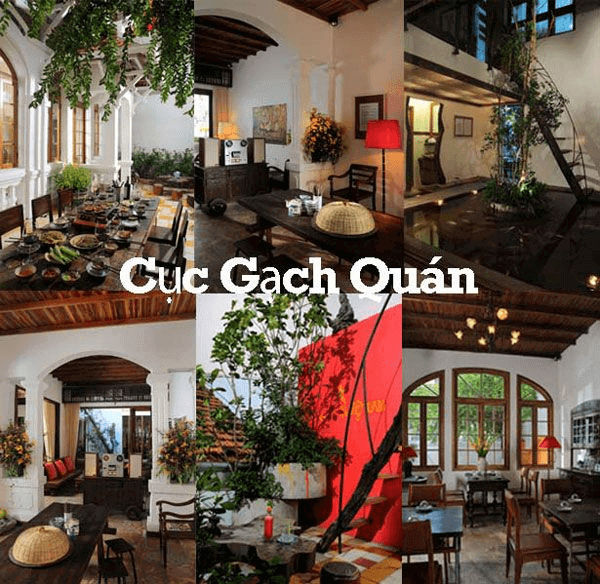 Propaganda Saigon: Best Fine Dining for Travelers on a Budget
Getting a high score from us (and a 4.5 on Tripadvisor), Propaganda Saigon is among the most recommended fine dining restaurants in Ho Chi Minh for budget travelers. The restaurant offers authentic Vietnamese cuisine with some signature dishes including fried rice, noodles, pho, and spring rolls. It serves the traditional food of all 3 areas of Vietnam! Therefore you will have the chance to try the Central, Northern and Southern Vietnamese cuisine here!

Besides the delicious, reasonably-priced food, the interior design and decoration of the restaurant is something worth mentioning! It's a quite small and cozy dining space with wall paintings and lights. The airy, bright space and colorful paintings inspired by propaganda slogans of the 1980s will take you back to the 'old Saigon'!

Location: 21 Han Thuyen, Ho Chi Minh, Vietnam, 70000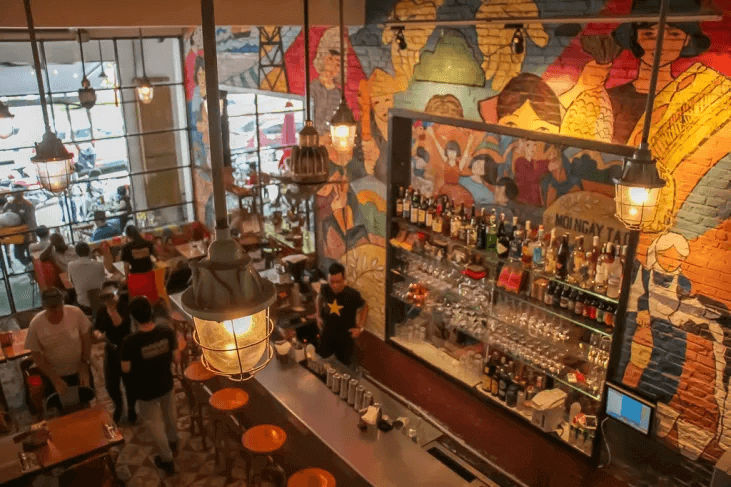 The Deck Saigon: the Most Romantic Setting
There is no better place than The Deck Saigon to sit right on the banks of Saigon River and enjoy the sunset on a romantic evening, letting a variety of river traffic sooth your conversation and dinner. With French down-tempo music playing, white walls and on trend architecture, the place offers amazing atmosphere and experiences.
Its menu is a mix of 'fusion' Vietnamese fare and western dishes, for example a modern version of the traditional Vietnamese pork dish, or the grilled shrimp with Sichuan sauce. Booking is also highly recommended if you want a seat with best views.
You can find the website
HERE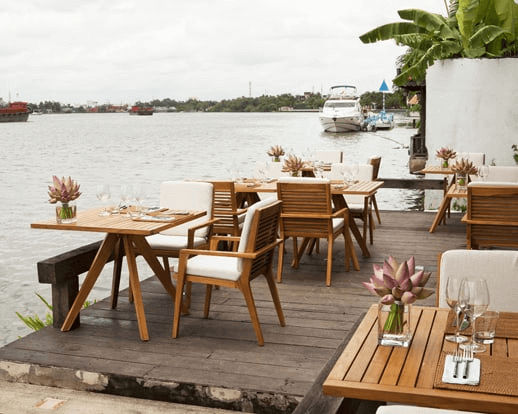 Conclusion
We hope you enjoyed our Ho Chi Minh restaurant recommendations, let us know if you try them out! Whether you were looking for a casual or more luxury eatery, we're sure you'll enjoy experiencing the local cuisine in some of the best HCM restaurants from our list.
And remember, if you want the true HCM
foodie experience
, you can book a private HCM food tour with us and we'll take you to all the best foodie spots in town. Contact us now for more information on how you can book some of our other
tours in Ho Chi Minh
!
Get your VACATION on!
Expertly curated emails packed full of vacation inspiration, travel tips and more!