Best Nightlife in Ho Chi Minh City
Best Nightlife in Ho Chi Minh City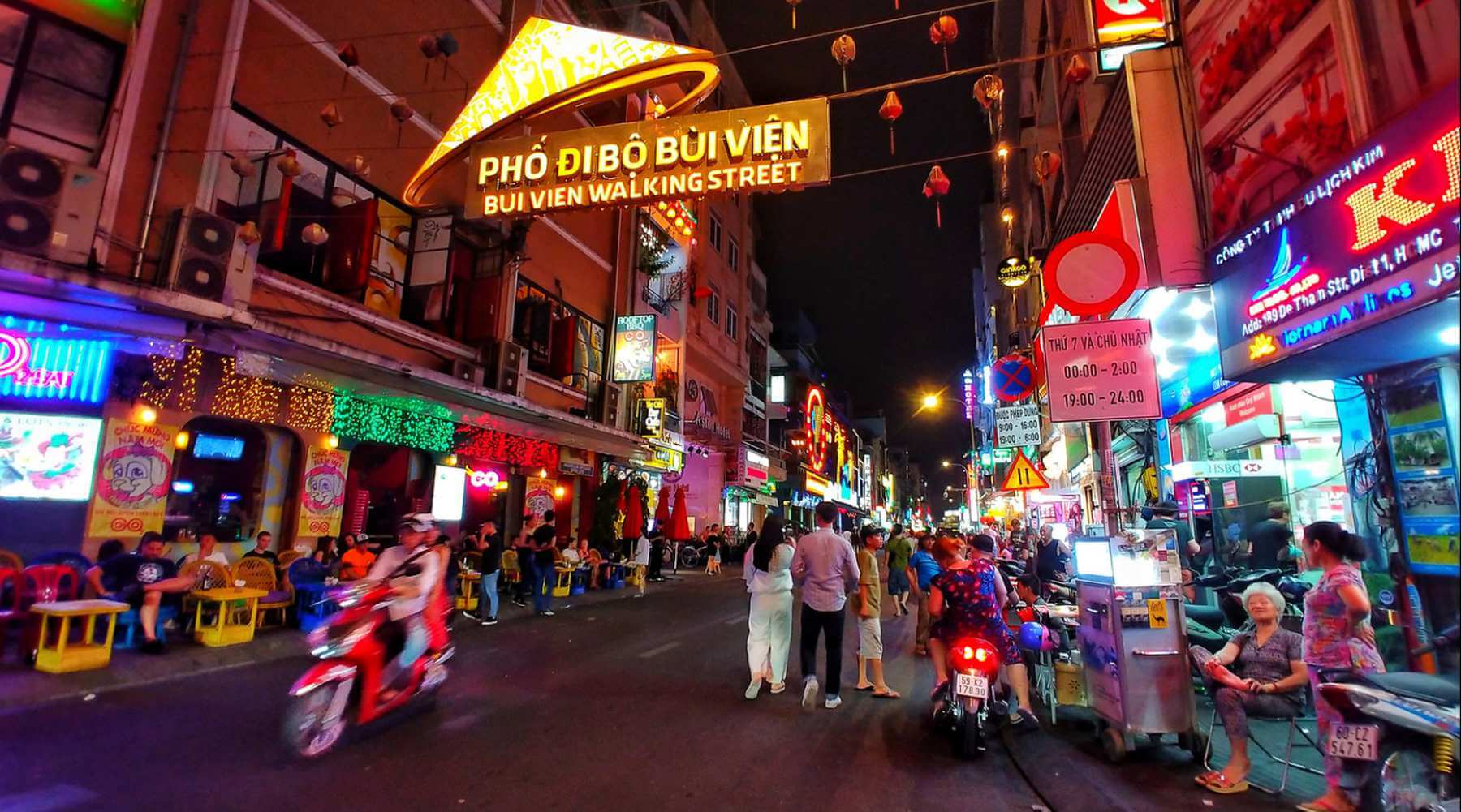 THE BEST NIGHTLIFE IN HO CHI MINH
The city that never sleeps? We are sure 'New York' is the first thing that comes to mind but there is some tough competition coming from south east Asia aiming for the same title! Ho Chi Minh City, also known as Saigon, is the second-largest after its capital, Hanoi and the second-best nightlife spot in Asia (after Bangkok). It has no shortage of nightclubs, cocktail bars, casinos, beer corners, cultural shows and activities. Yes, Vietnam knows how to party!
Our Top Trending Tours
All-Inclusive

Ho Chi Minh Most Historical Spots & War Museum Tour

All-Inclusive

Ho Chi Minh City by Motorbike: The Oldest Spots

All-Inclusive

Ho Chi Minh City by Motorbike: Top Historical Spots
Sure the city is known for its stunning architecture, amazing food and cultural attractions but it can be said that it is even more charming and magnetic when the darkness covers the Vietnamese sky. When the sun sets, this energetic metropolis keeps the party going in hidden lounges, bustling nightclubs and breezy rooftop bars! So whether you're into spending a wild night, dancing with your friends, or just having a chat with the locals accompanied by cheap beers, options are out on every corner!
After a day on your very own private tours in Vietnam exploring Ho Chi Minh's most instagrammable spots, spend your evening checking out the very best of its thriving nightlife.
So if you are wondering where to go and what to do in Ho Chi Minh at night, check out our comprehensive listing of ideas from hidden cocktail bars and evening joy rides to cultural shows and rowdy nightclubs right here.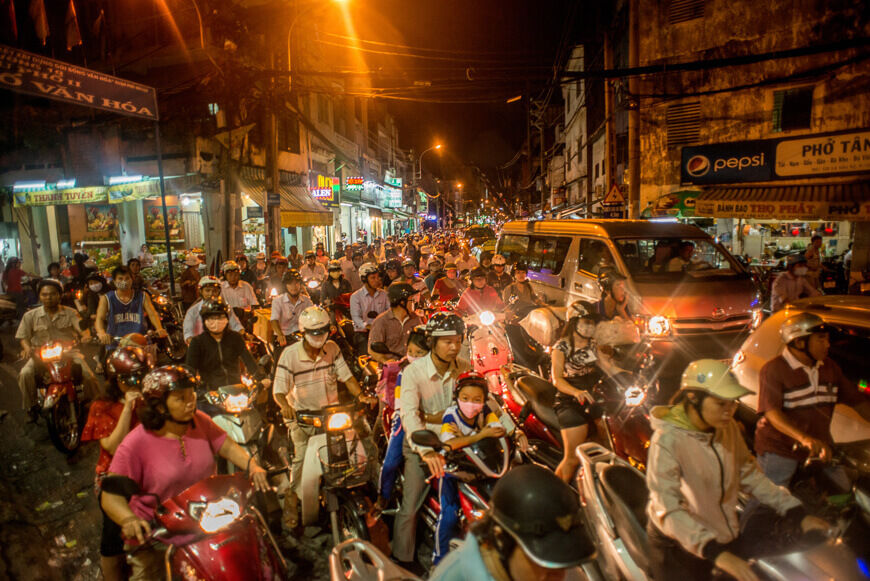 THE BEST AREAS FOR NIGHTLIFE IN HO CHI MINH
With a population of over 8 million people, Ho Chi Minh City is the largest city in Vietnam. The city is divided into 24 districts, all offering different nightlife options and attractions. As a first time traveler or even a returning traveler to Ho Chi Minh City, the options can be overwhelming, so it is important to know which area to go to in order to ensure you'll find the best activities to do at night! We would say district 1 and district 3 take the price!

Downtown district 1 is home to high-end establishments, rooftop bars, casinos and smooth jazz bands. District 3 is well-known for its beautiful colonial architecture dotted with restaurants, temples, parks and street food vendors.
It's a wonderful mix of old and new, with a favorable combination of cheap, middle and high-end shopping, dining and housing. With its fantastic location neighboring district 1, the area attracts people from all walks of life creating a unique environment with much to do and see. But no matter what you are looking for on your night out, Ho Chi Minh City is sure to provide!
Dong Khoi Street Area: The best area for first timers in Ho Chi Minh
Ho Chi Minh District 1 is the beating heart of Ho Chi Minh City, and Dong Khoi Street is the main historical area that has seen the biggest changes throughout the city's past. This street is the heart of the commercial life of Ho Chi Minh City and the perfect place to stay for first-time visitors to Vietnam. Here, you can admire the old colonial buildings, grab a coffee in a stylish cafe, shop international brands and local boutiques, dine in world-class restaurants or enjoy a cocktail in one of the many rooftop bars!
Pham Ngu Lao: The best area for backpackers and people traveling on a budget
Known as the "backpacker district," Pham Ngu Lao is an area in Ho Chi Minh District 1 that attracts budget travelers thanks to the low prices for everything from food and drink to accommodation. Pham Ngu Lao is also the best area of Ho Chi Minh City for nightlife. There are bars all along the street as well as restaurants with cuisine from all over the world. You'll also find a high concentration of street food carts here. It's definitely the best area to stay in if you want to party and not spend a ton of money.
Cholon: the best area for food
District 5 is more commonly known as Cholon and its Ho Chi Minh City's Chinatown. Cholon literally means "big market" and it's obvious why, as soon as you arrive at Binh Tay Market, which is the largest market in the country. The best part about this area is all the delicious Chinese food. You can find all kinds of Chinese and Vietnamese dishes at the food court inside the Binh Tay Market as well as outside.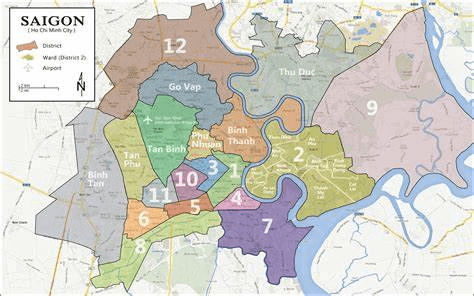 THE BEST ROOFTOP BARS IN HO CHI MINH
Ho Chi Minh City has one of the most impressive collections of rooftop bars in the world. Many high-rise buildings and five-star hotels offer stylish bars with views over the city. If you are looking for the best place to enjoy panoramic views of Saigon, this list of the best rooftop bars in Ho Chi Minh City will help you find a perfect spot.
Chill skybar: probably the most famous rooftop bar (and also one of the only rooftop bars with a dance floor) in Ho Chi Minh
Glow skybar: Glow Skybar is where Saigon's upper crust comes to be seen. The bar is perched atop the President Place building, announcing its elite status to the world. Expect a strict dress code and cover fee on some nights. Plush seating, international DJs, and imported liquors make this a favorite destination on weekends.
Saigon Saigon Rooftop Bar: Saigon Saigon Rooftop Bar opened in 1959 and is an iconic landmark in Ho Chi Minh City. It was the setting for daily briefings for war correspondents during the Vietnam War. The bar is set on the 9th floor of the Caravelle Saigon
The View Rooftop Bar: The View Rooftop Bar is located on the 9th floor of Duc Vuong Hotel, one of the tallest buildings on Saigon's Bui Vien Street. Well-frequented by backpackers worldwide for serving some of the cheapest drinks in Ho Chi Minh City, you can enjoy a glass of beer and have a great time without breaking the bank.
Breeze Sky Bar: Breeze Sky Bar at Hotel Majestic Saigon features a spectacular view of the Saigon River, Saigon Opera House, and several colonial-era buildings within the city centre.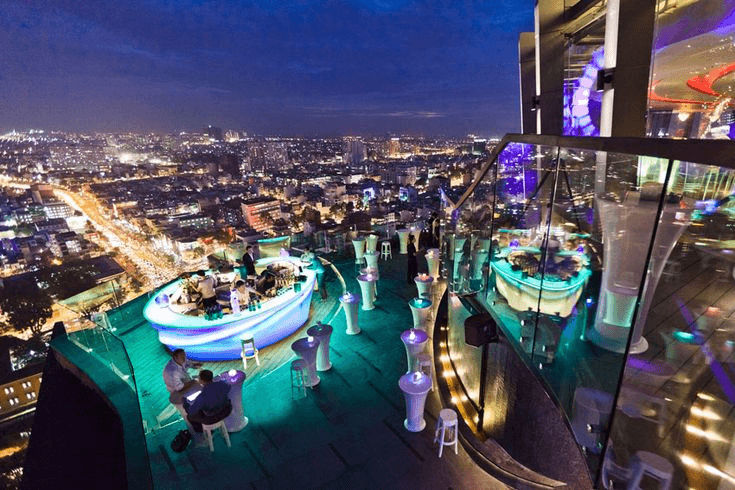 THE BEST NIGHT CLUBS IN HO CHI MINH
If your idea of a night to remember is to dance till you drop, pack your dancing shoes, because the nightclubs in Ho Chi Minh City are equipped with a great dance floor! All of the mentioned clubs are located in district 1.
Republic: Located in the busiest segment of the city (district 1) , Republic club provides the most sensational and amazing nights! The club has the most stupendous kind of lighting and the best of the city's DJs.
Lush: Lush is one of the longest running nightlife establishments in Ho Chi Minh City, opening it's doors to the public on June 15, 2004. It's always played a leading role in the Saigon nightlife culture, having hosted some the best local, international DJs, and other talents and being frequented by the top trendsetters of the country.
Canalis Club: Canalis club is a very Vietnamese kind of club with a mixed crowd of foreigners and local people of all age groups. The club provides the best music and dance rooms. The tables are fairly priced and it has a DJ caged with live dancers!
Republic Club: Republic Club is located right in the heart of Saigon's busiest area. Equipped with the best sound and lighting, They have an outdoor open air bar area where you can take a break.
Apocalypse Now: is probably the best known and most notorious bar/nightclub in Saigon. It's a large nightclub and bar complex divided over two levels with an outdoor terrace. It's very popular among expats and tourists!
Envy: This club displays tons of animations and astonishing performances by dancers. It's all a combination of futuristic and luxe. It's not only one of the main attractions of the Ho Chi Minh City nightlife but also a hotspot in entire Asia!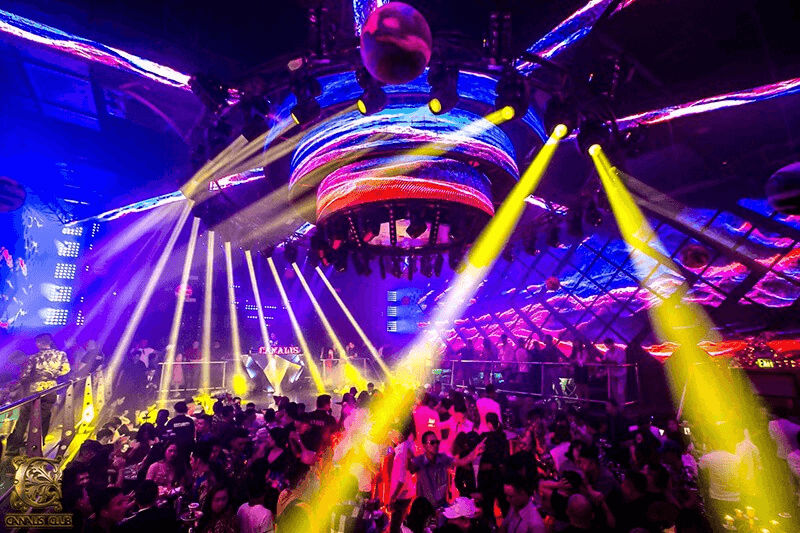 OTHER NIGHT TIME ACTIVITIES IN HO CHI MINH
But what if you're not a party animal? No worries because there are plenty of night activities to do that don't involve getting drunk or staying up until the early hours! Nightlife in Ho Chi Minh also includes theatre, night shopping, local festivities, nighttime tours and more.
Our Best Selling Tour
All-Inclusive

Ho Chi Minh Local Foodie Experience

The food scene in Ho Chi Minh is booming, and there's no better way to experience it than on our Ho Chi Minh Local Foodie Experience. Join us to indulge in the local culture through a love of food! Spend the day tasting some incredible homemade Vietnamese cuisine and learn how it's made. This all-inclusive, full-day Saigon tour will see you visit the famous Ben Thanh Market, try coconut coffee, and enjoy a foot massage. There's even some surprise food to try that is only for the bravest of travelers, so if you love trying local food, there's no better tours in Saigon!
Over the years, the country's various cosmopolitans have grown commercially and established such cultural experiences alongside the up and coming nightclubs and bars.
Eat street food on a motorbike tour: If you are looking to combine your love for food with some night-time adventure, then taking a 'Saigon Night Street Food by Motorbike tour' will be the perfect fit for you! On this tour you'll get to sample some of Vietnam's best food while exploring the city on the back of a scooter! Don't expect to eat at touristy restaurants or big food chains here! The goal is to introduce you to diverse and authentic Saigonese cuisine and the guides will take you to the best places only locals know about!


Watch a Water puppet show: Water Puppet Shows rapidly became a traditional art and important part of Vietnamese culture that tourists shouldn't miss. The Water Puppet Show was born from the wet rice culture in the Red River Delta more than 10 centuries ago. The show is a great way to learn more about Vietnamese way of life, its culture and local folklore. Most shows narrate stories from day-to-day life and often have humorous twists for you to enjoy.


Take a dinner cruise down the Saigon River: For a romantic night in Ho Chi Minh City, there's nothing better than taking a cruise down the Saigon River. Not only will you enjoy dinner on the cruise, the reflection of lights on the water, the traditional music and dance performances will make your evening an unforgettable experience.


Watch a show at Saigon Opera House: Saigon Opera House, also known as Ho Chi Minh City Theater, was built in neoclassical style, inspired by the Opera House in Paris, and is located in the heart of the city. In the evening, many people come here to sip coffee or simply watch the theater under the night sky. The restored Opera House was built in 1897 and is used to display not only opera but also a wide range of performing arts including ballet, concerts, and traditional Vietnamese dances.


Stroll around Ben Thanh market: One of the popular spots to experience Saigon nightlife is to wander around Ben Thanh Market. Impeccably located in the heart of Ho Chi Minh City, it is said to give a panorama of the largest night market out of town. After dark, streets around the market will be full of stalls and booths. What makes Ben Thanh night market alluring and irresistible is the bright light of stallholders and the fragrant smoke of street foods. Therefore, it is easy to understand why the place not only satisfies your shopping favorite with lots of the different goods, but also makes your hunger under control with a wide choice of meals and dishes. Stepping inside, you can find almost everything your heart wants, ranging from shirts, shoes, and purses to local handicrafts, lacquer art, framed paintings, nodding golden cats and key chains. Don't miss a chance to sample a wide selection of dried meats, local fruits, and fresh coffee.


Check out the Starlight Crescent Bridge (Rainbow Bridge)


Bui Vien (Walking Street): This lively part of Ho Chi Minh is a good first stop if you don't have any specific bars or restaurants in mind. Get yourself down to Walking Street which is also known as Ho Chi Minh's party street. This lively part of town is busy 365 nights a year with backpackers and locals alike.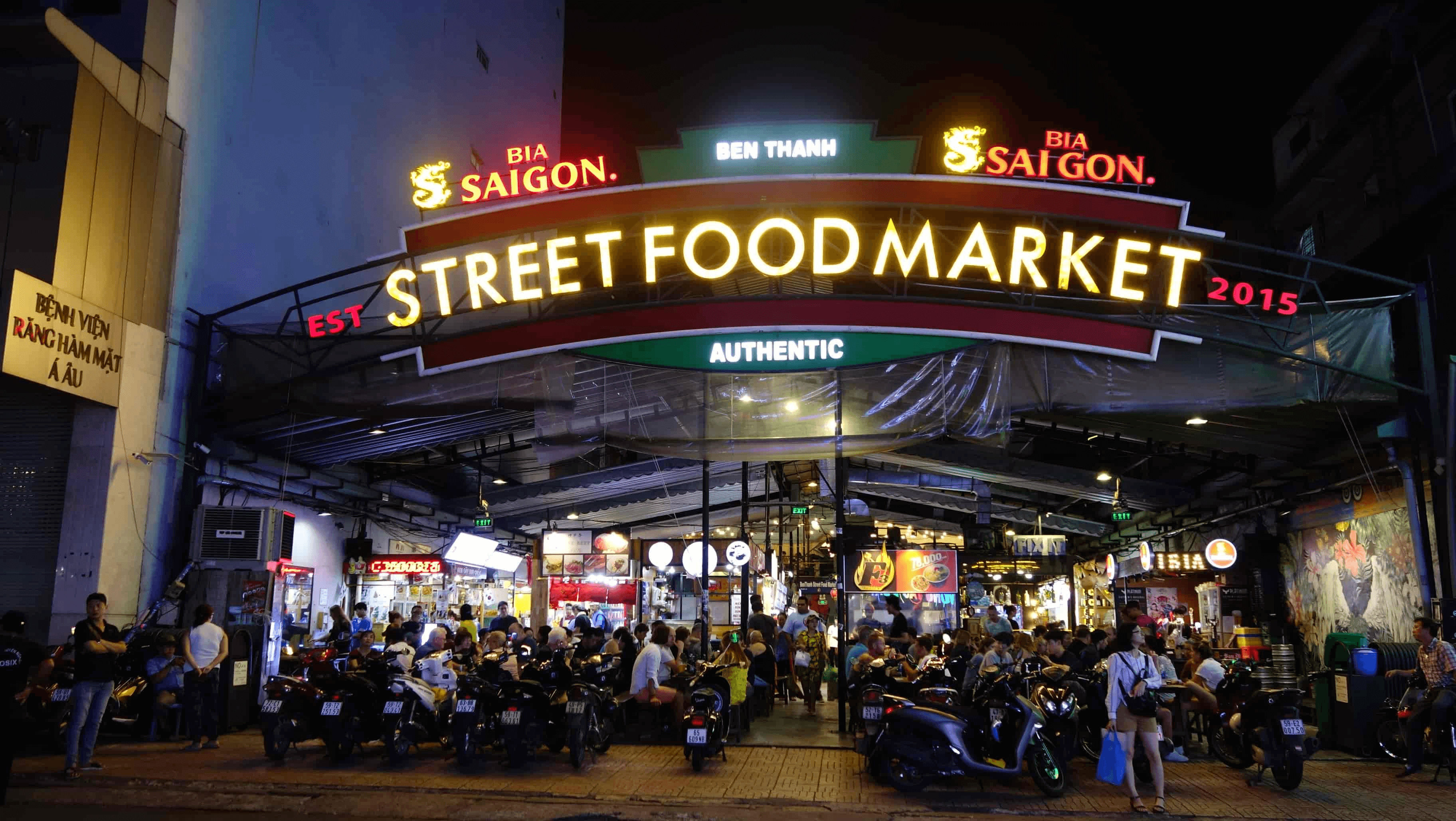 CONCLUSION
We hope you've enjoyed our tips and you feel ready now to explore Ho Chi Minh's nightlife scene!
Have fun, party responsibly and we hope to see you soon on one of our tours in Vietnam!
Get your VACATION on!
Expertly curated emails packed full of vacation inspiration, travel tips and more!