Top 3 Cooking Classes In Vietnam
Top 3 Cooking Classes In Vietnam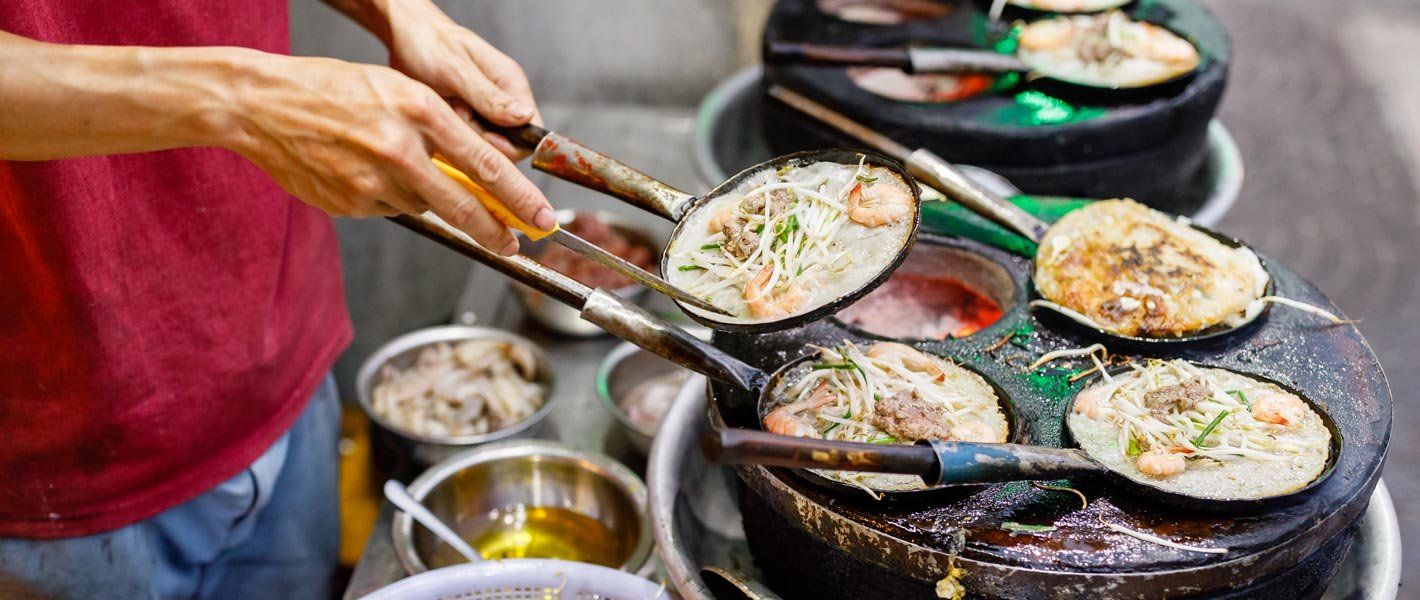 If you're anything like me, then a big part of travelling to another country is about discovering the local food. There's nothing better than exploring new and exciting dishes and flavors. One of the best ways (in my opinion) to learn about a country and its culture is to explore local recipes - and there's no better way to become well-versed with a new cuisine than to make it yourself!
Cooking classes are such a great activity - whether you are flying solo, as a couple, or with family and friends. They always make such a great day and I always enjoy them so much - plus you get to eat yummy food at the end! What could be better? Here are my top 3 cooking classes in Vietnam (there are heaps to choose from so this was really hard!).
Our Best Selling Tour
All-Inclusive

Authentic Thai Cooking Class And Wat Chalong Temple Visit

Perfect for foodies on their vacation of a lifetime, the Thai Cooking Class and Market Visit Tour gives you the chance to learn about authentic cuisine, local ingredients and how to cook classic dishes - you'll even be accompanied to the local market with a Thai chef to pick out your ingredients! Alongside a trip to the Wat Chalong Temple, this tour in Phuket combines culture, education and a delicious food experience!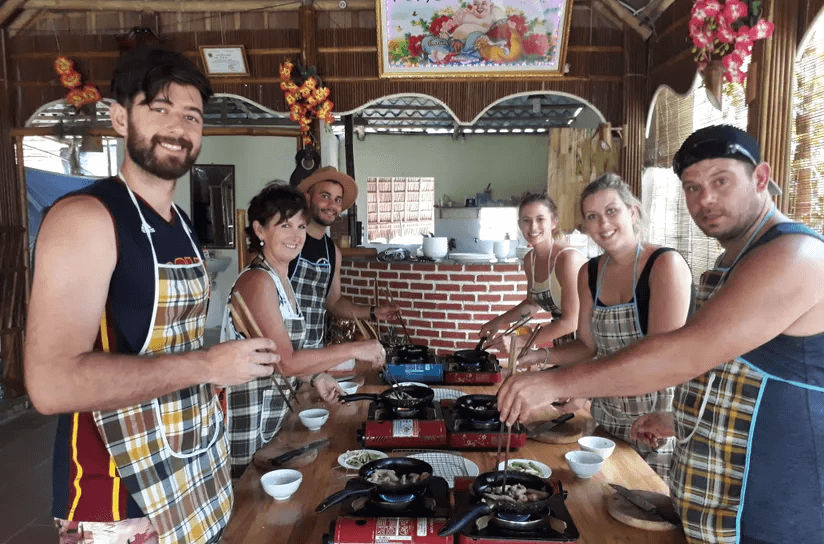 This cooking class in Hoi An is a truly immersive experience. You'll get intimate exposure to both the local cooking and fishing communities! What really makes this class unique is that you get to catch your own fresh seafood.
You'll be taken fishing to Thu Bon (the local fishing village) by real fishermen using traditional techniques. Not to mention, you'll get to experience the beauty of the countryside by boat and will even get a chance to paddle a Vietnamese bamboo basket boat (good luck!).
After snagging the freshest of seafood you'll be warmly welcomed into Tran Long Restaurant by 'Papa' and his family where they will show you how to make a whopping 8 authentic Vietnamese dishes.
After all the hard work is done you can enjoy the fruits of your labors in a real Vietnamese family atmosphere - the perfect day!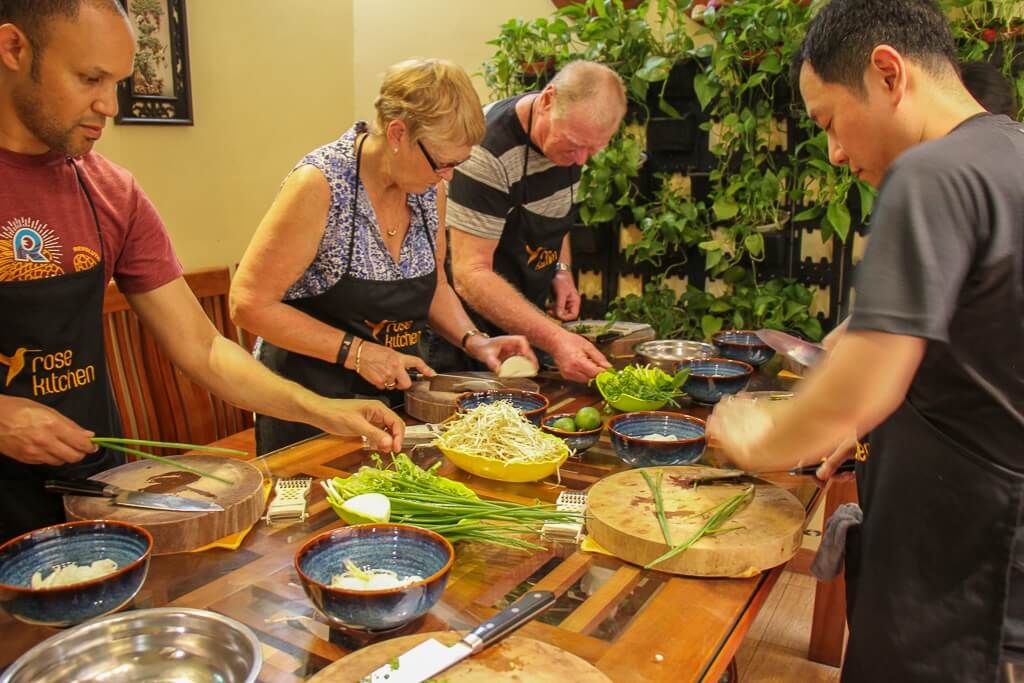 Rose Kitchen in Hanoi is a beautiful space for an authentic cooking class. In this class you'll be taken to a traditional Viet market to experience the sounds, sights, smells and tastes found here.
After picking up your fresh ingredients, you'll go back to the beautiful Rose Kitchen property where you'll be guided through the cooking process by extremely knowledgeable chefs who will share their own cultural and historical stories about the food you are preparing.
They even have fully vegetarian and vegan menus available, so don't worry if you're not a massive meat-eater!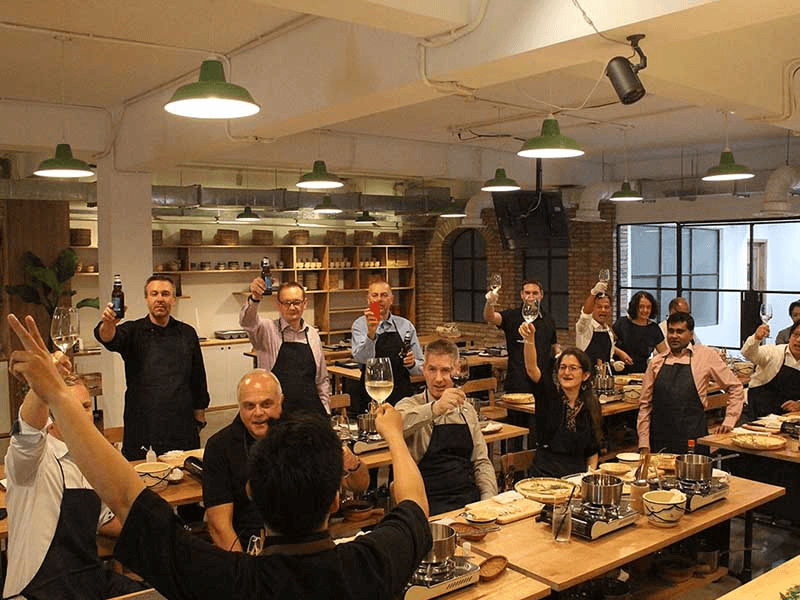 GRAIN is the brainchild of renowned Australian-Vietnamese chef Luke Nguyen, who has his own television series exploring international cuisine.
This is not your usual cooking class - Luke's mission is to show his guests that anybody can cook and to demystify Vietnamese cuisine so you will gain a new-found confidence that will make you want to cook more when you get home.
Here, you will learn the fundamentals of food preparation and presentation, experience a glimpse of Vietnamese history and understand how to select and choose your own produce. Luke's amazing team will help you to create a beautiful 4-course meal from start to finish. A truly unique experience!
And if you want to experience even more foodie fun on your trip to Vietnam, check out our foodie tours and let us help you taste some of the best food in Vietnam!
Our Top Trending Tours
All-Inclusive

Saigon Instagram Foodie Experience

All-Inclusive

Ho Chi Minh Local Foodie Experience

All-Inclusive

Bangkok Most Famous Food Experience
Get your VACATION on!
Expertly curated emails packed full of vacation inspiration, travel tips and more!