Top 7 things to do in Chiang Mai
Top 7 things to do in Chiang Mai
While most people flock to Thailand for its tropical islands or the bustling metropolis of Bangkok, there's a hidden gem that often goes unnoticed—Chiang Mai. Nestled in the Northern region of Thailand,
'The rose of the North' offers a different kind of beauty and a harmonious blend of ancient temples, mystical mountains, adventurous jungle treks and mind blowing cultural experiences. Founded over seven centuries ago, Chiang Mai is the capital of the Lanna Kingdom and home to more than 300 temples.
And due to its location in the north of the country, the temperature is cooler than you would find in Bangkok or any of the more southern regions, meaning you can spend longer each day sightseeing without the sweltering heat!
Our Best Selling Tour
All-Inclusive

Mystical Chiang Rai and White Temple Day Tour

This is your chance to embark on your very own Mystical Chiang Rai and White Temple Day Tour. The White Temple is one of Chiang Rai's most intricate and picturesque temples, it's simply breath-taking. This 13-hour tour sets off into Thailand's stunning countryside, heading north to Chiang Rai. You'll make a stop at a hot spring before heading to the famous White Temple. You'll visit the famous Golden Triangle and see the Mekong River. Our Chiang Mai excursions include everything, from your entrance fees to your delicious Thai lunch. This is a bucket-list-worthy, Chiang Mai tour that everyone should aim to tick off!
Chiang Mai really is the cultural capital of Thailand, and no doubt you'll fall in love with it on your next visit. And the best part?It's very affordable compared to the south of the country and it still feels very authentic, so it's the perfect place to see local life at a slower pace than bustling Bangkok. Don't stick within the city walls either, the surrounding mountain towns, national parks, and rice field valleys are waiting to be explored!
Chiang Mai stands as a testament to the true beauty of Thailand and it is a destination that captivates the hearts of those seeking an authentic and immersive travel experience!
So whether you're a first-time visitor or returning to this enchanting city, there is a wealth of activities waiting to be discovered. In this blog post, we'll unveil a mix of popular must-dos and off-the-beaten-track gems, ensuring you make the most of your stay in this wondrous destination!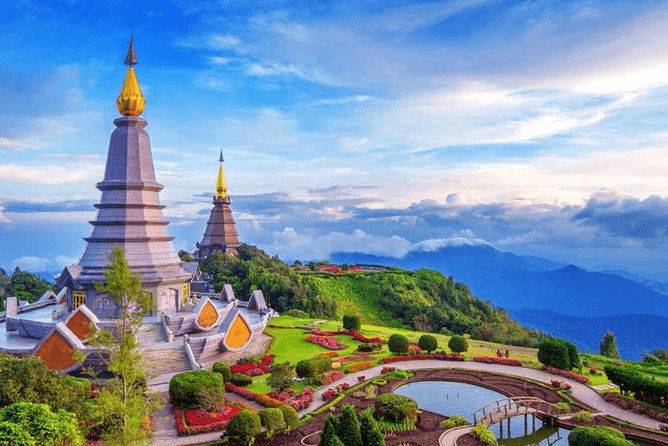 Visit Doi Inthanon National Park
When it comes to natural wonders, Doi Inthanon National Park, lovingly referred to as "the roof of Thailand," stands in a league of its own. This exceptional destination should be at the top of your list when visiting Chiang Mai!
But how do you get there? Easy-peasy! Just book our private Doi Inthanon tour and get ready for a wild ride. Once you're on the tour, be prepared for an action-packed day of exploring. You'll make a splash at not one, but two the stunning waterfalls: the Vachiratharn Waterfall and the Pha Dok Siew Waterfall AND get a glimpse of the unique Karen hill tribe village.
But hold onto your hats because the real adventure awaits in the heart of the national park. Lace up your walking shoes and hit the Ang Ka nature trail. As you climb higher, you'll reach the crown jewel—the King & Queen pagodas. Trust us, you won't want to miss this photo op!
And when hunger strikes, make sure to get lunch at a local Thai joint. Pro tip: Go for the traditional Kao Soi, a traditional flavorful curry noodle soup.
You can book the tour HERE!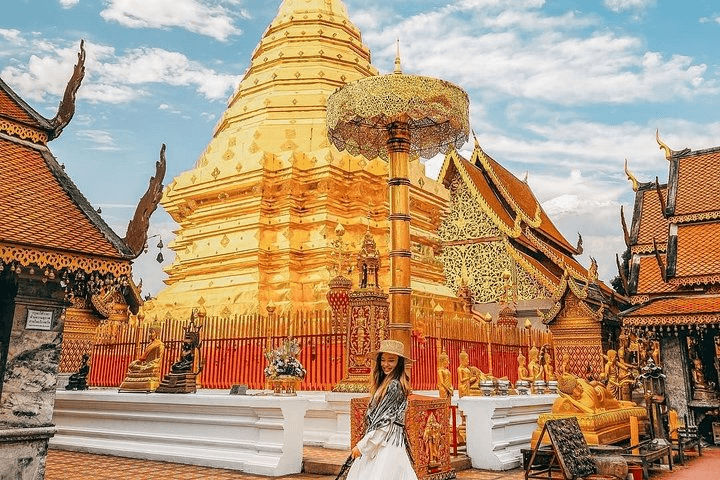 Take a Chiang Mai Instagram tour
If you're short on time or you just want to see all the most instagrammable places in Chiang Mai in one day, we suggest you book a Chiang Mai Instagram tour!
This tour will bring you to Doi Suthep Temple, Wat Rajamontean Temple, the Silver Temple (Wat Sri Suphan), Ta Phae Gate, Wat Suan Dok Temple, the Royal Cemetery and the famous Umbrella Village! If that's not enough you'll have lunch a secret Instagrammable cafe. We can't tell you its name though, you'll have to take the tour to see where this hidden gem is ;)
You can book the tour HERE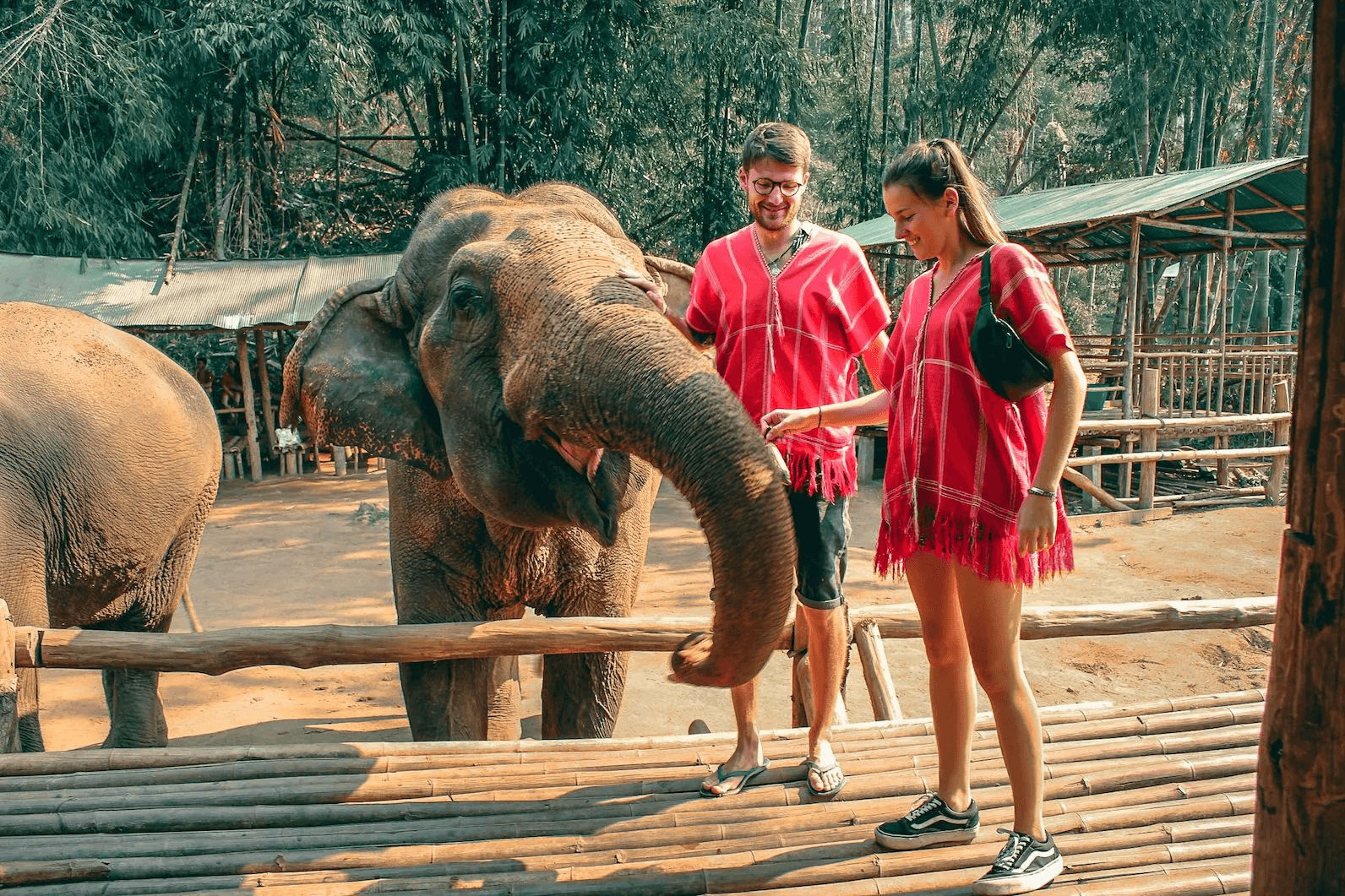 Spend the day with elephants at an ethical elephant sanctuary
If there's one experience that left an indelible mark on our hearts during our visit to Chiang Mai, it was volunteering with elephants at an Elephant Jungle Sanctuary. Yes, it may be a popular tourist activity, but it's an absolute must-do! When it comes to incredible things to do in Chiang Mai, this tops the list.
Elephant Jungle Sanctuary is not just your typical elephant encounter—it's an ethical elephant rescue and rehabilitation center. Say goodbye to hooks, chains, and rides, as this sanctuary is all about providing a safe and loving environment for these majestic creatures.You'll learn about the elephants' stories and why their rescue was necessary. Then, the real magic begins as you have the chance to interact, feed, and play with these gentle giants.
Volunteering at Elephant Jungle Sanctuary isn't just about a fleeting encounter with elephants. It's an opportunity to make a positive impact, support ethical practices, and learn about the importance of conservation. It's an experience that will stay with you long after you've left Chiang Mai!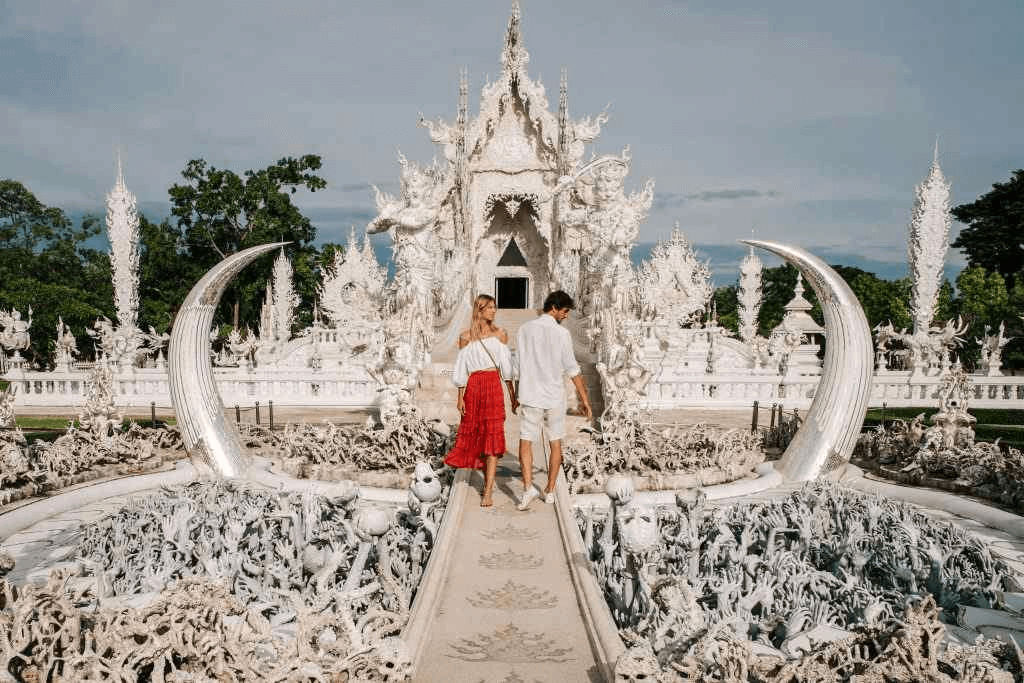 Take a daytrip to visit The White Temple at Chiang Rai
Yes, you'll have to drive a few hours to see this one but once you arrive, you'll understand it was worth every mile! The white temple in Chiang Rai is probably one of - if not- the most beautiful and unique temple in Thailand!
While it may not have ancient roots, it has skyrocketed to fame with its stunning and unique architecture. This masterpiece was brought to life by the creative genius of Thai artist Chalermchai Kositpipat, who poured his heart, soul, and some generous donations into making this temple a reality.
Mind you: once inside the white temple of Chiang Rai, photography is prohibited. But hey, that only adds to the mystery and excitement, right? Here, the pure white from the temple's exterior turns into a really weird, colorful and confusing decoration. Murals shows demons, flames, the burning Twin Towers, Michael Jackson, Batman and Freddy Krueger. But also Harry Potter and Superman have been immortalized in this temple. This mix of religion and chaos, malevolence, heroes of the modern age, art and pop is unique and certainly can't be found in any other temple in Thailand.
As it's a bit of a mission to get to Wat Rong Khun, it's a much better experience to book our private Chiang Rai tour, which you can book HERE!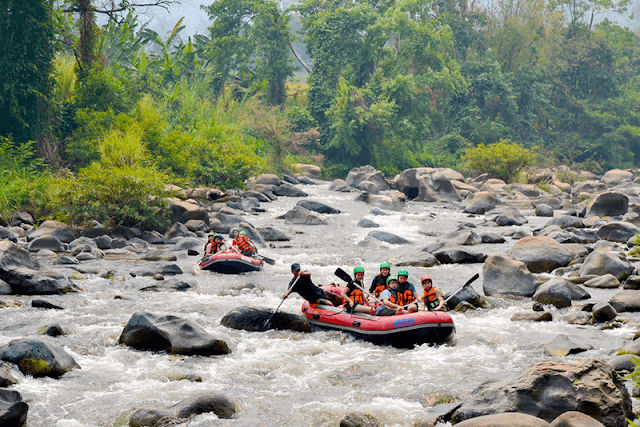 Go rafting and ride an ATV through the scenic Mae Taeng valley
If you're an adrenaline junkie seeking an electrifying experience in Chiang Mai, we can highly recommend trying out a Chiang Mai rafting and ATV experience!
With three hours of ATV riding, you'll have ample time to soak in the sights, conquer thrilling obstacles, and experience the thrill of off-road exploration in the stunning natural playground of the Mae Taeng Valley.
We added a white rafting experience to the day that took us along the mighty Mae Taeng River. This isn't your average lazy river ride—this is a high-octane experience that will push your limits and leave you a whole lot of fun memories!
You can book both activities in one tour and this will be the best one you'll find.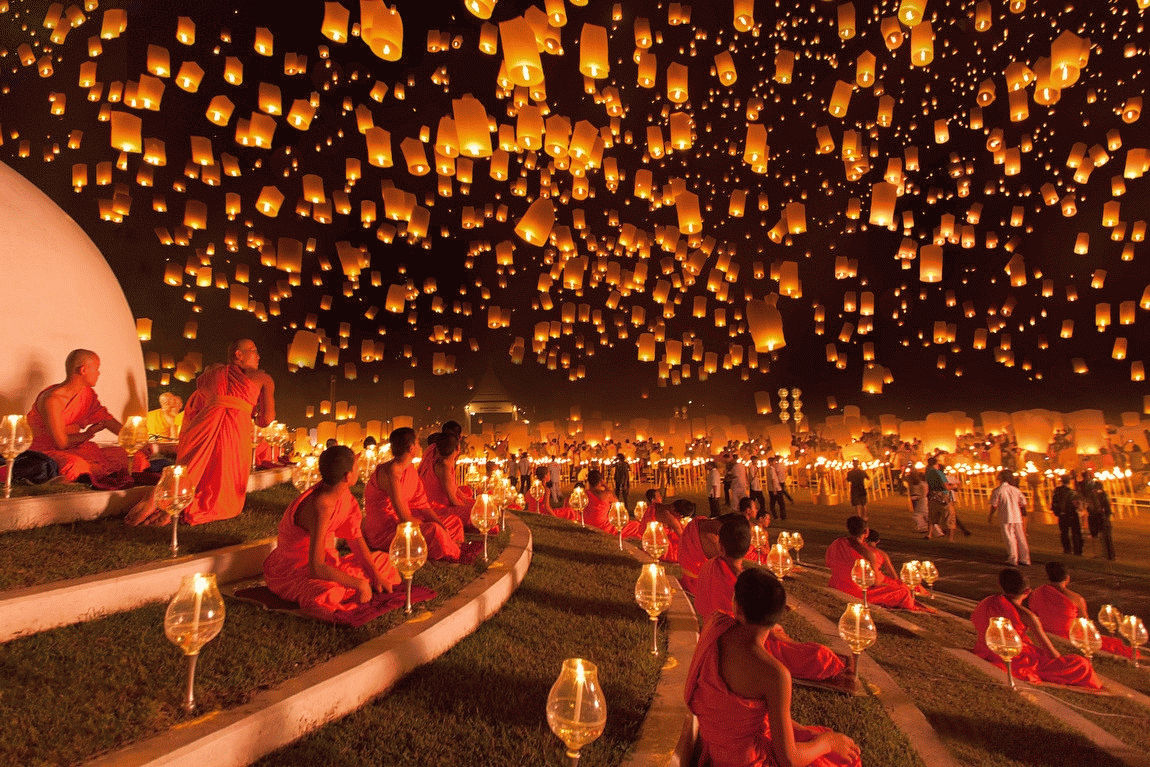 Experience the Loi Krathong Festival
Mark your calendar if you want to experience one of the most magical festivals in Chiang Rai: the Loi Krathong festival. As the twelfth lunar month rolls around, the city comes alive with an atmosphere of celebration and reverence like no other.
Loi Krathong is a time-honored tradition where the people of Chiang Mai pay homage to Buddha by releasing beautifully crafted lotus-shaped baskets, known as Krathongs, into the serene waters of the moat. Each Krathong carries a flickering candle at its center, symbolizing the release of negativity and offering respect to the divine.
Look up, and you'll witness thousands of lanterns fill the night sky. The warm glow of these lanterns represents hopes, dreams, and wishes being set free.
The Loi Krathong festival in Chiang Mai is an extraordinary experience and it's a time when locals and visitors alike come together to celebrate, reflect, and embrace the beauty of Thai culture.
If you're planning to join in the festivities, make sure to book your accommodation early, as Chiang Mai's hotels fill up fast during this enchanting time of year!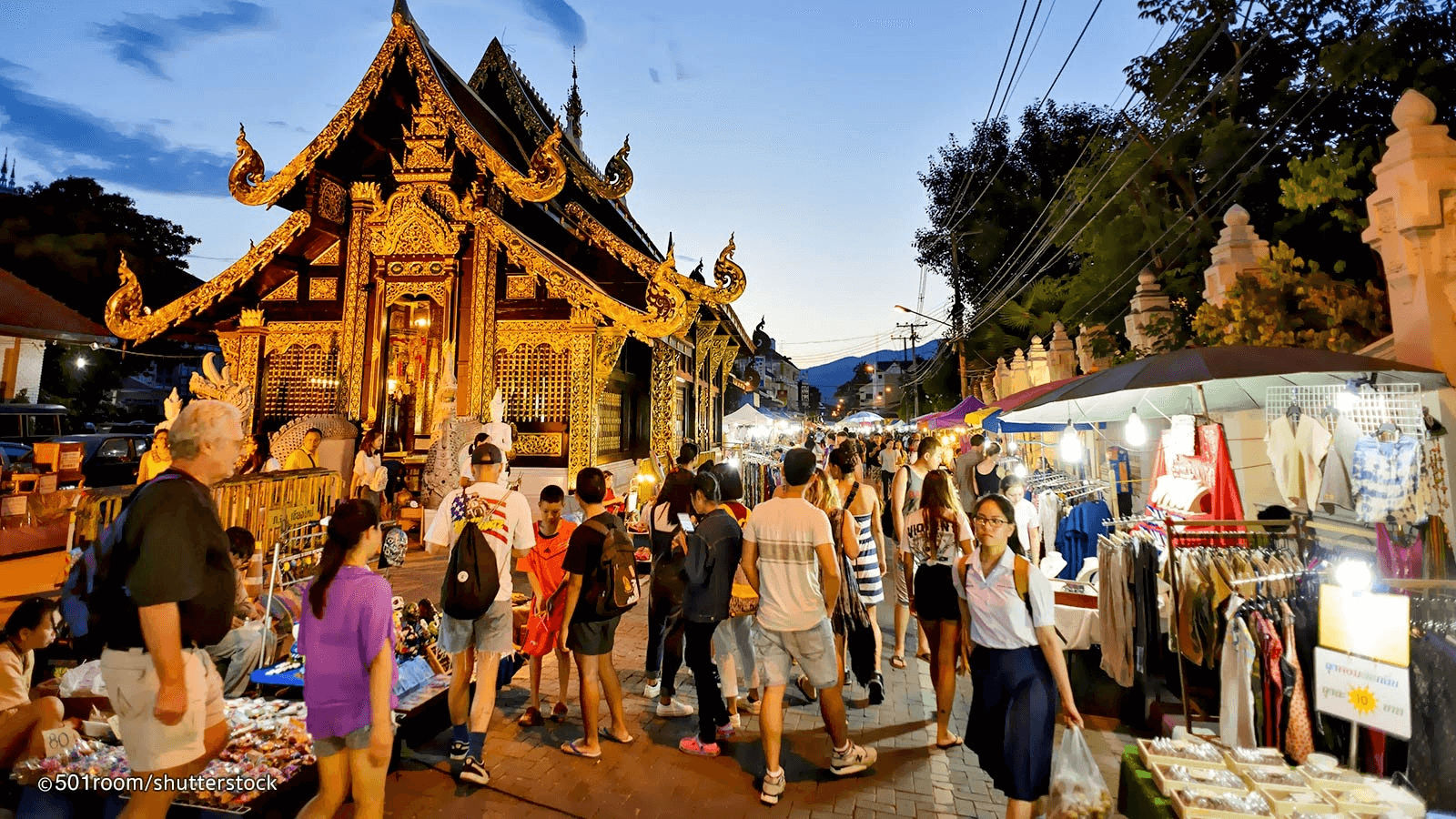 Visit the weekend market
Let us tell you about one of the coolest spots in Chiang Mai - the Sunday Market, also known as the Walking Market. It's like shopaholic heaven mixed with a burst of artistic awesomeness!
Every Sunday, starting from Thapae Gate and stretching along the entire Ratchadamnoen Road, the market comes alive. You'll find an incredible array of stalls selling handmade goodies that will make you buy things you never knew you needed! But here's the kicker - as you stroll through the market, you might spot the stallholders taking a break from selling and working on their crafts right then and there! It's like witnessing art in action and it adds a special touch to the whole experience.
Now, let's talk food. You won't go hungry, trust us. As you explore the market, you'll come across some beautiful Buddhist temples dotting the Ratchadamnoen Road. And guess what? They open up their courtyards to food vendors who whip up delicious dishes right before your eyes. Don't be shy - give those mouthwatering treats a try ;)
Get your VACATION on!
Expertly curated emails packed full of vacation inspiration, travel tips and more!