Top 7 best things to do in Ho Chi Minh
Top 7 best things to do in Ho Chi Minh
Ho Chi Minh City, once known as Saigon but now rocking its new name, is an incredible blend of historical richness and contemporary allure. Renamed after Ho Chi Minh successfully united Vietnam in the aftermath of the Vietnam War, this city stands as a living testament to some of the world's most pivotal modern events.
Every corner in the city is bursting with references to the epic moments of Vietnam's reunification. It's like a real-life history lesson, but with a fun twist! And if you're hungry for more knowledge (or just plain hungry), don't miss out on exploring monuments, museums, and spots from the Vietnam War, like the mind-blowing Cu Chi Tunnels.
Our Best Selling Tour
All-Inclusive

Ho Chi Minh City Instagram Tour: The Hidden Gems

If you find yourself in Ho Chi Minh City then you must join us on a Ho Chi Minh City Instagram Tour: The Hidden Gems. This popular, all-inclusive Ho Chi Minh City tour takes you to places in Saigon that no other tour does. Your fun and knowledgeable guide will make sure this is an unforgettable day out. Jam-packed with famous landmarks, architecture, and secretly located spots, including the Notre Dame Cathedral, The "Pink" Church, and a Hidden Weapons Bunker, this Ho Chi Minh tour is the perfect way to see the city.
Ho Chi Minh City also owes a lot of its charm to the French influence (remember the French colonial period)? The French left behind more than just pretty buildings—they brought baguettes and café culture too! A touch of sophistication and a penchant for 'joie de vivre' can be felt all over the city's vibrant arts scene, fashion trends, and cultural pursuits!
But hey, let's not forget the modern side of Ho Chi Minh City, because it's a true star in its own right. The skyline here is a futuristic wonderland, filled with cutting-edge buildings that'll have you snapping selfies like a pro. And when the sun goes down, the city really comes alive with a nightlife extravaganza that'll have you dancing 'til dawn. And don't get us started about the food…but more about that later ;)
As you can tell by now, Ho Chi Minh really has got it all—fascinating stories of the past and an exciting contemporary vibe! With so many things to do and see, it's hard to figure out what to do first. That's why we've created a list with the top 7 best things to do in in fascinating city!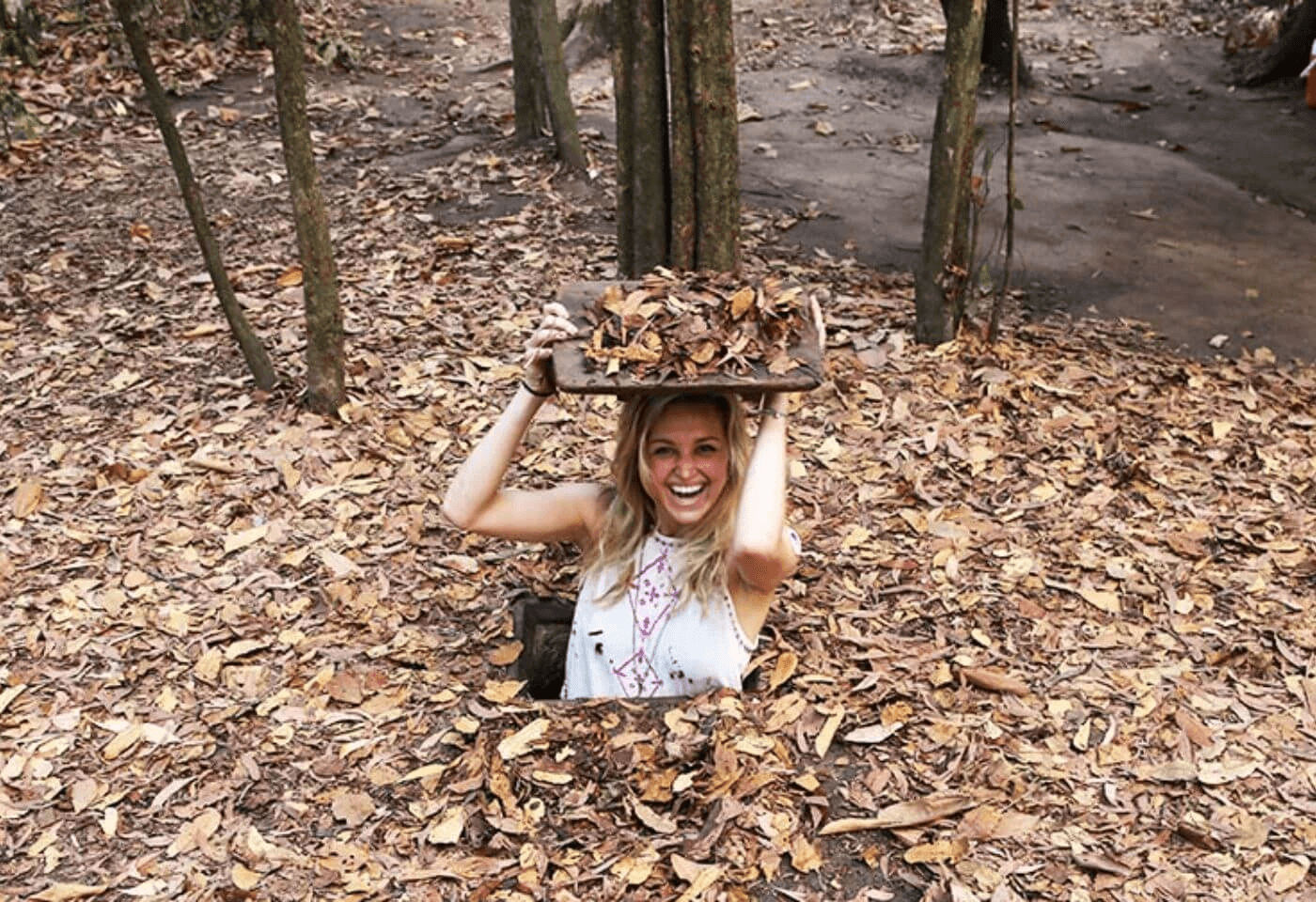 Visit the famous Cu Chi tunnels
If you're looking for an eye-opening and educational adventure in Ho Chi Minh City, the Cu Chi Tunnels should be at the top of your list. These tunnels played a crucial role during the Vietnam War, particularly during the intense Tet Offensive of 1968.
Stretching an impressive 30 kilometers from the city, the Cu Chi Tunnels were the secret underground chambers used by the resourceful Viet Cong guerillas. Today, you have the incredible opportunity to explore sections of these tunnels and crawl through their narrow passageways, giving you a firsthand experience of the conditions the Viet Cong soldiers endured.
You'll discover entire hidden villages, complete with hospitals, storage rooms for food and weapons, kitchens, living quarters, and even command centers. These tunnels, with their multiple layers descending deep into the earth, served as not just hiding places and supply routes but also as strategic bases for surprise attacks against the American forces.
As the tunnels are located a little bit outside the city center, it's best to book a guided tour!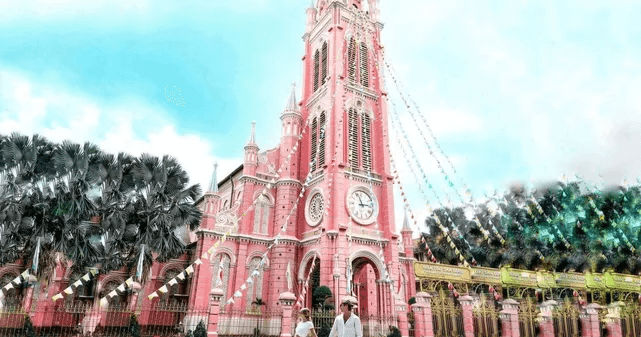 Take a Ho Chi Minh Instagram tour
If you're eager to explore all the famous spots in Ho Chi Minh City in just one day, a Ho Chi Minh Instagram tour is the perfect choice for you! Get your camera ready for a day filled with stunning photo opportunities! A local guide will take you around the city to see: The Notre Dame Cathedral, the Central Post Office, The "Pink" Church, a hidden weapons bunker, a vintage Vietnamese home, Ho Chi Minh Square (People's Committee), a cute insta-worthy boutique shops, Bitexco tower and the Minh Dang Quang Pagoda!
You can book this tour HERE!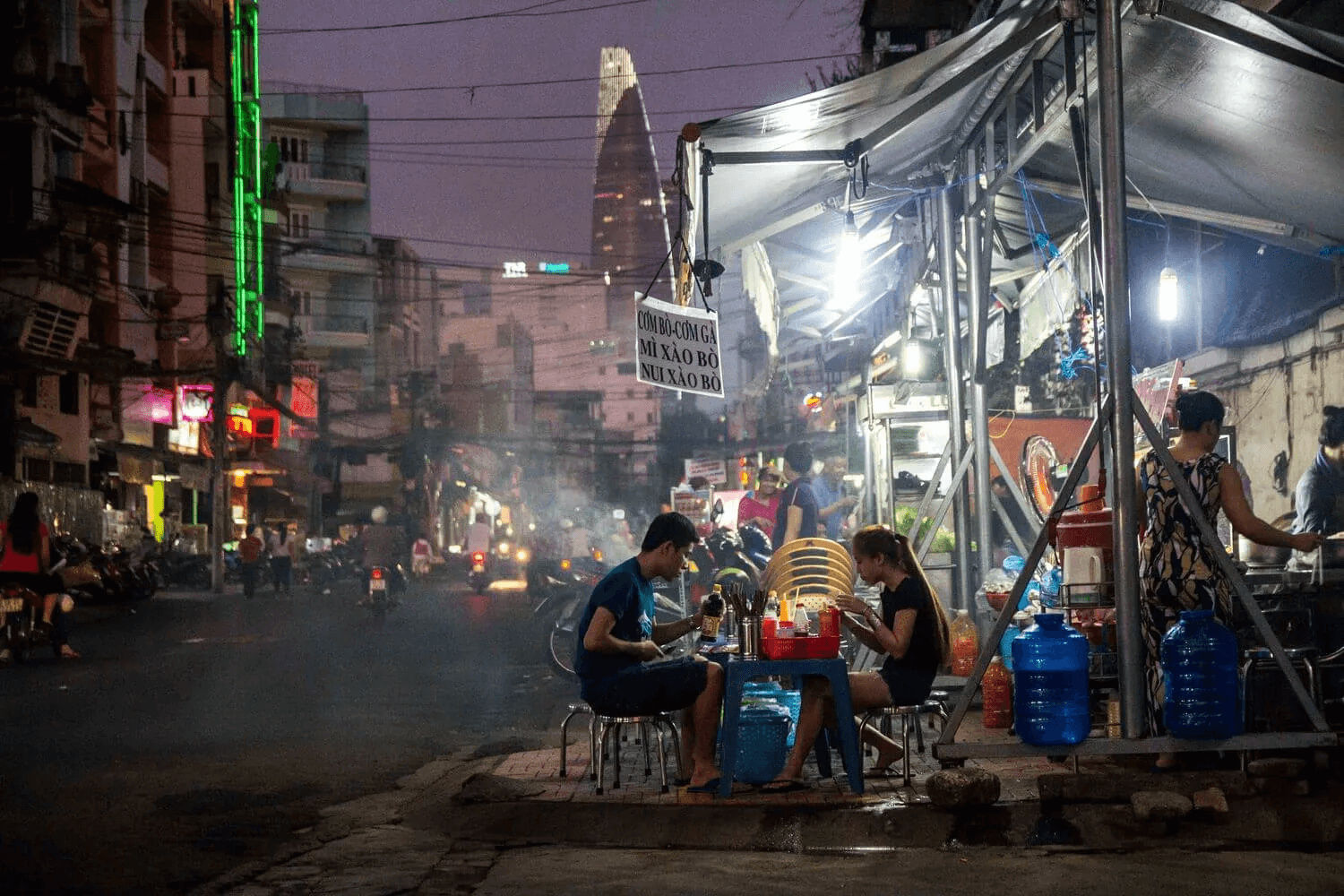 Eat your way through Ho Chi Minh city on the back of a motorbike
Forget ordinary food tours! If you're craving an extraordinary culinary adventure, buckle up for the thrill of exploring Ho Chi Minh City on the back of a motorcycle while indulging in Vietnamese delights! Picture yourself zooming through the bustling streets, the wind in your hair, as you zip from one food destination to another.
Each stop will be a feast as you sample authentic Vietnamese cuisine, guided by passionate local riders who know the city like the back of their hands. Say goodbye to touristy restaurants and big food chains because this tour is all about authentic and diverse Saigonese cuisine. Your guides will take you to hidden gems and local hotspots that only insiders know about!
You'll be able try some of Saigon's most famous dishes such as:
Banh Uot Ban Me (stuffed rice pancake)
Goi Kho Bo (green Papaya and Beef Jerky Salad)
Banh Khot (crispy Vietnamese bite-sized mini pancakes)
Bun Cha (grilled pork and noodles)
Che Hien Khanh (Vietnamese dessert)
You can book this one of a kind tour HERE!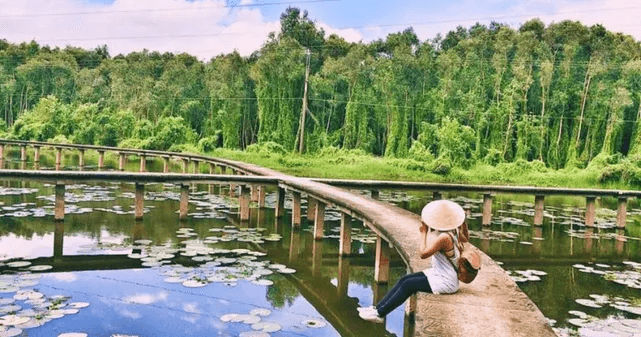 Go off the beaten track and enjoy nature at Tan Lap floating village
Tired of the non-stop excitement of Ho Chi Minh City? We hear you! Sometimes you just need to take a breather and have some fun in a place that's a little less crowded. That's why we've got the perfect spot for you: Tan Lap Floating Village—a hidden paradise where you can get back in touch with nature!
Tan Lap Floating Village is a real playground for nature enthusiasts. Get your explorer hat on and venture into the wetland ecosystem, spot colorful birds soaring above, mischievous monkeys swinging from trees, and vibrant lotus flowers blooming in all their glory. Or why not take a paddle boat ride on the surrounding river? It's the perfect opportunity to unwind, recharge, and reconnect with the natural world around you!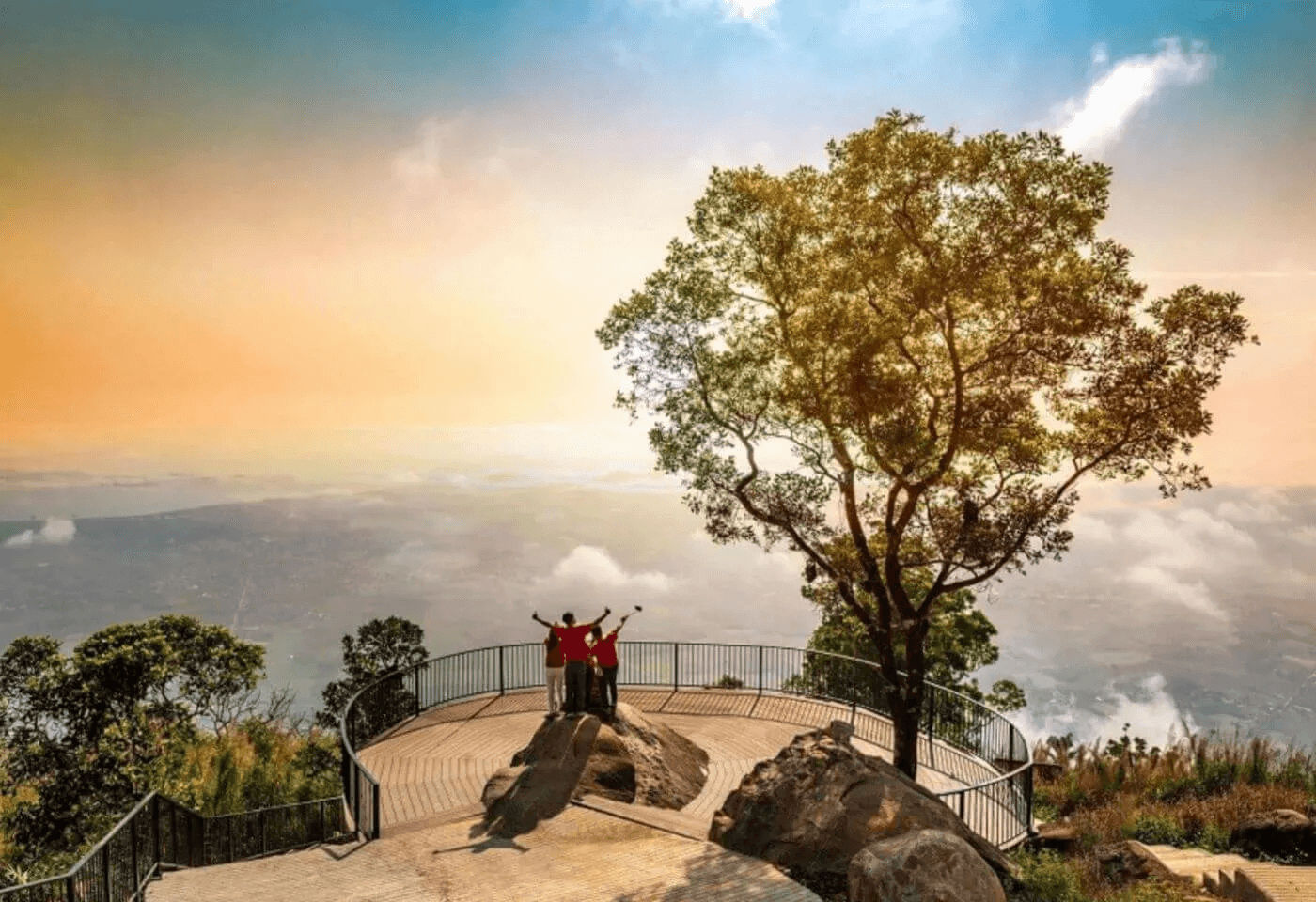 Explore Black Lady Mountain
Have you ever thought about climbing a mountain without breaking a sweat? Well, let me introduce you to Black Lady Mountain, where reaching the summit has never been easier! Just hop on one of the cable cars, and make your way up to the top of this majestic mountain. As you ascend, keep an eye out for the magnificent 32-meter tall Tay Thien Mau statue of the Mother Goddess of the Mountain, standing proudly at the summit.
Once you reach the top, you'll have the chance to explore the diverse temples and pagodas that dot the mountainside. Each one offers a unique glimpse into Vietnamese architecture, spirituality, and cultural practices. Really take your time to soak up the serene atmosphere and of course capture some unforgettable snapshots!
Pro tip: Close to the mountain you will find the stunning and colorful Cao Dai Temple, which is a fascinating mix of Eastern and Western religions. The temple is an architectural marvel, and you'll be able to learn more about the unique Cao Dai religion, which blends elements of Buddhism, Taoism, Confucianism, and Christianity. And if you time it right, you can even join in on a traditional ceremony!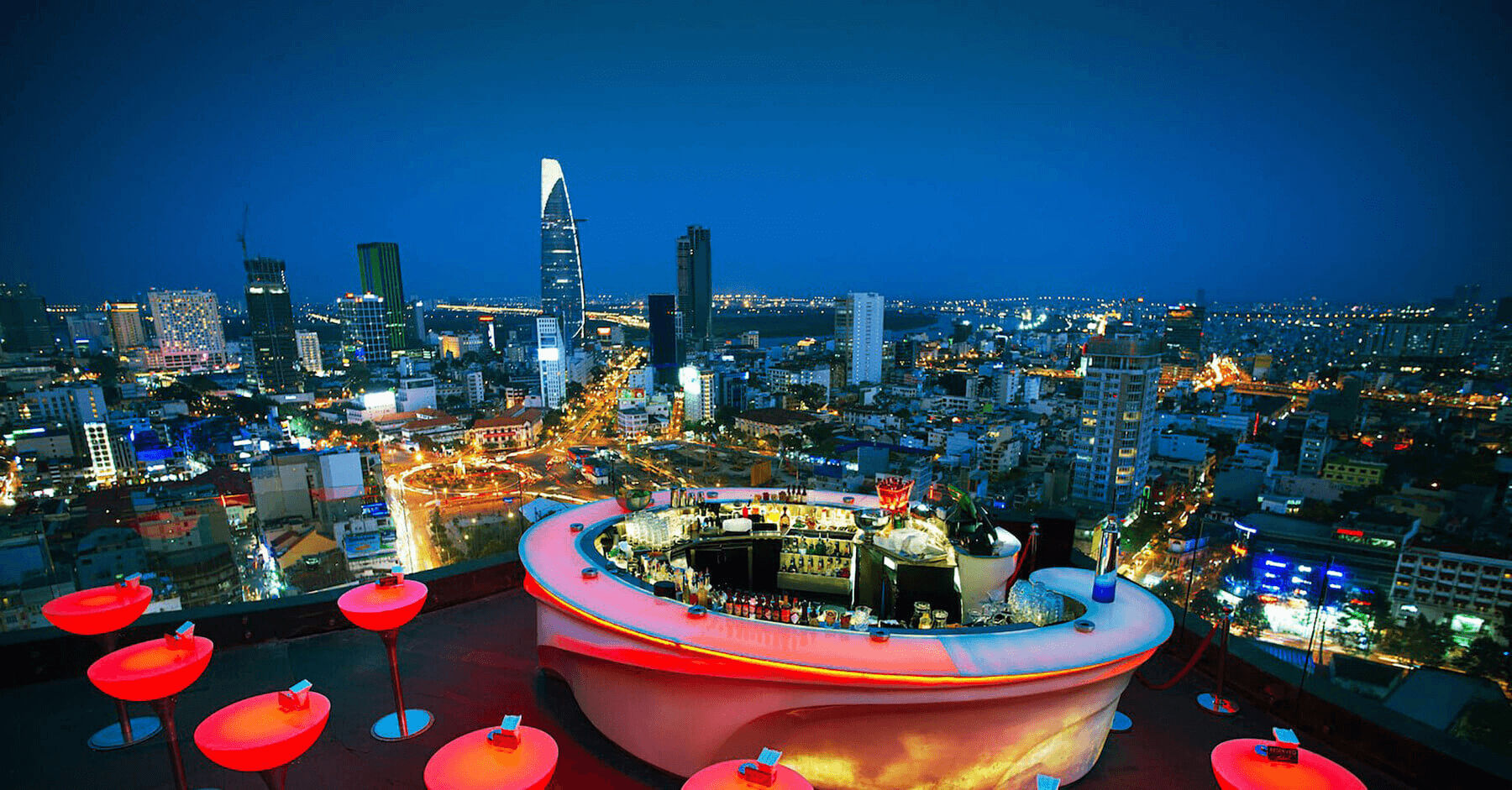 Have a drink at one of the many rooftop bars
When it comes to elevated experiences and breathtaking views, Ho Chi Minh City takes the cake! The city boasts an impressive lineup of rooftop bars that can easily rival the best in Asia. With its towering high-rise buildings and luxurious five-star hotels, the sky's the limit when it comes to finding the perfect spot to party or savor a fancy cocktail in style!
The variety of rooftop bars in Ho Chi Minh City means there's something to suit every taste. From sophisticated lounges to hip and trendy hangouts, you can find the perfect setting to enjoy a night of indulgence. Whether you prefer a classic martini, a refreshing mojito, or a unique fusion creation, the skilled mixologists at these rooftop establishments will ensure your drink is nothing short of perfection!
We listed some of the best bars in Ho Chi Minh City on ones on our blog post. Click here to see them!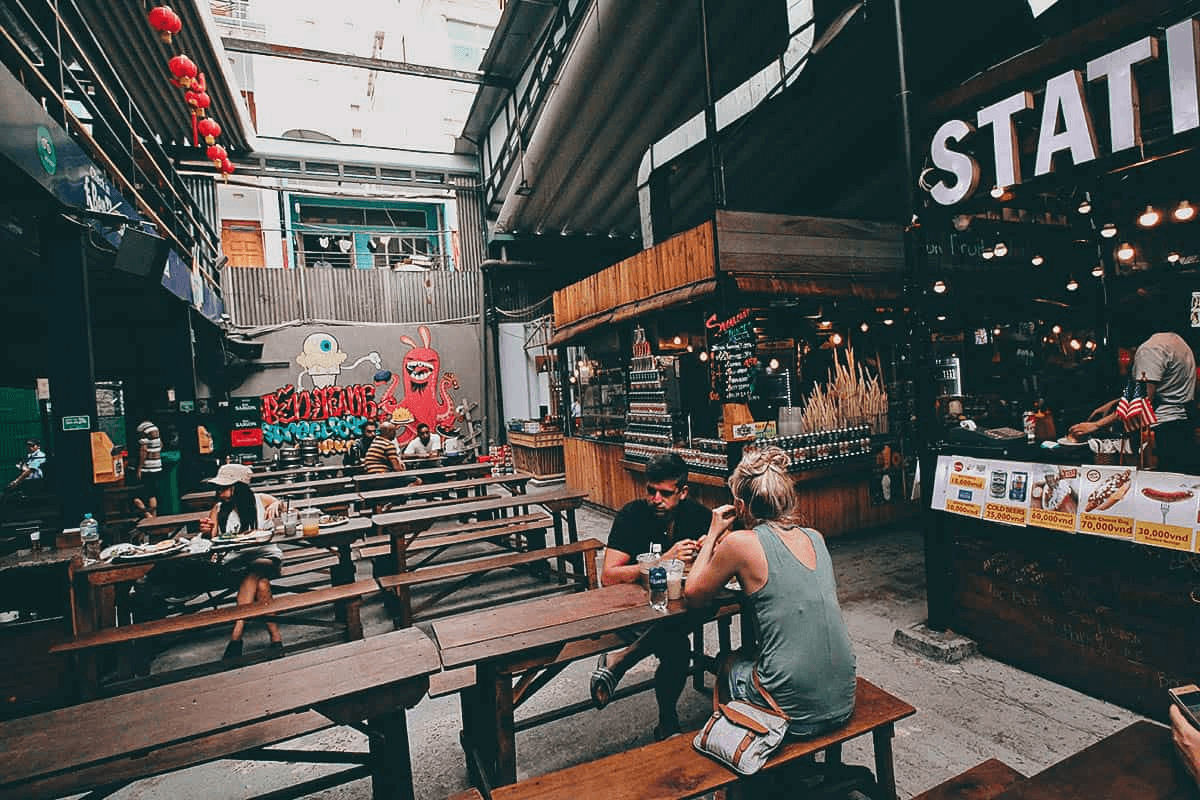 Shop and eat at Ben Thanh Market
If you're in Ho Chi Minh City and seeking the ultimate destination for all your retail and culinary desires, look no further than the iconic Ben Thanh Market. Nestled in District 1, this market is a historical treasure and one of Saigon's oldest structures.
There are over 1500 stalls to choose from that offer budget-friendly clothing, textiles, and accessories to unique souvenirs, electronics, and more! Ben Thanh Market really is a shopaholic's paradise!
And when you need a break from shopping, you can refuel with the local street food delicacies available at every corner inside the market. From savory banh mi sandwiches to flavorful pho, the choices are endless and the experience is unforgettable!
Ben Thanh Market is open every day, so you really don't have an excuse not to go!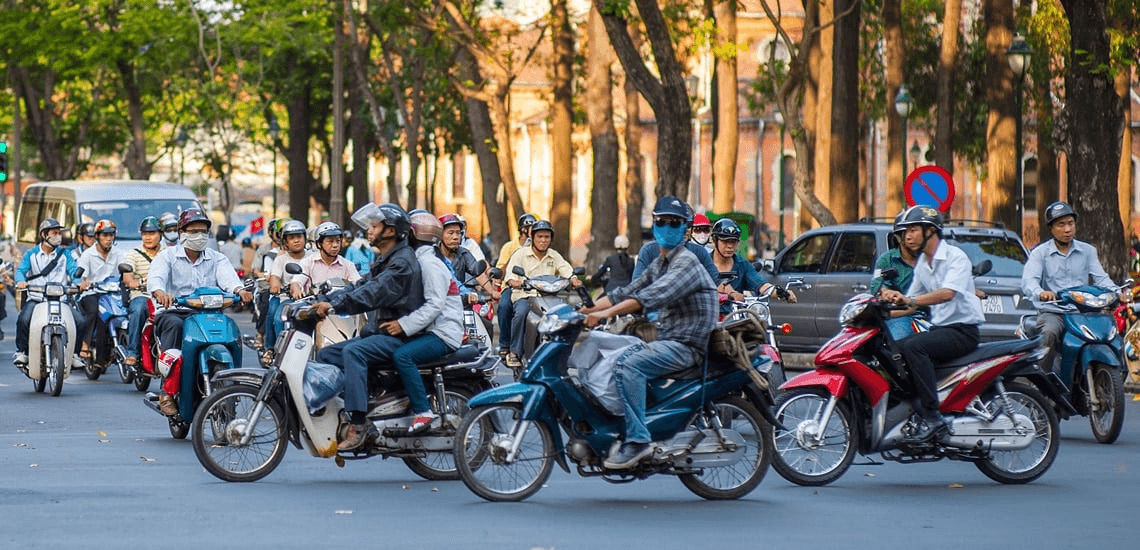 BONUS TIP
Motorbike traffic in Saigon is crazy. It's a continuous stream of two-wheeled vehicles flowing through the streets like schools of fish. If you're the least bit hesitant, then you'll never get off the sidewalk.
You just have to walk with confidence and let them avoid you. Locals have their eyes forward at all times so they can quickly react to avoid anything directly ahead of them, whether it be another motorbike, a lamp post, or you. Just find a good place to cross, time it well, then proceed with confidence and caution.
Get your VACATION on!
Expertly curated emails packed full of vacation inspiration, travel tips and more!