Best Restaurants in Bali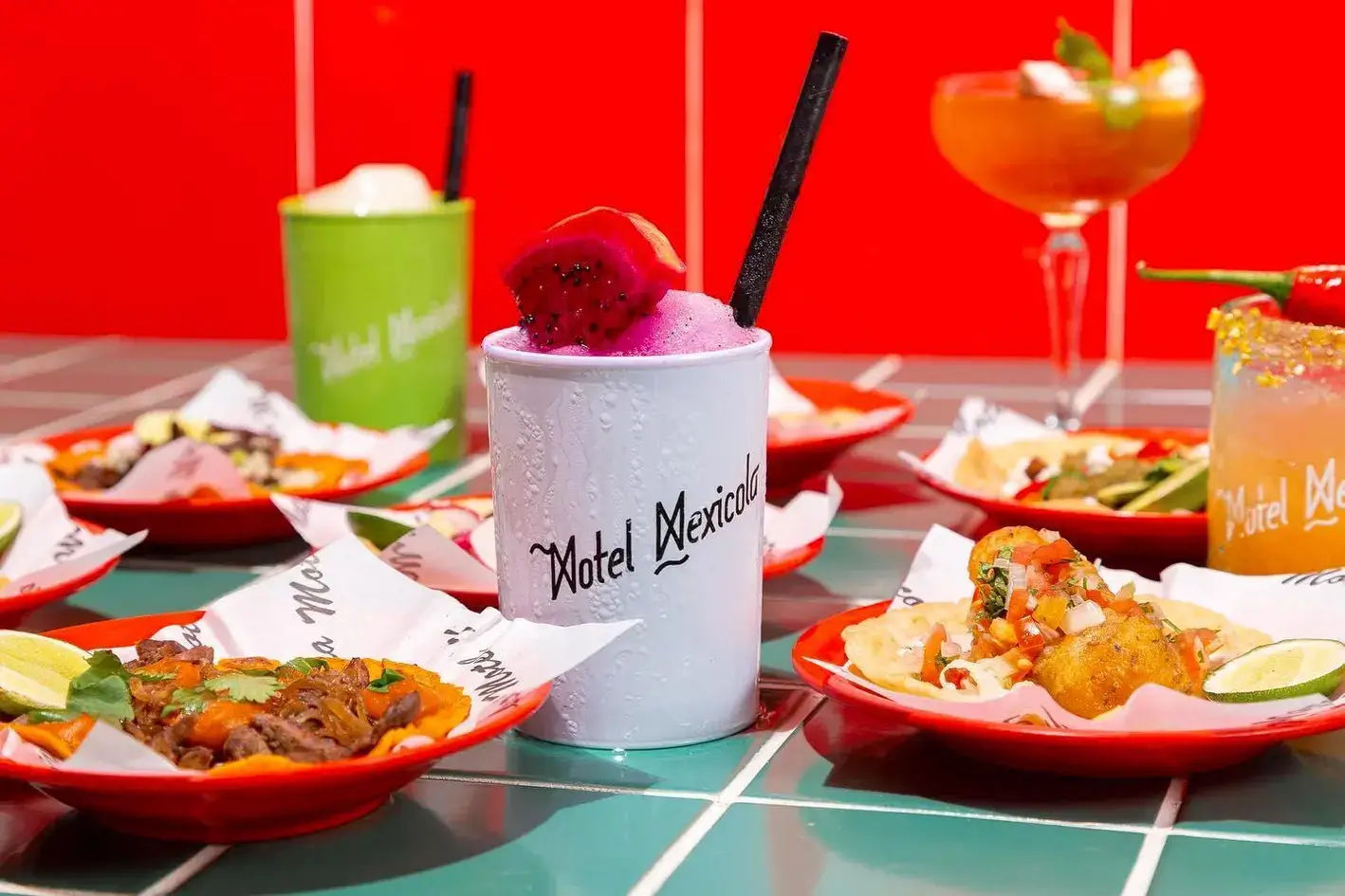 This week we're taking it back to where it all began. That's right, we're talking about our original ForeverVacation tour destination…the beautiful island of Bali and its amazing restaurants! East of Java and West of Lombok, Indonesia's most famous province includes the larger island of Bali and don't forget, the smaller neighboring islands of Nusa Penida, Nusa Lembongan and Nusa Ceningan.
Tours in Indonesia have so much to offer, that's why we chose Bali as our very first location for private tours! The tropical islands are the perfect destination if you're into sun, sea, mountains and landscapes - not to mention some amazing restaurants in Bali – and who isn't into that?!
Our Best Selling Tour
All-Inclusive

Bali Instagram Foodie Experience

It's easy to see why the Bali Instagram Foodie Experience is one of our most popular Bali tours! Bali has firmly established its place on the foodie's map, and your private guide will show you why. Start the day with a famous pink coffee and bring it to a close with cocktails. In between, you'll tuck into an amazing lunch, ice cream and even have some time left over for shopping!
Our private tours in Bali are the perfect way to experience some of the best restaurants in Bali and local cuisine without the stress. Let us take care of everything for you! We'll curate your very own personalized private tour package. And the best part? You'll have one of our local friendly tour guides to show you around, all to yourself. This is luxury travel.
Bali is famous for its beautiful beaches with great snorkeling and surf spots, serene temples that offer plenty of instagram opportunities, lush green forests filled with cheeky monkeys, unbelievably magical waterfalls, incredible mountain treks and the incredible Bali restaurants! Tours in Bali have so much to offer, as there's so much to see and do in this tropical island paradise.
And let's not forget the thing that everybody wants to know about on vacation…the food! With so many rice fields around, you might have guessed that rice is a staple of the traditional Indonesian cuisine (the rice fields aren't just for show, although they do make a great photo backdrop). But don't think that's all you'll be eating here! Whether you eat at one of the top restaurants in Bali or enjoy a more casual meal, local food also means lots of fresh tasty fruit and vegetables, sweet sticky meats and mouth-watering desserts.
Plus, with the growing popularity of Bali, tourism is booming and plenty of great restaurants have popped up all over. Whether it's simple local food you're after or a truly luxurious Bali restaurant experience, you'll be able to find it here. There are just too many amazing restaurants in Bali to choose from! Here, we've picked out a few of our favorites in some of the top Bali destinations you just have to visit.
Seminyak
Motel Mexicola
This Mexican-inspired party pad features retro décor, neon lights and plenty of delicious food. Traditional Mexican cuisine served up in the heart of Bali, what's not to like? Eat tacos, drink tequila and dance your heart out to the funky tunes that are blasted after dinner - this is one of the best places to eat in Bali if you're after some Mexican cuisine!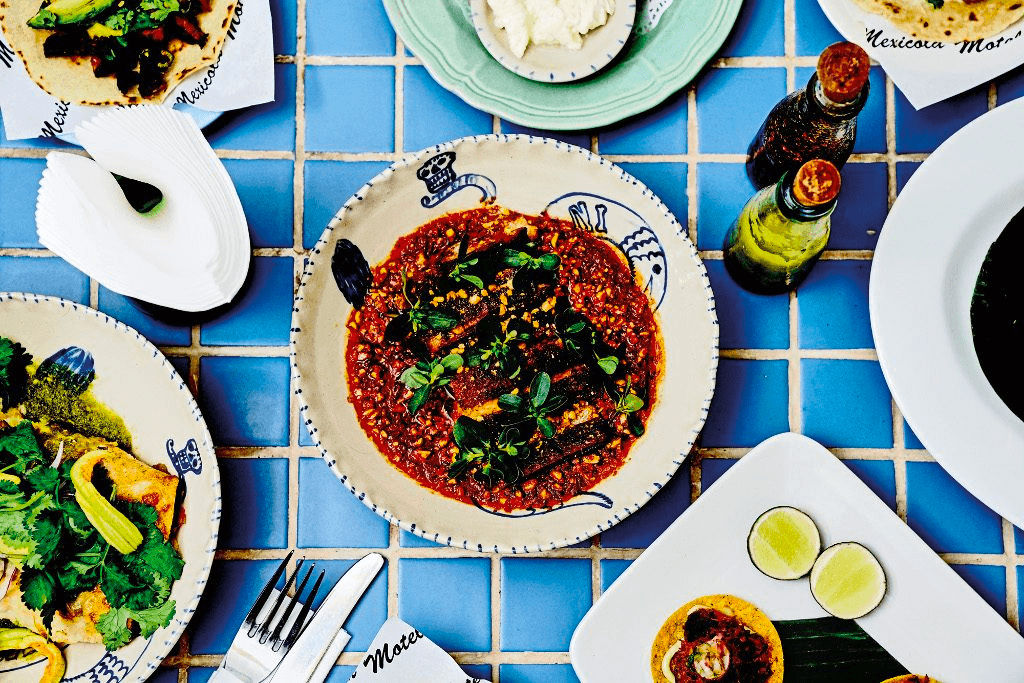 Manina
The very first Speakeasy in Seminyak, this restaurant in Bali is a must-visit if you're in town! To enter the restaurant you'll need to find the meatball hawker out front who will offer a clue and reveal the secret door entrance. This place has bags of charm and serves up delicious small-plates alongside handcrafted cocktails that are to die for. And if you decide you like it here, be sure to check out sister restaurants Sisterfields, Boss Man and Bikini.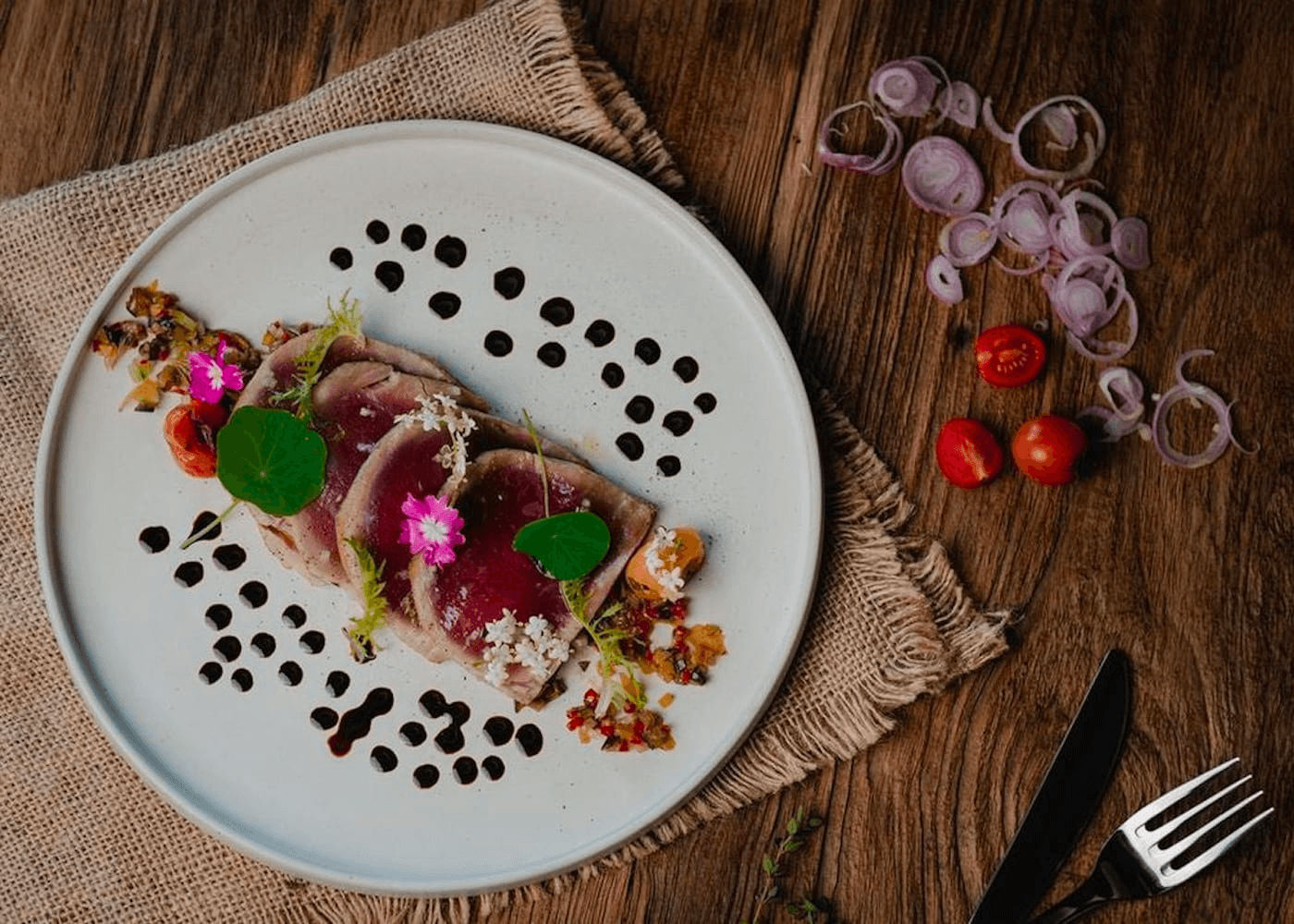 Chandi
If you want real Indonesian cuisine in Seminyak, this is the place for you. Chandi puts a luxurious twist on fresh local ingredients sourced only from Balinese farmers. Taste the best that Bali has to offer in a stunning restaurant setting. Enjoy!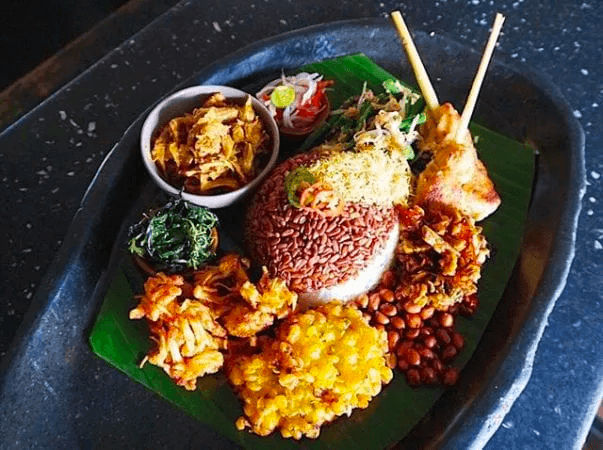 Canggu
IVY Lounge
IVY Lounge is the newest addition to the Canggu food scene and let us tell you, it has already impressed many vacationers! Serving up high-end small plates and superb cocktails, it's worth getting dressed up for a night out here. Perfect for fine food lovers, IVY Lounge is one of the top restaurants in Bali that will give you a meal to remember.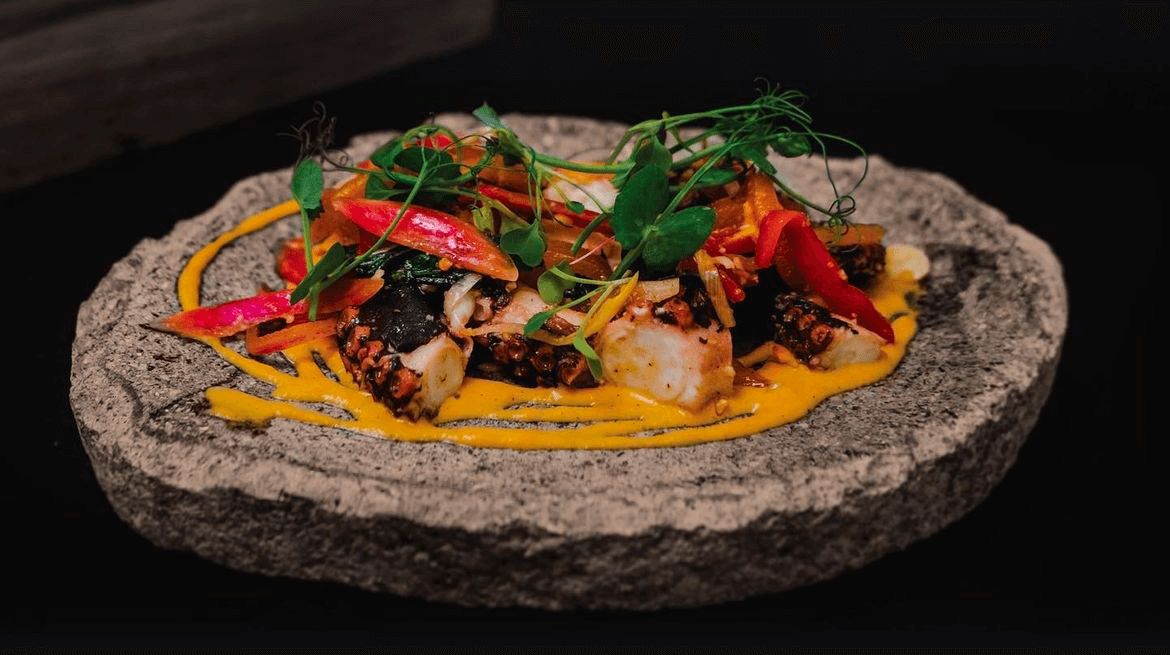 The Lawn
Located right on the beach front of Batu Bolong, The Lawn provides the best views of Bali's famous black sands and rolling waves by day and delicious gourmet food and drinks by night. The menu here is perfect for grazing and sharing – why not spend the whole day here and work your way through the entire menu? For laid-back island vibes, this is the best restaurant in Canggu.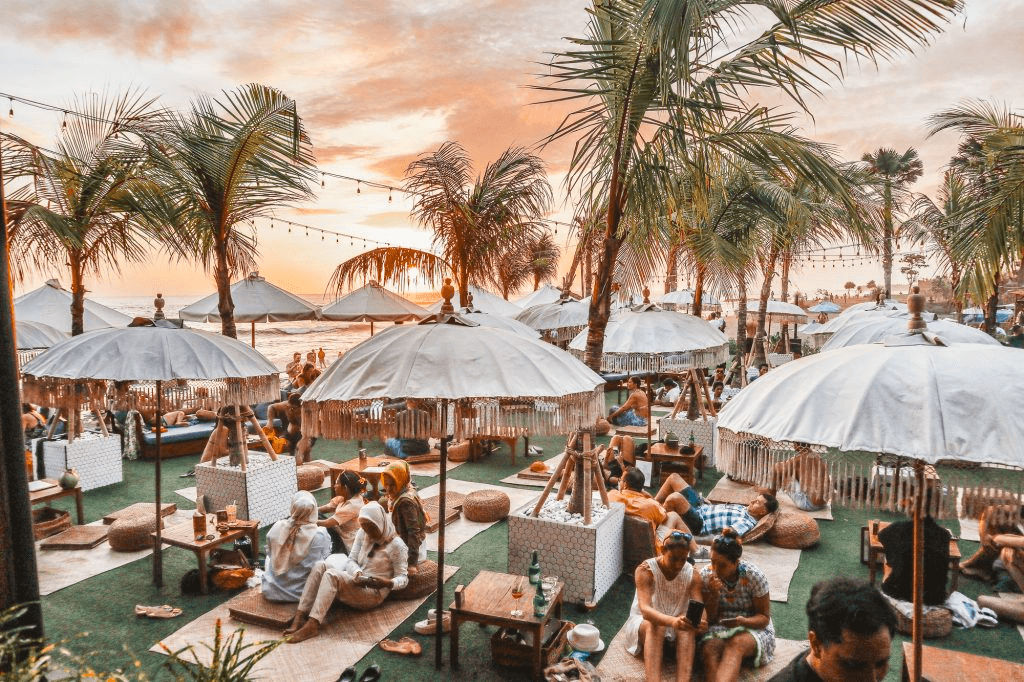 The Shady Shack
With so many amazing restaurants serving up vibrant, healthy food, you could spend a long time in Canggu working your way through them all! But if we had to choose one, it would be The Shady Shack for sure. This is the ultimate place for boho Bali vibes and the food looks so good you won't want to eat it! Be sure to get some snaps as this Bali restaurant has instagram written all over it. Open all day, you'll be coming back for more!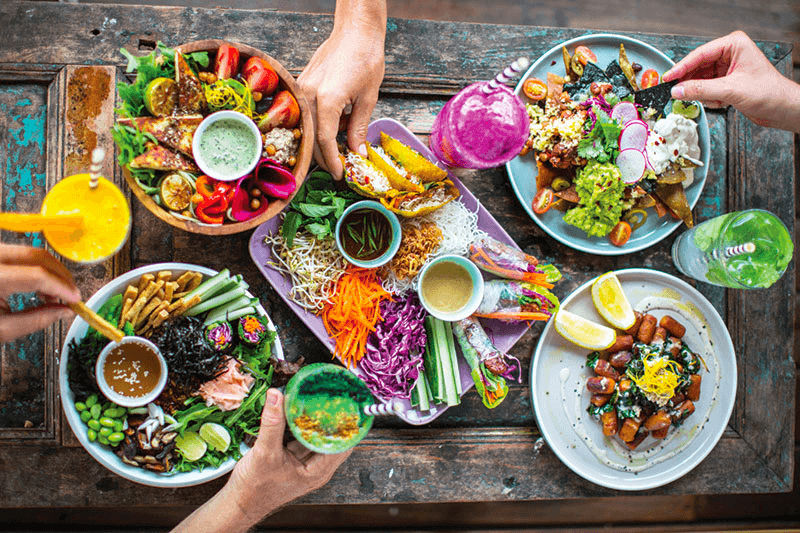 Uluwatu
Mana Uluwatu
If you're planning a trip to the surfer's paradise Uluwatu, then eating at Mana is an absolute MUST. Lounge by the infinity pool overlooking Uluwatu's famous jagged cliffs and graze on spectacular small plates like no other – be sure to check out the tacos! Then head upstairs for the full dining experience with sea views and a variety of dishes that are truly hard to beat - the best restaurant in Bali with a view.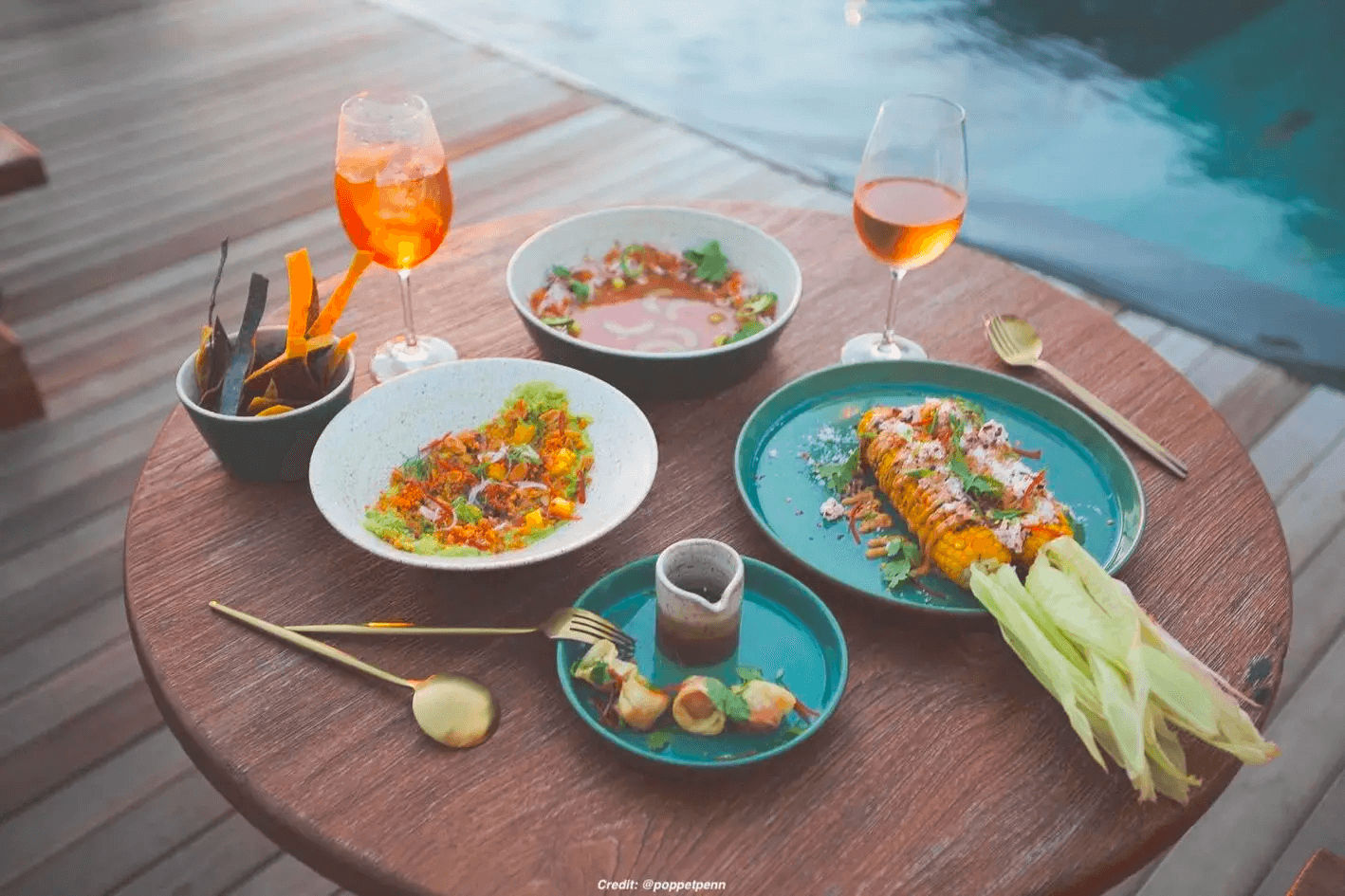 Ulu Cliffhouse
This elevated clifftop club offers gourmet food with relaxed atmospheric poolside vibes. Enjoy the incredible sea views whilst dining on tapas bites, platters to share, pizza, oysters and delicious desserts! This is the perfect place to end a day exploring Uluwatu and really soak up the Ulu chill vibes. one little tip for you though - be sure to turn up early if you want to bag the seats with the best sunset views! Oh, and stick around after dinner for live DJs and special events.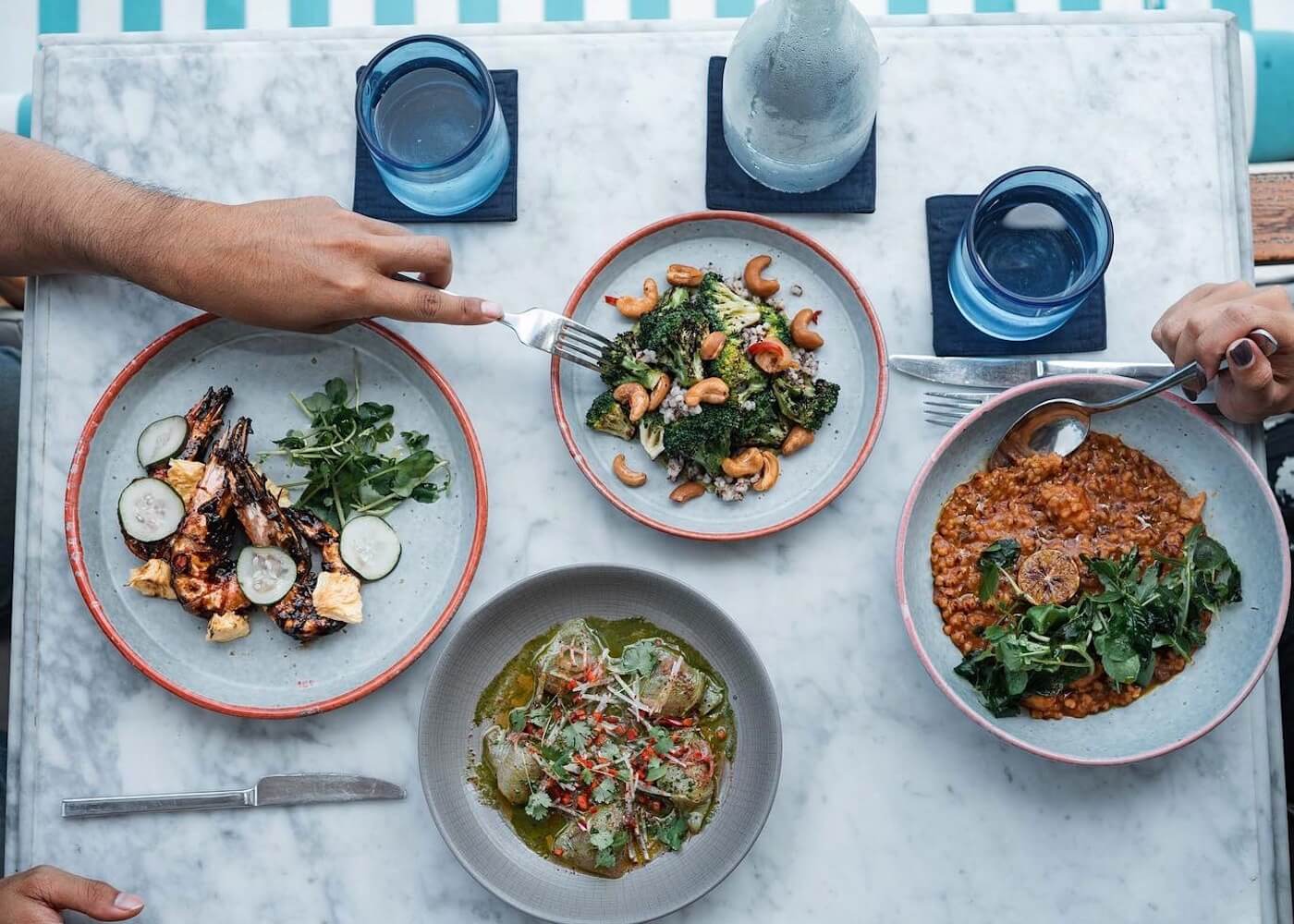 Nusa Penida
Secret Penida
If you're heading to the smaller islands of Bali for ocean-based activities, make sure to stop at Secret Penida for a delicious breakfast, lunch or dinner! Enjoy an eclectic mix of Western and Indonesian cuisine with a beachside view. Sip on a fresh young coconut and be sure to get some snaps for insta because this restaurant in Nusa Penida is also super pretty!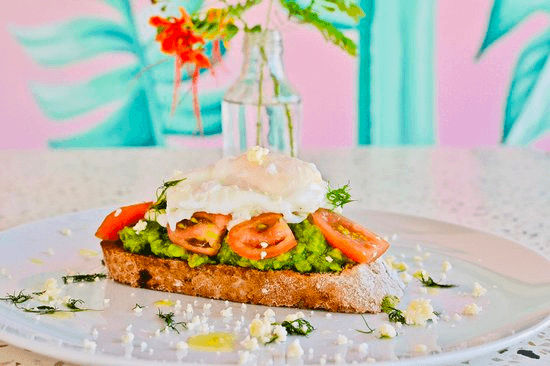 Amok Restaurant and Sunset Bar
If you're looking for one of the best places to eat in Bali, you can expect big things at Amok Restaurant. Eat delicious fine food poolside or in your very own 3 meter high bamboo nest! This is the perfect place to to end a day of snorkeling, cliffside walks and soaking up the sun in Nusa Penida. Eat sophisticated food and choose from a wide selection of local and national wines whilst taking in the stunning sunset. The perfect way to experience Nusa Penida!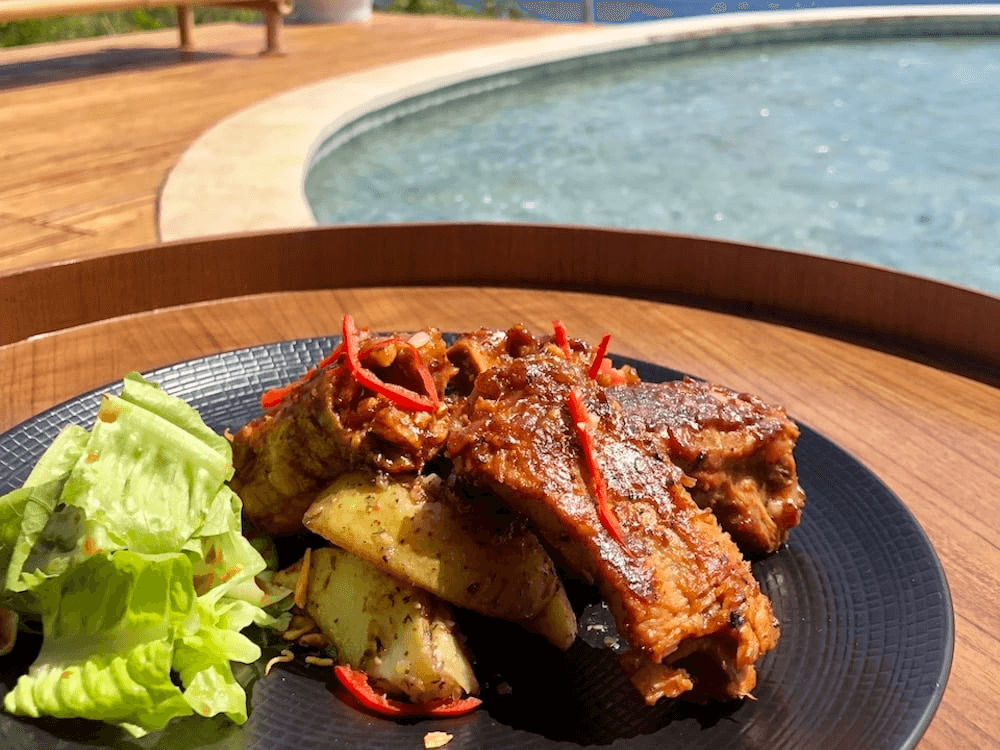 Our Top Trending Tours
All-Inclusive

Bali Elephant Bath & Breakfast Day Tour

All-Inclusive

Bali Eat, Pray, Love Tour

All-Inclusive

Bali Dinner Cruise & Uluwatu Temple Experience
Ubud
Café Lotus
Conveniently located just off Ubud's bustling main street and just a short walk from Ubud Market, Café Lotus makes a great pit stop to refuel after a private tour in Bali. Serving up fresh local favorites such as Tom Yam Goong and Nasi Goreng, you can expect exceptional food here. But what really sets this place apart is the beautiful tranquil setting. Think temples, lotus flowers, orchids and gorgeous age-old magnolia trees. Wander around the stunning grounds whilst sipping a cocktail – what could be better?!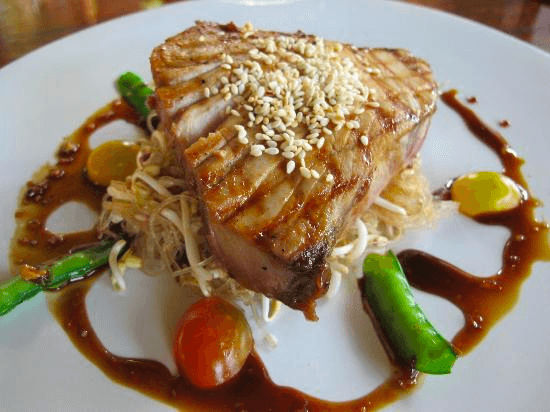 DUMBO Bali
If it's great pizza you're after, then DUMBO Bali is the place for you. So, it might not be the most traditional Indonesian meal, but we can tell you, it's delicious! Featuring a real Italian wood-fire pizza oven as the focal point of this incredible restaurant, you can expect authentic Italian food here. And what's more, its 'earth-friendly' Italian food, as the majority of ingredients are grown on-site and a portion of profits are donated to environmental preservation. The in-built trendy cocktail bar also serves up creative cocktails that will get you in that vacation mood, so no look further for amazing Italian cuisine than this top Bali restaurant.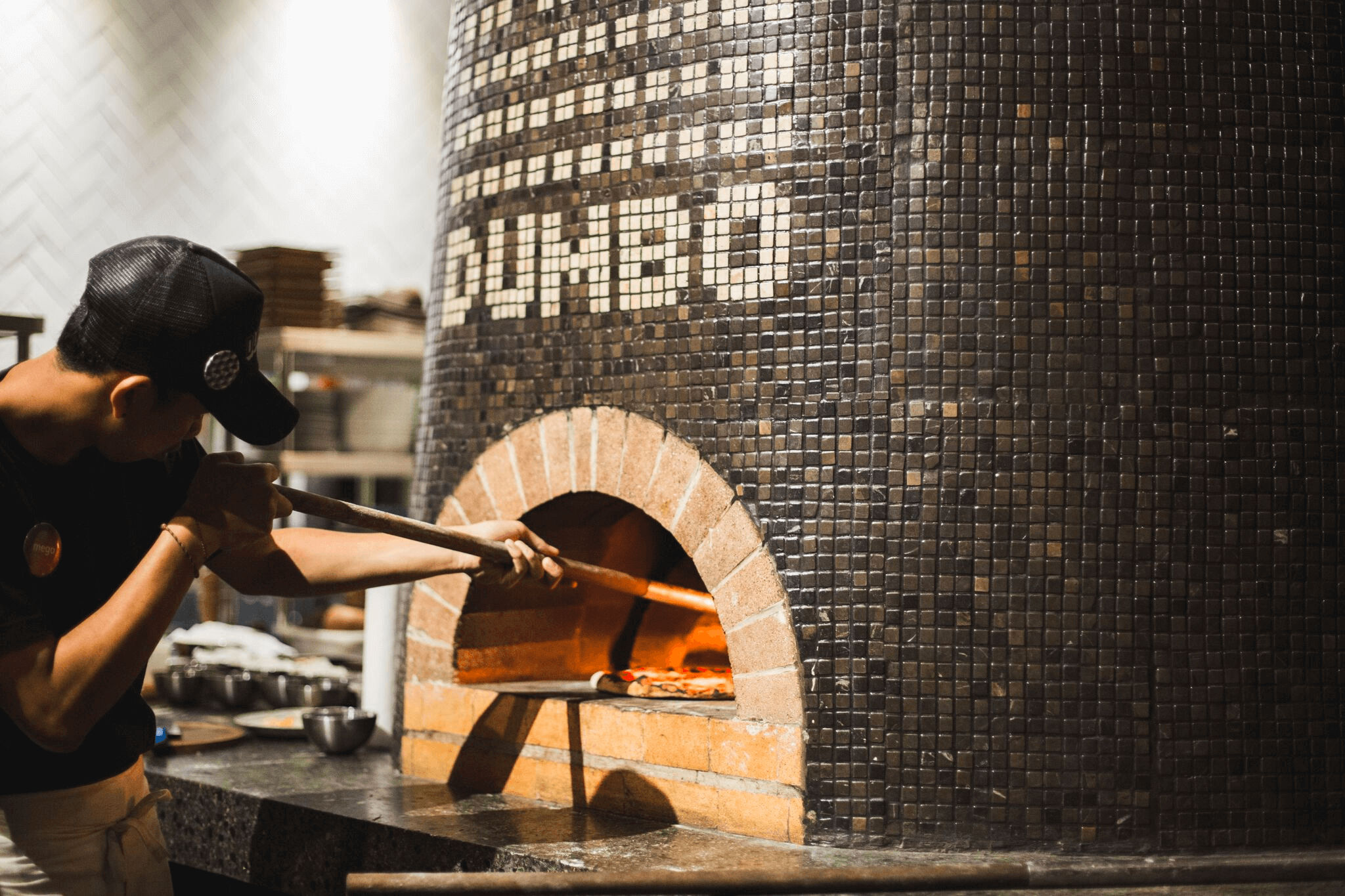 Locavore
For a culinary experience to remember, you have to visit Locavore while you're in Ubud. This restaurant in Bali focuses on local and sustainable Balinese ingredients with a modern European twist. Choose from a seafood tasting menu or a vegetarian tasting menu featuring imaginative dishes that are artistically presented. This will be a true culinary adventure like no other! Each dish has a handcrafted cocktail pairing, so prepare to go all out. This place is worth splashing out on for an exceptional Balinese restaurant experience - but be sure to make a reservation well in advance so you don't miss out!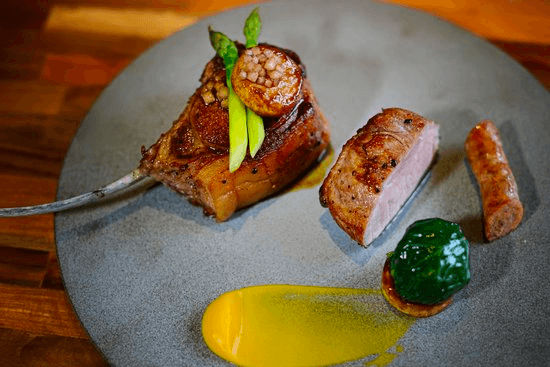 We hope our restaurant recommendations for Bali have inspired you to book a trip! We guarantee you'll find some amazing places to eat in Bali on your trip of a lifetime. And if you're after a whole day of experiencing the best of Balinese food, be sure to check out our Bali Instagram Foodie Experience private tour where we'll take you directly to all of the top food spots in town.
While you're there, why not check out our other Bali private tour offerings and remember, you can even create your own so be sure to contact us for more information. And if you want to know more about the Bali areas we've mentioned here, have a look at our free city guides.
We can't wait to help you eat your way around our beloved Bali! Catch you on the flip side, vacationers.
Get your VACATION on!
Expertly curated emails packed full of vacation inspiration, travel tips and more!