Best Beaches in Bangkok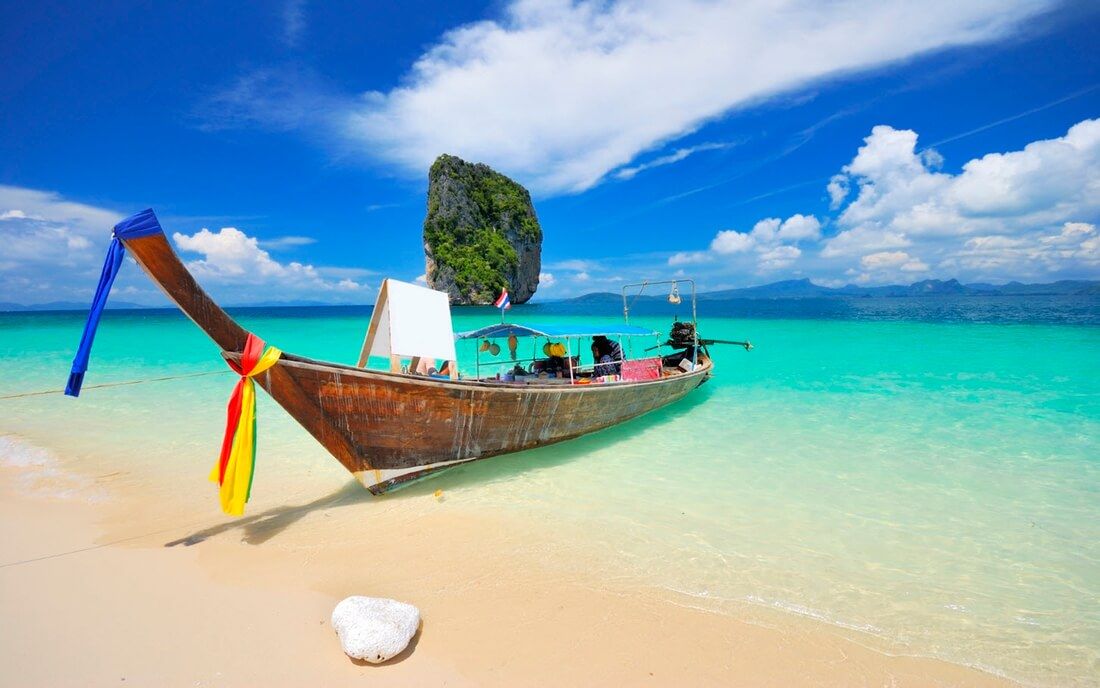 Bangkok is known for its sparkly temples, delicious food, towering buildings, Tuk Tuks, crazy nightlife, bustling open-air markets, glitzy shopping malls, contemporary museums and Thai massages to name a few. Many people love the busy, vibrant atmosphere in this city that never sleeps, but spending a lot of time in Thailand's capital can become overwhelming after a while: the never ending traffic jams, the pollution, the heat and the humidity, all of these things can take their toll.
Our Best Selling Tour
All-Inclusive

Bangkok Iconic Tour: The Legendary Spots

The Bangkok Iconic Tour: The Legendary Spots allows you to visit all of the highlights Bangkok has to offer. Your private Bangkok tour guide will take you to all of the most popular sights around the city. The Grand Palace with the Emerald Buddha Temple and Wat Pho Temple, home of the most beautiful giant reclining Buddha, are an absolute must-see so why not visit them in style on an all-inclusive tour on your once in a lifetime Bangkok vacation? Experience views of the entire city from the rooftop of the Maha Nakorn Building where the 314-meter-high tower is the 2nd tallest building in Thailand.
And although you might absolutely adore the city, even the most die hard Bangkok fans might come to a point where they want to escape all the craziness of the city and start craving some beautiful beaches where they can put their weary feet on sand rather than steaming concrete. A place where the water is cool and the air is fresh!
Going to the beach in Bangkok? Probably won't be the first thing that crosses your mind when planning your trip to Bangkok. For a lot of people it may even come as a surprise that this big concrete jungle is actually located pretty close to the ocean and a lot of beaches can be reached in only a few hours of traveling. In fact, there are a handful of easy escapes, not too far from Bangkok!
Before diving into these little getaways, we love to remind you that you are not on your own when it comes to tackling Bangkok! We are very proud to say that we were voted the number one tour operator in Thailand and we offer some of the best tours in Bangkok and tours in Thailand! Our guides are truly the most friendly, funny and beautiful human beings you will ever meet and they can't wait to show you around!
Ready to explore some of the best beaches near Bangkok now? LET'S GO!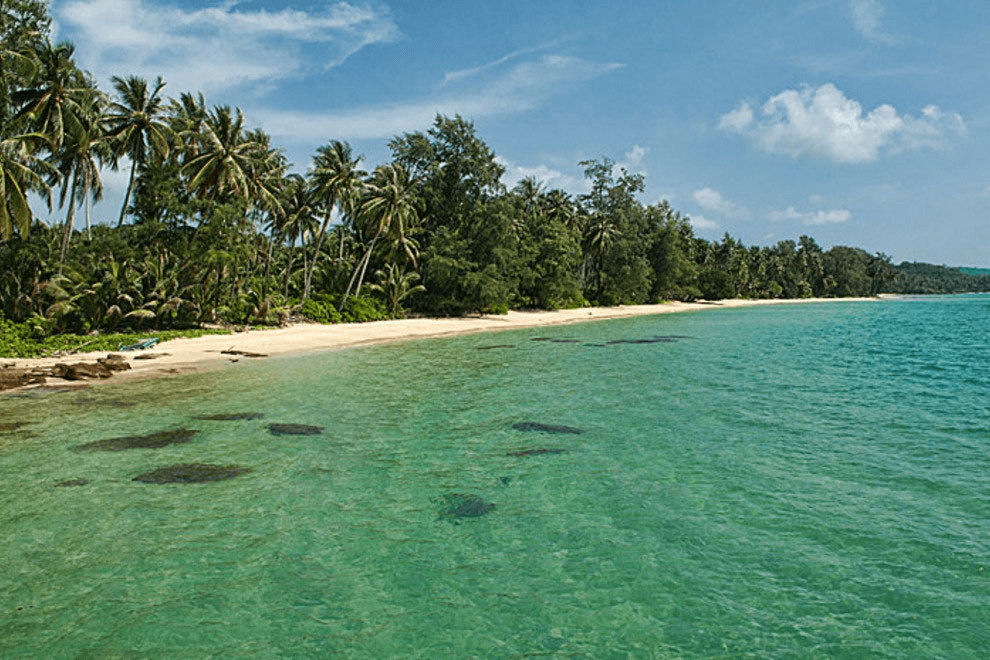 Bangsean beach: the closest beach to Bangkok
Distance from Bangkok: 1,5 hours drive
Although this beach is probably not one of the most idyllic beaches in Thailand, the beach town of Bangsean is the closest one to Bangkok so perfect for a quick little getaway.You won't see a lot of tourists here as it is mostly popular among locals. You'll find plenty of bars and restaurants here but we recommend getting some fresh seafood as there are over 2,000 food stalls that offer fish along the beach.
So if you are just looking to escape the city, stretch your legs, get some fresh air and walk along the beach, this beach will do. If you're looking for an incredible tropical setting with clear blue water, you might want to skip this one as it is a pretty basic beach.
A daytime taxi from Bangkok's Suvarnabhumi Airport will cost around US $30 plus tolls.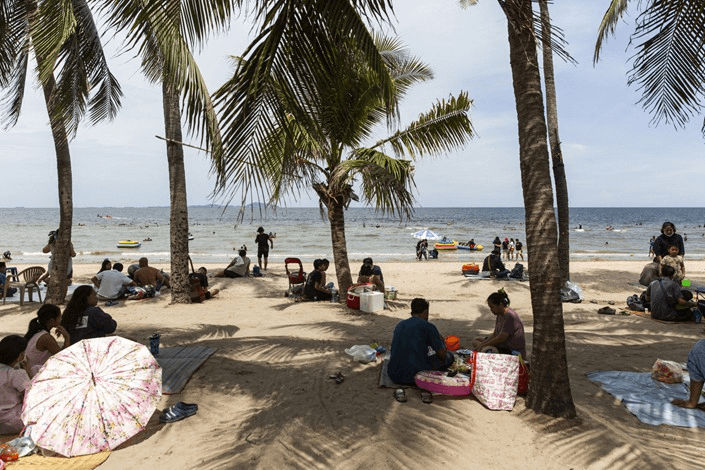 Koh Samet Beach
Distance from Bangkok: 3,5 hours drive
Koh Samet is the closest island to Bangkok that gives real tropical vibes! Yes, there are beaches that are nearer to Bangkok than Koh Samet. But unlike Pattaya which is completely overrun by tourists, Koh Samet is the closest beach near Bangkok that still offers you that relaxing island feeling.
Although it is not large (13 km²), the island has 14 beautiful beaches, all with wonderfully soft, white sand and a clear blue sea. The beaches in the north are lively and pretty busy with hotels, restaurants and activities. The beaches in the south are quieter, free of jet skis and overlooked by luxury resorts. So we recommend going to the south part of the island and visit the beaches Ao Karang, Ao Wai or Ao Nuan as they are peaceful and quiet.
From Bangkok you can take a direct (mini) bus at the Ekkamai bus station to the Ban Phe pier in Rayong (06:00 – 18:30, departure every hour, ± 200 baht). The journey takes about 3.5 hour. From the pier it is best to take the speedboat and let yourself be taken directly to the desired bay. This will save you a taxi ride and a long ferry crossing.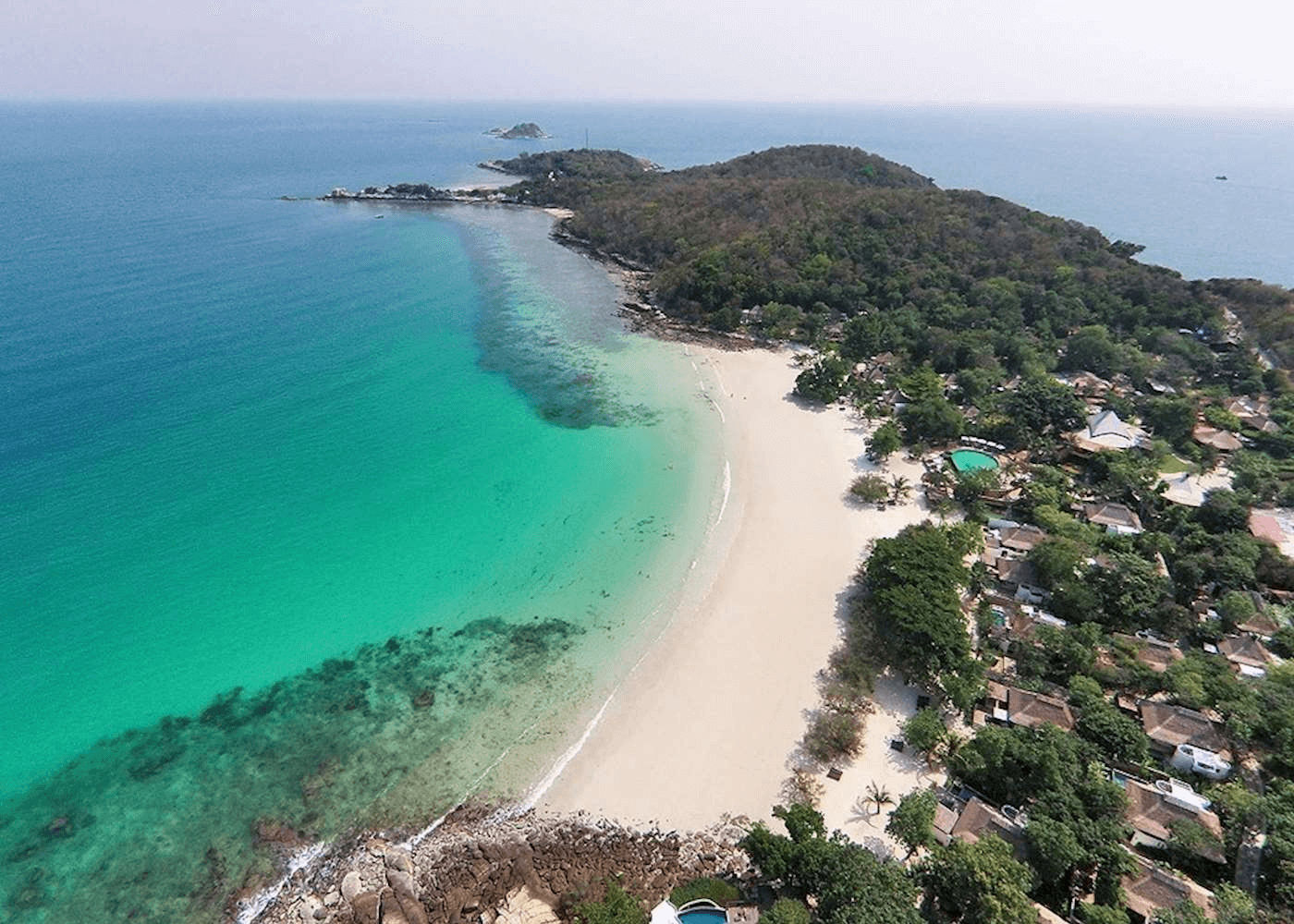 Koh Larn
Distance from Bangkok: 3 hour drive
Although Pattaya is very famous and relatively close to Bangkok (2 hour drive), we recommend skipping it and going to Koh Larn instead. Located just off the coast of Pattaya, Koh Larn is a tiny island with beautiful beaches and the perfect spot to spend a (long) weekend. It has six main beaches and a few smaller beaches with beautiful white sand and clear azure waters where you can engage in fun water activities like banana boat rides, jet skis, parasailing, etc.!
There are many ways to get to Koh Larn, the easiest way is by speed boat (travel time 15 minutes) and costs around 150-200 Baht per person each way. The other option is is the Koh Larn ferry, which costs 30 Baht per person, each way, but it will take you much longer to get to the island compared to taking the speed boat.
We suggest picking Tien Beach, as is the most picturesque beach on Koh Larn.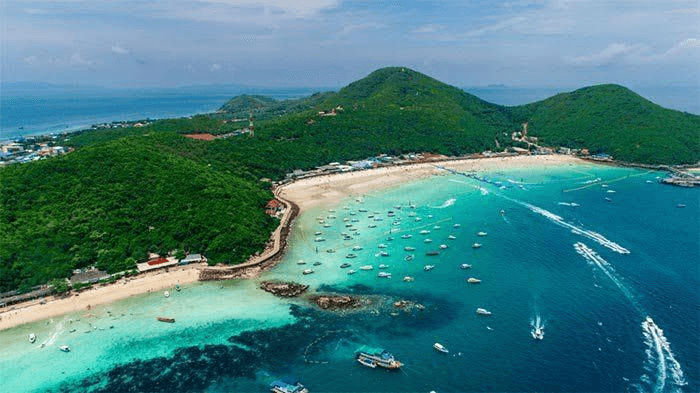 Koh Chang
Distance from Bangkok: 5 hour drive
Koh Chang is the best of the islands reachable by land in less than a day from Bangkok. It's got a forest-covered, waterfall-drenched interior and bays edged by fine beaches. However, unlike the other options above, Koh Chang is a bit of a trek to get there: five hours by car to the ferry port, a 45-minute sea crossing and a transfer to your hotel. But is it worth going the extra mile for (literally)? 100% ! If this is too much of a hassle for you, consider taking a 1 hour flight from Suvarnabhumi Airport to Trat and then catch the ferry over to the island.
We recommend going to White Sand Beach (as the name implies, has that baby-power-soft sand), Klong Prao Beach or Long Beach.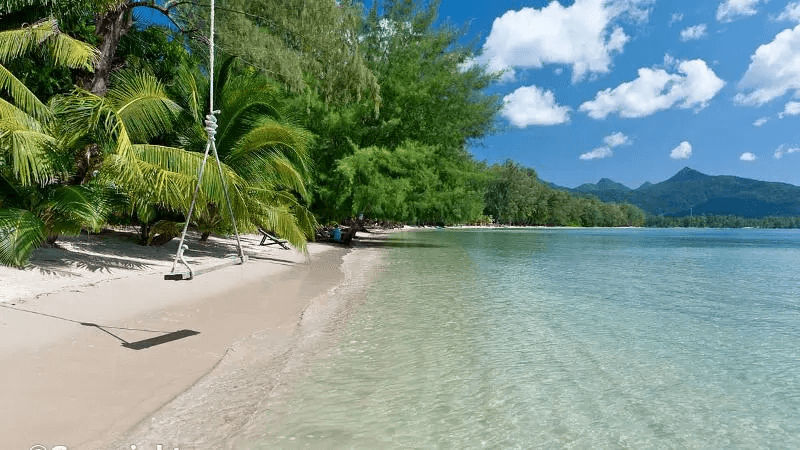 Hua Hin beach: the Thai king's favorite
Distance from Bangkok: 2,5 - 3 hours drive
It's understandable why many locals choose Hua Hin as their holiday destination: it's close enough to Bangkok to visit for a day and has a relaxed atmosphere. You can expect a long beach, surrounded by a small town with plenty of upscale hotels, resorts, and guest houses as well as places to drink and restaurants where you can eat fresh seafood. If you want to add a cultural activity, you can visit the Khao Takiab temple, known for its huge Buddha statue against rocky cliffs.
Got enough time on your hands? Then go visit the other tourist attractions and beaches near this seaside resort town such as the Khao Takiab temple on Chopsticks Hill, Suan Son Pradipat Beach, Khao Sam Roi Yot National Park and Pranburi beach.
Hua Hin is very easy to get to from Bangkok. There are daily trains from Bangkok's Hua Lumpong Station that take about three hours, and there are also multiple busses that leave every day from Bangkok's Southern Bus Terminal and from the Victory Monument.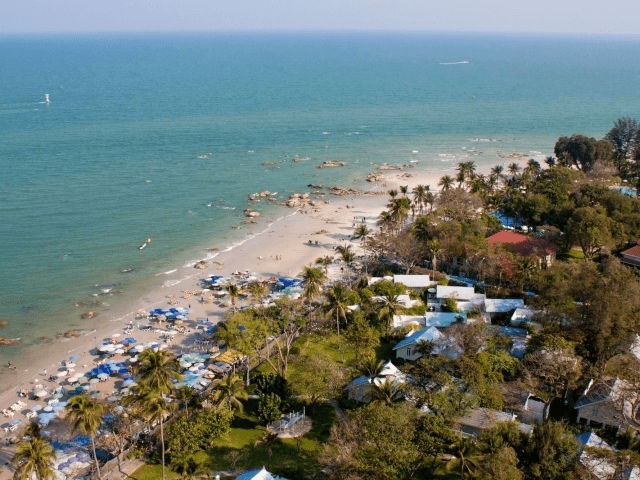 Pranburi beach
Distance from Bangkok: 3,5 - 4 hours drive
Pranburi Beach is located 30 kilometers south of Hua Hin beach and is the less 'popular sibling' of Hua Hin. And we mean this in the best possible way as the development of big hotels feels less out of control here compared to more visited Hua Hin beach. It's a peaceful oasis with hardly any crowds or wild nightlife, and clean powdery beaches which makes it a great destination for beachgoers, swimmers, cyclists and nature lovers.
The main attraction of Pranburi is its national park Khao Sam Roi famous for it's cave whose roof partially collapsed thousands of years ago.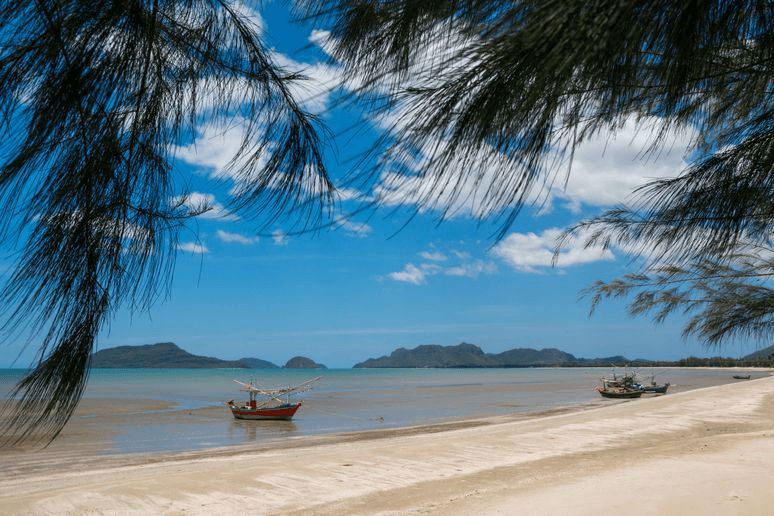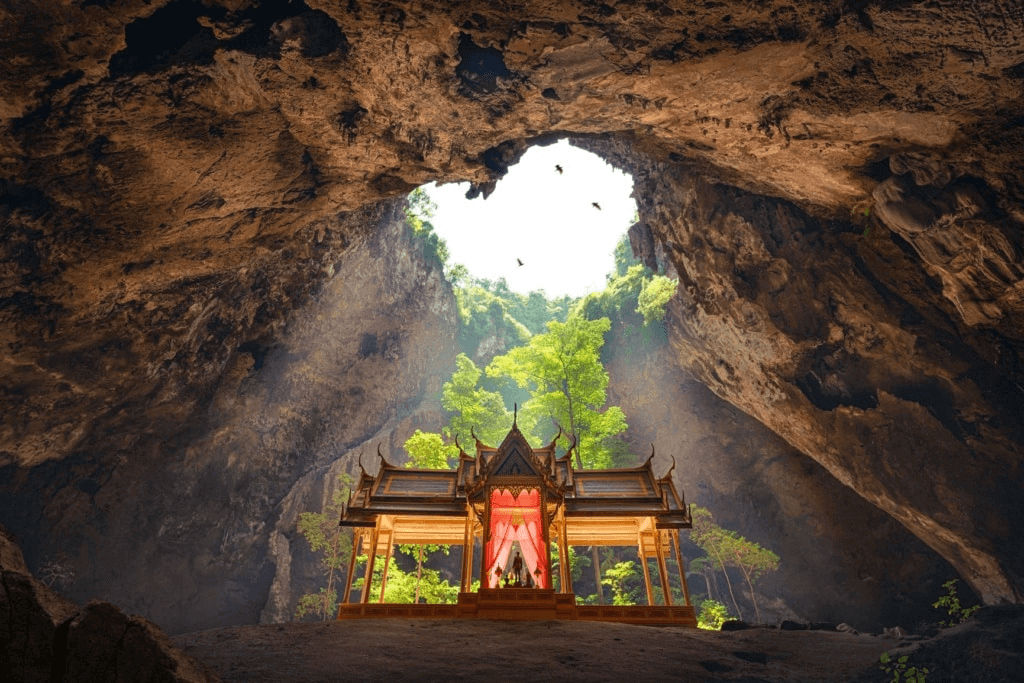 Puek Tian Beach
Distance from Bangkok: less than 2 hours
Located only a short drive from Bangkok, this peaceful beach in the Petchaburi province is perfect for a daytrip! On the weekends It's a popular place for locals to escape the stress of their everyday life, this is also the reason why there are only a few people on this beach during the week.There are plenty of nice restaurants and coffee shops next to the beach and it's also considered a nice place to stop for a drink and/or bite to eat if you are passing.
It probably won't be the most beautiful beach you've ever seen but most certainly one of the most interesting.The real reason most people visit this beach are the big, bizarre statues of mermaids, turtles and a giant sea goddess in the water (and during low tide you can even walk up to them). The sculptures represent fictional characters, taken from Thailand's most famous and epic poems 'Phra Aphai Mani'.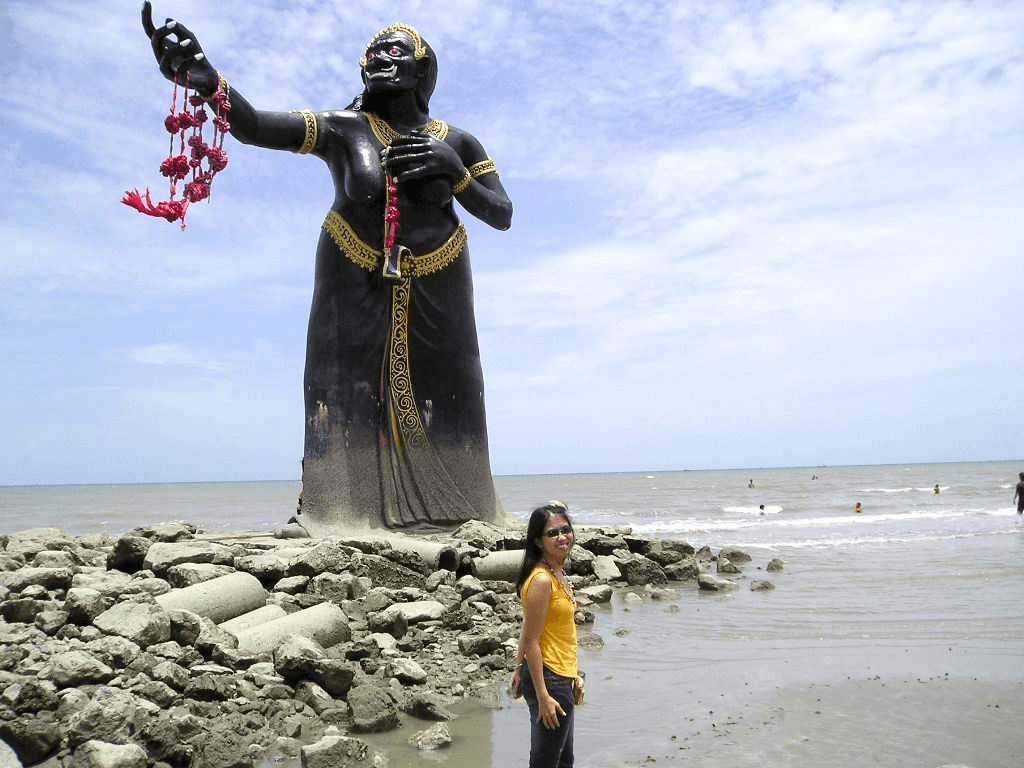 So if you are looking to escape the city for a day or even a long weekend, you now know what your options are after reading this blogpost! Happy we could help! If you make it back to the city and just thinking about the heavy traffic makes you stressed out again, know that we offer private Bangkok tours that include a driver that will happily take you around town! Our tours are all-inclusive so you don't need to worry about anything!
Have an amazing mini break!
Get your VACATION on!
Expertly curated emails packed full of vacation inspiration, travel tips and more!