Best Hotels in Kuala Lumpur [in 2023 with photos]
Best Hotels in Kuala Lumpur [in 2023 with photos]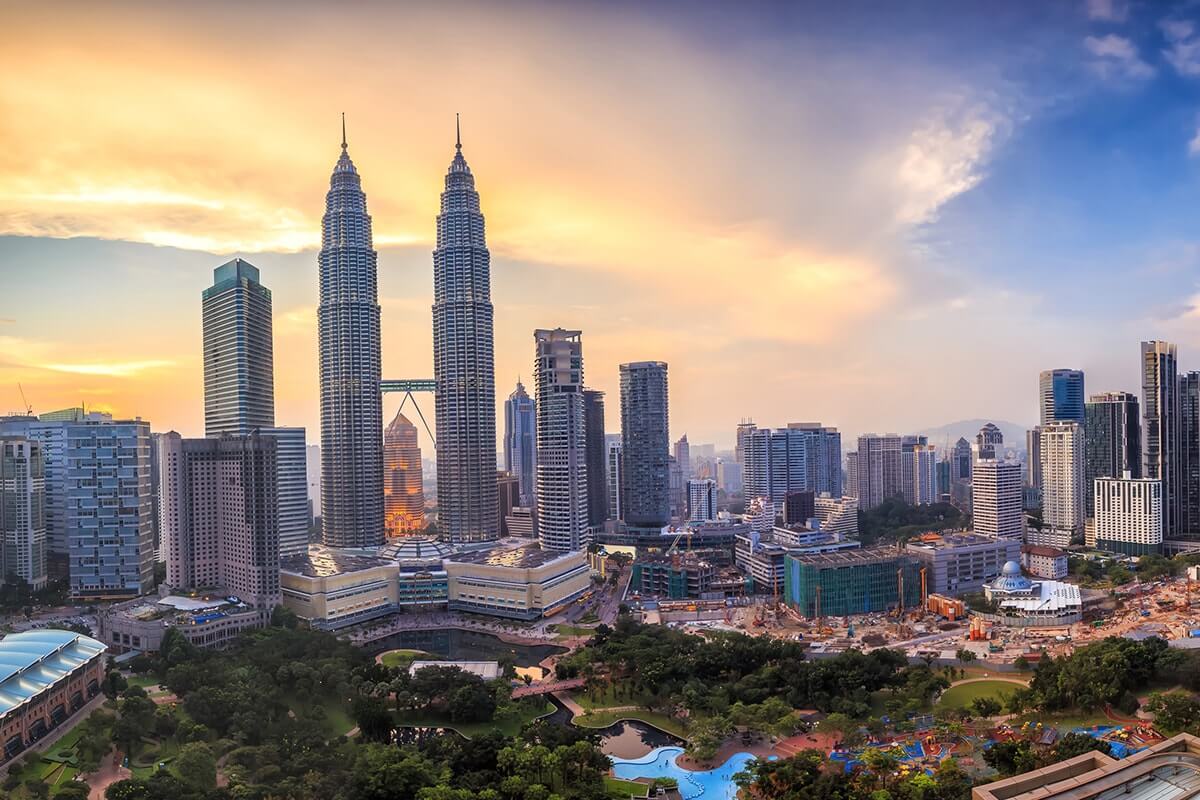 If you are searching for the best hotels in Kuala Lumpur then you came to the right place.
Kuala Lumpur is the capital city of Malaysia and the fastest growing metropolitan city in the country, with a population of about 1.8 million people. The city is an amazing mix of old traditions and modern city life, with some of the tallest skyscrapers in the world and snazzy new buildings popping up at a rapid speed, including some luxury KL hotels.
If you're interested in visiting Kuala Lumpur, great choice! But if it's your first time here, it can be difficult deciding which hotel in Kuala Lumpur is the best place to stay. Whether you're taking some amazing tours in Kuala Lumpur or just exploring at your own pace, choosing the best hotel for you is an important decision to make.
Kuala Lumpur is full to the brim with incredible hotels, but finding the right one for you takes some consideration. Deciding where to stay in Kuala Lumpur is a tough choice, and depends on what sort of holiday you're taking, your budget and other factors.
In this blog post we've pulled together all the info you need to know about the best hotels in KL's 5 main areas.
Hotels in Kuala Lumpur City Center (KLCC)
KLCC is probably the best place to stay if it's your first time to Kuala Lumpur as it's conveniently close to most of Kuala Lumpur's iconic landmarks such as the Petronas Twin Towers, Aquaria KLCC, and Menara KL Tower as well as top shopping malls such as Suria KLCC. Here are some of our fave hotels in Kuala Lumpur City Center.
Mandarin Oriental Hotel Kuala Lumpur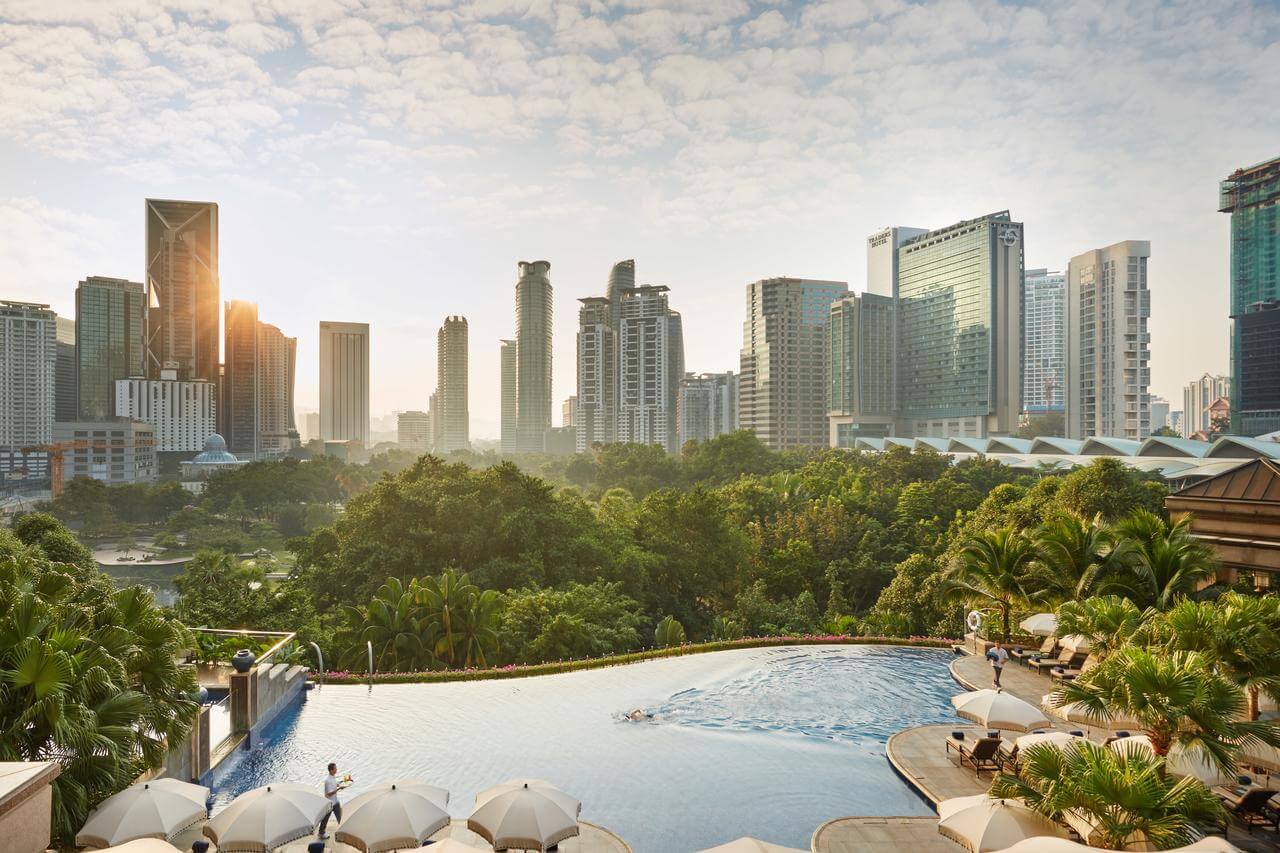 With a stay at Mandarin Oriental Kuala Lumpur, you'll be centrally located in Kuala Lumpur, just a 4-minute walk from Kuala Lumpur Convention Centre and 5 minutes by foot from Suria KLCC Shopping Centre. Featured amenities include a limo/town car service, and express check-in for ease and to feel like a VIP!
InterContinental KL Hotel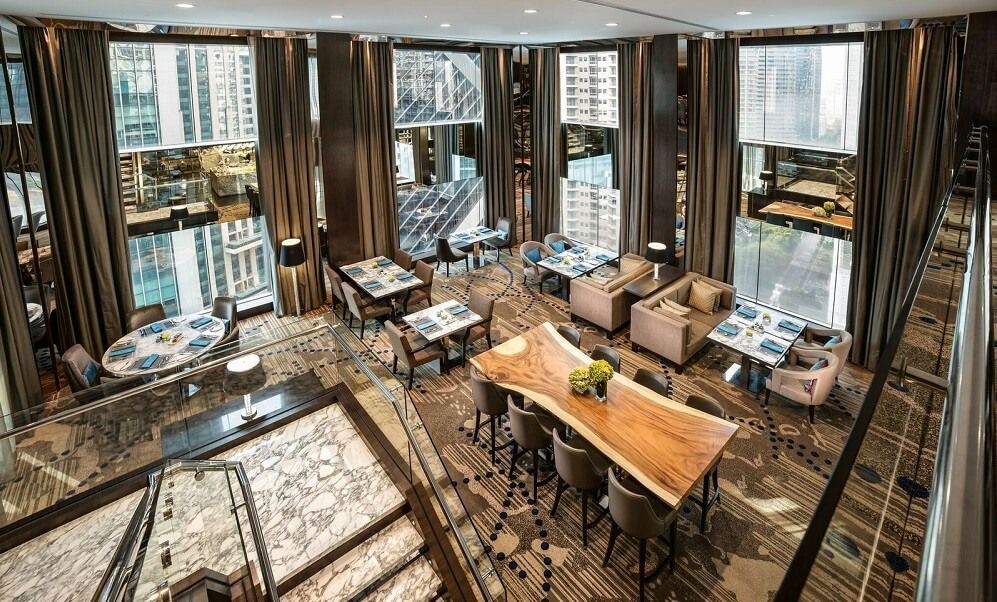 Intercontinental Hotel Kuala Lumpur's coolest feature is that while it sits in a convenient location (just steps away from the Petronas Twin Towers and Suria KLCC), it also offers guests convenient in-city exploration options. There's a free shuttle service to Jalan Bukit Bintang and the KL city centre, while the Ampang Park LRT station is just next door, and the KL Hop-On Hop-Off Tour stop is at its doorstep.
Hotel facilities at the luxury five-star Kuala Lumpur hotel include a pool with private cabanas, a gym and a spa offering Balinese and Malay treatments. There are also three restaurants (serving Japanese, Sichuan and fusion cuisine), a lounge and an English-style bar. This is undoubtedly one of the best hotels in Kuala Lumpur, screaming luxury and decadence!
Shangri-La Hotel, KL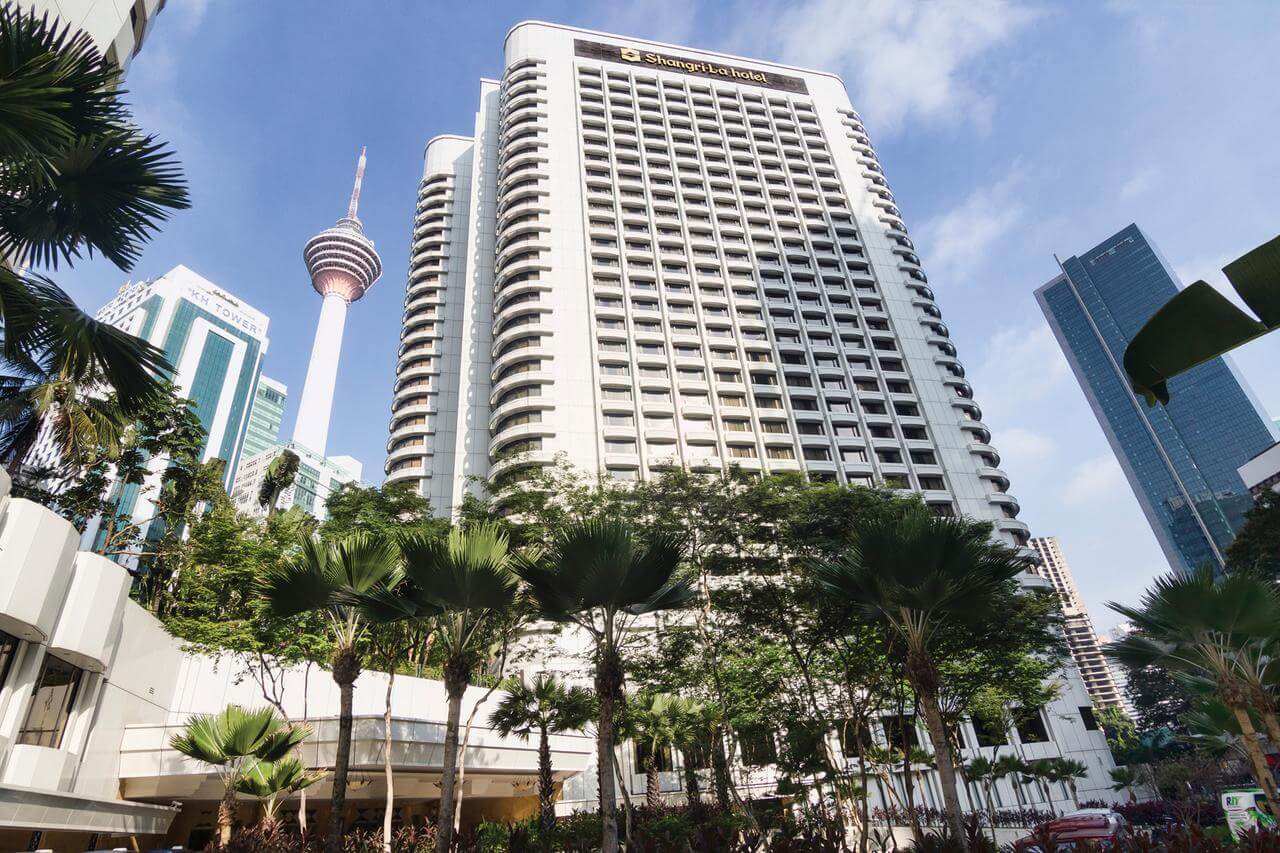 Shangri-La Hotel Kuala Lumpur features a sidewalk shaded by a leafy canopy of green trees and once you are inside, it's evident why this is one of Kuala Lumpur's most popular hotels: it's inviting, luxurious and they've considered every detail to ensure customer comfort.
Subtle local details are embedded into almost every aspect of this beautiful hotel in Kuala Lumpur - from staff members scarlet and gold uniforms, traditional songket kebayas to the Malaysian greeting (a hand over the heart and a slight bow). The pool has such a stunning close-up view of the Petronas Twin Towers, so close it feels like you can almost touch it!
Hotels in Bukit Bintang
Bukit Bintang attracts a range of visitors, from backpackers and business travelers to families and shopaholics. Late night entertainment, world-class shopping facilities and endless food choices make this part of Kuala Lumpur a tourist hotspot. Check out our collection of the best hotels in Bukit Bintang.
Swiss-Garden Hotel & Residences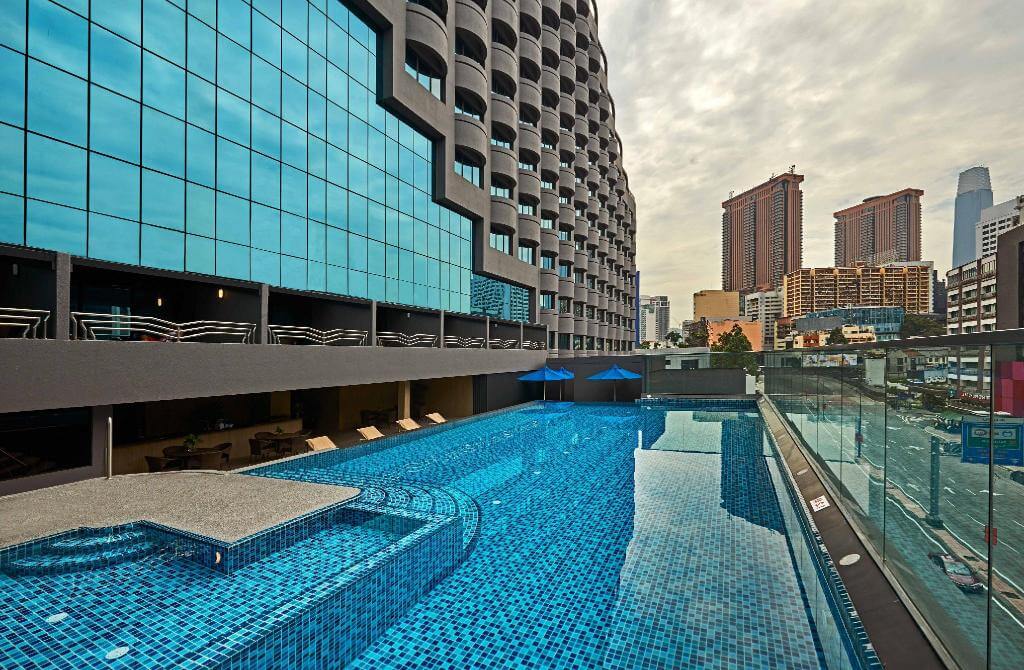 Boasting a total of 296 guest rooms, ranging from deluxe and executives to family suites, Swiss-Garden is clearly one of the most comfortable hotels in Kuala Lumpur. Attracting business and leisure travelers for its location near both Bukit Bintang and Chinatown with ample facilities and amenities, there's little wonder why it often gets rated among the best hotels in Bukit Bintang.
The onsite Flavors Restaurant and Blue Chip Lounge provide a comfortable place to dine and enjoy a late night cocktail or two. Most guests rate Swiss-Garden highly for its convenient location and comfort.
The Ritz-Carlton Kuala Lumpur Hotel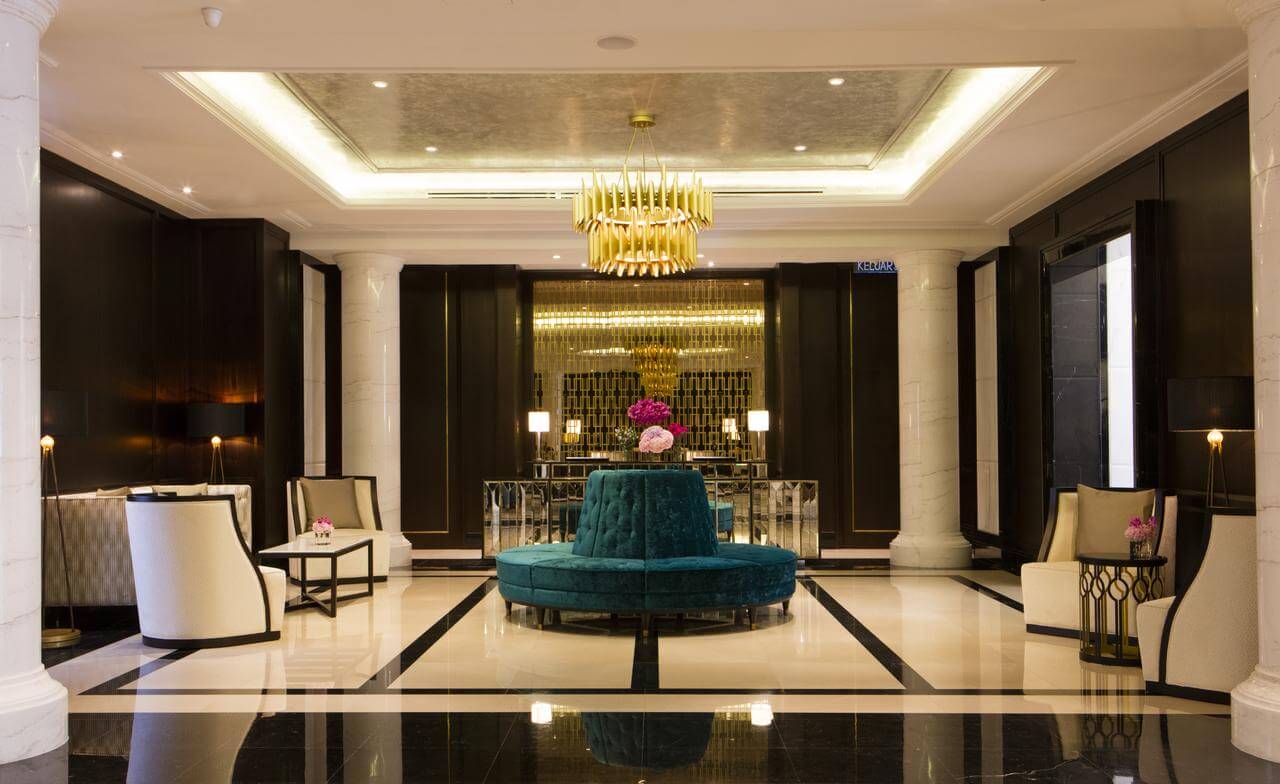 The Ritz-Carlton is a household name renowned for its high standards, luxury and refined atmosphere. The Ritz-Carlton Kuala Lumpur hotel along Jalan Imbi meets and exceeds all expectations of a world-class hotel. Rooms have marble bathrooms, ultra-comfortable beds and designer toiletries.
But the comfort isn't the only reason the Ritz-Carton is one of the best hotels in Bukit Bintang, and Kuala Lumpur as a whole. The central location puts it within walking distance of Kuala Lumpur's famous shopping malls, including Pavilion, and a short drive from Petronas Towers. Anyone looking to enjoy ultimate luxury with spa services, massages and a 24/7 butler service should feel at home at the Ritz-Carlton hotel in Kuala Lumpur.
Berjaya Times Square Hotel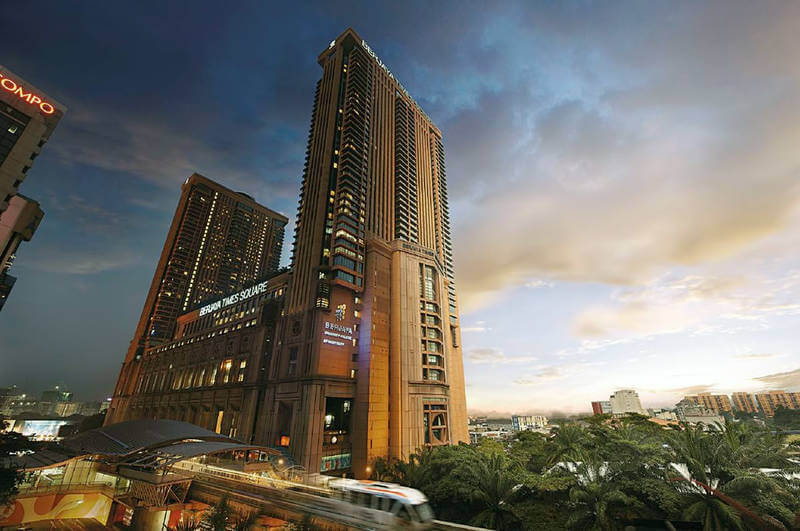 Berjaya Times Square Hotel, in the heart of Kuala Lumpur's shopping district, has a prime location for tourists on a shopping spree. Not only does this Kuala Lumpur hotel provide some of Bukit Bintang's most comfortable rooms, but the city's famous shopping centers are just minutes away.
With 24-hour room service, onsite bars and restaurants as well as an outdoor swimming pool, squash courts and fitness centre and quick access to the city's monorail, Berjaya combines the best of both convenient travel and comfort.
Hotels in Chow Kit
While Chow Kit is relatively quiet compared to KLCC, its wide range of atmospheric retail outlets, local restaurants, and picturesque attractions is a well-worth visit for those who want to get taste of local city life. Chow Kit is also home to numerous budget-friendly hotels with cosy guest-rooms, friendly staff, well-equipped facilities, as well as easy access to public transportation.
From three-star hotels tucked away from the bustling city to five-star executive apartments with direct links to Putra Komuter Station, there's something to suit all budgets here! Perfect for travelers who want to get away from the buzz of the city center. Here are some of our favorite hotels in Chow Kit!
Red by Sirocco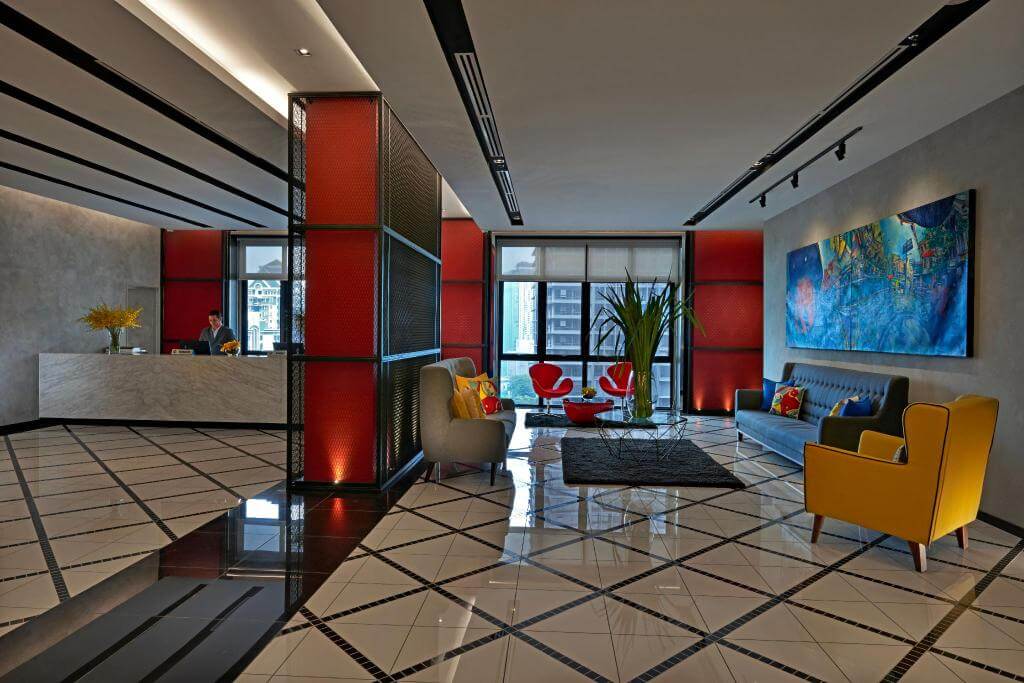 Red By Sirocco is within a 15-minute walk of SOGO and Masjid India. Featured amenities include a computer station, complimentary newspapers in the lobby, and dry cleaning/laundry services. You'll recognize this hotel immediately by it's amazing artwork on the side of the hotel - a work of art that makes it stand out from the crowd - and it's signature red touches.
A little bit different to most of the other large hotels in KL, this cool and quirky spot makes for an amazing stay if you want to experience something a little more special away from the main hustle and bustle.
LivingSpace at Regalia Residence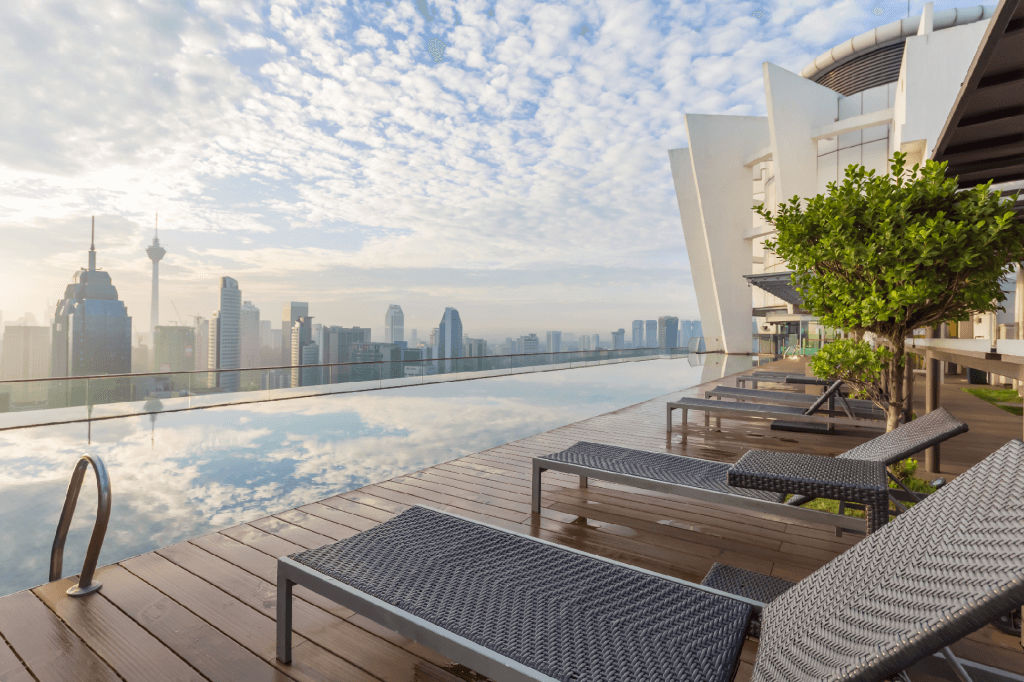 Staying at LivingSpace at Regalia Residence in Kuala Lumpur, you'll be within a 10-minute drive of the Petronas Twin Towers and Merdeka Square. Featured amenities in this Kuala Lumpur hotel include access to the beautiful rooftop pool where you can take in the stunning KL skyline - day or night! Enjoy breakfast with a view or watch the sun set over the city with a cocktail in hand during the evening.
A roundtrip airport shuttle is provided for a small extra fee and the friendly staff will be happy to help you with anything you might desire during your stay. This hotel in Kuala Lumpur is chilled out luxury at its finest.
Hotels in Chinatown Kuala Lumpur
The wide selection of hotels in Chinatown, KL ranges from world-renowned brands for affluent travelers to quaint backpackers hostels for the budget-conscious. Based in Petaling Street, Chinatown is also locally known as 'Chee Cheong Kai' (Starch Factory Street), a reference to its roots as a tapioca-producing district. Deeply immersed in Oriental culture, heritage and history, Chinatown is a well-known bargain hunter's paradise, a place where you can find all sorts from Chinese herbs to imitation goods - and the perfect place to find a cheap hotel in Kuala Lumpur!
At night, its main market area, Petaling Street, transforms into a lively and vibrant night market, filled with hundreds of stalls offering all kinds of goods at dirt-cheap prices. Although this is a great spot for the bargain hunter, it's also home to some luxurious hotels ranging from the traditional old school feel to the modern and chic. Hotels in Chinatown, Kuala Lumpur are perfect for cultural trips on a budget, with some of our favorites listed below!
The Majestic Hotel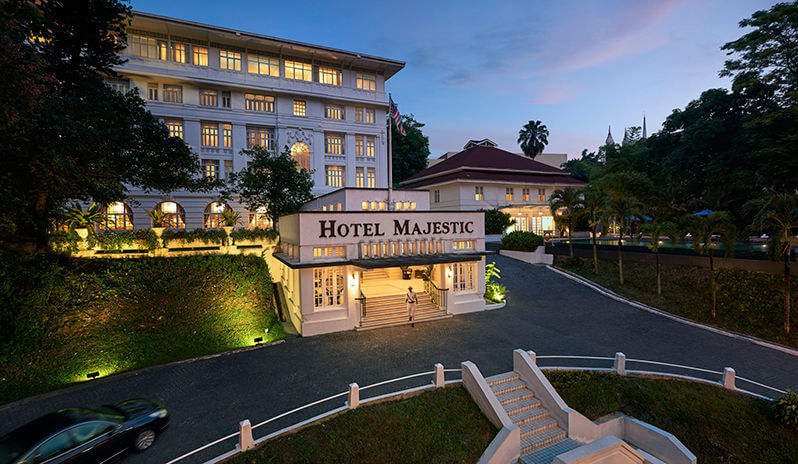 The Majestic Hotel in Kuala Lumpur is divided into two buildings (the Tower Wing and Majestic Wing) and is a true icon in Malaysia and the hotel landscape. Before, during and after WWII it was Kuala Lumpur's glamour spot and today maintains that same charismatic vibe with porters dressed in white shorts, knee high socks and pith helmets.
The interior is magnificent with high ceilings, Roman columns, a gold leaf domed roof, vintage wrought iron ceiling lamps, intricate cornices, polished marble floors and chandeliers. All rooms at the five star Majestic have four poster beds, fully stocked mini bars, and complimentary magazines such as Malaysia Tatler, Prestige and YTL Life, which reflect the elite vibe it gives off.
The 5 Elements Hotel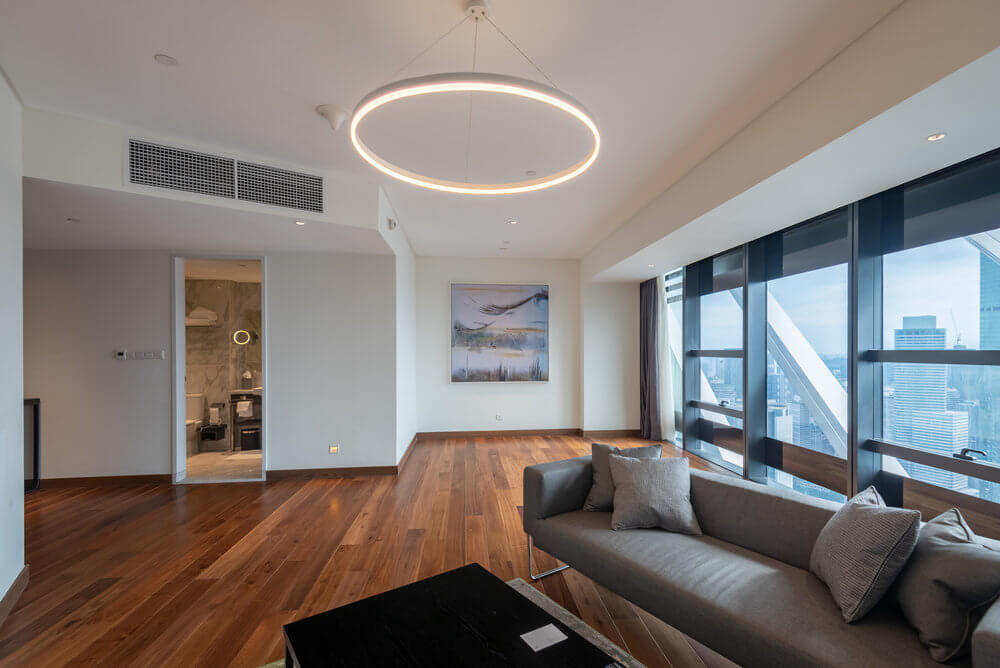 The 5 Elements Hotel, located in Chinatown, is a boutique hotel in Kuala Lumpur that provides five-star luxuries with prices that are extremely reasonable. Rooms include: free wireless broadband connection, LCD TV with cable channels, air-conditioning, snug bedding, en-suite bathroom with power showers, bath towels and toiletries and a mini bar. If you're looking for an affordable hotel in Kuala Lumpur without compromising on the amenities, this could be the perfect option for you.
Rooms are furnished with ultimate guest convenience in mind. With two on-site dining outlets, Viaggio Italian Restaurant and The Hub Cafe Bar, you'll barely even have to leave the hotel!
Our Best Selling Tour
All-Inclusive

Kuala Lumpur Fairy Firefly And Monkey Hill Tour

Our Kuala Lumpur Fairy Firefly And Monkey Hill Tour is for those of you that are looking for a tour in Kuala Lumpur with a difference. Step off the beaten track and escape the city with our amazing experiences. Head to the mangroves where you will witness one of mother nature's unique and natural phenomenons; the largest firefly colony in the world. Add in some time spent with wild long-tailed macaques & silvered leaf monkeys and this family-friendly KL tour is sure to create some pretty amazing memories.
Hotels in KL Sentral
Hotels in KL Sentral are ideal for travelers with a taste for the finer things in life, boasting top-notch service, individualized amenities, lavish accommodation, and easy access to Kuala Lumpur's premier transport hub. This prominent KL district hosts a number of award-winning international restaurants, local Indian and Chinese eateries, and trendy shopping malls such as Nu Sentral and The Gardens Mall.
Located next to Brickfields, KL Sentral also offers ample sightseeing opportunities such as ornate Buddhist temples and Catholic churches that are over 100 years old. Best of all, travelers can easily board a monorail, KTM or light rail transit (LRT) train to explore other prominent landmarks and areas in Kuala Lumpur, including Petronas Twin Towers, Bukit Bintang, and Pavilion KL.
Hilton Hotel in Kuala Lumpur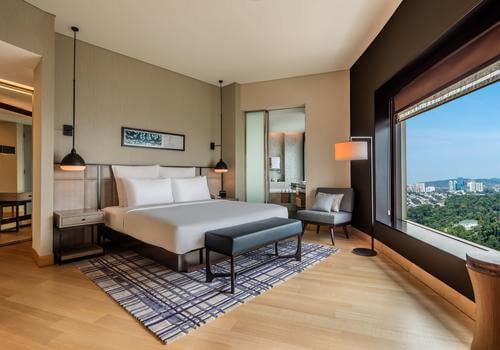 The 35-story Hilton KL hotel is a time-honored classic that sparkles with polished service. It has everything it takes to keep guests happy - the sixth and seventh floors are dedicated to meetings, conferences and events, while a two-story gym, spa, sauna, and a 120-meter freeform terrace saltwater pool keep guests occupied leisure-wise.
An in-house local artist - Infantino Fernandes - provides Hilton KL with a rotating collection of wood and steel artwork that gives the place a quirky yet elegant touch, you simply won't get anywhere else. Styled in varying shades of Hershey brown, the hotels 503 soundproof rooms (including 32 suites) leave guests wanting for nothing.
The St Regis Kuala Lumpur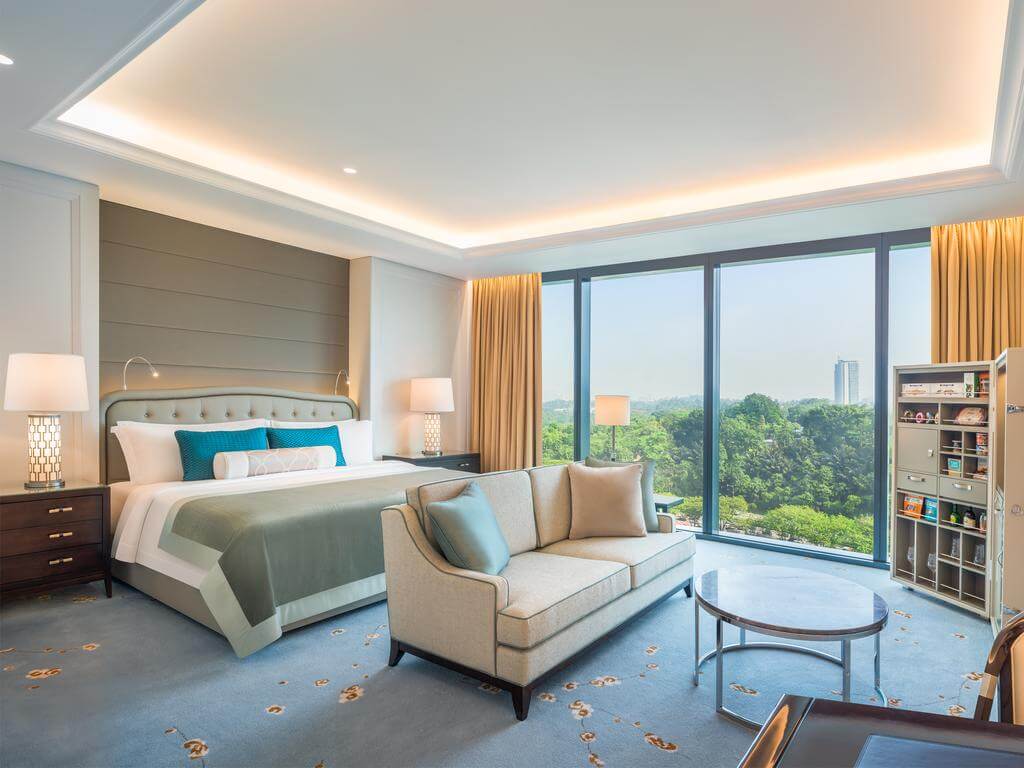 The St.Regis Kuala Lumpur hotel is within a 5-minute drive of the National Museum and Kuala Lumpur Sentral. Every room features a stunning view you'll be more than happy to wake up to! The plush decor and fantastic service here will have you feeling like a VIP. For ultimate comfort, look no further than this luxury hotel in Kuala Lumpur, offering everything you could possibly need on your trip!
Ascott Sentral Kuala Lumpur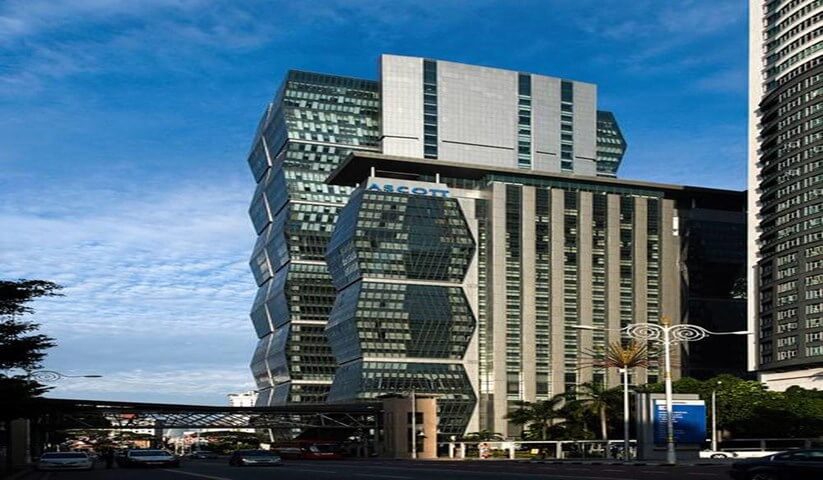 Ascott Sentral Kuala Lumpur is a serviced residence located along Jalan Tun Sambathan, which is a discreet, residents-only haven of style and comfort, only a ten-minute walk from the city's premier transport hub, KL Sentral. Other nearby points of interest to the five-star apartments includes Little India in Brickfields which is just 950m away, while the National Stadium and National Museum are a mere two km away, and Taman Rama Rama Kuala Lumpur (KL Butterfly Park) is just a five-minute drive.
On the facilities side of things Ascott Sentral Kuala Lumpur hotel has a full spectrum of onsite conveniences: there is a 24-hour front desk and security, babysitting service, daily continental breakfast, a sheltered carport, laundry & dry cleaning and even a self-service launderette.
Get your VACATION on!
Expertly curated emails packed full of vacation inspiration, travel tips and more!