Top 3 Areas To Stay In Bali
Top 3 Areas To Stay In Bali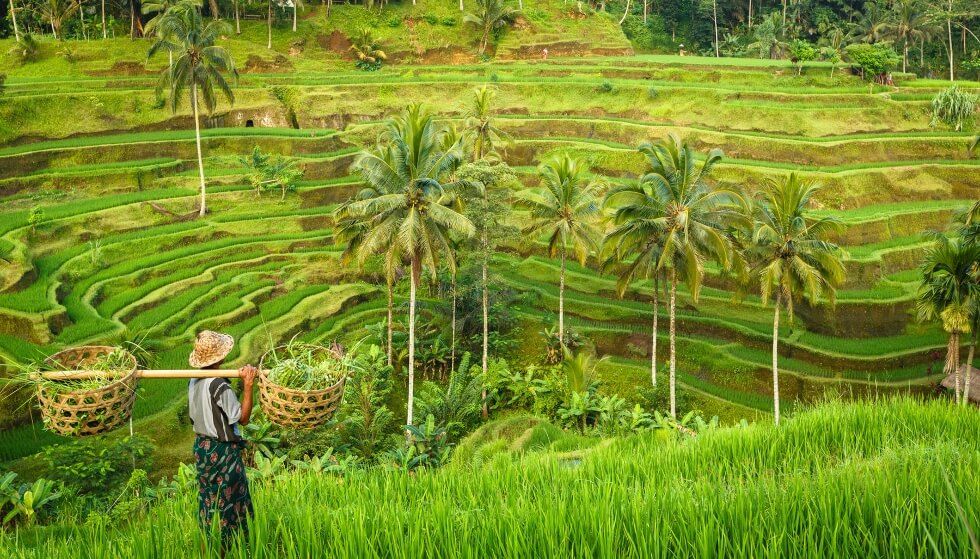 If you didn't know it yet, Bali is a true paradise. White sandy beaches where you can watch the most beautiful sunsets, cascading rice terraces surrounded by palm trees, ancient temples, and shrines with colorful offerings as far as you can see. The island is home to mountains, volcanos, and waterfalls. And then we still need to mention the food.
Let us be clear, book that trip if you haven't already! We promise you won't regret it. And to make things really easy for you, these are our top three areas to stay in when you're on the island. Get yourself a motorbike, find a driver, or book a tour, and you're ready to explore!
Our Best Selling Tour
All-Inclusive

Balinese Local Village, Culture & Trekking Experience

Our Balinese Local Village, Culture & Trekking Experience is one of our best Bali tours that takes you off of the beaten path, perfect if you're looking to experience life like a Balinese local! You'll get to experience traditional Balinese culture by visiting the local Bakas village, have lunch in a Balinese home, participate in a traditional dance performance and even make a local offering - finished off by a trek through the rice fields to visit a hidden river!
1. Ubud
Ubud is probably Bali's best-known city, and it's considered the island's cultural and spiritual center. Tucked away in a tropical rainforest, you'll definitely get to see some monkeys passing by and surrounded by temples and rice fields. This city is unique, and its vibe is one you've never experienced before.
Ubud is located in the middle of the island and, therefore, the perfect base to explore central Bali. And whether you're into nature, adventure, culture, spirituality, food, or shopping, Ubud has it all.
Wake up early to walk the Campuhan Ridge Walk or climb Mount Batur. Take a trip to the Munduk Waterfalls or the Jatiluwih Rice Terraces. Book a yoga class or a Balinese foot massage, or get your nails done at one of the numerous spas. Find the perfect souvenir at the Ubud Market, relax by an infinity pool and have a lovely vegan meal at Zest. Ubud is a place you'll always remember.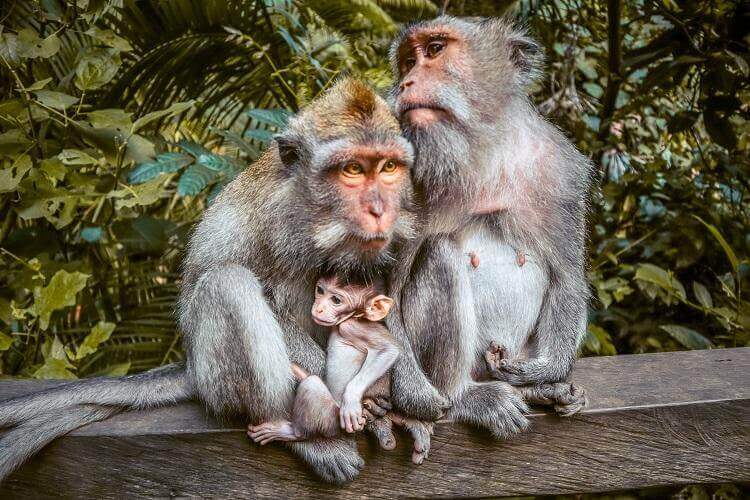 2. Seminyak
If you're into a bit of luxury, Seminyak is the place for you. Bali's coolest city is packed with luxurious resorts, fancy restaurants, and stylish beach bars. And it is also known for its nightlife. Think multi-story clubs with international DJs behind the turntables. This is definitely where you come for a good party!
Seminyak is located on Bali's West Coast and has some of the island's best beaches. Make sure you put watching a romantic sunset at La Plancha or riding Bali's famous waves on your bucket list. And don't worry if you're not a big fan of salty water; just find yourself a seat at one of the famous day clubs. Infinity pool, cocktail in your hand, the hottest music in the background. What more do you need?
And then there's food. Asian, Western, traditional, or modern, Seminyak is a foodie Hot Spot. Sip from a turmeric latte at Kynd Community, put your teeth into a smoky Argentinian steak at Barbacoa, or share some delicious plates at Bikini Restaurant. And if you overate, head over to Jalan Raya Legian and go shopping! Just walk it off.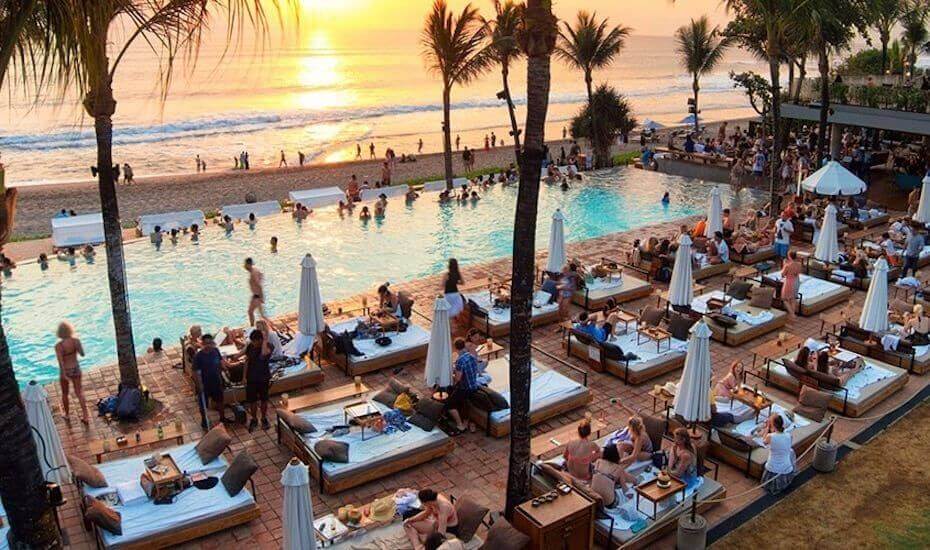 3. Canggu
Canggu quickly went from an unknown little surfer's town to a hipster paradise, and rightly so. Good vibes, Instagram-friendly coffee shops, finger-licking food, and the best waves on the island. There's really no reason not to love this awesome little village.
Canggu is located a little north of Kuta and Seminyak on Bali's West Coast. Just a few miles from the Tanah Lot Temple, a beautiful Hindu shrine is worth a visit. Not that into the culture? Get sporty and go to one of the many gyms for a Crossfit, MMA, or yoga class. Or go shopping at Jalan Batu Bolong! After that surf lesson, obviously.
Getting hungry from exploring the area? Crate Café offers the best coffee and breakfast bowls. For an authentic Indonesian lunch, head to Dandelion. And if you do, tell the house bunnies we said hi (yes, they have real bunnies jumping around). The Shady Shack is always a good idea in the evening. Or, if you like it a little fancier, The Slow. We're mouthwatering already.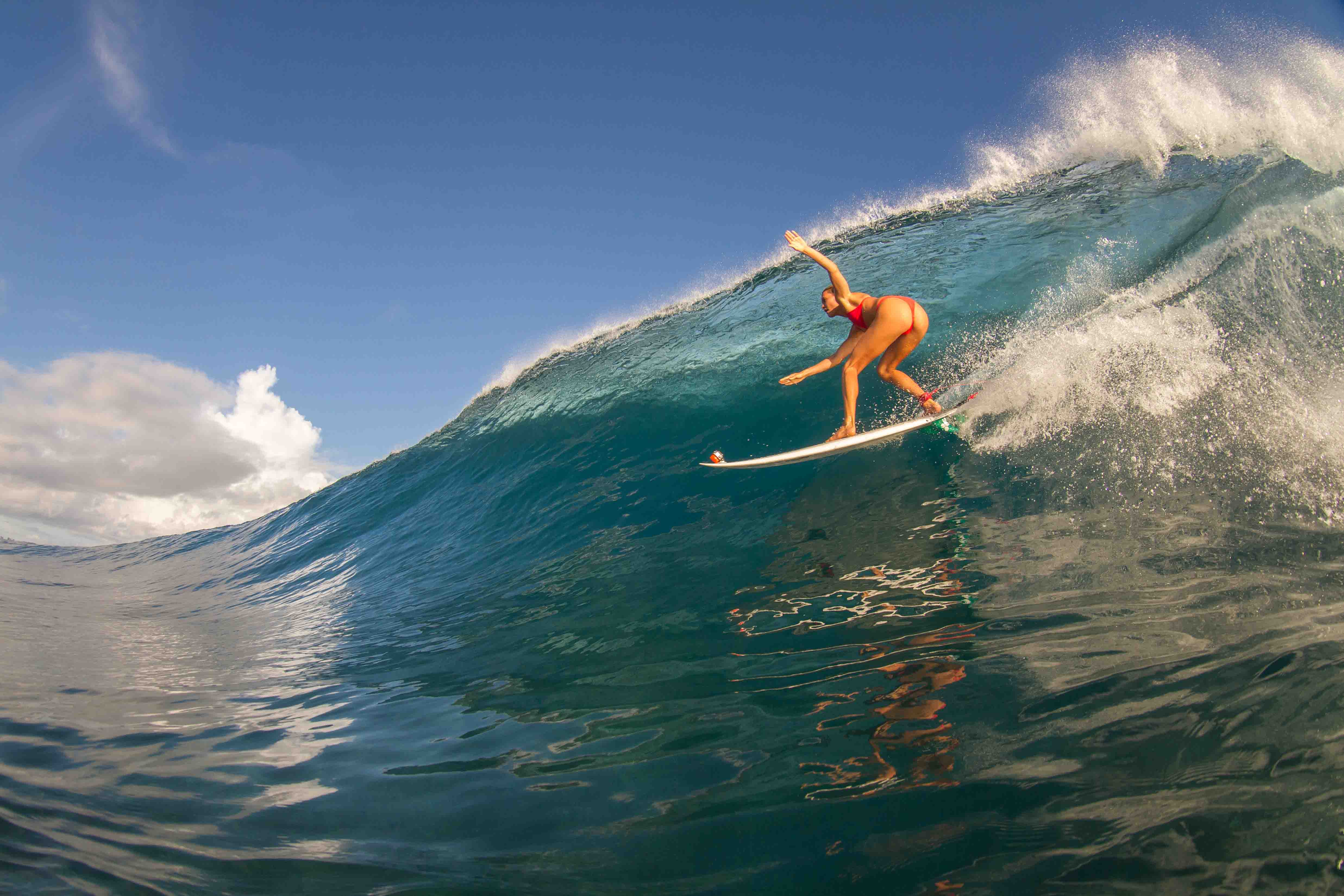 Get your VACATION on!
Expertly curated emails packed full of vacation inspiration, travel tips and more!