What You Should Know About Sak Yant Tattoos
What You Should Know About Sak Yant Tattoos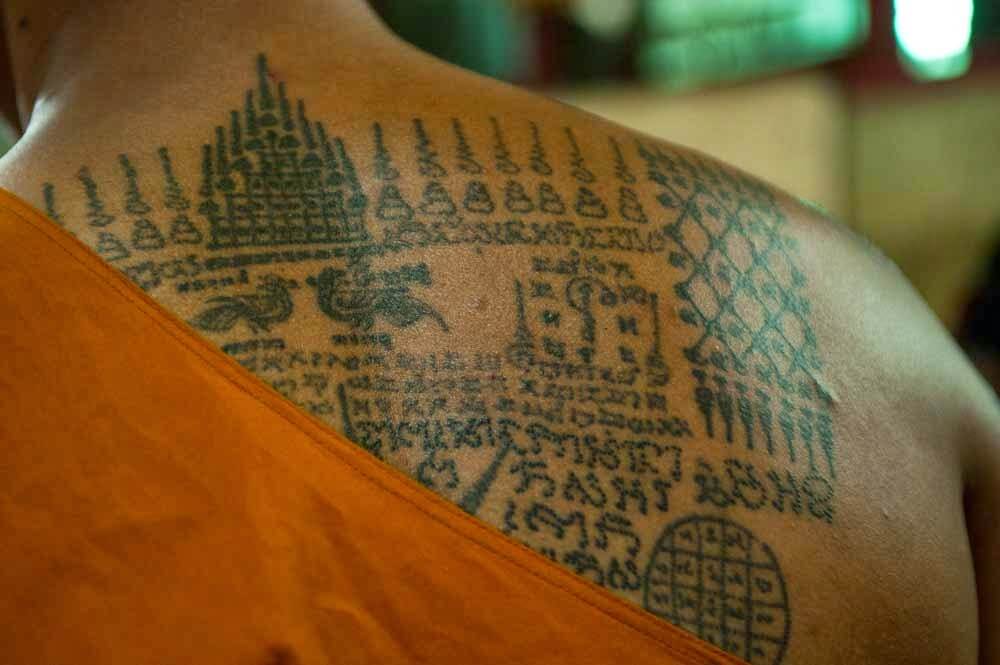 What You Should Know About Sak Yant Tattoos
Sak Yant Tattoos are traditional tattoos found in some places in Southeast Asia, specifically Thailand. Sak Yant tattoos date back to over 1 thousand years ago. They are stick and poke tattoos usually done with a needle and a bamboo stick performed by an Arjarn (retired Monks).
Our Best Selling Tour
All-Inclusive

Phuket Beach Plane Spotting and Monkey Cave Temple Visit

Aviation enthusiasts, sightseers and travelers craving culture will love our Phuket Beach Plane Spotting and Monkey Cave Temple Visit Tour! Helping you see the best of the island in one day, this Phuket tour starts off with a private transfer to the famous Nai Thon stairs where you'll be able to get some snaps for Instagram before going plane spotting at Mai Khao beach. Enjoy a once in a lifetime lunch (all included!) at a floating restaurant before adventuring through the Wat Suwan Kuha cave temple, all accompanied by your very own private tour guide!
What makes Sak Yant tattoos special is the ceremony that takes place. In a typical Sak Yant Tattoo Ceremony, a person will obtain a gift to give to their Arjarn. Once the Arjarn accepts the gift, the person talks with them about their life, struggles, and goals, helping the Arjarn to begin to form your personal Sak Yant tattoo.
Once the Arjarn has a good sense of the person and who they are, they get to decide what they tattoo on the person based off of their life and the conversation they had with their Arjarn. The Arjarn usually gets to choose the body part dedicated to the tattoo as well. As one of our most popular tours in Bangkok, the Sak Yant Tattoo tour is a must-do on your vacation to Thailand.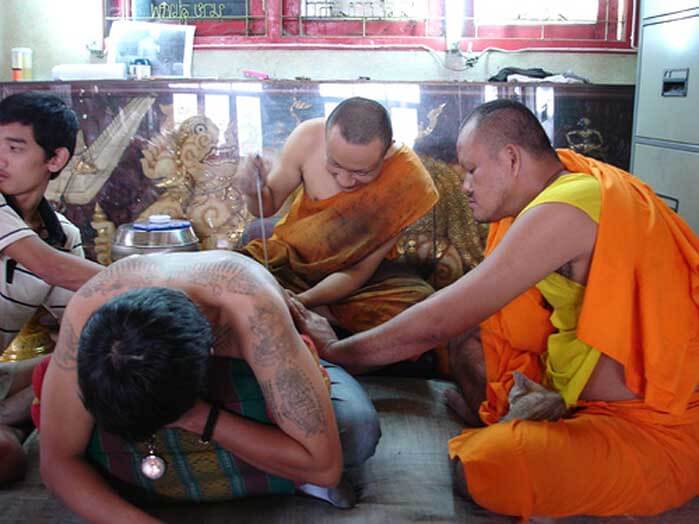 Sak Yant Tattoo in Bangkok
It is a lot of trusts to put into someone, but keep in mind that Arjarns are professionals and almost everyone loves the Sak Yant tattoo that they walk away with. The Arjarns job is to create the most meaningful tattoo possible for you personally.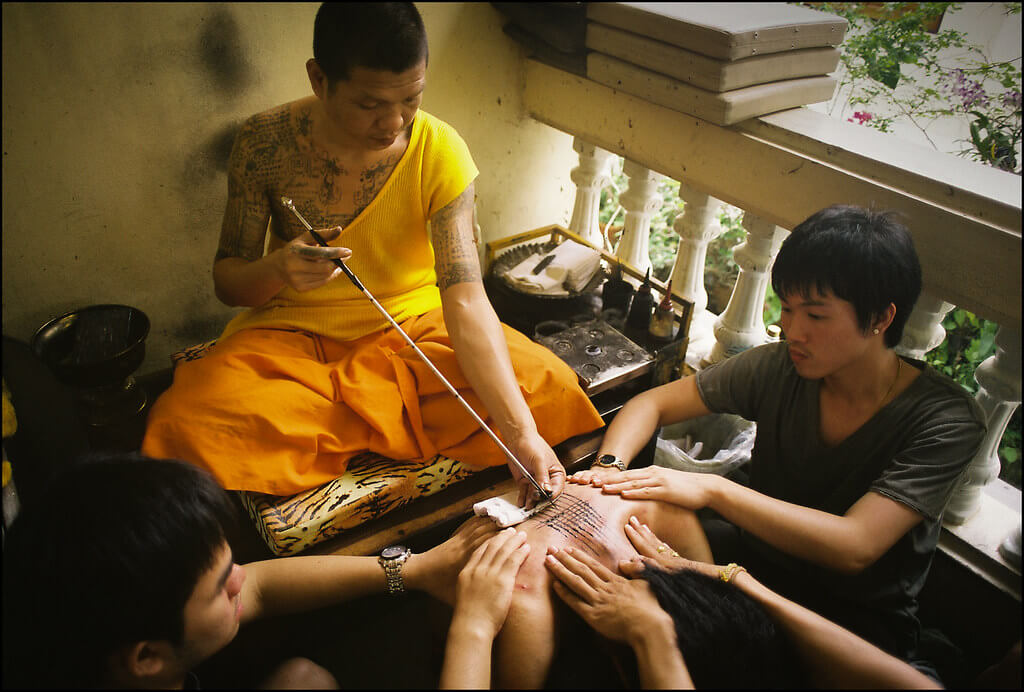 Getting a Sak Yant tattoo in Thailand
The price of Sak Yant Tattoos varies a lot. They range from $120 to $500 dollars. Things that affect the price of your Sak Yant tattoo include the size, placement, and the Arjarn you visit. If you visit the same Arjarn that has seen celebrities, expect to pay more.
On the other hand, if you visit a local Arjarn, you can find a price you are comfortable with. Sizes of Sak Yant tattoos can be anywhere from the size of your palm to covering your entire back! If you're looking for the best tours in Thailand, getting a Sak Yant tattoo should be high up the list!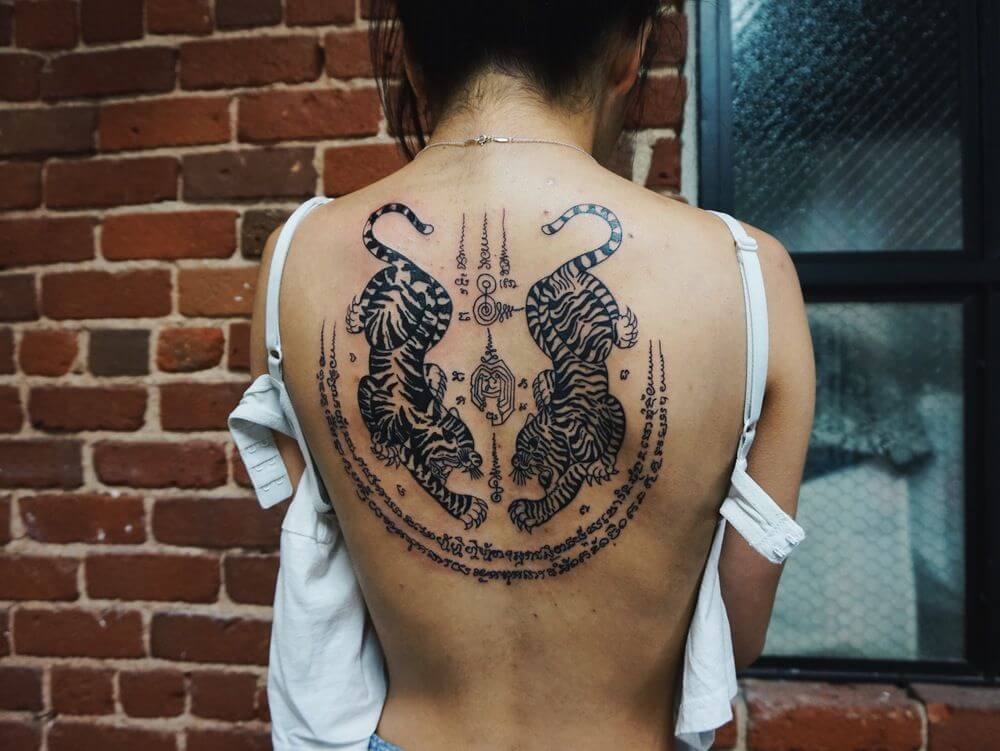 Real Sak Yant Back Tattoo
If you're interested in getting a Sak Yant tattoo while in Thailand, check out our Sacred Sak Yant Tattoo Tour.
Our Top Trending Tours
All-Inclusive

Krabi Kayak Tour: The Hidden Caves

All-Inclusive

Chiang Mai Ethical Elephant Sanctuary & Temple Experience

All-Inclusive

Phuket Magical Elephant Beach Walk & Night Market Visit
Get your VACATION on!
Expertly curated emails packed full of vacation inspiration, travel tips and more!