Best Hotels in Vietnam [2023]
Best Hotels in Vietnam [2023]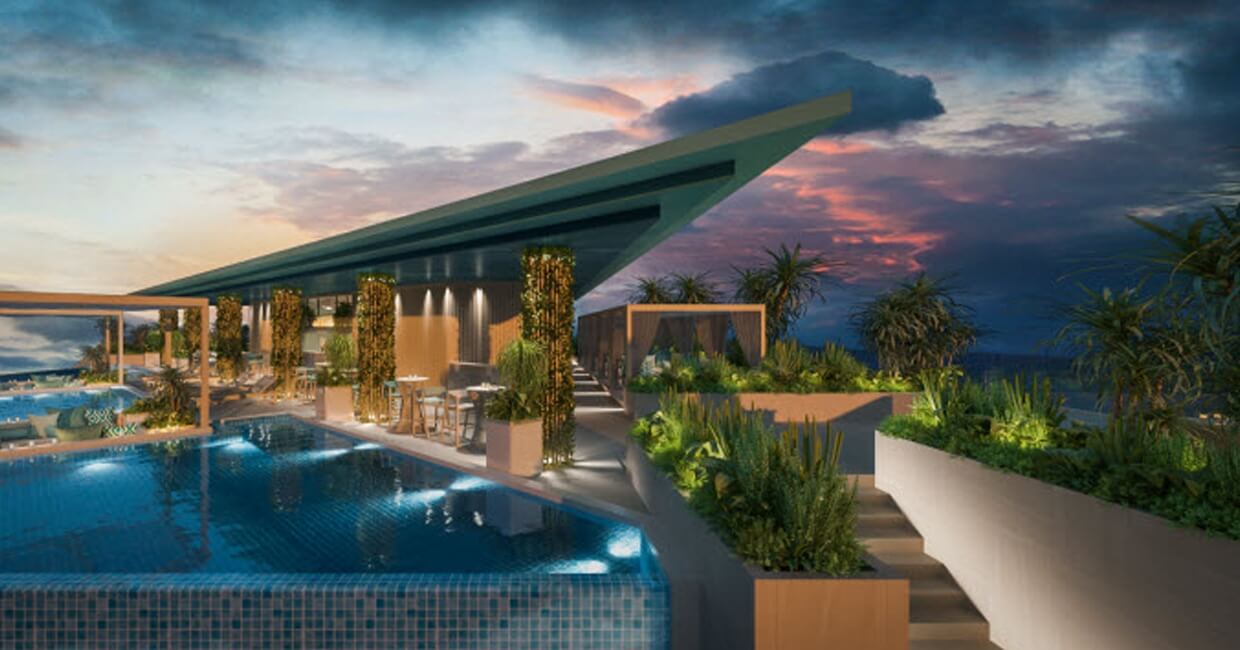 With an eclectic mix of big city life and natural rural beauty it can be tough to decide on the best hotel in Vietnam. Vietnam has fast become one of the most popular vacation destinations in Southeast Asia and it's easy to see why. Whether you're interested in taking some amazing tours in Ho Chi Minh City or exploring on your own, there's no better place in the world to visit.
Ho Chi Minh City (or Saigon) is Vietnam's biggest and most modern city. It's ever-changing skyline is filled with some of the most impressive buildings and hotels in the world. If you're looking to live the life of luxury at a very reasonable price, there are some amazing hotels in Ho Chi Minh City you're sure to enjoy.
Our Top Trending Tours
All-Inclusive

Da Nang Instagram Tour: Most Famous Spots

All-Inclusive

Ho Chi Minh City by Motorbike: Top Historical Spots

All-Inclusive

A Taste Of Hanoi: The Ultimate Street Food Experience
If it's a quiet getaway nestled in the Vietnam mountains you're after, one of the hotels in Da Lat might be your go-to spot for unique and beautiful hotels to stay in. Or stay a little longer and experience both!
Vietnam is a truly incredible country, and each area I've included in this blog has something different to offer and unique accommodation experiences. Here are the best hotels in Vietnam in 2023, you'll be dying to stay in!
Ho Chi Minh City
Hotel Des Arts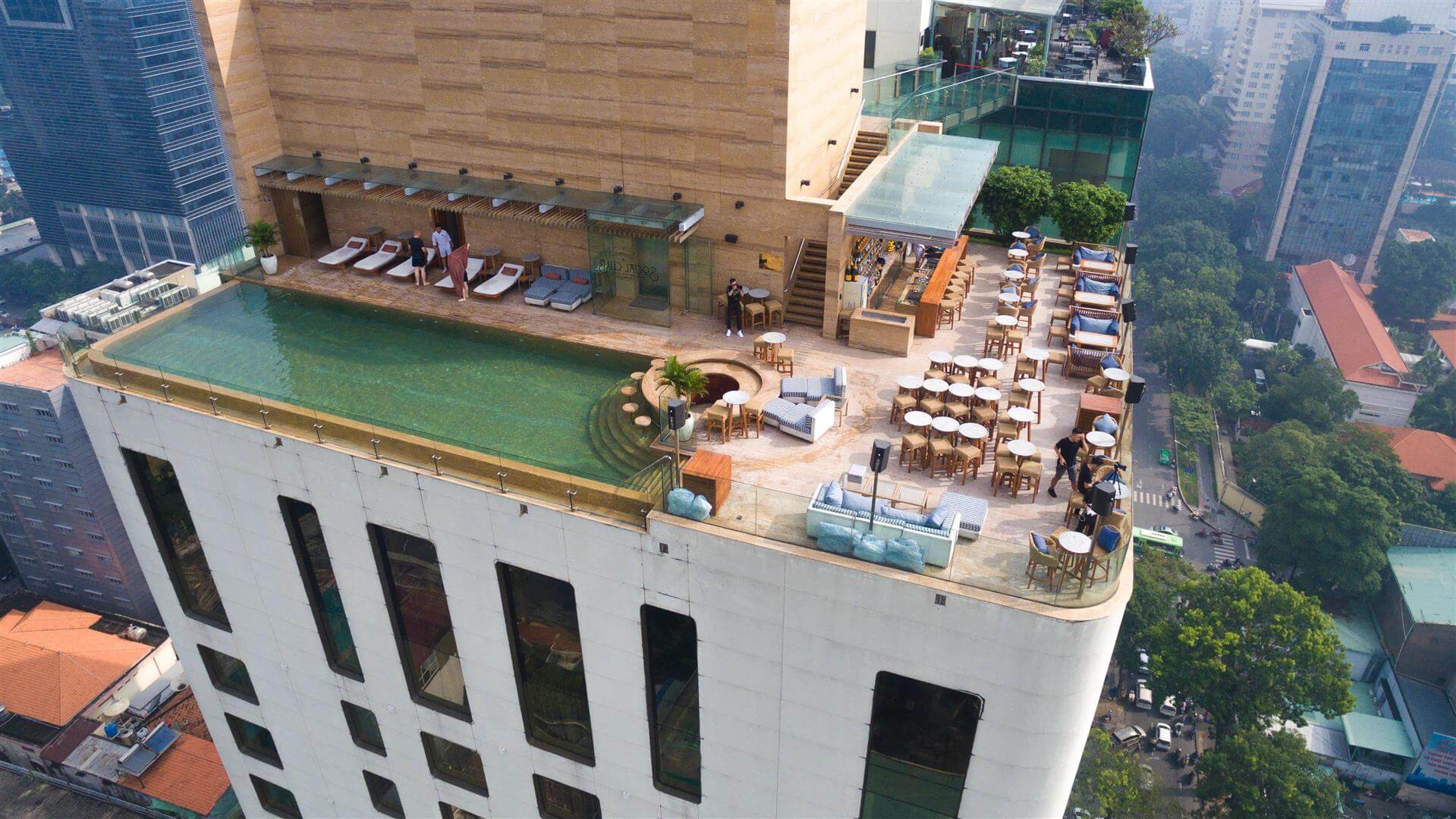 Hotel Des Arts is one of the swankiest new hotels in Saigon. Featuring Contemporary white on white rooms with trendy claw-footed bathtubs and hardwood floors, this amazing Vietnamese hotel has an old school glamour feel to it. The rooftop bar, complete with infinity pool, is unmissable.
It's also just a short stroll away from the Saigon Notre-Dame Basilica and many other charming French Colonial buildings, perfect for an impromptu photo shoot! The hotel is also surrounded by designer shopping malls, and all the best rooftop bars and restaurants.
Park Hyatt Saigon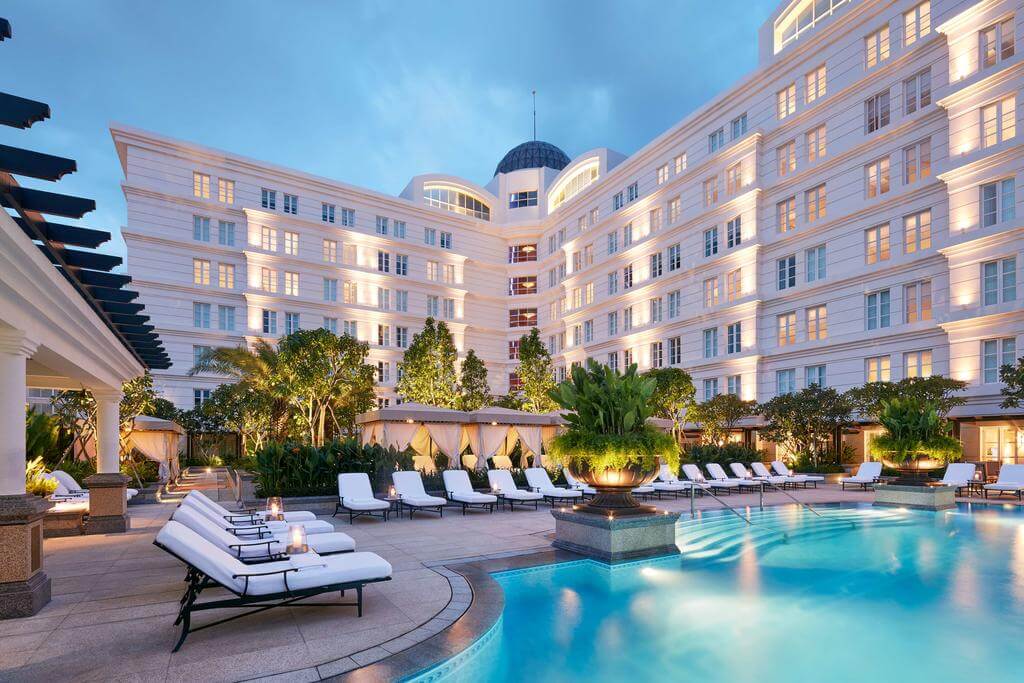 The Park Hyatt is a brilliant 5-star hotel slap bang in the middle of downtown Saigon. A modern hotel, its decor follows a French Colonial style. Undoubtedly home to one of the city's best bars, Lam Son - it's always packed at the weekends, so a great choice if you want to experience some city hustle and bustle!
This Saigon hotel also features not one, not two, but three on-site restaurants - one for Italian, one for Vietnamese and one for afternoon tea! What more could you want?
An Lam Saigon River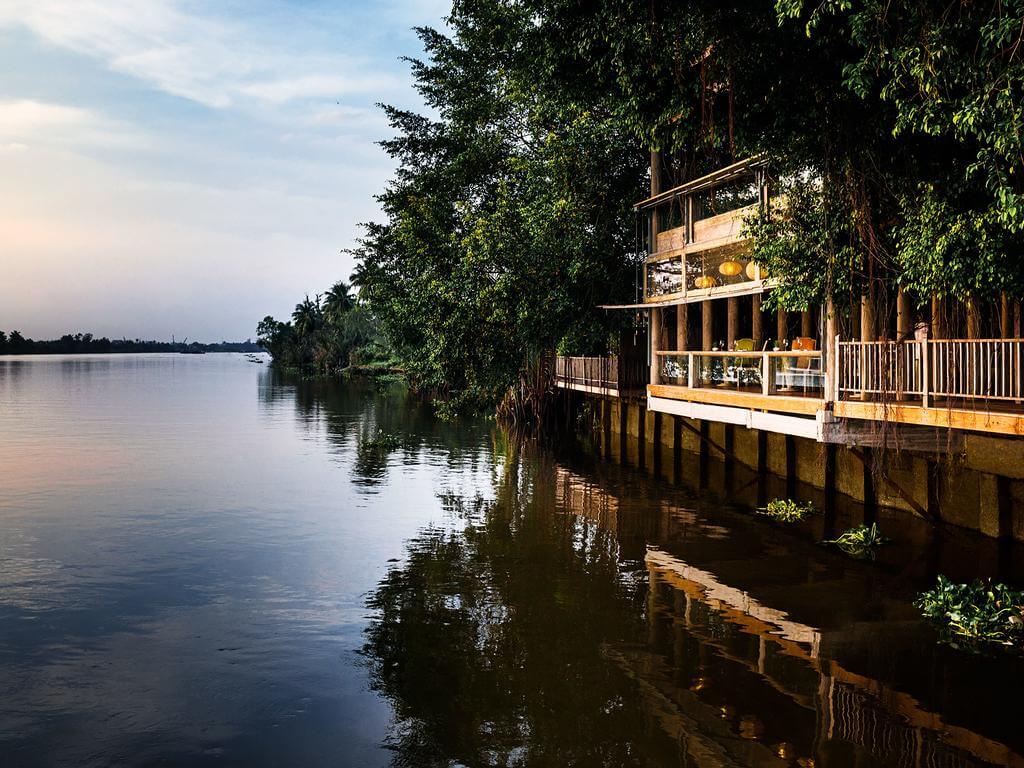 An Lam is a truly captivating boutique hotel in Vietnam, surrounded by lush gardens on the Saigon river. It offers exclusively designed villas finished with contemporary furnishings and traditional Vietnamese touches.
Achingly chic and astonishingly peaceful, despite its central location in Ho Chi Minh City, this is the perfect spot if you're after something extra special. The on-site restaurant serves a delicious French Vietnamese fusion menu.
Da Lat
Ana Villas Da Lat Resort & Spa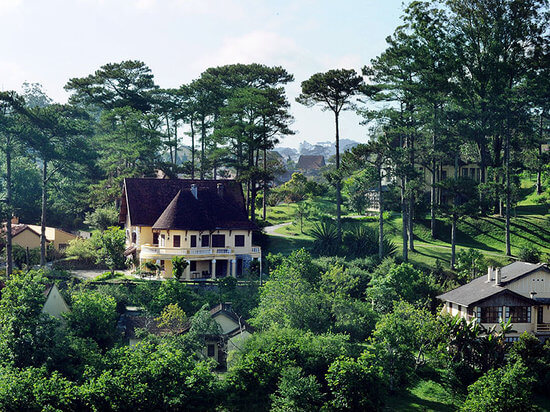 Ana Villas Da Lat Resort & Spa is perfect if you're looking for one of the best luxury hotels in Vietnam - offering unique French colonial villas ideally nestled on the slopes of Da Lat city's rural highlands. It boasts an outdoor pool, on-site restaurant and spa center offering a wide range of therapeutic treatments. Guests can enjoy outdoor barbecues, dining in the privacy of their rooms, or at the resort's Le Petit Dalat Restaurant where Vietnamese and fusion cuisine are served.
Freely explore the surrounding landscaped areas, local culture and farming countryside whilst you're here. Perfect if you fancy a luxury escape from the city! Many popular points of interest are close by, such as Lam Vien Square, Xuan Huong Lake and Dalat Flower Gardens.
Terracotta Hotel & Resort Da Lat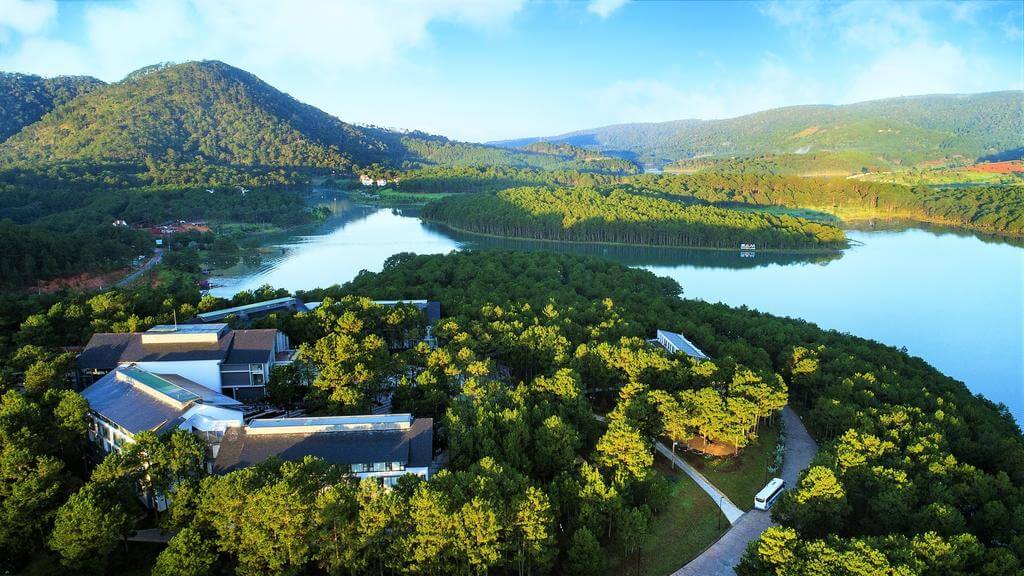 Terracotta Hotel & Resort is a modern Swiss-inspired complex offering rooms and villas in a beautiful location. Featuring an indoor pool, spa and fitness centre, this hotel in Da Lat is located right next to Tuyen Lam Lake - so expect to wake up to some incredible views!
Only 900 metres from Truc Lam Temple and close to Lien Khuong Airport, the location is ideal.
7S Hotel President Da Lat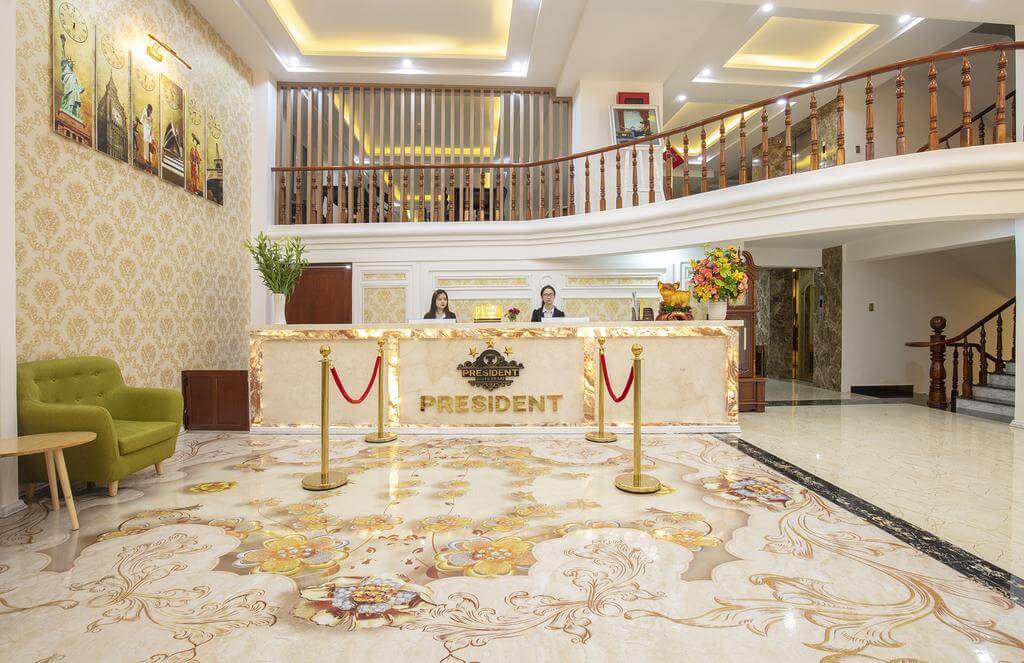 The 7S Hotel President is definitely the most impressive hotel in Da Lat! Featuring a terrace fit for royalty, 7S Hotel is set in the Lam Dong region, 2.5 km from Lam Vien Square and 2.6 km from Xuan Huong Lake.
Among many other facilities, the hotel offers bike hire for guests who want to explore the surrounding area. Perfect for a romantic getaway or a special celebration, you'll want for nothing staying in this grand hotel.
Nha Trang
L'Alya Ninh Van Bay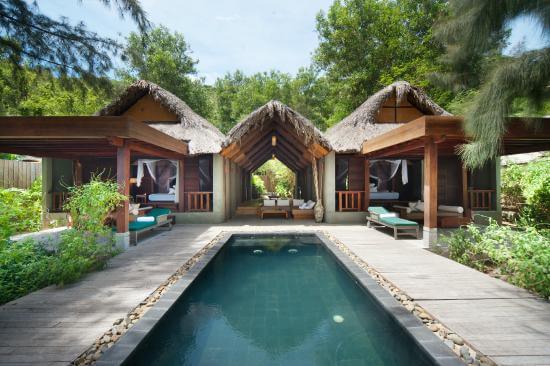 L'Alyana Ninh Van Bay has huge, expansive spaces and coconut thatched roofs with high vaulted ceilings. Featuring luxurious villas with private pools, L'Alya Ninh Van Bay offers peaceful stays in rolling green landscapes overlooking Ninh Van Bay. It features an infinity pool, full spa facilities and fine dining. Guests can start the day with a lesson at the yoga platform before exercising at the gym.
Featuring an outdoor terrace, the restaurant offers seafood specialities and Vietnamese dishes. In-villa dining with a private chef can be arranged. The property also offers a free airport transfer service for ease, making it one of the most attractive hotels in Nha Trang for visitors.
Mia Resort Nha Trang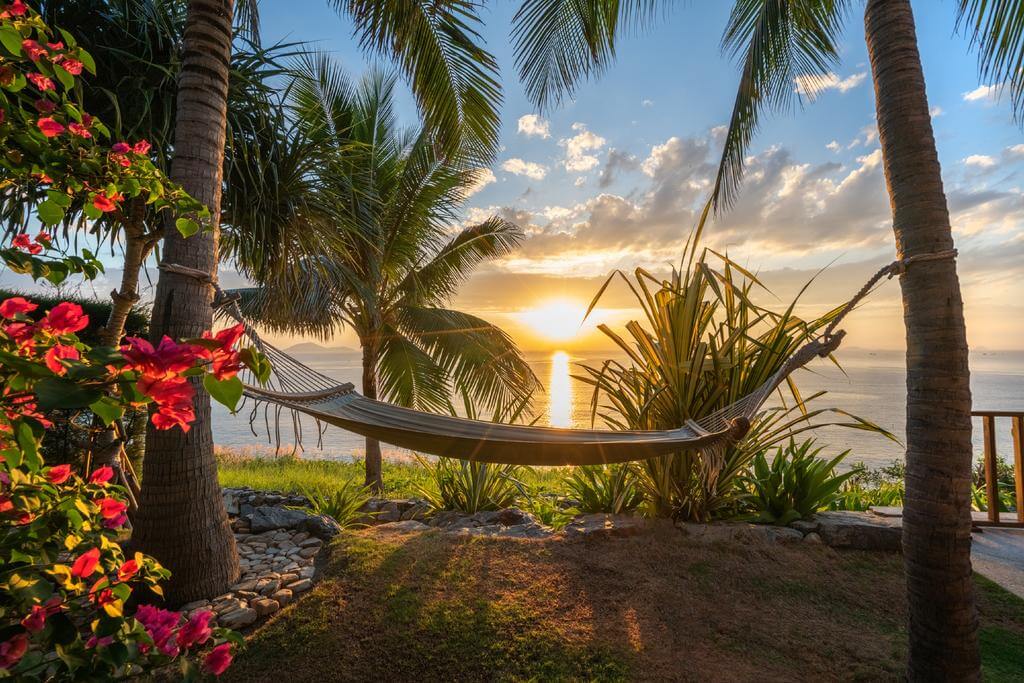 Designed and built for those who demand nothing but the very best, Mia is one of the top hotels in Nha Trang offering exclusive villas set among manicured gardens. The perfect place to find peace, relaxation, and comfort! Free beach yoga sessions are run every Sunday and buggy services around the property are provided at the 5-star resort.
Guests can also take part in cooking classes, snorkeling trips, day tours and much more. All of the spacious and luxurious villas feature beautiful ocean views, hammocks and comfortable lounge areas. Some villas also have a private pool for an extra special treat!
Hoi An
Anantara Hoi An Resort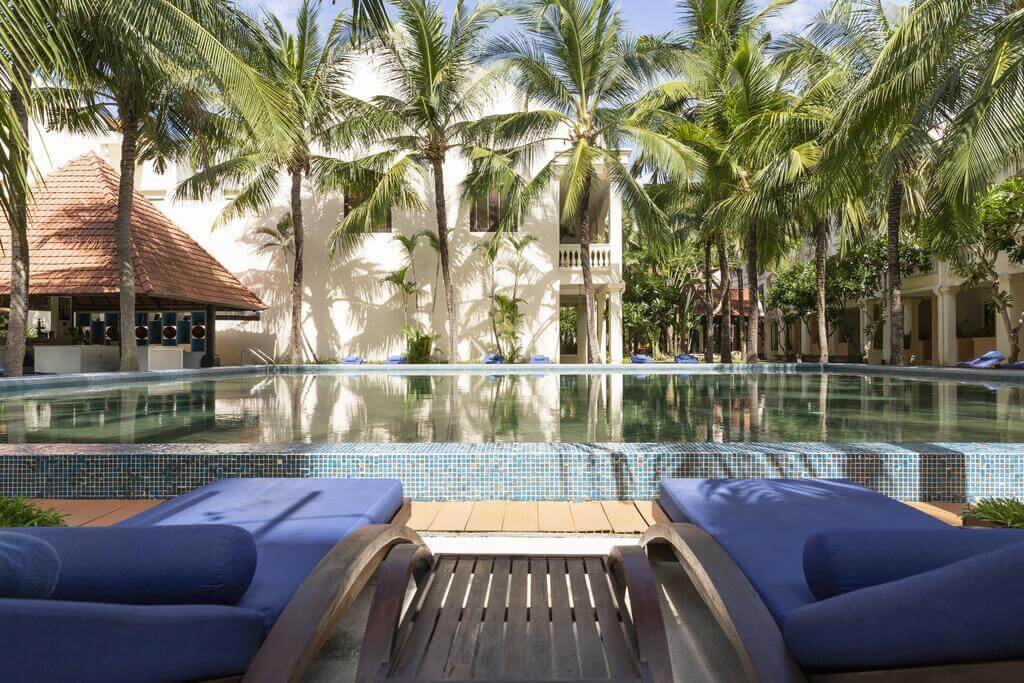 Anantara combines world-class elegance and Old Town convenience. This graceful 1920s-style hotel in Hoi An is well located in the quieter eastern end of the Old Town, surrounded by a classy selection of shops and riverside cafés. Split-level rooms and suites in the two- and three-level blocks are fairly similar inside, with the main difference being views of the river, gardens, or pool.
Deluxe River View Rooms feature a divine sofa on the porch, elegant Colonial-style décor, sunken lounge room, and massive bathroom with spa. Other attractions include the lengthy tiled terraces, immaculate gardens, delightful riverside courtyard pool, and the open-air library/kids' activities area.
Hoi An Beach Resort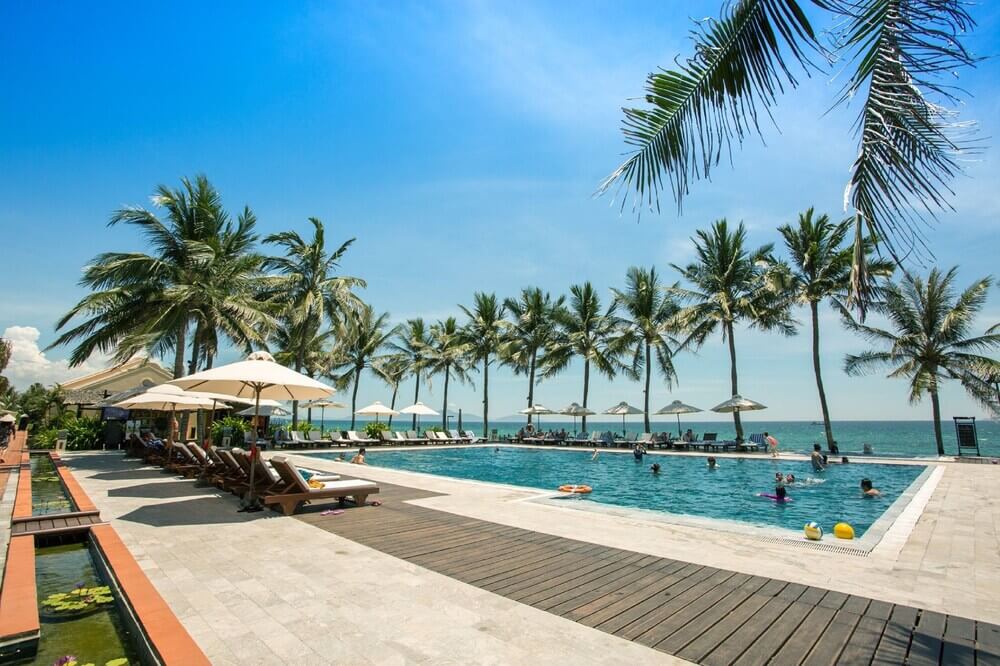 Hoi An Beach Resort is family-friendly, with easy beach and river access. The resort lies about six kilometers away from Old Town, squeezed between the beach road and the river in Cua Dai.
Guests here are housed in classy two-level buildings, with two rooms up and another two on the ground level, each separated by stairs. Featuring great river views, two pools and a delightful breakfast café, this resort will leave you wanting for nothing - no wonder it's one of the most popular beach hotels in Vietnam!
Silkotel Hoi An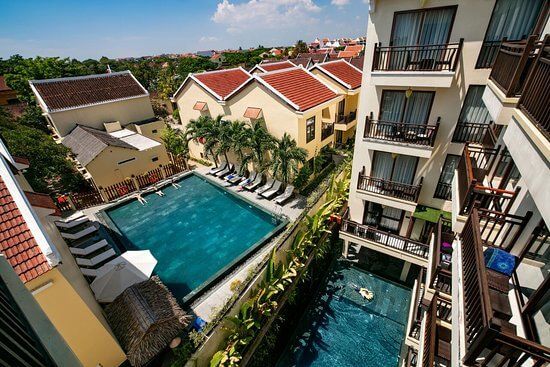 Silkotel is a quaint hotel on the edge of town. With a Vietnamese elegance reminiscent of the Old Town, expect mustard hues, terra cotta tiles, and potted plants.
Stylish rooms and villas feature spacious bedrooms, lush lounge rooms, and plenty of natural light. And the hotel's two pools are perfectly positioned to catch the sun all day long - perfect for working on that vacation glow.
Ninh Binh
Emeralda Resort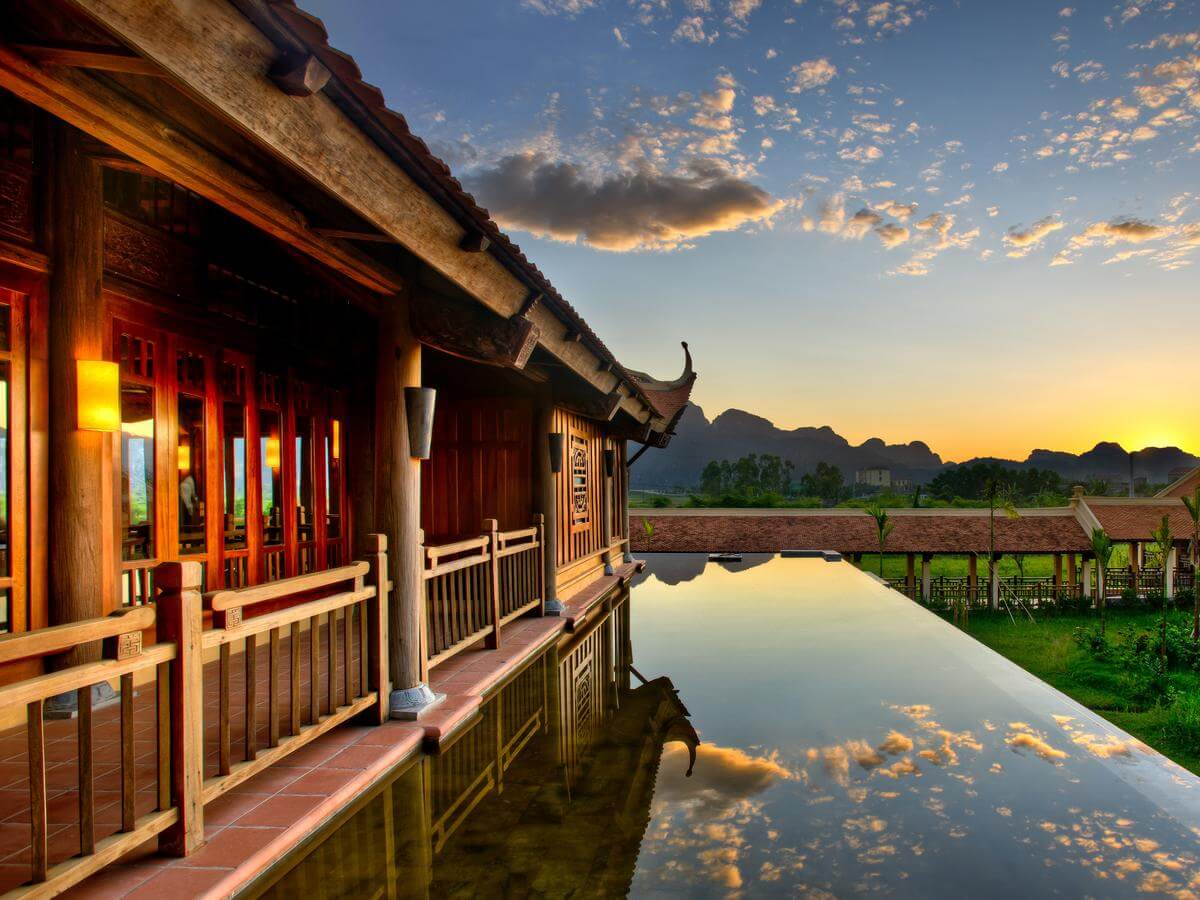 Styled with traditional Vietnamese furnishings combined with 21st century facilities, the Emeralda Resort in Ninh Binh prides itself on its sustainability, commitment to the environment and organic menu. Rooms are spacious with mountain views.
Asian and Western dishes are served in a choice of restaurants. Such levels of luxury are rarely found at this price! You can also arrange a huge variety of activities through the hotel such as trekking, cycling and sightseeing - ask and the staff will be more than happy to help!
Our Best Selling Tour
All-Inclusive
Tam Coc Garden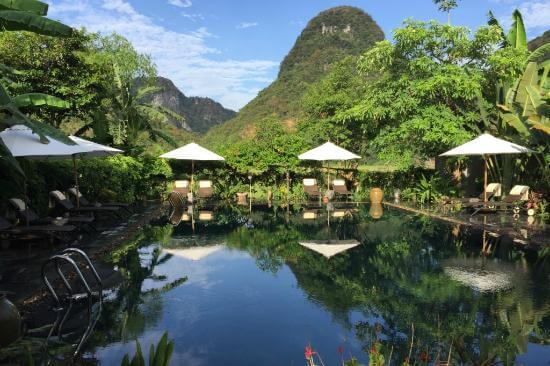 At Tam Coc Garden, guests are charmed by its slow pace and simple approach to luxury. Thoughtful touches – like the free bicycles and maps – ensure this lovingly tended boutique hotel stands out from the crowd.
Surrounded by striking limestone cliffs jutting out of rice paddies and not a house in sight, this hotel in Ninh Binh is a perfect spot if you fancy a rural getaway. Learn the art of Vietnamese cooking with the hotel's chef or spend a tranquil afternoon fishing with a traditional bamboo rod.
Hanoi
Intercontinental Hanoi West Lake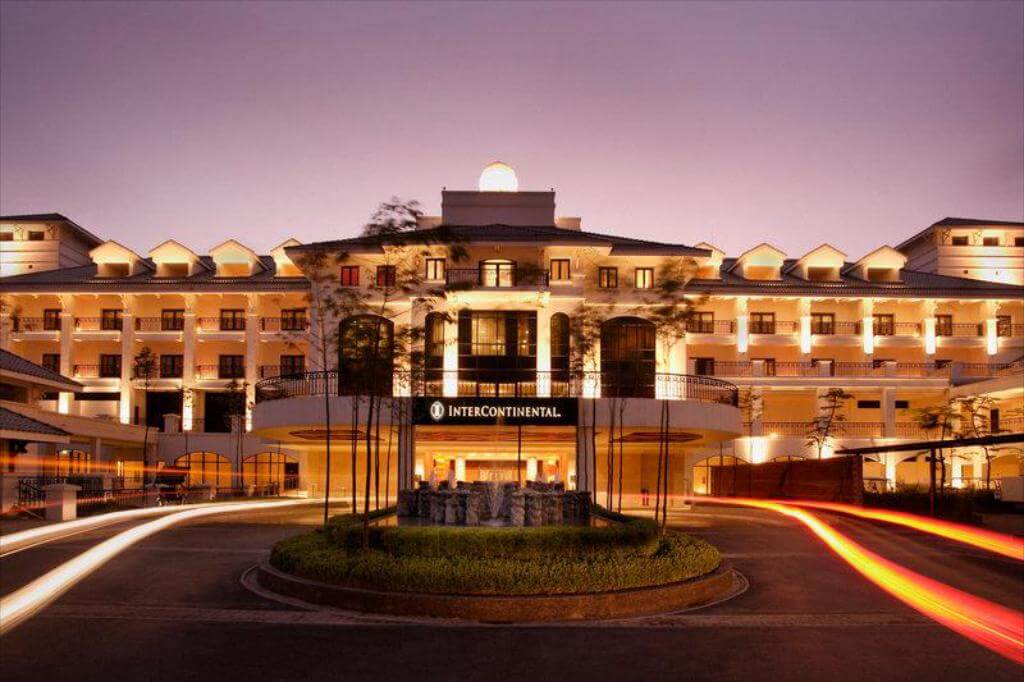 A star on Hanoi's hotel scene, the Intercontinental Hanoi Westlake offers all the luxurious amenities you'd expect from the five-star hotel group. Boasting three restaurants serving modern Vietnamese fare and fine Italian, as well as an atmospheric rooftop bar.
Rooms are chic and classic in this amazing hotel in Hanoi. Close by is the Kim Lien (Golden Lotus) Pagoda, accessible by foot as well as many other city walking tours - taking an amazing tour in Hanoi is a great way to explore!
Sofitel Legend Metropole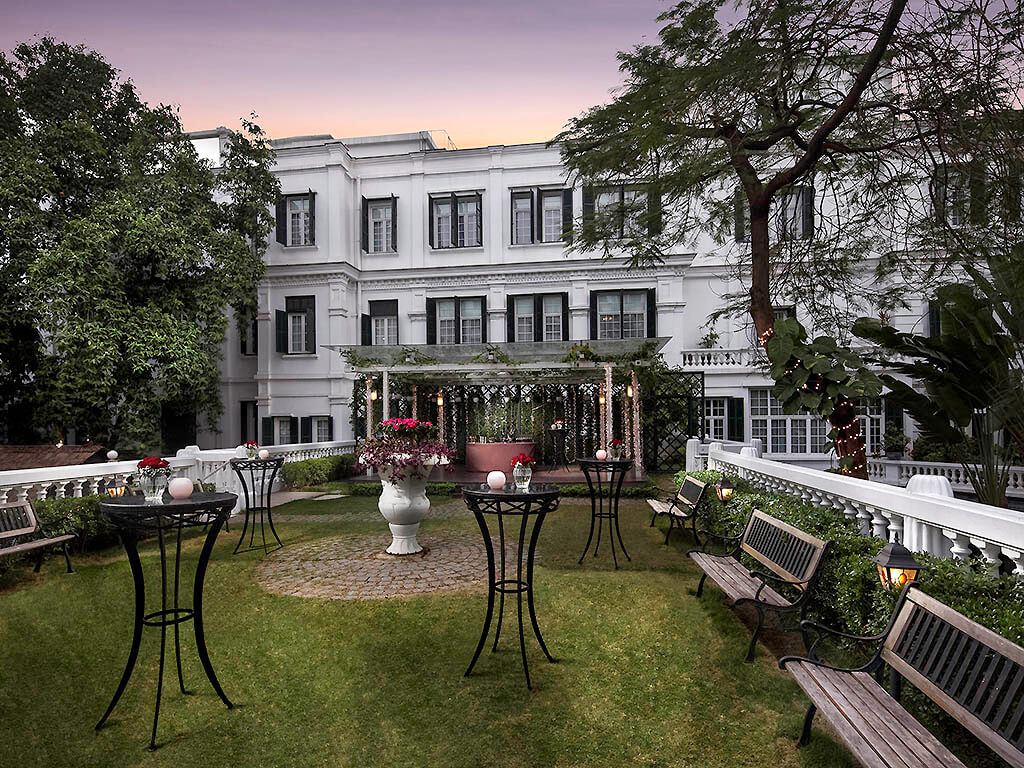 The Sofitel hotel in Hanoi puts a genuine smile on your face – a dollop of pure luxury and welcome in a not-very-luxurious city. The original Hanoi "Grand Dame" with French Colonial style throughout. Various dining options are available and pampering spa is onsite.
A true oasis in the centre of frenetic Hanoi. Hanoi's largest market, Dong Xuan market, is right on the doorstep plus many other sights such as the Hanoi Opera House. While you're here, definitely take a stroll around Hoan Kiem Lake and check out the famous red bridge and the temple in the center of it.
Hotel De L'Opera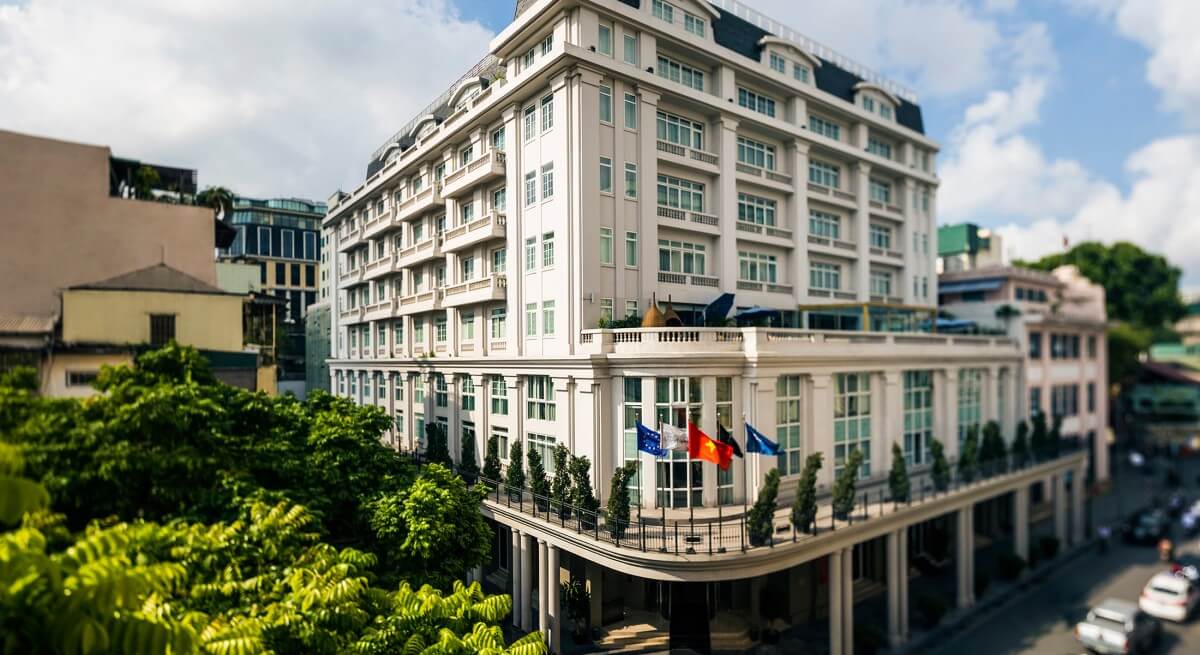 A luxury property in Hanoi's Old Quarter. Strong contemporary design runs throughout. Dramatic paintings reside above the bed that features an impossibly thick mattress. Dark pink furniture brings splashes of color.
An elegant bar and classic Vietnamese restaurant make Hotel De L'Opera one of Hanoi's finest.
There are plenty of amazing hotels for your stay in Vietnam and while you're here, be sure to check out all of our tours in Vietnam. See you soon!
Get your VACATION on!
Expertly curated emails packed full of vacation inspiration, travel tips and more!