Best Resorts in Vietnam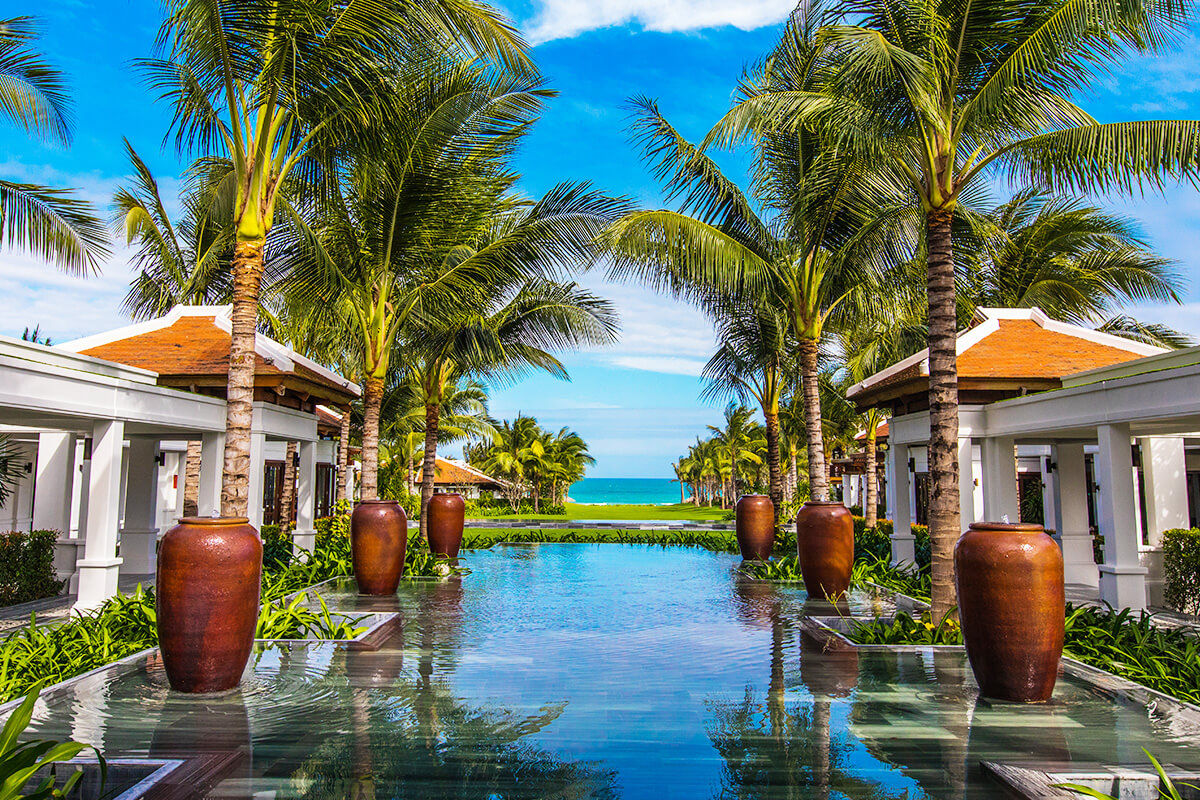 In today's blogpost we are covering a pretty essential topic when it comes to traveling: finding the best accommodation! A while ago we already talked about
the best hotels in Vietnam
, but we like to take it one step further and tell you about
the best resorts in Vietnam
! You might wonder 'Is there a difference between hotels and resorts'? There sure is!
The difference between resorts and hotels lies in their basic purpose although both offer temporary lodging facilities to guests and visitors. Essentially, a resort is everything a hotel is with a little more and aims to provide a luxury stay. Resorts are known to be a destination in itself and typically, everything you need for a holiday can be found on the property from food, entertainment, shopping, spa and gym facilities, etc...
Traveling to a new country can be overwhelming, so if you don't know where to start or what to do first, make sure to check out our
private tours in Vietnam
that will help you tackle the country in no time!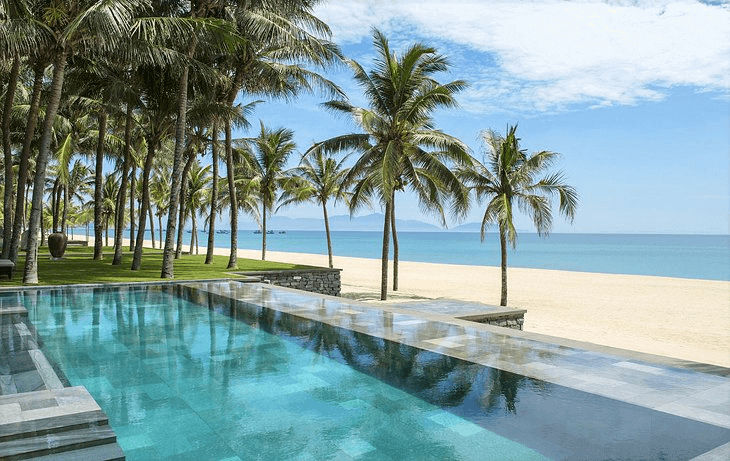 Peppercorn Beach Resort - Phu Quoc
We'd love to start this list with a personal favorite: The Peppercorn Beach Resort in Phu Quoc! The resort is located in the quiet northern shores of Phu Quoc island in Ganh Dau village, on the fringe of the National Park with views of the Cambodian shoreline in the distance!
This resort stands out from all the other resorts in this list on many levels and it may not be for everyone but we found this place a hidden gem and a one of a kind paradise! First of all, the location is very remote, off the beaten track and it offers a unique & authentic feel of a 'deserted' island getaway. The surrounding private beach is unlike any we've ever experienced and it's the most beautiful beach you can find on the island. Many of the rooms are beachfront, simple but elegant and offer everything you need. But you won't be spending a lot of time in the rooms anyway because you'll be too busy enjoying the beautiful setting outside :)
One of the main selling points for us is that this resort is passionate about protecting the environment and actively campaigns this message with the local mayor. In playing their part, they apply eco-friendly practices in the resort by utilising rainwater collection, solar panels and using the most energy efficient light bulbs, fridge, air conditioning etc where possible throughout the property. They have also recently joined the Phu Quoc Island WWF Plastic Reduction Programme in an effort to reduce plastic waste on the island!
For those who are seeking the comfort of a 5-star hotel, busy nightlife scene or a location that is closer to other hotels/restaurants - this might not be the place for you. However, you will find your forever happy place here, where you can relax and decompress, taking in all the beauty that this resort has to offer!
Website: Home | Peppercorn Beach Resort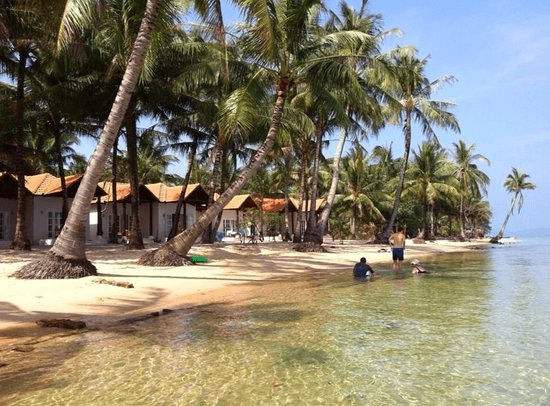 InterContinental Danang Sun Peninsula Resort - Danang
A high-end, seaside retreat surrounded by thriving rainforests, the InterContinental Danang Sun Peninsula Resort is tucked in the Son Tra Peninsula, a breathtaking natural reserve in Vietnam with sparkling beaches and dense jungles harboring rare species like the rhesus macaque monkey.
This is the perfect resort for families because the resort offers many fun kids activities! While the adults soak up some sun on the beach or enjoy wellness treatments at the spa, the kids will be on adventures of their own. They can choose to hop in one of the three large swimming pools, take a complimentary wildlife workshop by the resort's resident zoologist (where they are introduced to the incredible natural wildlife of the region), make new friends at the kids club, swim at the hotel's private beach or enjoy water sports.
The hotels also offers family rooms so families can stay connected with adjoining rooms!
Website: Vietnam Luxury 5-Star Beach Resort | InterContinental Danang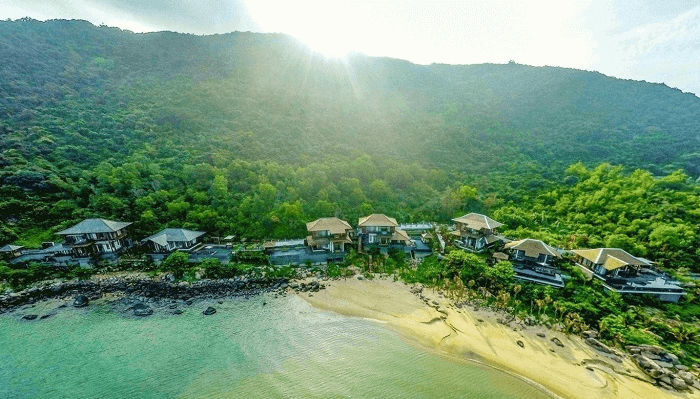 Mia Resort- Nha Trang
Designed and built for those who demand nothing but the very best, Mia is one of the top hotels in Nha Trang offering exclusive villas set among manicured gardens. The perfect place to find peace, relaxation, and comfort! Free beach yoga sessions are run every Sunday and buggy services around the property are provided at the 5-star resort.
Guests can also take part in cooking classes, snorkeling trips, day tours and much more. All of the spacious and luxurious villas feature beautiful ocean views, hammocks and comfortable lounge areas. Some villas also have a private pool for an extra special treat!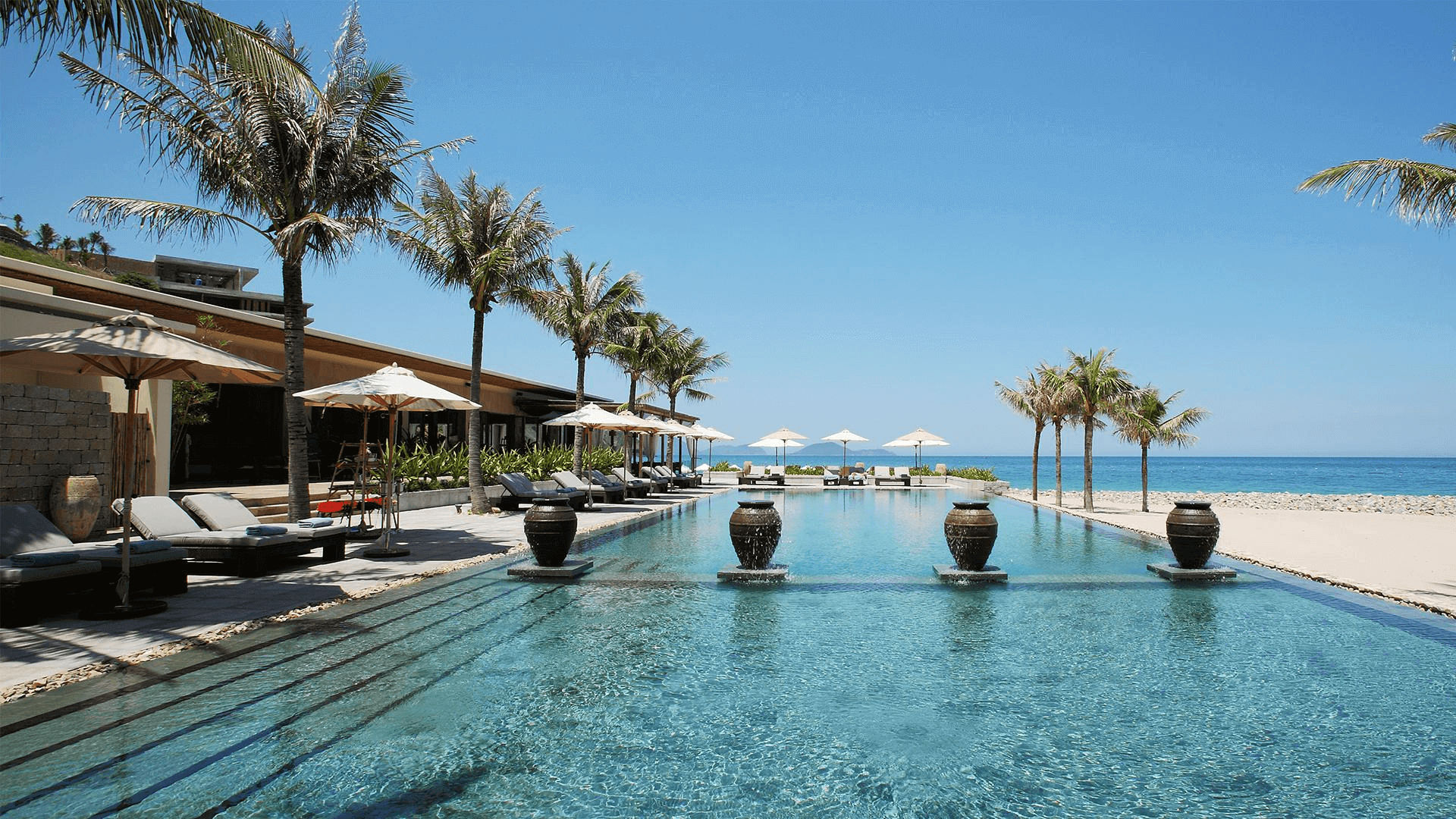 For Seasons The Nam Hai - Hoi An
Nestled in the pristine shores of Hoi An Beach, this lovely resort takes pride in having three beachfront pools, four tennis courts, and a swanky spa. The facility is also well-maintained and located in a quiet and picturesque area, adding to its glamour. Book lovers will easily fall in love with this resort as it comes equipped with a library that has a wide variety of books and magazines. A short walk away from the library, you will find a well-stocked bar that's perfect for sampling creatively made cocktails, beers, and snacks.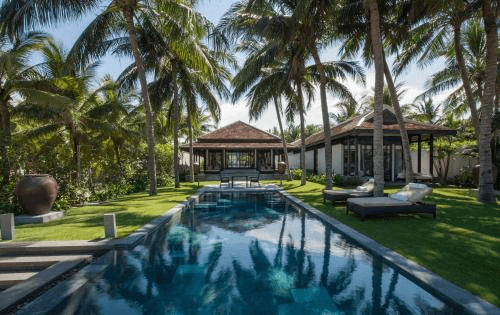 Pilgrimage Village Boutique Resort & Spa - Hue
Located in a secluded area surrounded by lush green vegetation, this rustic resort is a perfect spot where you can relax and explore Hue. Among the many leisure activities that guests can take part in while staying in the resort, Tai Chi, yoga, and Vietnamese cooking classes will leave you feeling excited. If sitting outside and feeling the sun on your skin is your thing, there's comfortable outdoor furniture just for you. You also don't have to worry about where to keep your valuables as there are safety deposit boxes in each room. What's more, you choose where to stay in the resort, either in the facility's bungalows, huts, or villas.
Website: Pilgrimage Village Boutique Resort & Spa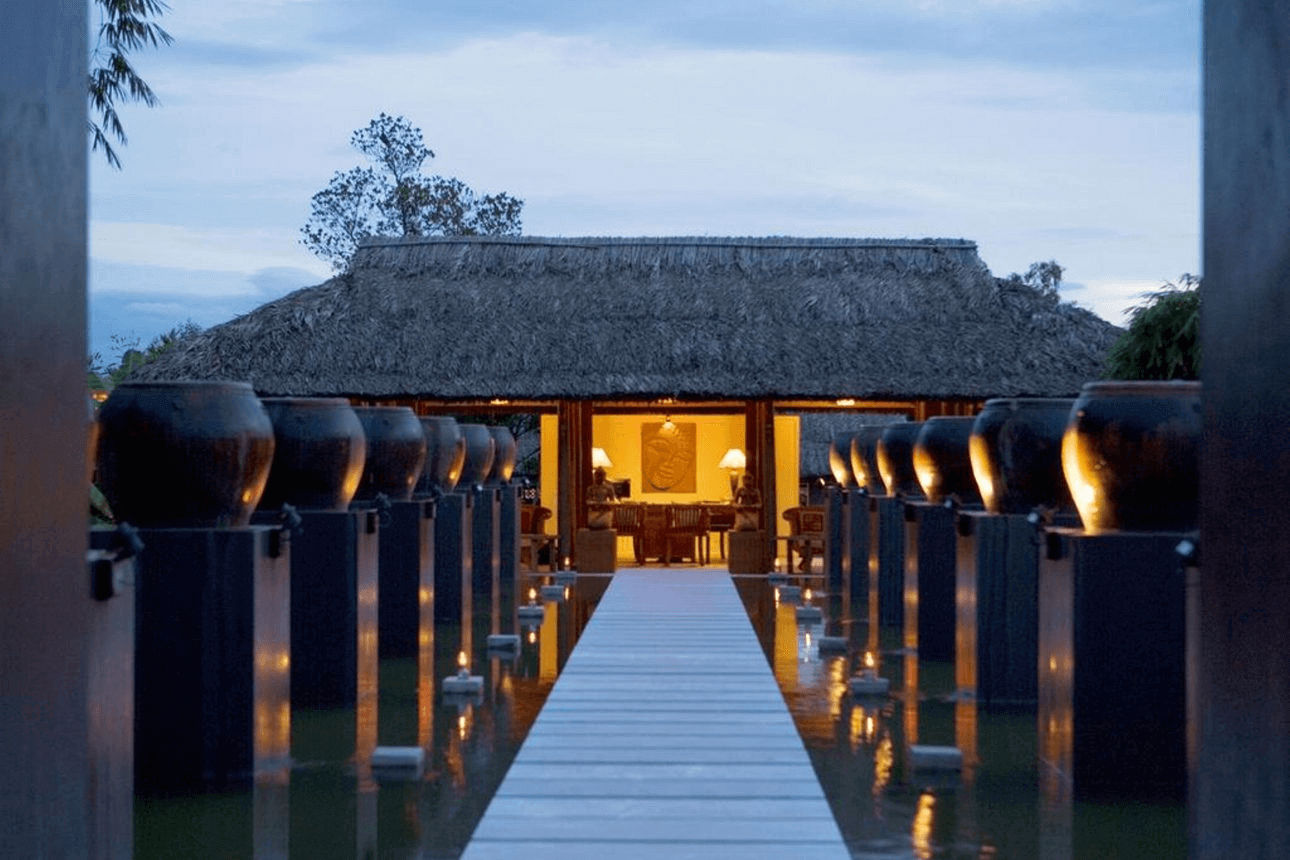 Anantara Hoi An Resort - Hoi An
Anantara combines world-class elegance and Old Town convenience. This graceful 1920s-style hotel in Hoi An is well located in the quieter eastern end of the Old Town, surrounded by a classy selection of shops and riverside cafés. Split-level rooms and suites in the two- and three-level blocks are fairly similar inside, with the main difference being views of the river, gardens, or pool.
Deluxe River View Rooms feature a divine sofa on the porch, elegant Colonial-style décor, sunken lounge room, and massive bathroom with spa. Other attractions include the lengthy tiled terraces, immaculate gardens, delightful riverside courtyard pool, and the open-air library/kids' activities area.\
Website: Hoi An Hotel | Official Site of Anantara Hoi An Resort Vietnam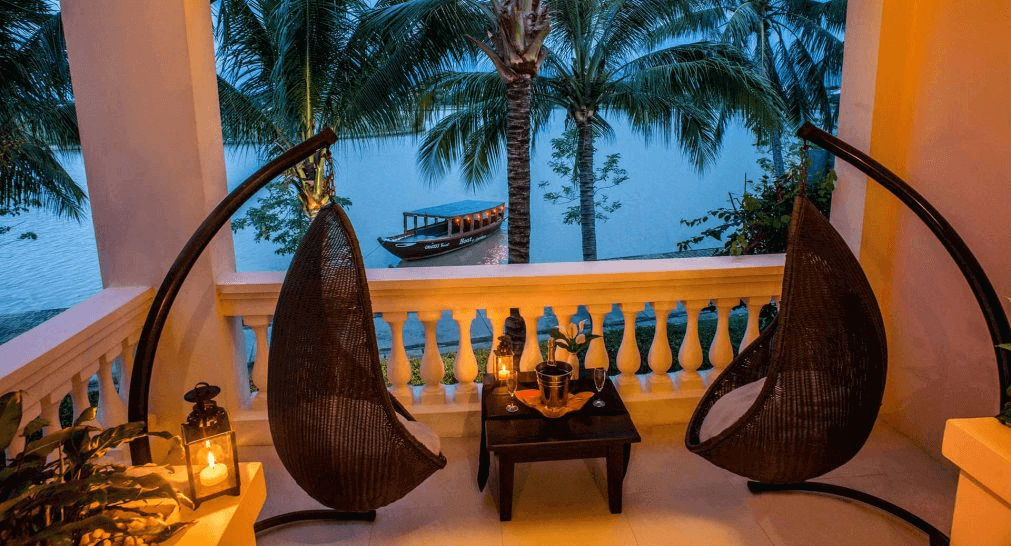 Our Best Selling Tour
All-Inclusive

Krabi Highlight Tour: The Top 5 Spots

Welcome to Krabi, one of Thailand's most famous provinces that has the most stunning scenery imaginable: beautiful white beaches that stretch on for miles, a jungle and over 200 islands just off the coast! Sounds good, right? Well, you're about to experience all this beauty yourself very soo
Hoi An Beach Resort
Hoi An Beach Resort is family-friendly, with easy beach and river access. Squeezed between the beach road and the river in Cua Dai, the resort lies about six kilometers away from Old Town.
Guests here are housed in classy two-level buildings, with two rooms up and another two on the ground level, each separated by stairs. Featuring great river views, two pools and a delightful breakfast café, this resort will leave you wanting for nothing - no wonder it's one of the most popular beach hotels in Vietnam!
Website: Hoi An Beach Resort in Hoi An - Book a hotel De Vong river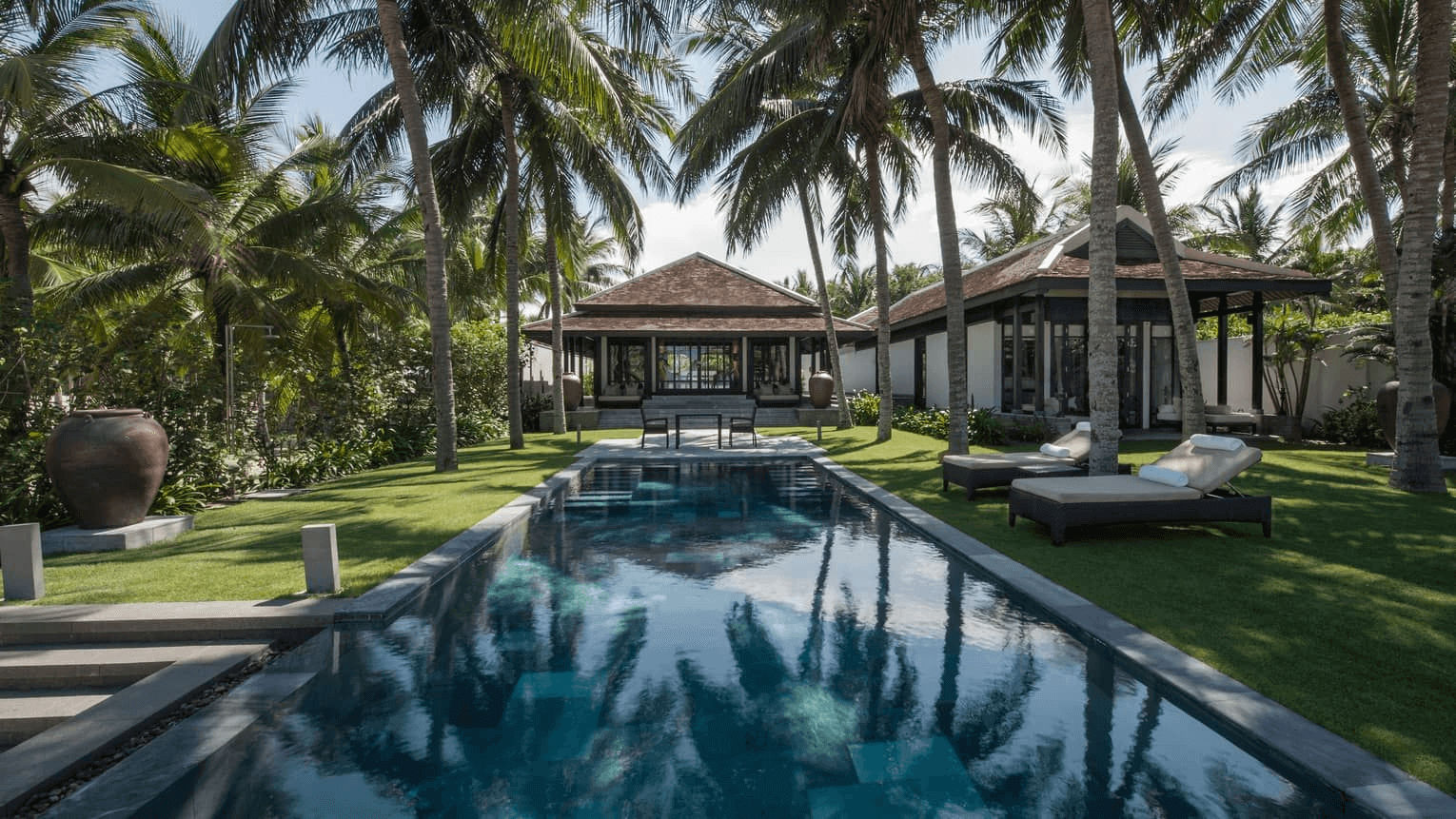 Emeralda Resort-Ninh Binh
Styled with traditional Vietnamese furnishings combined with 21st century facilities, the Emeralda Resort in Ninh Binh prides itself on its sustainability, commitment to the environment and organic menu. Rooms are spacious with mountain views.
Asian and Western dishes are served in a choice of restaurants. Such levels of luxury are rarely found at this price! You can also arrange a huge variety of activities through the hotel such as trekking, cycling and sightseeing - just ask and the staff will be more than happy to help!
Website: Emeralda - (emeraldaresort.com)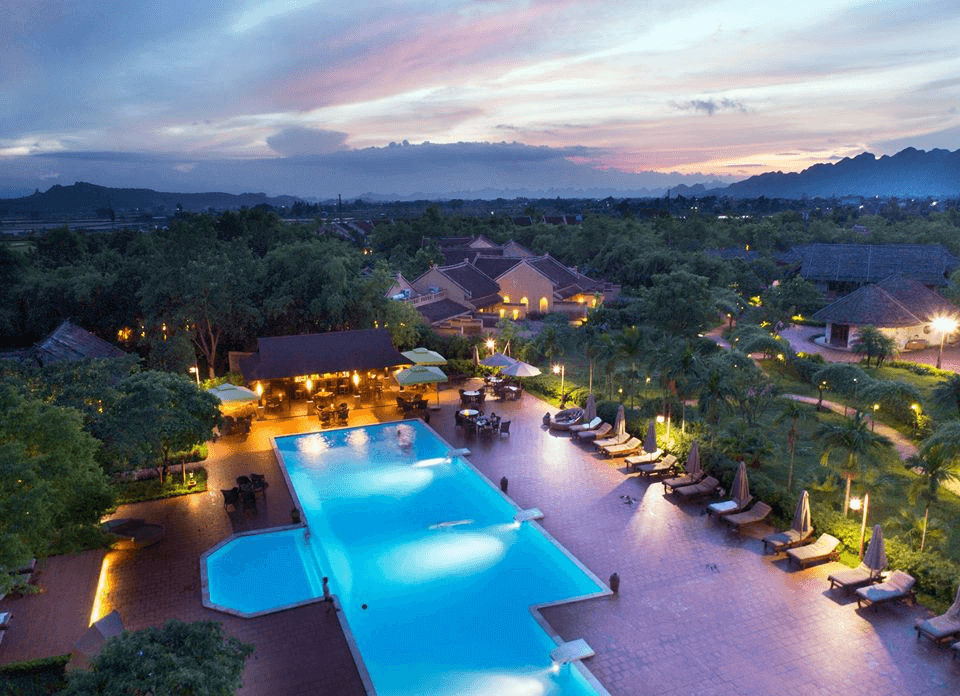 Conclusion:
We hope you've enjoyed our tips and we can't wait for you to have an amazing time in Vietnam, maybe even in one of the resorts recommended by us! Remember we are always at your service if you find it hard tackling the city on your own! We offer some of the best tours in Vietnam and our guides can't wait to show you around this beautiful country!
Get your VACATION on!
Expertly curated emails packed full of vacation inspiration, travel tips and more!