Best Tour in Bali - Bali Instagram tour
Best Tour in Bali - Bali Instagram tour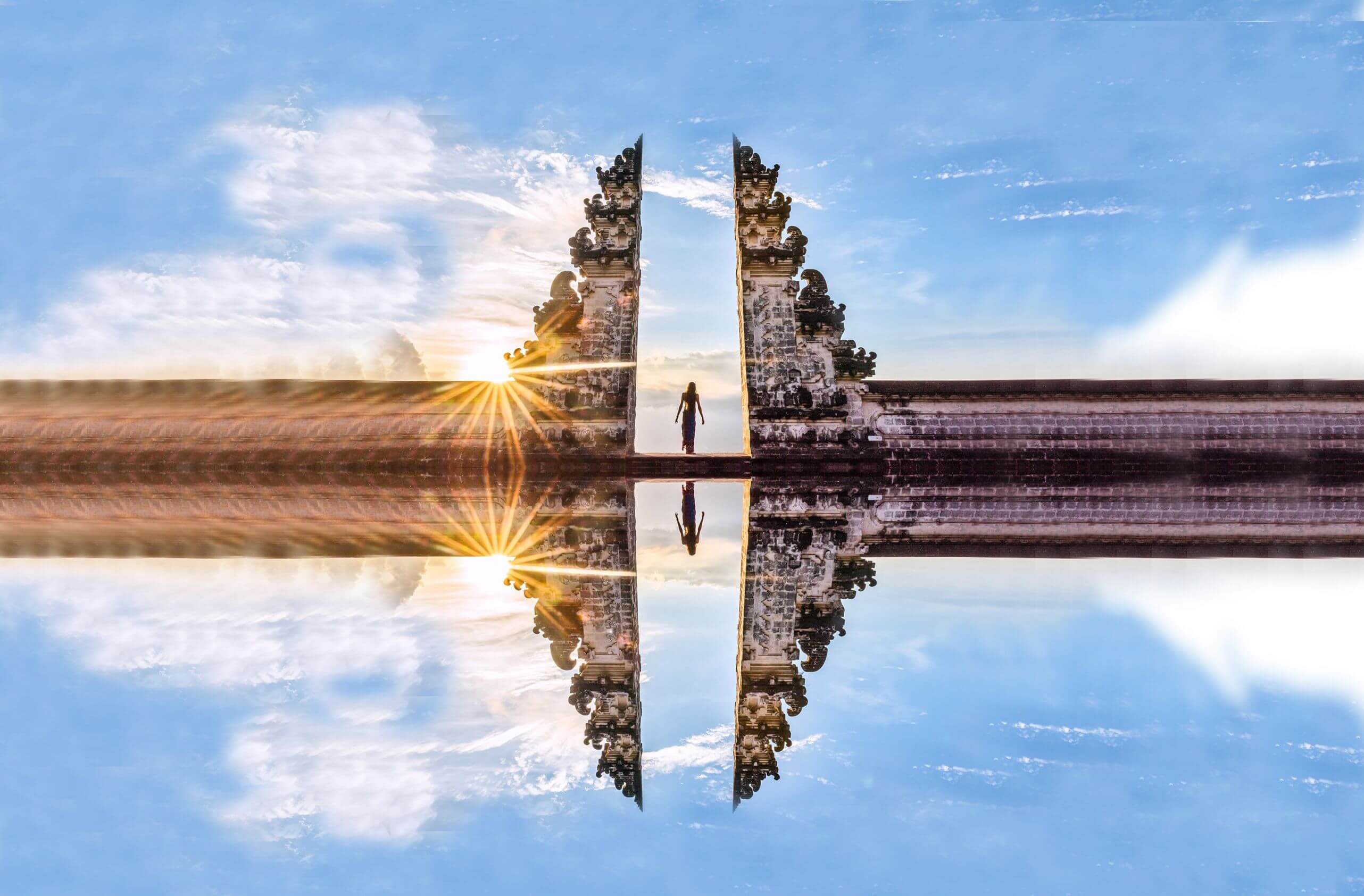 Whether it's been the Bali Swing, the magnificent waterfalls, or the historical temples - you've fallen in love from hours of scrolling on Instagram and are now ready for your life-changing trip to Bali. Trust us; the people you meet, the paths you take, and the memories created will be remembered for years to come.
A Bali getaway isn't just a vacation spent at the beach. You'll soon notice the positive energy found throughout the island is contagious. There's so much more to this tropical island than meets the eye. Ditch the skyscrapers and Ubers for endless coconut palm trees and rice fields.
Whether you're a blogger, photographer, or just simply love getting those like-worthy shots to add to your Instagram feed, join us on our day-long Bali Instagram tour, where our guides take you to the most trending viewpoints, stunning attractions and unique experiences like a Balinese coffee plantation!
Our Top Selling Tour
All-Inclusive

Balinese Local Village, Culture & Trekking Experience

Our Balinese Local Village, Culture & Trekking Experience is one of our best Bali tours that takes you off of the beaten path, perfect if you're looking to experience life like a Balinese local! You'll get to experience traditional Balinese culture by visiting the local Bakas village, have lunch in a Balinese home, participate in a traditional dance performance and even make a local offering - finished off by a trek through the rice fields to visit a hidden river!
Gates of Heaven at Pura Lempuyang Temple + Mt. Agung Views
Arriving early morning for sunrise, you'll feel like you're on a movie set with such a stunning view emerging in front of you. With the morning dew fresh on the plants and the misty fog rolling through, you'll receive the most beautiful first sight of the gigantic Gates of Heaven, the perfect representation of historic Indonesian architecture and religion once entering the temple.
As the clouds fade away and the sun rises, you'll be able to witness Mt. Agung, in all its glory, appearing from the background.
At that moment, that is the shot crowds come flocking for. The Gates of Heaven is the best spot on the island to see the active volcano first-hand.
Stand between the temple gates and make your best yoga pose as your tour guide takes the picture. Don't worry; they even know all the tricks – did you know there isn't a lake?
In addition, as this is an active temple, we recommend dressing modestly for this portion of the tour – we will provide sarongs for both men and women.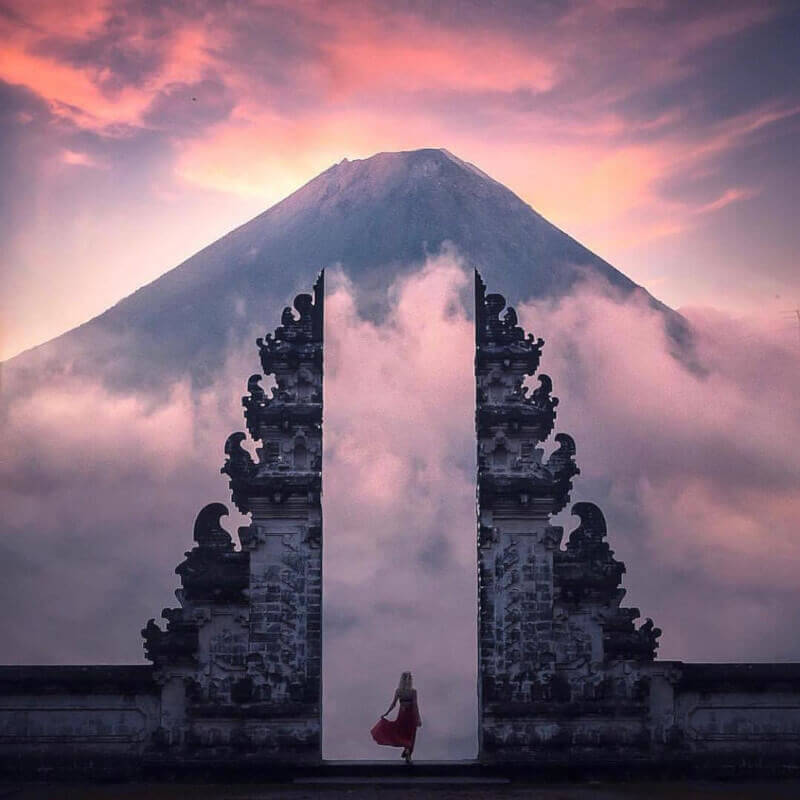 Tirta Gangga
Guaranteed to be your favorite stop on the entire tour, as it is ours! Known as a royal water garden in East Bali, Tirta Gangga features tiered fountains, parks, and stone sculptures of mythical creatures spouting water into bathing pools. The water is considered holy by the locals and is used during religious ceremonies, as well as a source of potable water.
Within the Tirta Gangga pools, you'll find large golden carp and other fish swimming about. Your guide will have plenty of fish food for you to sprinkle throughout the ponds.
Watch as they swim up and out of the water vigorously! Talk to our guides, as we'll guide you to the most photogenic spots in the garden to capture both the fishes and the temple.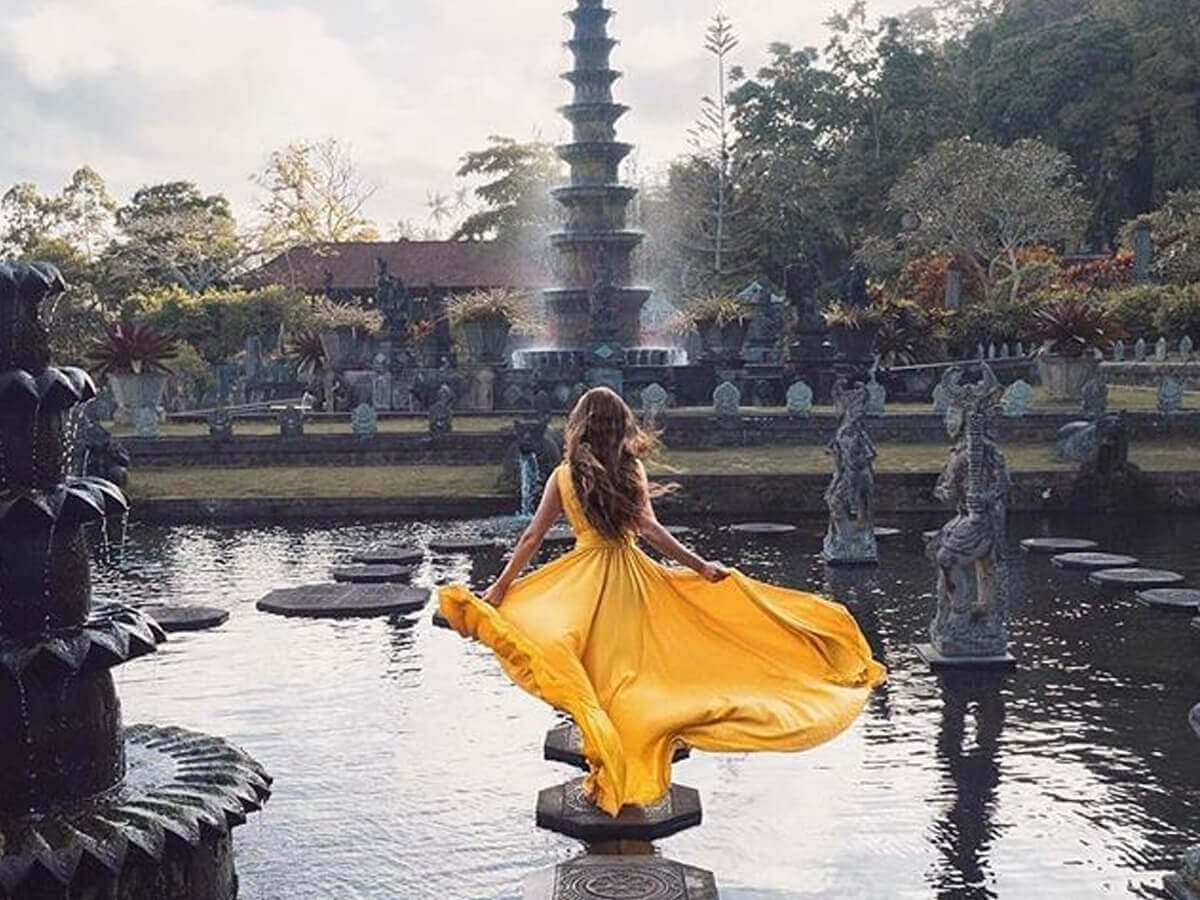 Tukad Cepung Waterfall
After a delicious lunch buffet at a local Indonesian Warung – a small family-owned restaurant-you'll be taken to Tukad Cepung Waterfall, one of Bali's most beautiful waterfalls.
Once arriving at the entrance (your guide will have your tickets taken care of), be prepared for a small trek down and a walk through streams to reach the base of the falls. Insider tip, there's a stunning field of palm trees at the car park where you'll get an ultimate Bali vibes picture!
Our favorite part of the trek is reaching the stream, as you'll begin to wander through two rock walls covered in fauna leading up to the fall. The cold water on your feet and the misty spray around you are delightful on a hot Bali summer day. At the falls, you'll find a boulder within the chaos of the falls where locals have kept a wooden ladder.
The sun shines through the fauna, hitting the water and creating the perfect reflection. That's your shot. Your guide will help you climb up and compose your picture. If your feet are sensitive, we recommend bringing along water shoes!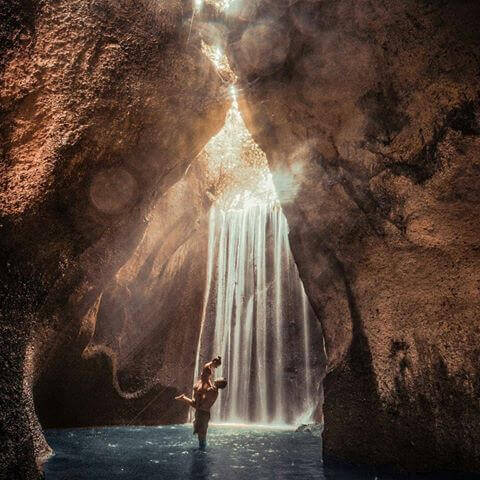 Tegalalang Rice Terraces
After visiting Tukad Cepung Waterfall, enjoy a stunning drive through valleys of rice fields to reach the Tegalalang rice terrace. For an authentic rural experience, interact with smiling local farmers, learn more about the Balinese culture, and enjoy a yummy smoothie bowl if you'd like.
The rice terraces are plowed, planted, and even harvested throughout the year. The atmosphere of the natural scenery is remarkable. Providing a safe environment and natural panoramic, the rice terraces cannot be missed - this is the classic Bali shot any Bali visitor must have!
Ladies, we highly recommend carrying along a pretty dress to pose in! Did you really visit Bali if you didn't go to the rice terraces?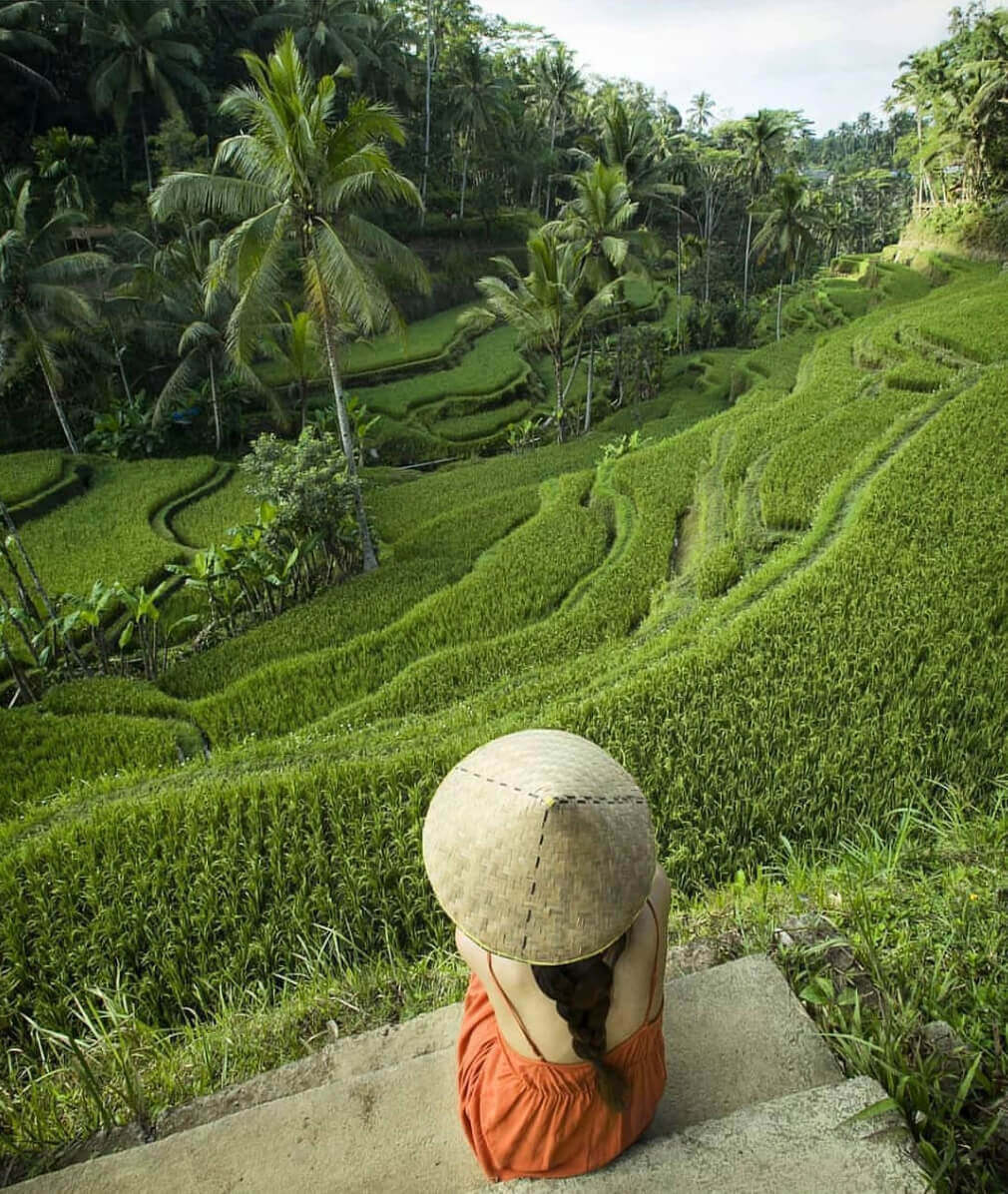 Our Top Trending Bali Tours
Local Balinese coffee plantation
Before taking on the most popular attraction in Bali, take a relaxing stop at a local Balinese coffee plantation for the perfect mid-day coffee break and tasting. Have you heard about Luwak Coffee?
Custom to Bali, you must try the unique coffee at least once! It is the most expensive coffee in the world and the perfect chance for coffee snobs to check this off their bucket lists!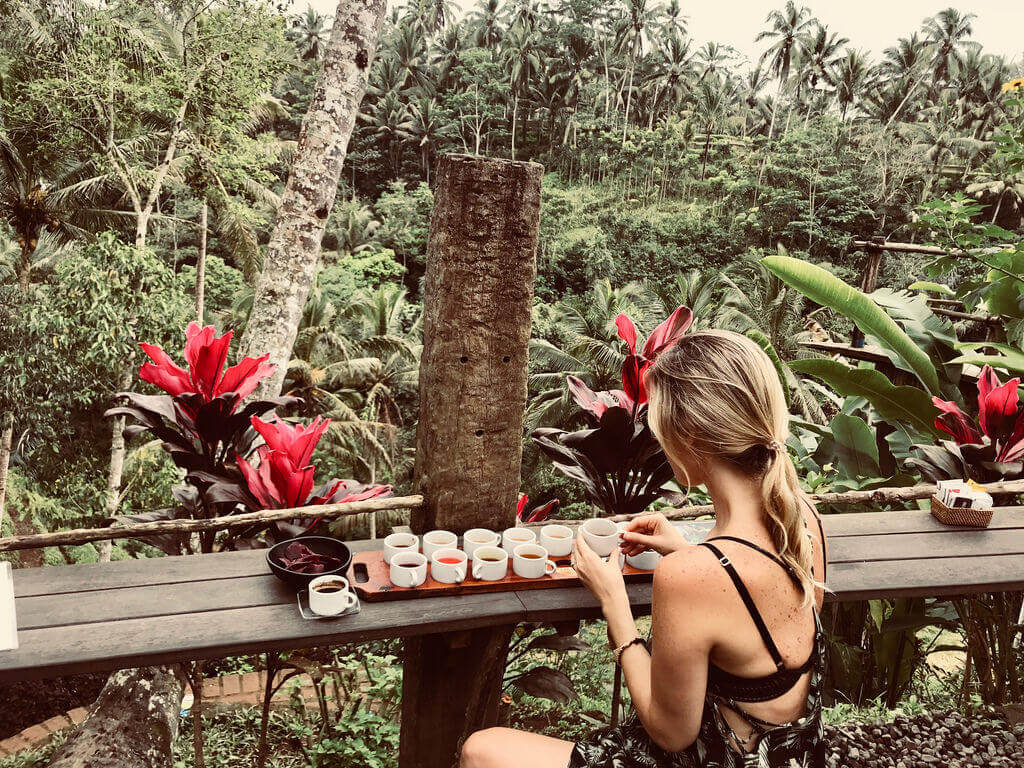 Famous jungle swing
Bali Swing has 12 unbeatable single swings (ranging from 10m to an impressive 78m), 9 cute nests, a helicopter and heart rock in the jungle, and a massive stone over the edge above the valley with an outstanding view of the canyon and waterfall.
With no time limit and unlimited usage, we promise you'll leave with hundreds of insta-worthy shots! We call this Bali's own unique amusement park!
Our favorite part is the biggest swing of them all – with hundreds of palm trees in front of you and the wind in your hair, it's that "Bali Vacay" picture any true islander would have!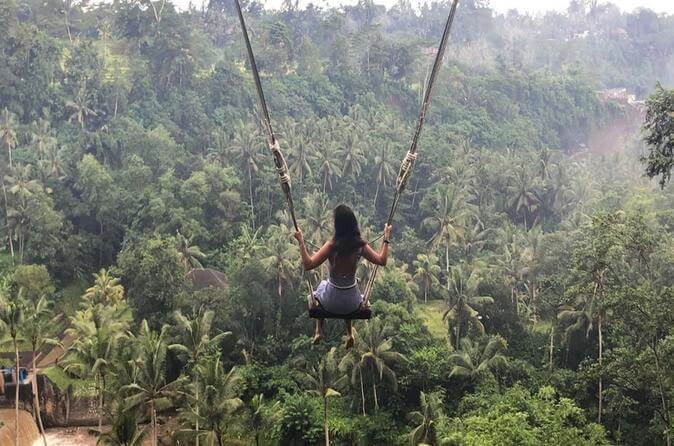 Looks fun. Right? Here is a one-minute video overview of our Bali Instagram Tour: Most Famous Spots
If you want more information about our Bali Instagram tour or would like to take this tour with you, you can click here.
Get your VACATION on!
Expertly curated emails packed full of vacation inspiration, travel tips and more!