Nightlife in Bangkok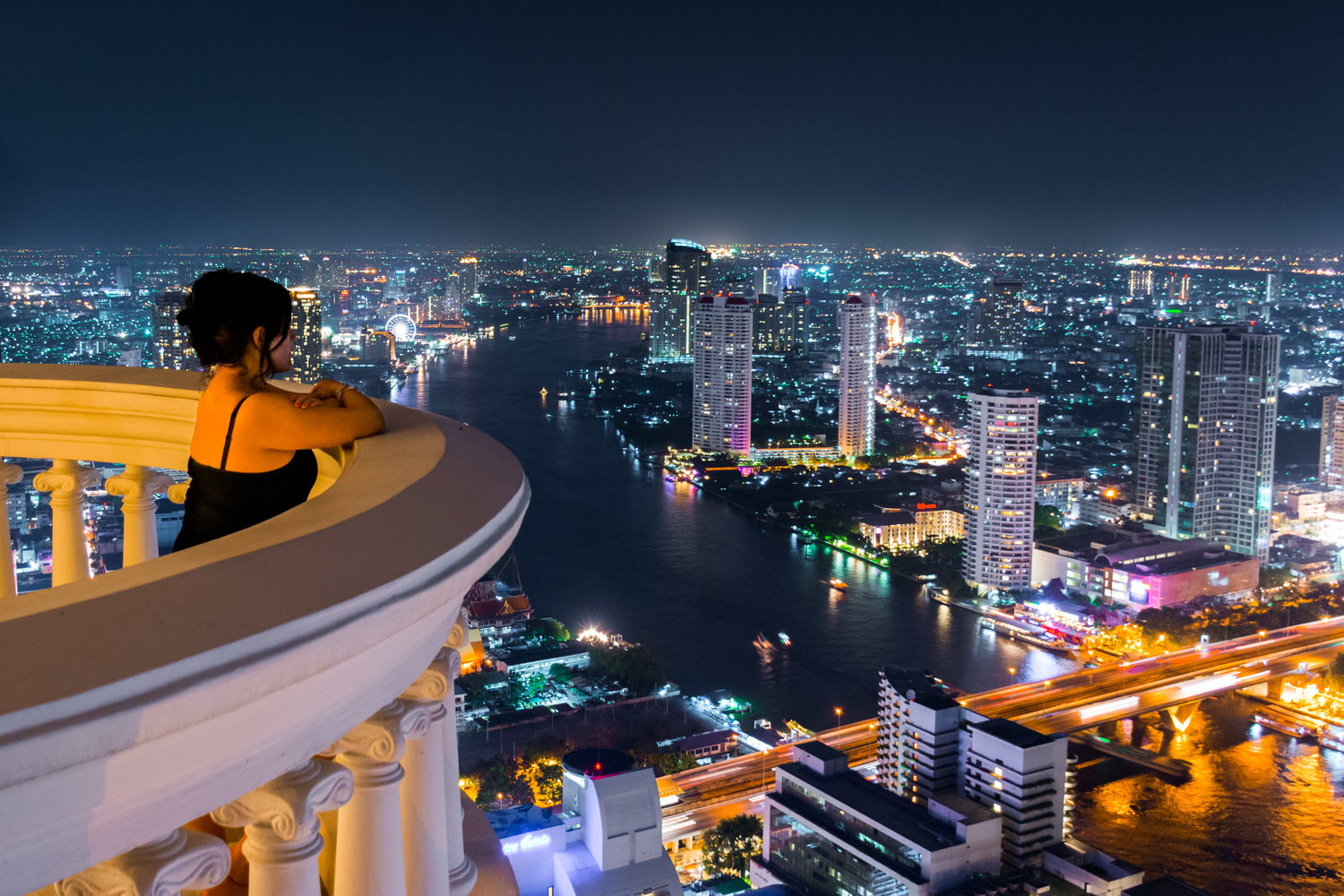 Bangkok is well known around the globe for many things, but the Bangkok nightlife has to be the one that stands out the most for people traveling to Thailand. Bangkok really comes alive after the sun sets and in this article we will tell you all about the best ways to experience the nightlife in Bangkok!
Once you're done with one of our guided tours in Bangkok, experiencing the Bangkok nightlife this city has to offer is a great way to end the day.
Our Best Selling Tour
All-Inclusive

Bangkok By Night: The Ultimate Experience

I'm sure you've heard it said before but there is something quite special about Bangkok at night; let our Bangkok By Night: The Ultimate Experience show you the best bits! The lights, the hustle and bustle, the smell of street food, Bangkok's culture comes out to play at night. Our tour in Bangkok will take you from a local night market to the Michelin Star Kitchen. You'll explore the infamous Khaosan Road by tuk-tuk and admire the illuminated temples at night. This all-inclusive Bangkok tour has everything covered including a delicious, traditional Thai dinner.
NIGHT MARKETS
One of the most fun things to see in Bangkok at night is the lively night markets. Night markets can be found all over the city and no two are the same. Bangkok night markets typically start around 5 PM and last all night long, some until midnight! Night markets are also an awesome way to immerse yourself into Thai culture and see how the locals live and eat.
Get some fresh food from street food carts, pick up some cheap clothes and souvenirs, even venture out of your comfort zone and taste a fried bug! A few of our favorite examples of Thai night markets include the Talad Neon Night Market and the massive Rod Fai Market in Ratchada.
The Talad Neon Night Market is a unique market that offers food, drinks, shopping, and even some dancing, all while surrounded by neon lights. We love this market for a fun night out if you're looking for a unique piece of Bangkok nightlife. If you would love to see this unique night market, join us on our Bangkok By Night Tour!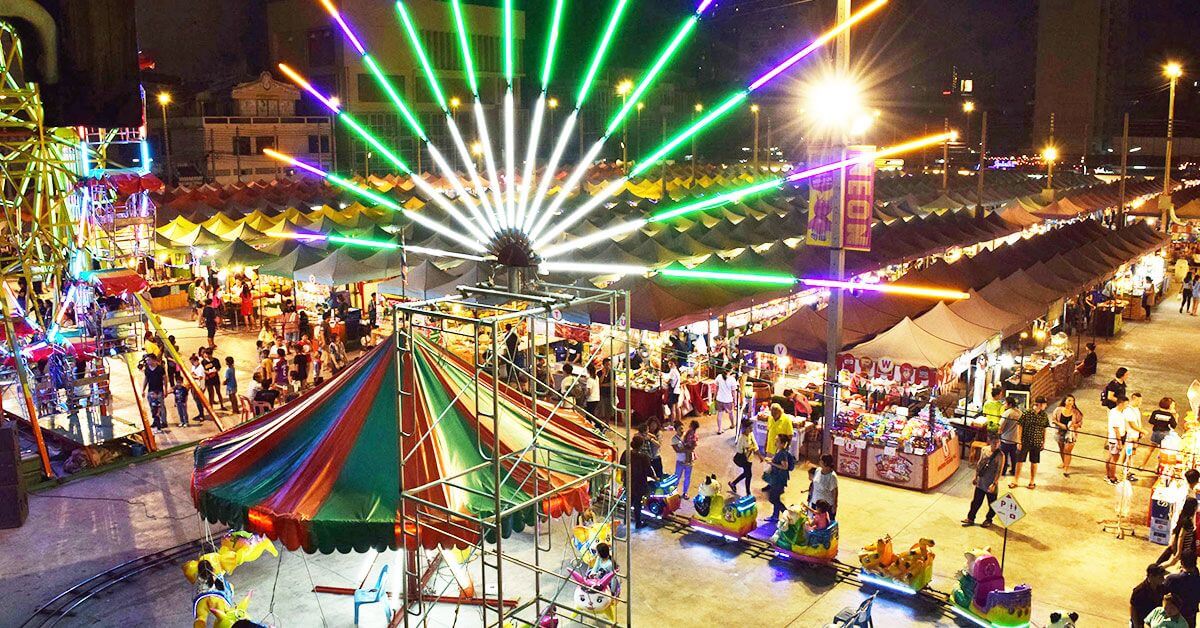 The Rod Fai Market is easy to access via the MRT and covers a lot of ground. This market is most famous for its colorful stalls that create quite the view for shoppers.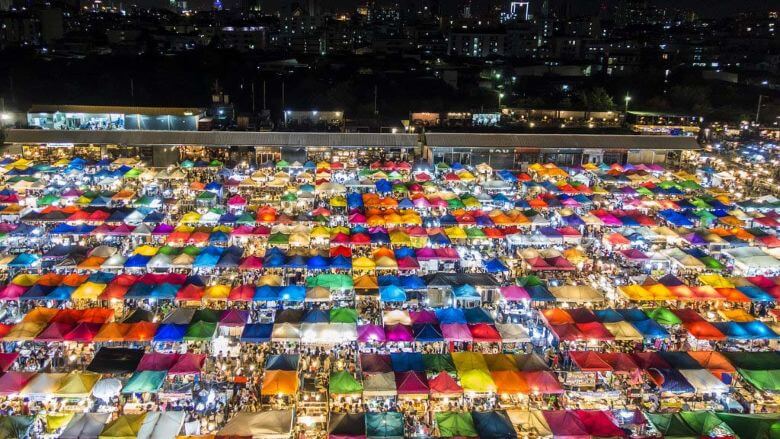 STREET PARTIES AND RED LIGHT DISTRICTS
Something you can't miss during your trip to Thailand is the amazing Bangkok nightlife, street parties and redlight districts. Places like Khao San Road, Nana Plaza and Soi Cowboy offer crazy Bangkok nightlife experiences promising cheap drinks, lots of people watching, clubs, and dancing. There are clubs and bars lined up making the streets a giant party.
Khao San is similar to night markets as you can find food and shopping up and down the street, but what makes Khao San so famous is the huge party it offers, also making it one of the best nightlife experiences in Bangkok. The whole street has music playing and is one of the most visited places in Bangkok for travelers.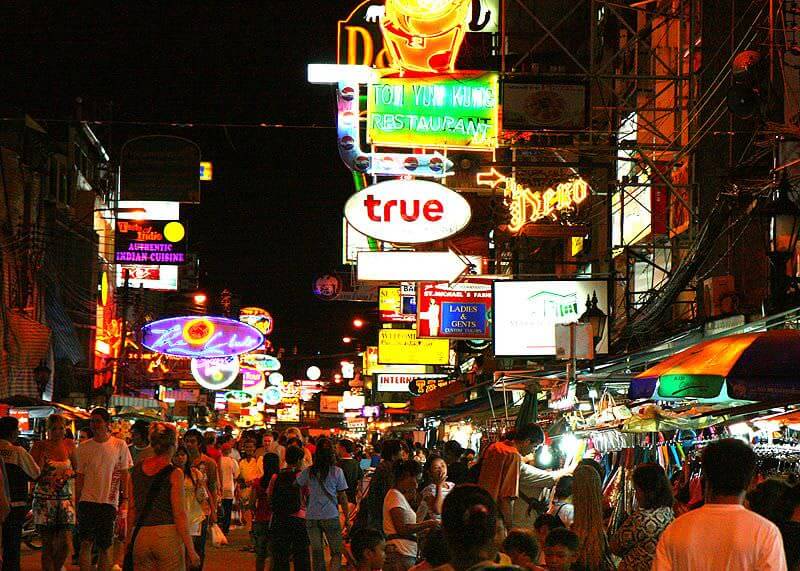 Nana Plaza is a bit different; occupying a three story building that is full of go-go bars and clubs. Even if partying isn't your scene, Nana Plaza is definitely something everyone should see at least once when experiencing the nightlife in Bangkok.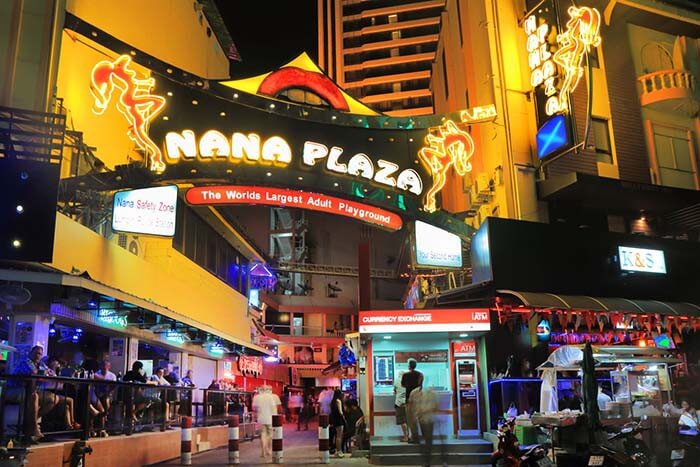 Soi Cowboy is another red light district in the city known for being a bit crazy. Soi Cowboy is the smallest street of the three, but it makes up for it!
There are about 40 bars lined up and Soi Cowboy has even been featured in movies. If you're looking for some popular nightlife in Bangkok, give these streets a try, even if it is just for a cheap drink and some people watching.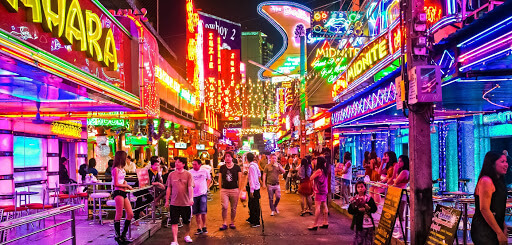 SKYBARS
The final Bangkok Nightlife experience you can't miss are the amazing sky bars scattered throughout the whole city. Atop most of the best hotels in Bangkok you will find rooftop bars that all offer beautiful views of the city and are all totally different and unique.
No matter what you are seeking in a rooftop bar, you'll be able to find it in Bangkok. From luxury date night spots, to hipster hangouts and even live DJ's and dancing, the rooftop bar scene in the Thai capital offers it all. Some of our favorite sky bars are Lebua Skybar, Vertigo, and Above Eleven, so if you're looking for unforgettable Bangkok night life then give one of these a try!
Lebua Skybar is our absolute favorite spots in Bangkok for a combination of amazing nightlife and a stunning location. On the 63rd floor of The Dome at State Tower, you will find absolutely beautiful views towering over the whole city and the Chao Phraya River, delicious food, and classy drinks.
You will be treated like a celebrity from the second you walk in. The staff is top of the line and even helps take awesome photos for you.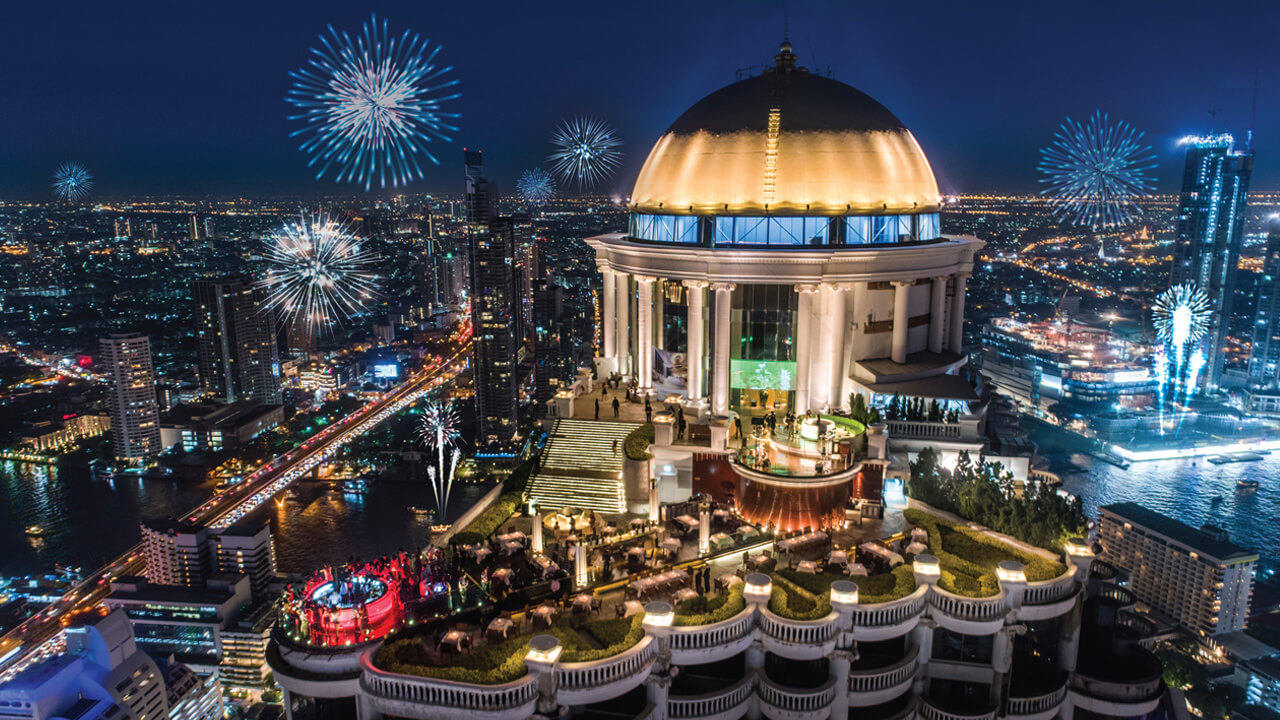 Vertigo is on the top of The Banyan Tree Hotel Bangkok and is a uniquely shaped bar that offers lovely views and premium drinks.
The modern and classy but informal setting is perfect for a night out with friends or a date night, making this another one of the best options if you're looking for some Bangkok nightlife on your trip.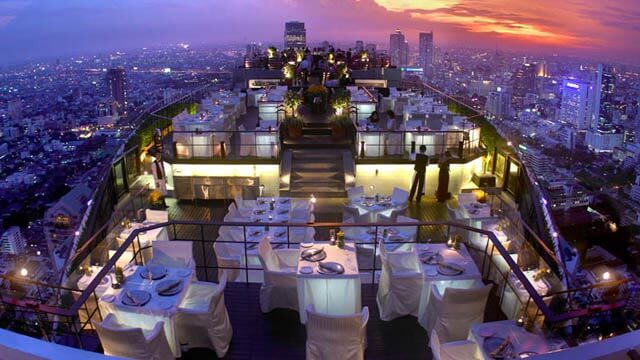 Above Eleven is a great rooftop bar and restaurant towering over the Sukhumvit area that offers delicious Peruvian and Japanese food.
Above Eleven has a rotating schedule of DJ's for each day of the week giving it a fun vibe that everyone can enjoy. Sky bars are one of our favorite things to explore in Bangkok for the incredible views and because each one is different than the next.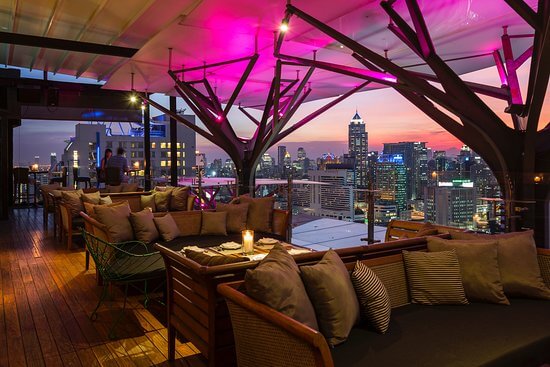 Also, be sure to check out our famous, Bangkok Night tour if you want to get a glimpse of the culture and excitement of Bangkok during the night.
Get your VACATION on!
Expertly curated emails packed full of vacation inspiration, travel tips and more!