 Khao San Road
Khao San Road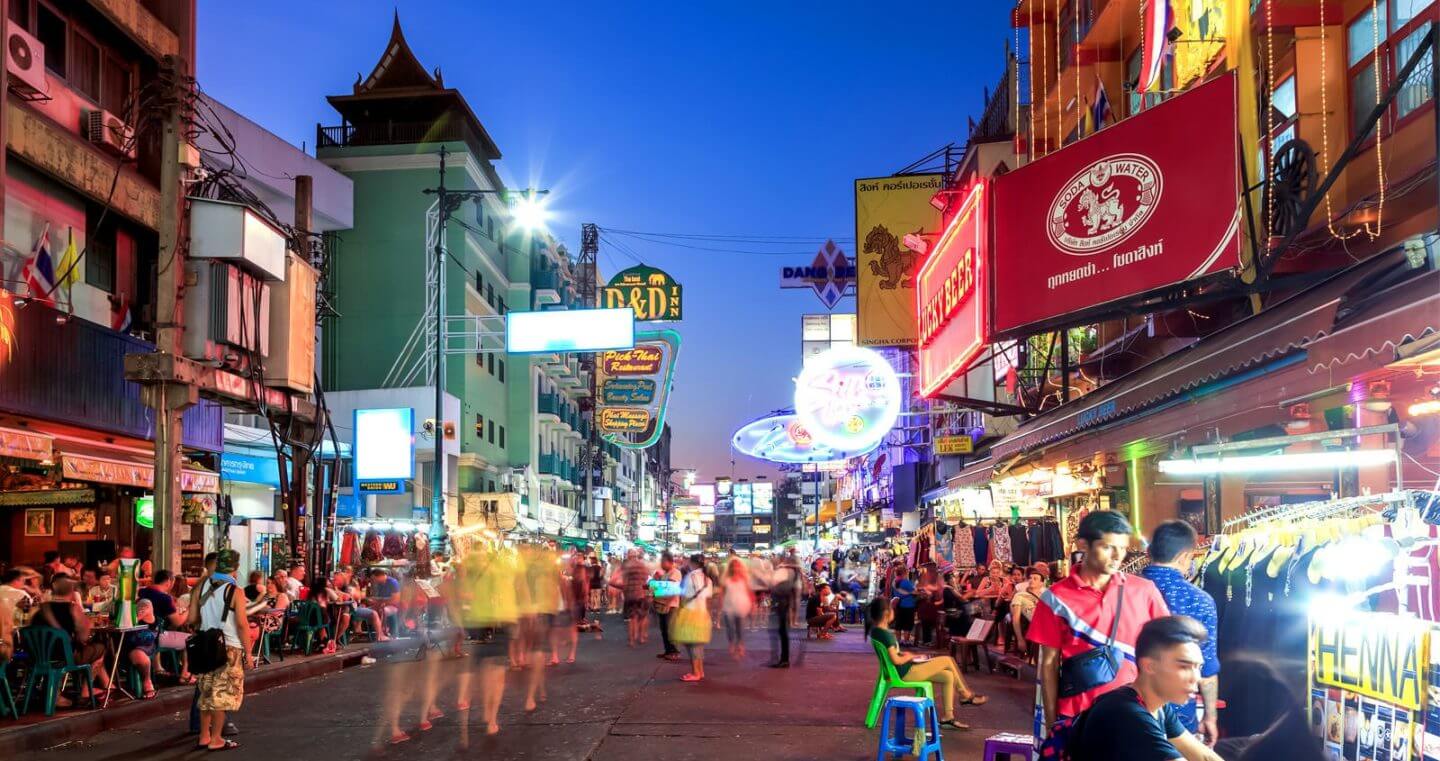 Khao San Road
Khao San Road
Attractions Details
| | |
| --- | --- |
| 📌 Address | Khaosan Road, Banglamphu, Bangkok, Thailand |
| ⏰ Opening Hours | Always open |
| 💸 Entrance Fee | Free |
Find it on google maps
Probably the most famous street in Bangkok and a must-go to area for any backpacker, Khao San Road is a chaotic place in the middle of the district Banglamphu and offers a vibrant and colorful Bangkok tour experience.
With plenty of food stalls, bars, souvenirs and much much more to sink your teeth into, Khao San Road transforms from day into night so it's something to experience at both points of the day!
Visit Khao San Road on Our:
All-Inclusive

Bangkok By Night: The Ultimate Experience

I'm sure you've heard it said before but there is something quite special about Bangkok at night; let our Bangkok By Night: The Ultimate Experience show you the best bits! The lights, the hustle and bustle, the smell of street food, Bangkok's culture comes out to play at night. Our tour in Bangkok will take you from a local night market to the Michelin Star Kitchen. You'll explore the infamous Khaosan Road by tuk-tuk and admire the illuminated temples at night. This all-inclusive Bangkok tour has everything covered including a delicious, traditional Thai dinner.
You can find literally ANYTHING at Khao San Road: from dreadlocks, piercings, tattoos to a fake passport or a driver's license, you won't have any trouble finding it here! Many people choose to stay in Khao San Road for its great location as it is within close proximity of a lot of cultural attractions (such as Wat Pho and the grand palace).
You might even recognize Khao San Road from the Hollywood blockbuster "The beach" with Leonardo Dicaprio as the opening scene of the movie was filmed here!
Fun fact: 50 years ago, Khao San Road was locally known as a good place to buy rice and home to one of Bangkok's largest rice markets. The name Khao San actually means 'milled rice' in English and was given to the road for its historic link to the rice trade.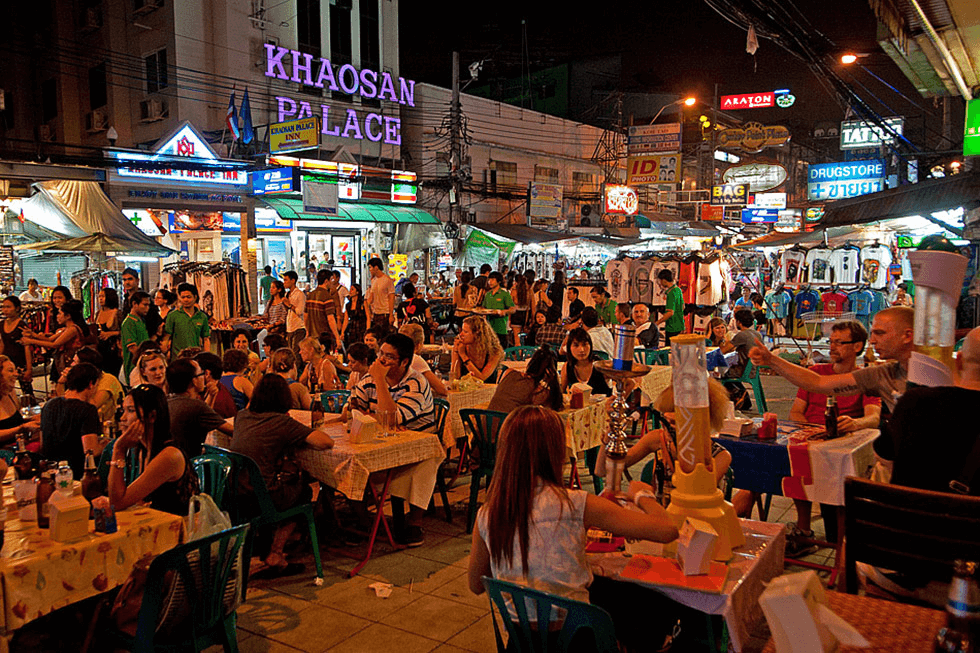 How to get to Khao San Road
It's very easy to find Khao San Road and literally every taxi or tuk tuk driver knows where it is! If you are already in the city, it's best to take a taxi or a Tuk Tuk.
Our Top Trending Bangkok Tours
If you're coming from the airport:
- As soon as you walk out of Bangkok airport you will find taxis everywhere and the ride takes about an hour.
- You can also take a special Airport Shuttle Bus (Bus line S1). These drive from Bangkok Airport to Khao San Road. The first bus leaves around 6:00 am and they run every 30 minutes.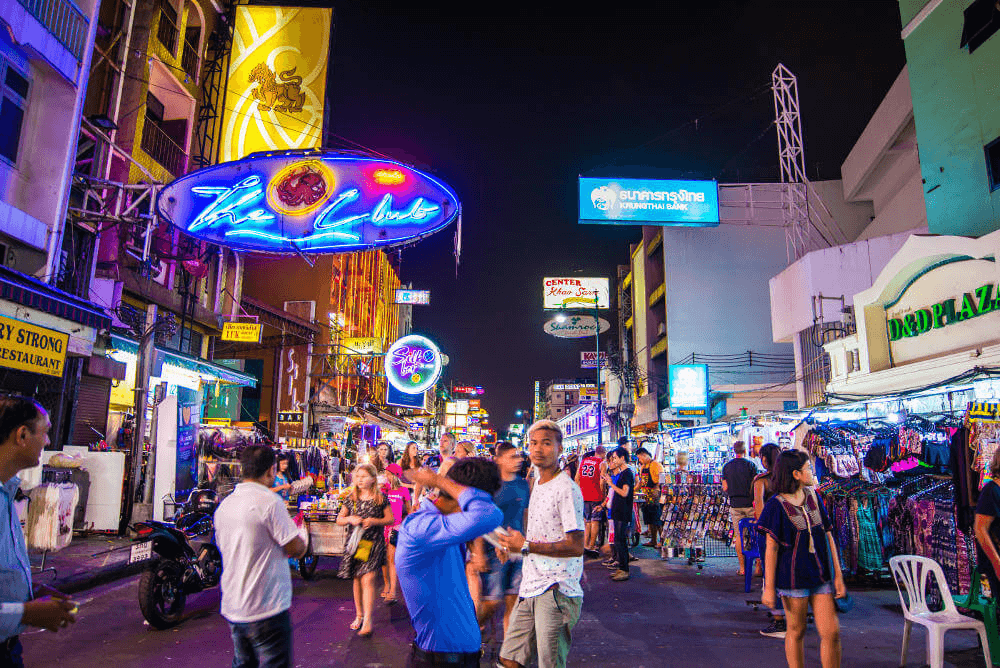 Best time to visit:
It really depends on what kind of experience you're after. During the day, it's a pretty mellow street where you can enjoy shopping or have a massage in one of the many salons.
However, if you want to meet other backpackers, party or drink, you will enjoy this street the most during the evening or at night time!
Tips:
Getting an accommodation at Khao San Road is not ideal for those who want to get a good night's rest. The area is very noisy and does not quiet down until around 4 AM.
Always keep a close eye on your belongings, especially when visiting at night!
Attractions Details
| | |
| --- | --- |
| 📌 Address | Khaosan Road, Banglamphu, Bangkok, Thailand |
| ⏰ Opening Hours | Always open |
| 💸 Entrance Fee | Free |
Find it on google maps