15 Instagrammable Spots You Must Visit In Thailand
15 Instagrammable Spots You Must Visit In Thailand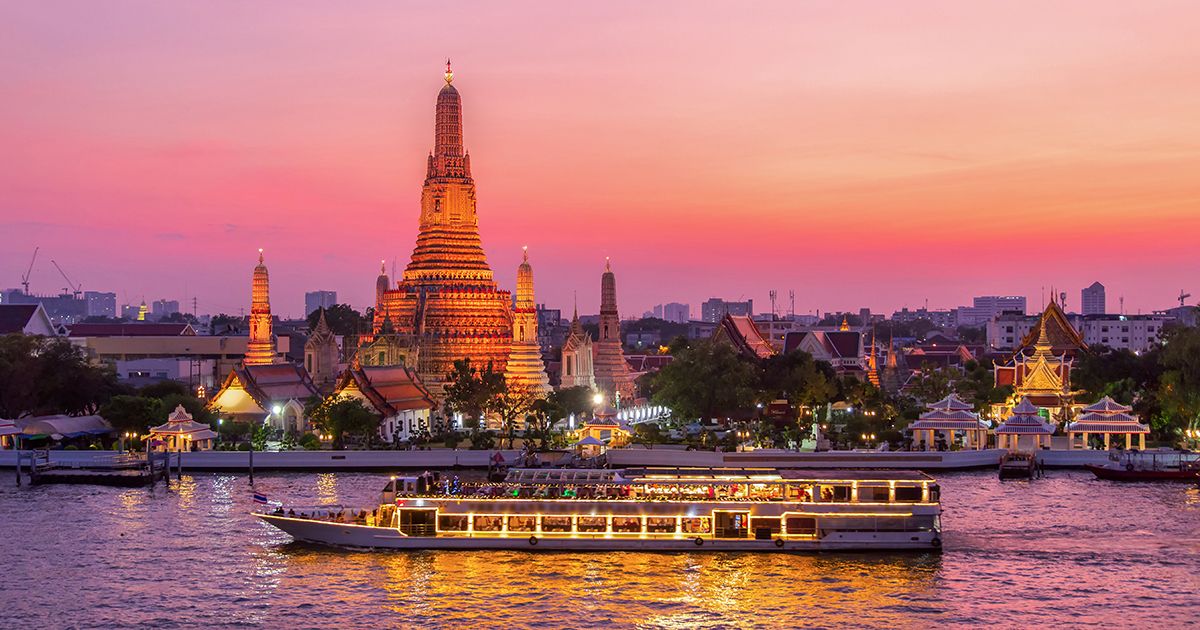 Thailand is an Instagrammers dream. With bustling city life, picturesque beaches, and lush green hilltops on offer, there is certainly no shortage of insta-worthy locations. Having traveled south to north Thailand, I've encountered some magical spots - and I will share them with you!
So hopefully, you can explore some amazing places while you're on vacation and brighten up your Instagram feed simultaneously!
Our Top Trending Thailand Tours
1. The Grand Palace, Bangkok
The Grand Palace, situated in Bangkok spans a whopping 2.35 million square feet, so there are plenty of photo opportunities here! The grounds hold many different temples and statues, each beautifully adorned with colorful tiles and decorations - making them the perfect backdrop to any photo.
It also houses the Emerald Buddha, which some consider being the most important Buddha image in Thailand so it's worth a look. The Palace is easily accessible by boat, train, or taxi from pretty much anywhere in Bangkok and entry is 500 baht (around $16).
Do remember to dress modestly; otherwise, you can rent sarongs to cover up for a small fee.
2. The White Temple, Chiang Rai
The White Temple (Wat Rong Khun) in Chiang Rai is definitely worth going further north of Chiang Mai. The Temple is visually one of the most impressive in Thailand, with its pristine white color and intricate design.
The epic artwork was created by eccentric local artist Ajarn Chalermchai Kositpipat who designed and constructed the White Temple with his own funds. As it's so different to the many other Thai temples, I think it's really worth going to see. Plus, the building is so photogenic it's bound to look great on your insta feed!
3. Sky Bar, Bangkok
Having a cocktail in a rooftop bar while taking in panoramic views of the city is a MUST when visiting Bangkok. There are plenty to choose from, but Sky Bar is the original and most well-known (due to a feature in 'The Hangover 2').
A massive 63 floors high, the views here are incredible. Enjoy a fresh fruity cocktail in style and get some amazing shots for your social media! With the buzzing vibe of the place, you might even want to continue the night til the early hours!
4. Koh Tao
Of all of the southern islands in Thailand, Koh Tao is definitely my favorite. It's a bit more chilled out than the nearby party island of Koh Phangan, but it still has a fun young feel. Here you can enjoy the beautiful beach all day - swim and snorkel to your heart's content!
Then kick back, relax with a beer, and watch the sun go down - the perfect opportunity to get some incredible holiday snaps.
5. Chinatown, Bangkok
Bangkok Chinatown is the largest Chinatown in the world. It is also, arguably, one of the best Chinatowns to visit as well. While many countries have Chinatowns, none compare to Bangkok's!
Try all of the freshly cooked street food, then relax in one of the many bars and take it all in. The hustle and bustle and lit-up streets make it a great backdrop for some awesome photographs!
6. Bangkok's Floating Markets
Damnoen Saduak Floating Market is Bangkok's largest and oldest. Established in 1866, it's exploding with authenticity and history.
The chaotic canal will be full to the brim with hundreds of vendors in their small rowing boats, selling a plethora of original Thai products.
If you're hungry, mango sticky rice and pork satay are must-tries! Make sure you capture this one-of-a-kind experience.
7. Erawan Waterfalls
Located less than 4 hours from Bangkok, Kanchanaburi is a popular stop for many travelers as it is home to the magical Erawan Waterfalls. The famous seven-tiered falls are absolutely stunning and make for some amazing photographs.
Be prepared to spend the whole day here if you want to see all of the tiers and spend some time relaxing and swimming in the crystal clear pools. Beware of the fish, though, and they like to nibble!
8. Ayutthaya
The ancient town of Ayutthaya is just 2 hours north of Bangkok and well worth a visit. The remnants of the ancient empire are still scattered in the form of brick ruins and headless Buddha statues throughout the old capital city, making it a really interesting location to get some holiday snaps.
It has even been described as the Angkor Wat of Thailand!
9. Pai
This little hippy town located 3 hours north of Chiang Mai is definitely worth a visit if you find yourself in the north of Thailand. Easily accessible by minibus from Chiang Mai, the 3-hour drive is full of twists and turns, taking you up a mountain through the clouds to the hilltop where Pai is nestled.
The lush green jungle starkly contrasts the sandy beaches in the south, but it is just as photogenic. Explore the town by scooter and discover some epic landscapes. Highlights include Pai Canyon and the ancient Chinese village.
10. Chiang Mai Elephant Sanctuary
Visiting an elephant sanctuary is another must-do in the north of Thailand! You'll get the amazing opportunity to get up close and personal with these gentle giants. Learn all about the elephants, then help to bathe and feed them! And, of course, get some cute pics that will spice up your Instagram.
You can usually book through your accommodation, but do be sure to check that you visit a sanctuary where the elephants are well-treated and are definitely not ridden!
Our Best Selling Tour
All-Inclusive

Mystical Chiang Rai and White Temple Day Tour

This is your chance to embark on your very own Mystical Chiang Rai and White Temple Day Tour. The White Temple is one of Chiang Rai's most intricate and picturesque temples, it's simply breath-taking. This 13-hour tour sets off into Thailand's stunning countryside, heading north to Chiang Rai. You'll make a stop at a hot spring before heading to the famous White Temple. You'll visit the famous Golden Triangle and see the Mekong River. Our Chiang Mai excursions include everything, from your entrance fees to your delicious Thai lunch. This is a bucket-list-worthy, Chiang Mai tour that everyone should aim to tick off!
11. Phi Phi Island Viewpoint
This viewpoint is one of the highest points on Koh Phi Phi, ensuring you have an amazing panoramic view of the tropical paradise. As the island is small, it's only about a 20-minute walk from the main road and not too difficult either.
The view is incredible, so you'll usually find plenty of other tourists up there! You should still be able to get your shot; however, then you can sit back and relax with a cold beverage at the viewpoints cafe!
12. Death Railway
Although the name doesn't make it sound that fun, this was a highlight for me in Thailand. Accessible from Kanchanaburi, the Death Railway is a pretty horrendous part of Thailand's history as it was built by WWII prisoners of war.
Originally called the Thailand-Burma Railway, it earned the nickname "Death Railway" because over one hundred thousand laborers died during its 16-month construction between 1942 and 1943. Once completed, it stretched 250 miles from Ban Pong, Thailand, to Thanbuyuzayat, Burma.
This sad but fascinating part of history is definitely worth visiting and makes for some interesting holiday photos!
13. Wat Samphran Dragon Temple
Wat Samphran in Bangkok, commonly referred to as "the Dragon Temple," stands out among the many other temples in the Thai capital due to its towering pink temple with a green dragon wrapped around its outside.
This 17-story temple once required stairs to get up to the top, but now there's a walkable tunnel that leads you up to the very top. The temple grounds are home to multiple animal-shaped buildings and statues, including an elephant, a turtle, and a rabbit.
All of these have significance in Buddhist culture and folklore. Unlike any other temple in the country, it's definitely worth coming to get a photo here!
14. Chiang Mai Night Markets
Whether you're looking for souvenirs or not, a walk through Chiang Mai's famous night bazaar is always a worthwhile experience for the lively atmosphere, the food, and the chance to find a bargain.
The night bazaar in Chiang Mai is one of the most famous in Thailand—with good reason, as it is one of the oldest evening markets in the country. The massive sprawl of vendors goes on for several blocks and makes for an exciting evening.
Its hundreds of twinkling lights look amazing in the dark, and it's worth capturing the place's hustle and bustle on camera.
15. Big Buddha, Phuket
One of the top attractions in Phuket is the Big Buddha statue. From most of southern Phuket, the statue can be seen high up on Nakkerd Hills. The statue is 45 meters tall and depicts Gautama Buddha, upon whom Buddhism is founded.
The statue is pretty high up on the hill, so it can only be accessed by car or scooter. So, you can drive yourself if you're feeling brave or easily jump in a taxi - neither will cost much!
Do remember to dress modestly if you're going to visit and go at sunrise or sunset for some extra special lighting.
Get your VACATION on!
Expertly curated emails packed full of vacation inspiration, travel tips and more!