Best Bars in Singapore [2023 with photos]
Best Bars in Singapore [2023 with photos]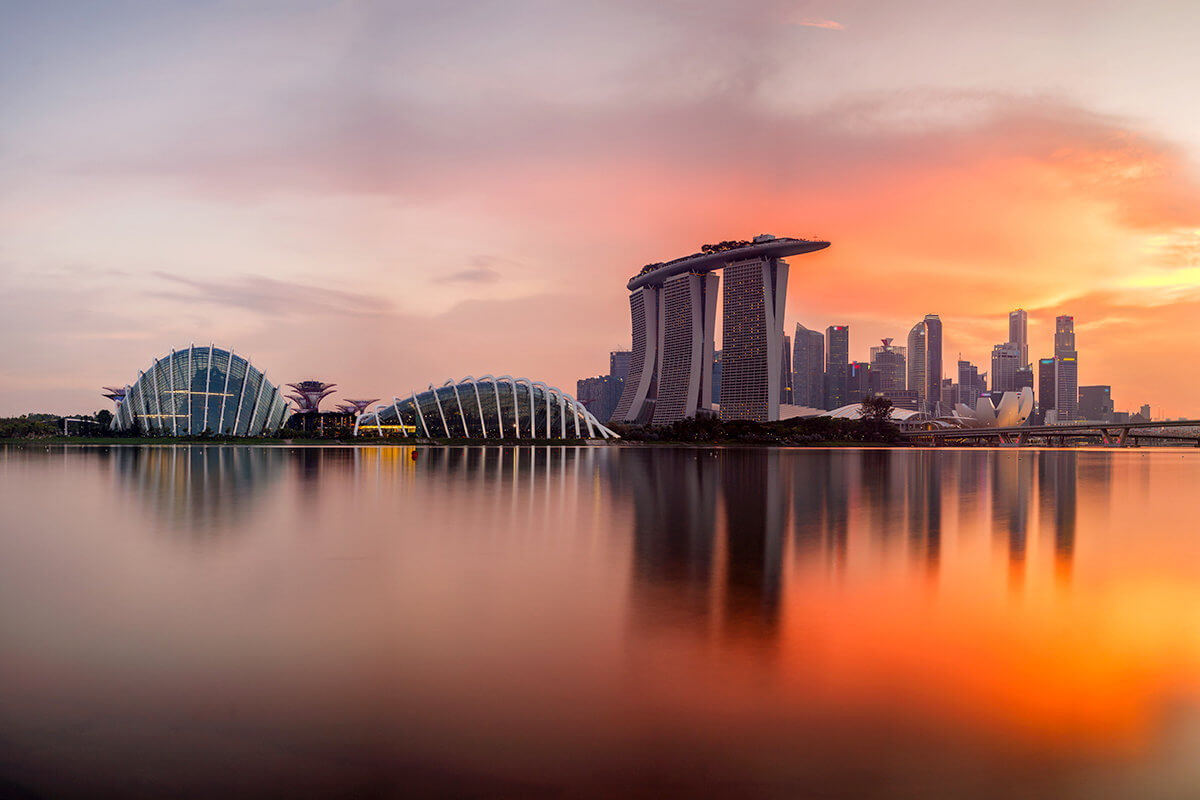 You won't be stuck for choice when it comes to cool new bars in Singapore. There are almost too many to try! I guess that just means you'll have to visit more than once! If you're in the country taking tours in Singapore and you're looking for the best bars in the area, we're here to help.
Want to jump on the bar-hopping bandwagon? We've found you some of the best bars in Singapore by neighborhood – all the way from the East Coast to Sentosa and the Quays in between.
Whether you're looking for chilled out cocktails with a view or an icy cold beer by the water, we've got you covered! Here are our top picks when it comes to finding the best bars in Singapore.
Orchard
Manhattan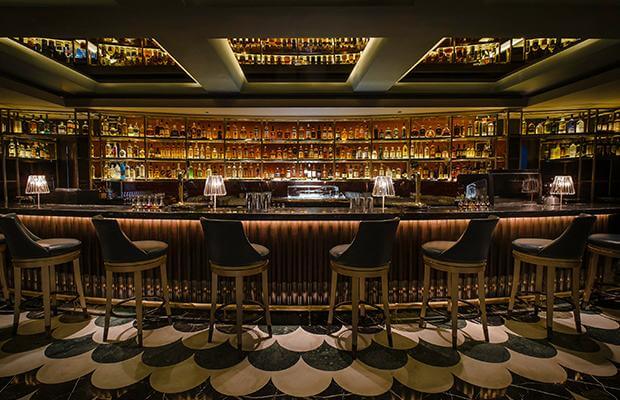 This swanky vintage New York-style Singaporean bar, Manhattan, is perfect for those who appreciate old school style. It's also the first bar in the world to have an in-hotel rickhouse, where American oak barrels are used to store fine spirits, as well as age bitters and single-cask cocktails.
If that's not cool enough, a special ingredient room has shelf upon shelf of jars full of cool finds like smoked sea salt and wild cherry bark. New York City's different areas have inspired the cocktails here and I can guarantee you'll probably end up trying something you've never even heard of before!
And even you need something to soak up the drinks, they have plenty of fun American-style snacks on offer. If you're looking for an American inspired bar in Singapore, you've come to the right spot.
Horse's Mouth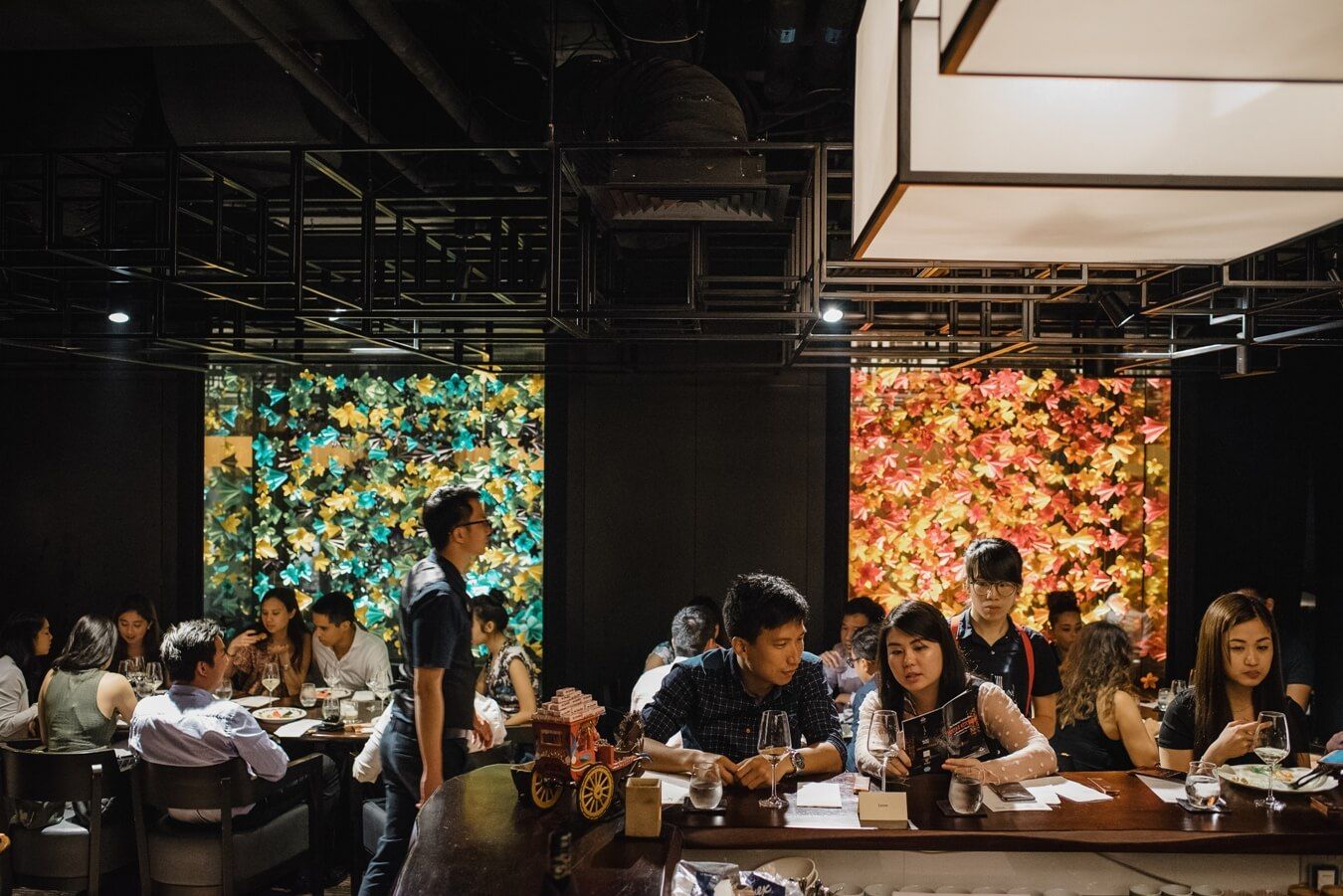 The Horse's Mouth is as discreet as they come – this bar in Singapore is hidden in the basement of Forum with no signage and doors blending into the wall. You have to know it's there, there's no one walking in off the street which gives it a cool kind of mysterious feel.
Why not try the range of sakes on offer or try a funky cocktail like the Bison Grass Martini. Their small but tasty list of nibbles includes Japanese seafood tempura and deep fried brussels sprouts!
Boat Quay & Clarke Quay
Southbridge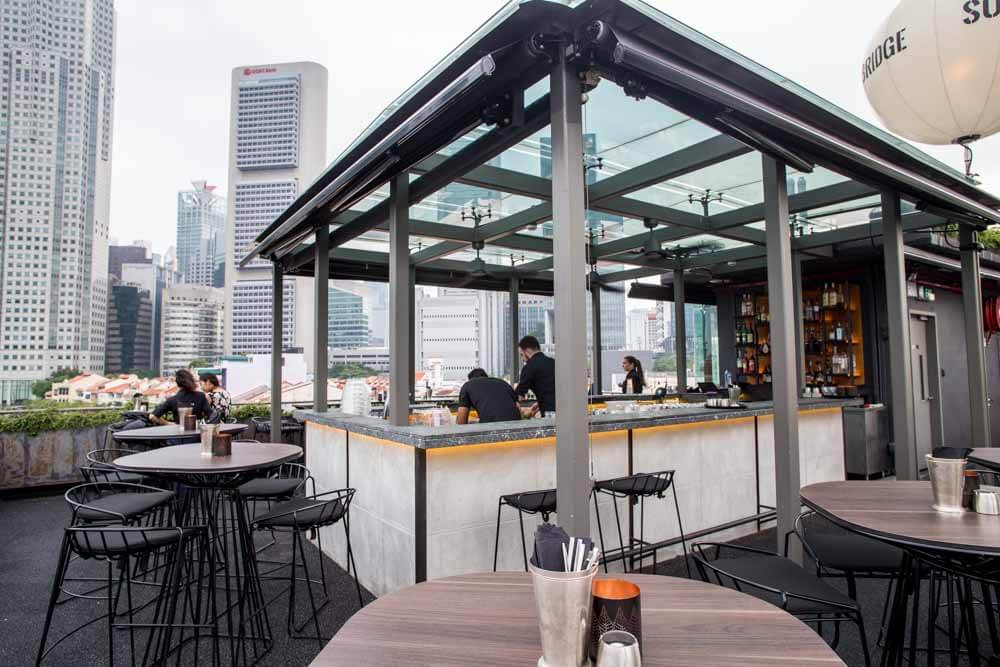 This chic new rooftop bar in Singapore, Southbridge, offers a killer view of Singapore's riverside landmarks. To complement their craft cocktails, beers, champagnes, its innovative small plates menu focuses on fresh seafood and oysters. If you're looking for a new bar in Singapore with a view, Southbridge is a great option.
Bitters & Love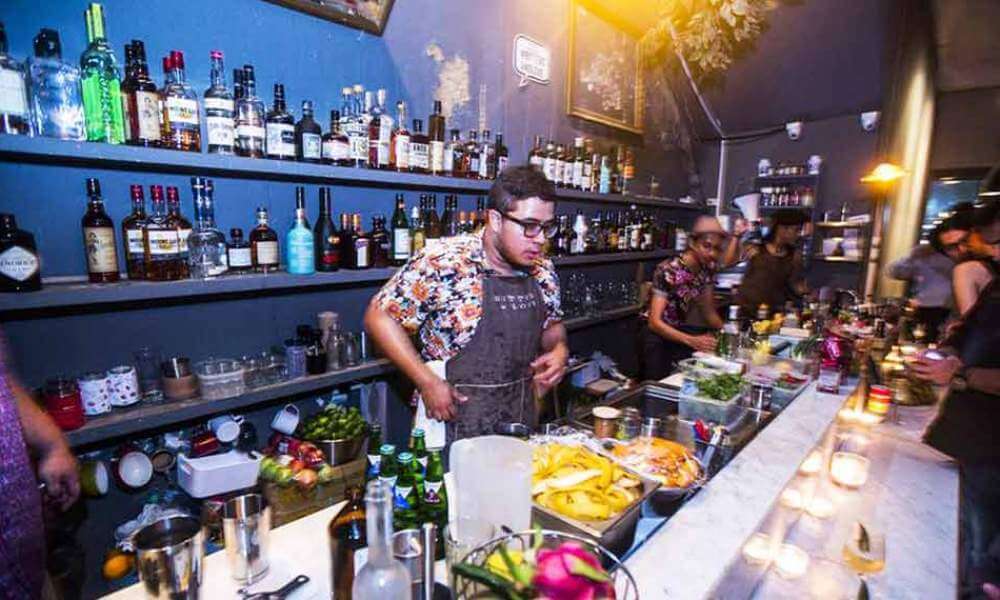 Bespoke cocktails are the main game at Bitters & Love, behind Shoebox Canteen. Considered by some to be one of the best bars in Singapore, they have some serious liquor on hand to play with, too, including an impressive collection of gin.
Test their knowledgeable bartenders with any ingredient and liquor you fancy, or have a go at their tried-and-tested list of favorites. To line your stomach, their artful bar snack menu includes Rangers Valley wagyu beef cubes and satisfying deboned chicken wings, making this bar in Singapore a great way to try something new.
Tanjong Pagar
Potato Head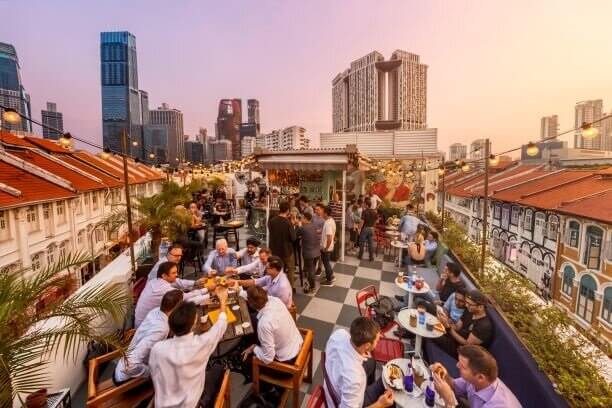 Run by the same folks behind Potato Head Beach Club in Bali, this ultra-trendy bar in Singapore offers four floors of fun. On the ground floor, Three Buns Kitchen offers laid-back roadside seats, gourmet burgers and bottled cocktails.
If you're after colorful wallpaper and eclectic vintage, head to level two, if decadent glamour and classy bar snacks is your thing, hit Studio 1939 on level three, and if you love a fairylight-strewn rooftop, make that climb to level four. Potato Head has everything you could want when you're looking for a great bar in Singapore.
Jekyll & Hyde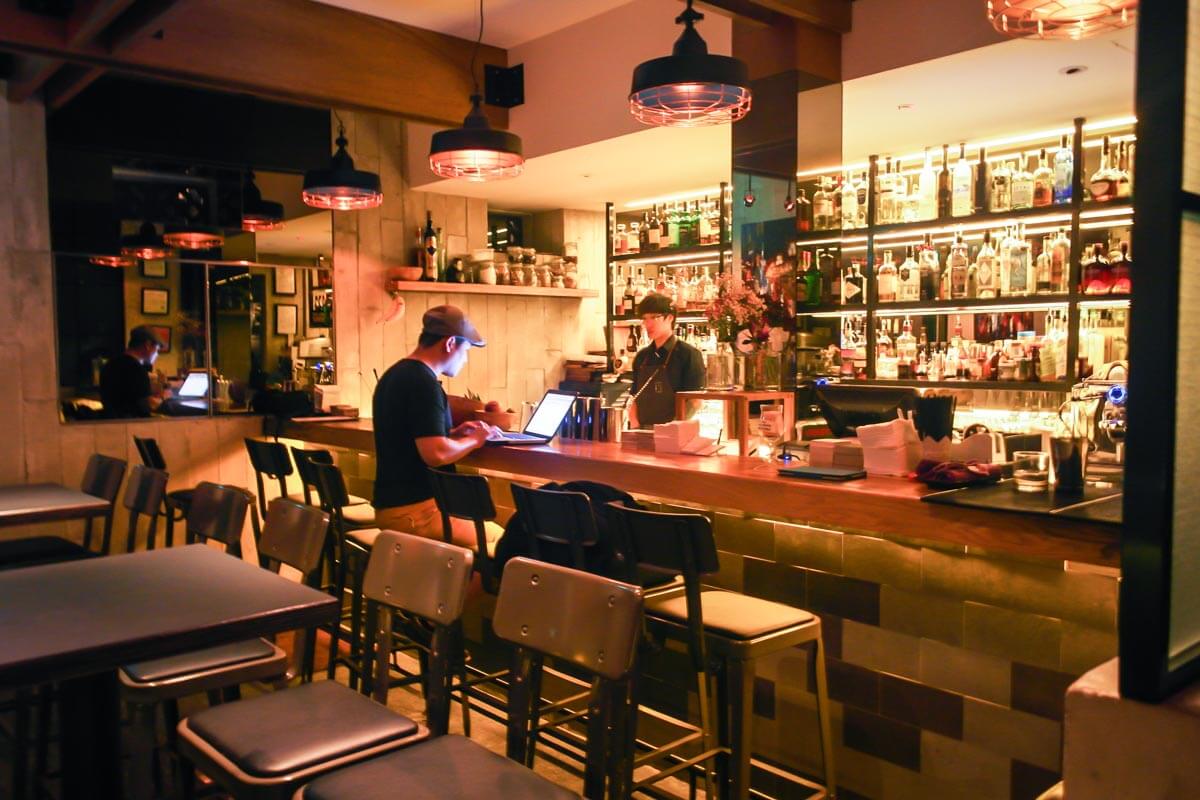 Gin lovers will feel right at home at Jekyll & Hyde, which takes pride in its collection of rare and delicately flavored gins. While the menu changes quarterly to keep things fresh, their Asian-inspired signatures are foolproof favorites. And of course, they whip up excellent personalized drinks too! The Jekyll & Hyde is undoubtedly one of the best gin bars in Singapore.
Chinatown
Operation Dagger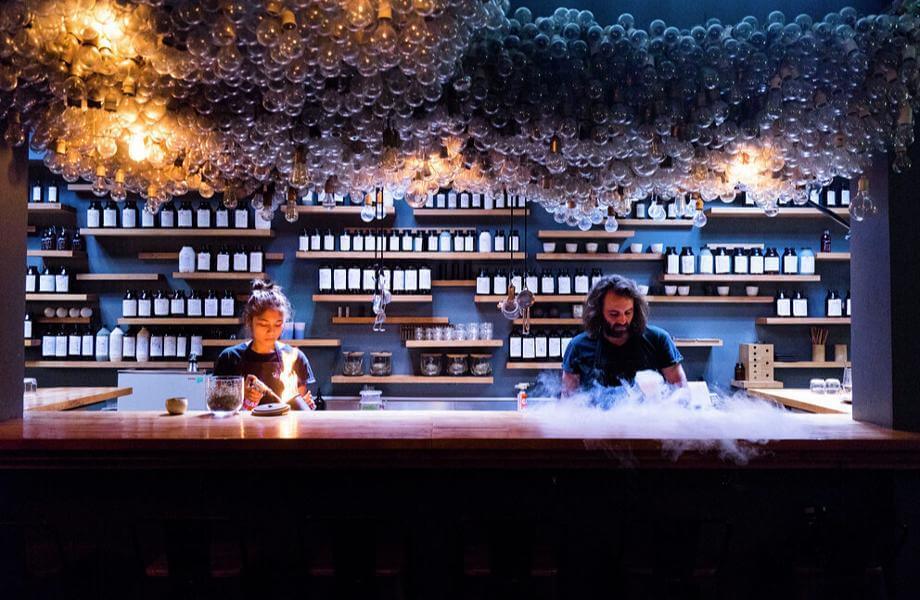 If you're looking for a mysterious or intriguing bar in Singapore, Operation Dagger could well be the perfect choice. Searching for Operation Dagger, which is hidden in a rather nondescript building, requires a sharp eye. A glass door marked by an enigmatic symbol is your only clue to its location. Descend the dark staircase, and you'll find a minimal space illuminated by thousands of clustered lightbulbs, intriguing cocktails and Asian-inspired Singaporean bar bites.
Jigger & Pony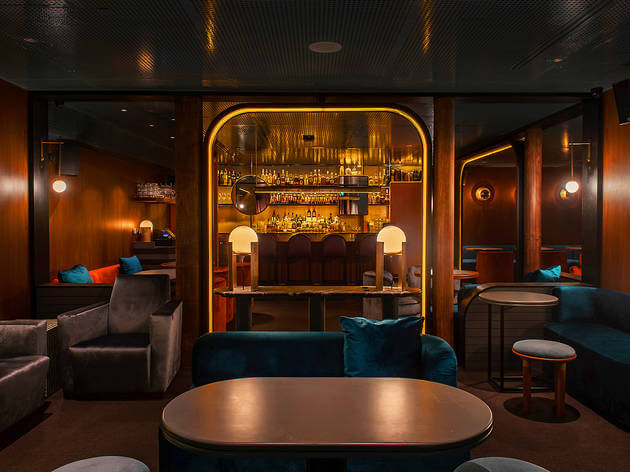 Drawing both well-dressed corporates and creative sorts, Jigger & Pony is all about classic cocktails. The menu is divided into Old Fashioned, Forgotten Classics and Modern twists, urging guests to try familiar drinks with new quirky twists.
They also offer whiskey and gin flights that let you taste three strains at a time. The food here is simple yet elegant, with star dishes like mushroom risotto balls and pork belly. Perfect for people who favor traditional and contemporary drinks alike, the Jigger & Pony is well worth a visit if you're looking for quirky bars in Singapore.
Singapore's CBD
The Secret Mermaid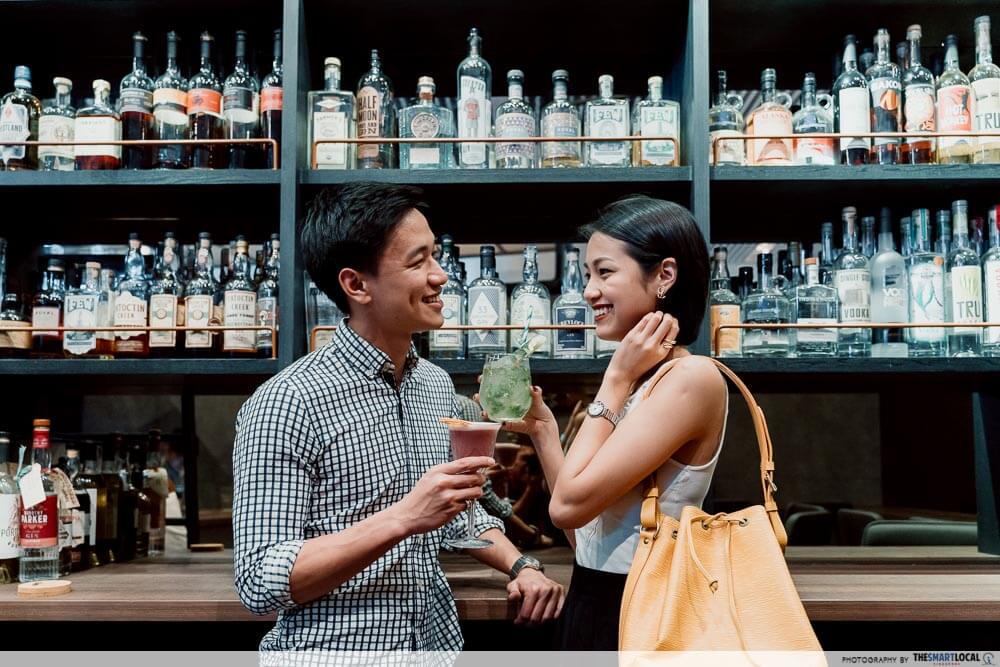 Hidden behind casual Japanese takeaway Shinkansen, which shuts after 5pm, The Secret Mermaid is only detectable if you recognize its heavy metal sliding door. Squeeze into the tight space to find an exciting collection of small-batch American spirits, each infused with curious flavors (including smoked salmon vodka)!
The knowledgeable bartenders will be more than happy to recommend you a pour and tell you all about its creation. Aside from tasting flights, where you can sample three types of spirits at a go, Secret Mermaid also has a neat list of classic cocktails. Food offerings include bites like truffle oil-splashed tater tots, making this an exciting and contemporary bar in Singapore.
Lantern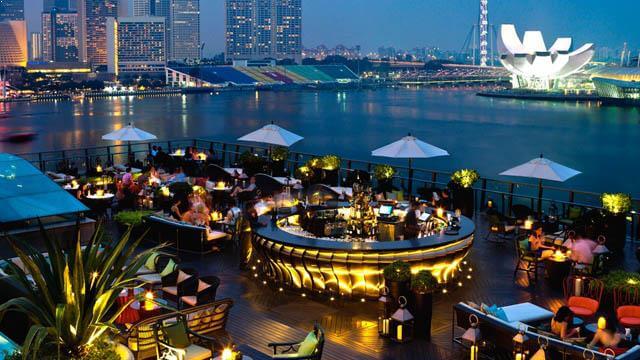 If you haven't heard of Lantern Bar, then you're missing a serious view across Marina Bay in a truly luxurious setting. This Singaporean bar is set on the rooftop of the Fullerton Bay Hotel – think gorgeous swimming pool, mood lighting and a large, airy bar that looks across the city from all open sides.
This is definitely one of the most expensive spots in town, but it's sure to be a memorable night if you come here! Indulge in exquisite Champagnes, signature cocktails, beers, spirits and gourmet Western nibbles - but you should probably avoid if you're looking for cheap bars in Singapore!
Our Best Selling Tour
All-Inclusive

Singapore Walking Instagram Tour

Our Singapore Walking Instagram Tour is one of our best tours of Singapore for those who prefer to explore and take in the amazing sights of this country on their own two feet! There's plenty to experience on this half-day trip - be it the incredible Gardens by the Bay, Helix Bridge or otherwise, you'll find many Instagram-worthy shots on this Singapore excursion. A private tour guide will accompany you so you can set up your photos exactly as you want them, as well as get local knowledge about Singapore and the sights you'll see along the way. This is a great activity in Singapore if you want to create some memories you'll never forget!
Sentosa
Tanjong Beach Club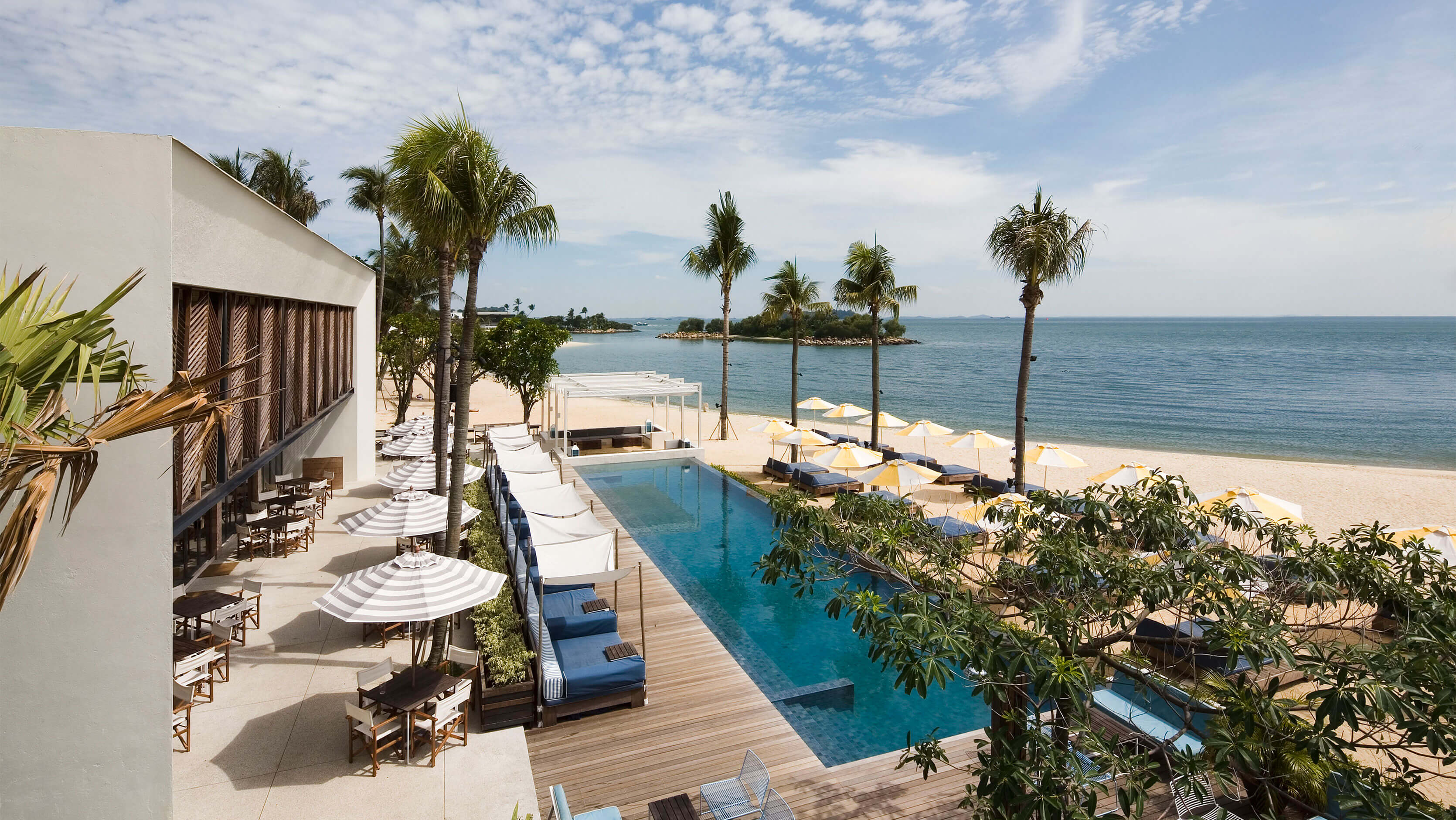 With cushy daybeds, an al fresco bar, a big pool and indoor/outdoor dining areas, Tanjong Beach Club is one of our favorite spots for a weekend laze – particularly because kids and dogs are welcome along.
Aside from always-reliable beer buckets, this bar in Singapore keeps a decent list of champagnes, wines, spirits and cocktails. Food keeps a seafood-heavy slant, with dishes like steamed mussels and whole ruby snapper in scallion vinaigrette.
Get your VACATION on!
Expertly curated emails packed full of vacation inspiration, travel tips and more!