Best Hotels in Thailand [2023]
Best Hotels in Thailand [2023]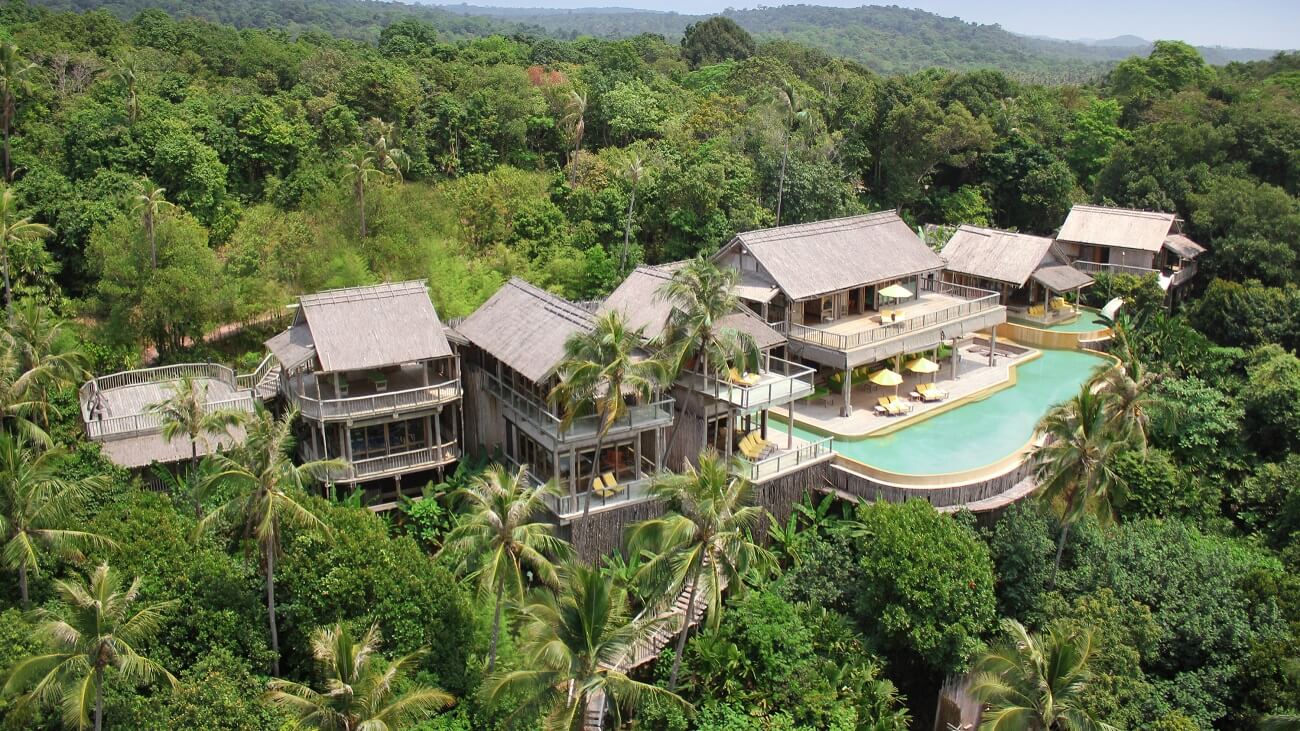 Ah, Thailand…'The Land of Smiles'. With a nickname like that, why wouldn't you want to visit this incredible country?!
A popular destination with backpackers, families and luxury travellers alike, due to its wide array of offerings to suit pretty much any budget, Thailand has got to be top of your travel bucket list.
Like a lot of Southeast Asian countries, the cost of living here is low - meaning you get A LOT for your money. So, if it's luxurious travel you're after, this is the place to go - with the best hotels in Thailand offering unparalleled luxury and comfort, there's no reason to visit anywhere else!
Our Top Trending Tours
All-Inclusive

Da Nang Instagram Tour: Most Famous Spots

All-Inclusive

Chiang Mai Ancient Village, Waterfall and Local Crafts Experience

All-Inclusive

Bangkok Iconic Tour: The Legendary Spots
The best hotels in Thailand are available at very affordable prices, making it the perfect place to kick back, indulge, and get your fix of culture at the same time!
With beautiful scenery ranging from white sandy beaches to lush tropical rainforests, there really is nothing more you could want from a vacation destination!
In this blog post, we've picked out the best hotels in Thailand for 2023. Start planning your dream getaway now!
Bangkok
Waldorf Astoria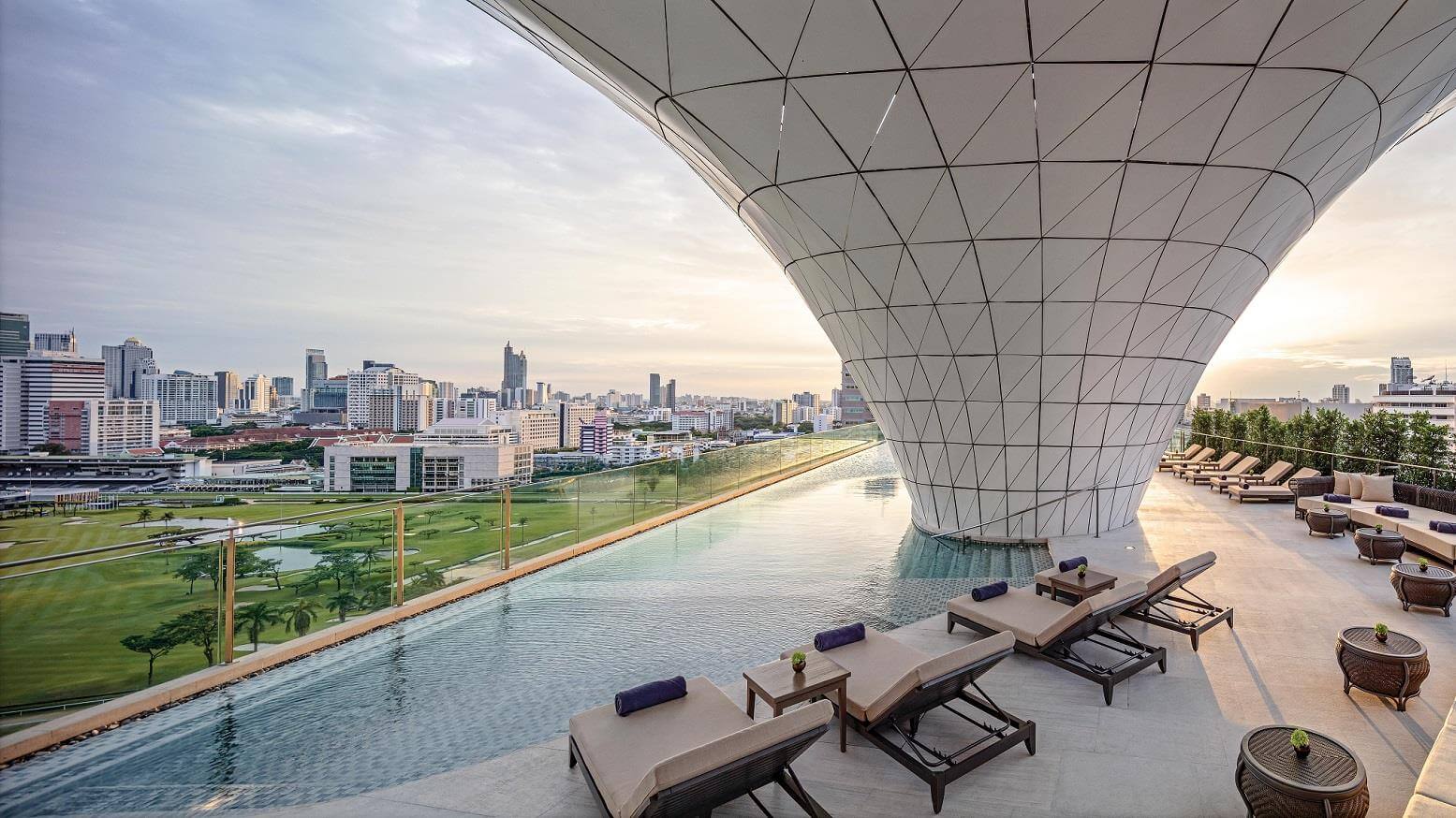 The famed Waldorf Astoria hotels began life in New York in the late 1800s and since then the group has built a reputation for top service and extravagant elegance at locations across the globe. And the Waldorf Astoria in Bangkok is no exception.
With bronze accents and soaring ceilings reflecting the opulence and grandeur of the original Waldorf Astoria Hotel in New York City, cleverly blended with Thai charm and luxurious comfort throughout, this hotel in Bangkok is fit for a king.
The rooms feel comfortable yet far from ordinary and offer park or city views. Indulgent relaxation facilities are available for guests to enjoy and the onsite restaurant and two (yes, two!) glamorous sky bars attract visitors on their own merit. Located in the Siam Ratchadamri area of Bangkok, on the ultra-modern Magnolias Ratchadamri Boulevard, this is a great base for business and leisure travelers alike. This is also a central base to embark on amazing tours in Bangkok from, a great way to explore the local area.
The Siam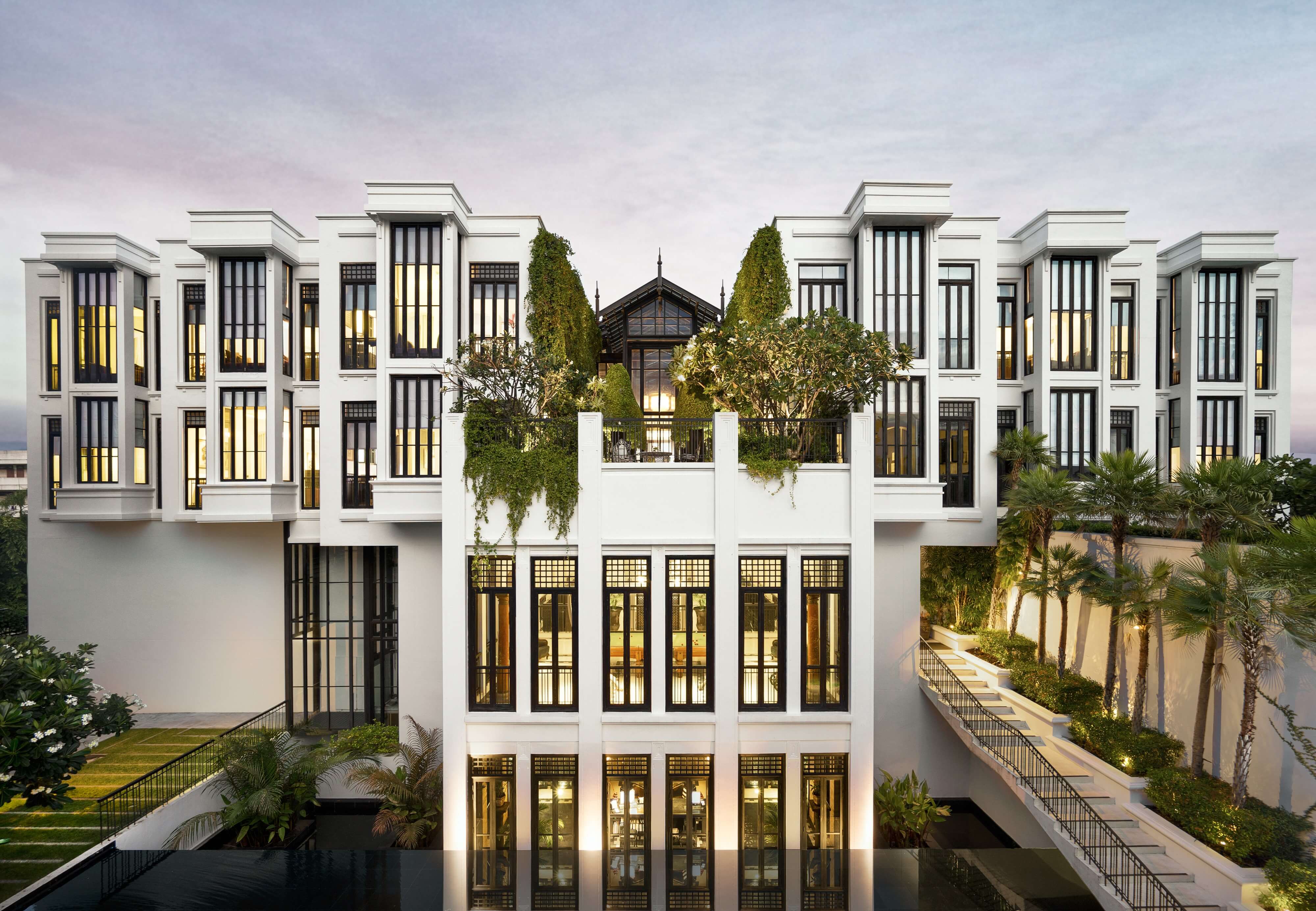 The Siam is surrounded by historical landmarks, museums and notable Bangkok temples, offering sightseeing convenience. Plus, this luxurious hotel in Bangkok is set on 3 acres of privately owned premium river frontage – the River of Kings.
It has a total of 39 guestrooms and is characterized by its oriental decor along with contemporary comforts. Designed by two world-renowned architects, The Siam offers one of the largest suites in Bangkok, as well as open roof terraces, private pool villas and a relaxing spa.
Eating here is also an unforgettable experience, with the hotel providing exclusive dining services on its private teakwood houses. Guests can even take a trip on the river, watching Bangkok by boat from the private piers while sipping on one of The Siam's delicious cocktails.
Banyan Tree Bangkok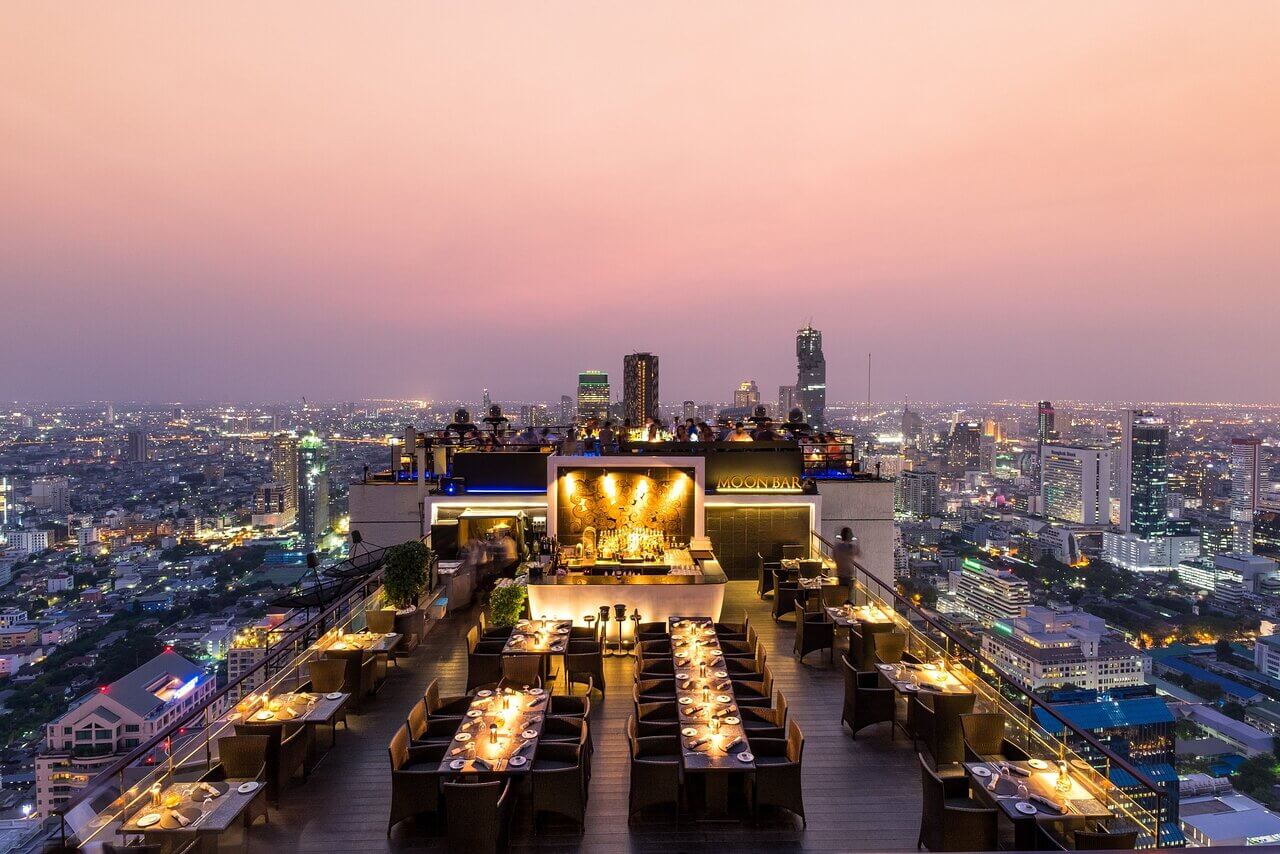 Banyan Tree Bangkok stands out in the city, primarily because of its destination spa – the tallest in Asia found on the 51st and the 54th floors. It's a true sanctuary where you can rejuvenate and enjoy a range of holistic treatments.
The Banyan Hotel is located at the heart of the Bangkok business district, close to the shopping in downtown Bangkok. It also houses one of the capital's most excellent dining spots, Vertigo Grill on the 61st floor is one of the highest restaurants in the world!
Stay in one of the whopping 327 rooms and enjoy views of the city or Chaophraya. And if space is your priority, book one of the biggest suites in the city – the Horizon Rooms.
Koh Samui
Muang Samui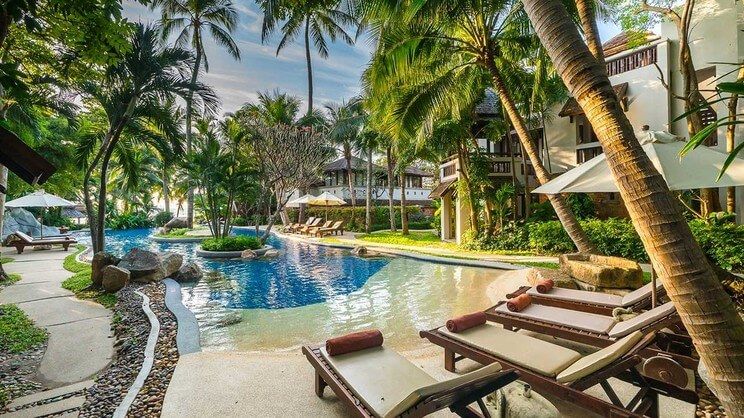 Muang Samui is on the east coast of Koh Samui, and just ten minutes by car from the island's airport, or 15 miles from Nathon City if arriving by ferry.
A boutique complex, the luxury Koh Samui resort has 53 suites, all with terraces and views out to sea or across the tropical gardens. Comfortable rooms are decorated in typical Thai style and have all the usual facilities.
The two restaurants serve stunning Italian, international, or traditional Thai cuisine. Kick back and relax by the pool or ask the hotel staff to help you explore further afield.
Four Seasons Resort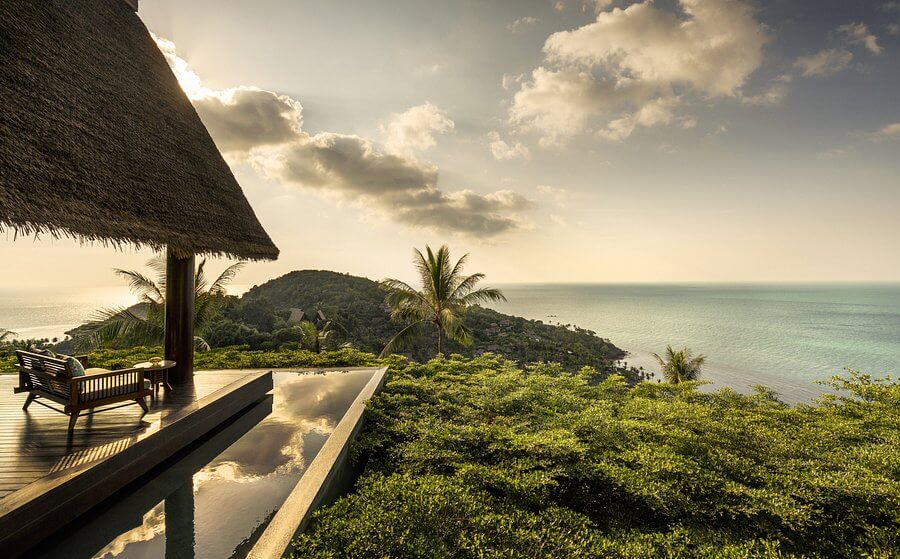 Situated just a 30 minute drive from the international airport, and the same distance from the Big Buddha, Four Seasons lies on the northwest tip of Koh Samui, at Laem Yai Bay.
One of the most popular destinations on the island for those seeking an 'away from it all' romantic occasion or peaceful break. Four Season's staff have built a well deserved international reputation for offering guests the very best in personal service.
Add to that the splendour of their 60 detached villas, picture postcard surroundings, gourmet cuisine, extensive range of activities and you have the perfect recipe for complete holiday indulgence.
Six Senses Samui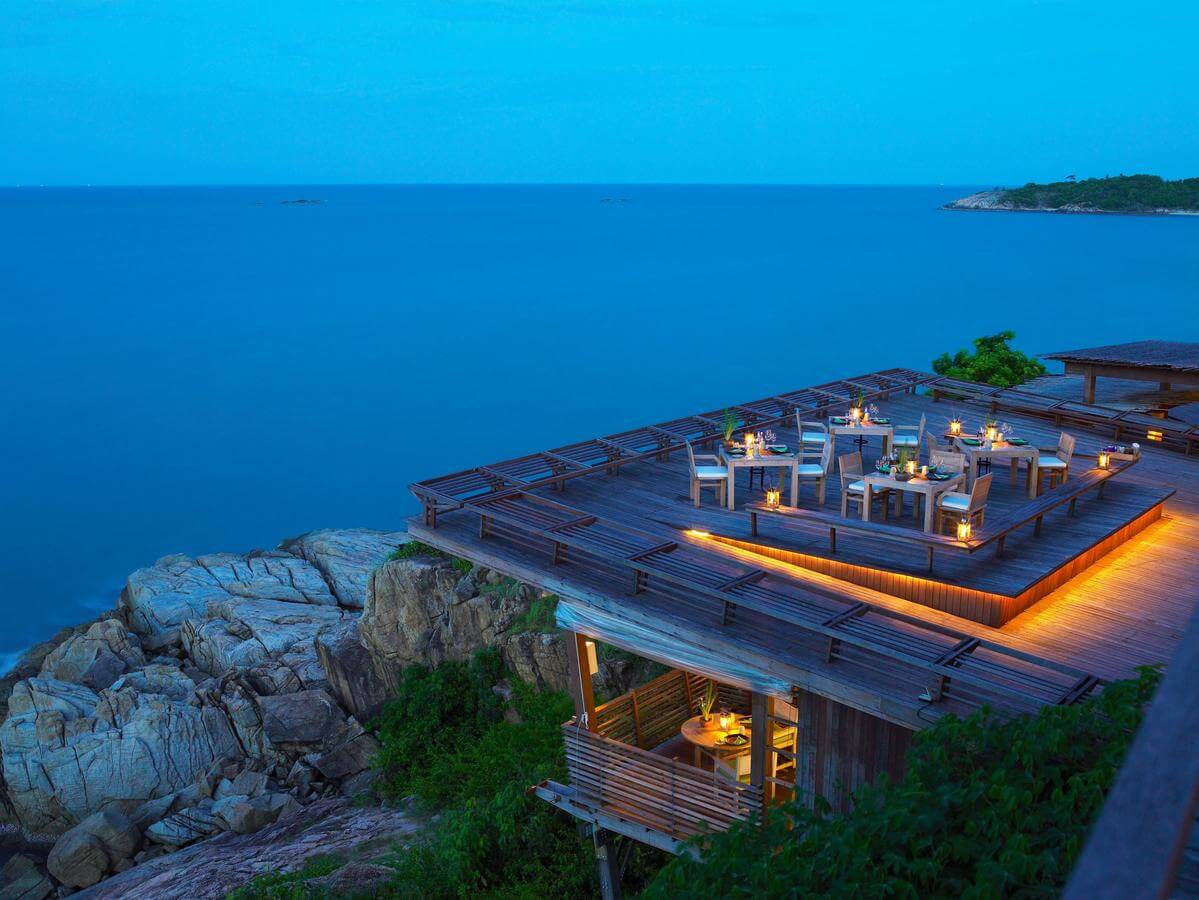 Six Senses Samui offers the most luxurious wellness retreat on the island. This stunning hotel in Koh Samui features 66 private villas, framed with lush vegetation and panoramic views across the Gulf of Thailand. Take your pick from their variety of intimate and secluded villas, some of which even come with a stunning private pool.
The Six Senses operate with a wellness philosophy, so expect nothing less than an uplifting and revitalizing experience. Start your day in peace with a yoga or pilates session, followed by a refreshing dip in the infinity pool. After lounging by the pool for the day, head to the world-class spa, where you can indulge in one of many rejuvenating treatments and restoring rituals.
Complete your experience in the evening at Dining On The Rocks, where you can savor fresh, innovative cuisine, washed down with a delicious cocktail, over a 270-degree picturesque ocean view. What could be better?
Phuket
The Slate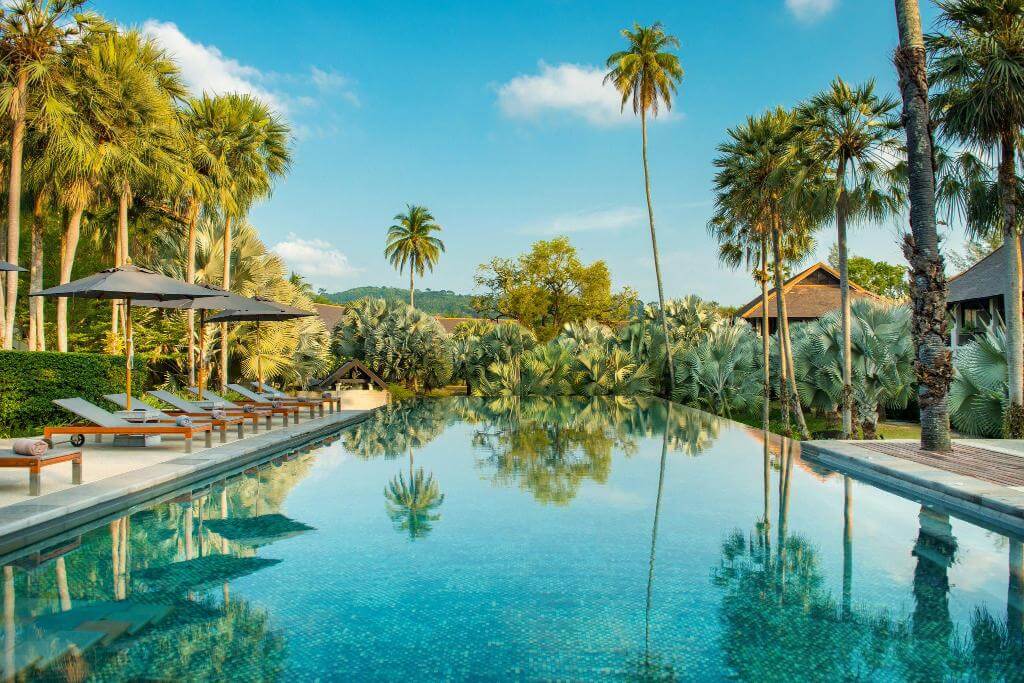 The enchanting Slate Hotel at Nai Yang Beach is backed by a stunning palm grove and faces a private strip of golden sand. Each of the rooms and suites here is spacious and luxurious and surrounded by tropical gardens.
This huge lush space is set with palm trees and a number of swimming pools, with jacuzzis and swim up bars where guests can unwind. The staff are incredible and will be on hand to fulfill your every desire 24/7 - they'll even greet you at the airport!
For all out luxury, book one of their fabulous private pool villas and dine at the onsite restaurant, Black Ginger, tipped as one of the best restaurants on Koh Samui.
The Surin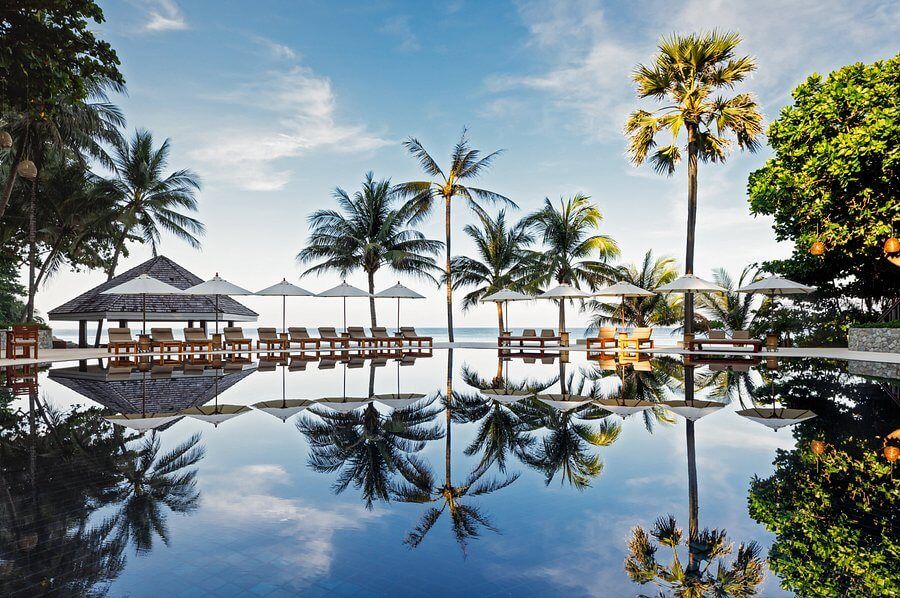 Overlooking a sandy white beach on Phuket's west coast, The Surin hotel offers seaside serenity with its stunning views. There are 103 cottages and suites in this Phuket hotel, and you can choose between being on the beachfront or nestled into the hillside forest.
Each residence comes with thoughtful extras such as local organic toiletries, beach hats, and even an espresso machine!
There are several formal and informal dining options, so whatever mood you're in, there'll be something to suit. You can try out yoga, tennis and much more, before relaxing and sipping a drink by the pool. You can even embark on one of our tours in Phuket to help you find some amazing spots to enjoy!
Keemala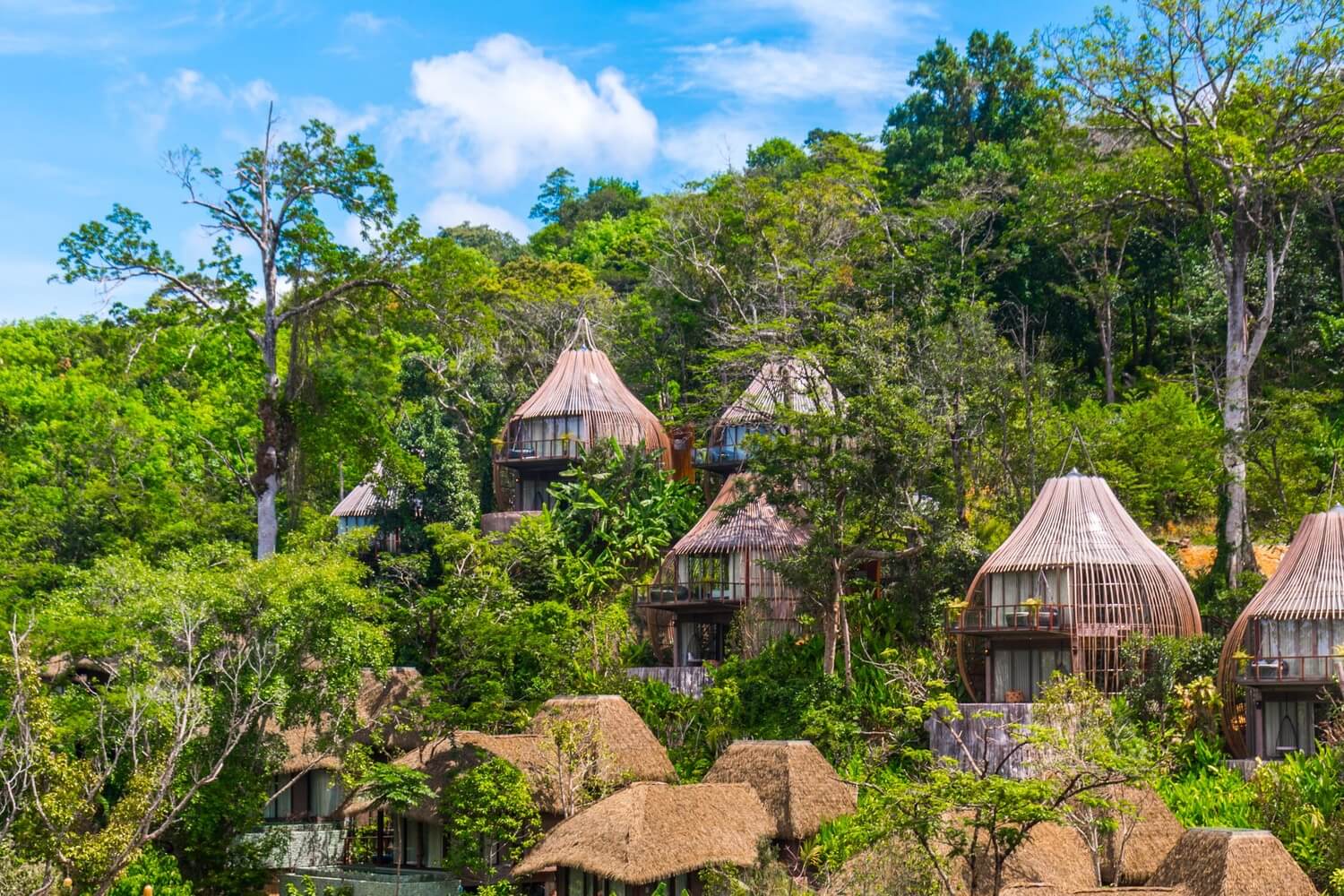 Guests who come to Keemala stay in luxurious tree house pods - the perfect hideaway. You'll feel like you're in a fairytale! Each pod is suspended from the forest that graces the coast and comes with a wide range of modern conveniences while also offering stunning views of the ocean and golden sands of Kamala beach far below.
This sophisticated hotel in Phuket also boasts a lagoon-like swimming pool featuring its own waterfall and bar. Guests can also unwind and get into shape with daily classes including yoga, Tai Chi on the beach and Muay Thai boxing.
Krabi
Centara Grand Beach Krabi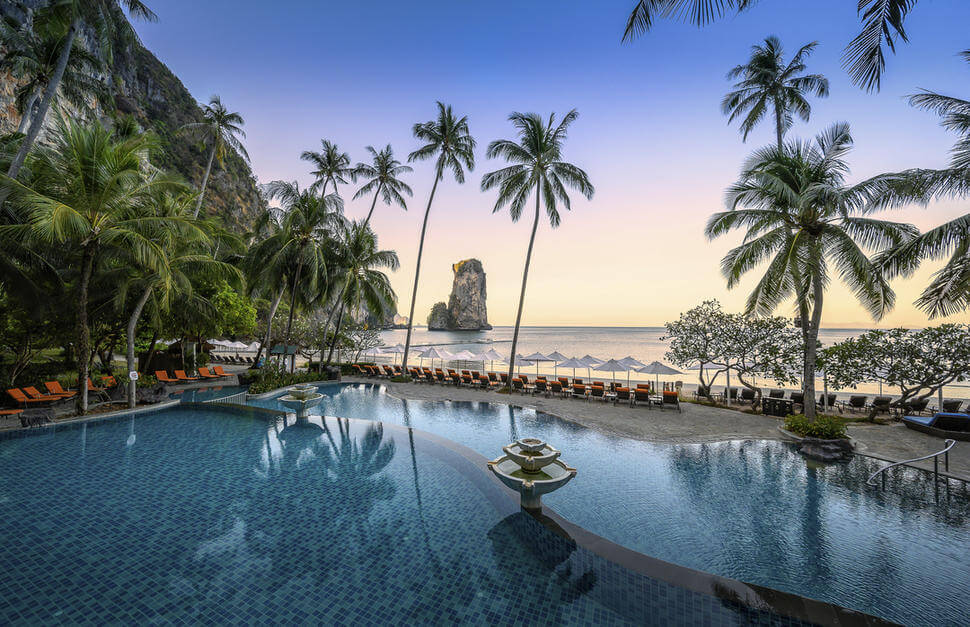 Set on the edge of Pai Plong Bay, Centara Grand Beach Krabi treats guests to exclusive access to 350 meters of pristine golden sand. Here, guests can spend the day unwinding on one of the huge sun loungers while a selection of drinks and snacks are brought right to them.
The backdrop of this Krabi hotel is formed by a rugged limestone cliff that is covered with tropical plants, helping to reinforce the feeling of exclusivity and seclusion.
The resort features 192 rooms for guests to choose from, which are arranged in eight different categories. Even the smallest room type covers a more than satisfactory 72 square meters, while the Villa Royal provides guests with a massive 399 square meters of space to unwind in.
Our Best Selling Tour
All-Inclusive

Phuket Thrilling Zipline & ATV Adventure

Phuket trips are always a memorable experience, but our Zipline and ATV Phuket Tour gives thrill-seekers the time of their life! Start your experience with private transportation with your own tour guide, and kick off the day with an incredible ATV ride - after you're done racing through the jungle, enjoy resting with a tasty lunch before getting straight onto ziplining and a walk along the hanging bridge (if you dare!). If you want your vacation to be packed full of adventure, this adrenaline filled trip is the perfect choice!
Amari Vogue Krabi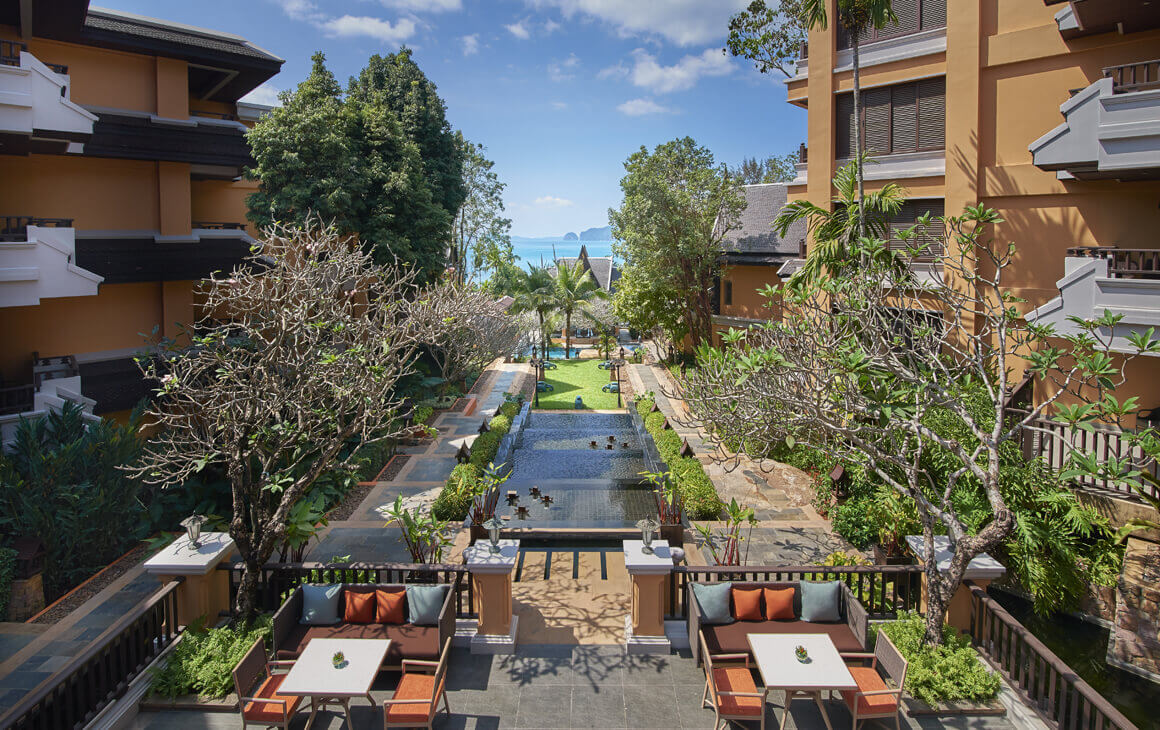 With four large swimming pools and three excellent restaurants to enjoy, guests at the Amari Vogue Krabi are treated to a taste of the finer things in life.
This huge hotel in Krabi is set on the edge of the white sands of the picturesque Tubkaak beach and guests are provided with private beach access as well as their choice of fully padded sun loungers. If you're looking to branch out from this luxury, a tour in Krabi is a great way to get out and about to experience the local life.
Each of the 57 guest rooms boasts a large balcony that overlooks the garden and pools, as well as spacious bathrooms complete with especially deep tubs. For an extra special experience, book one of the spa suites which are decorated decadently and provide guaranteed ocean views.
Rawi Warin Resort & Spa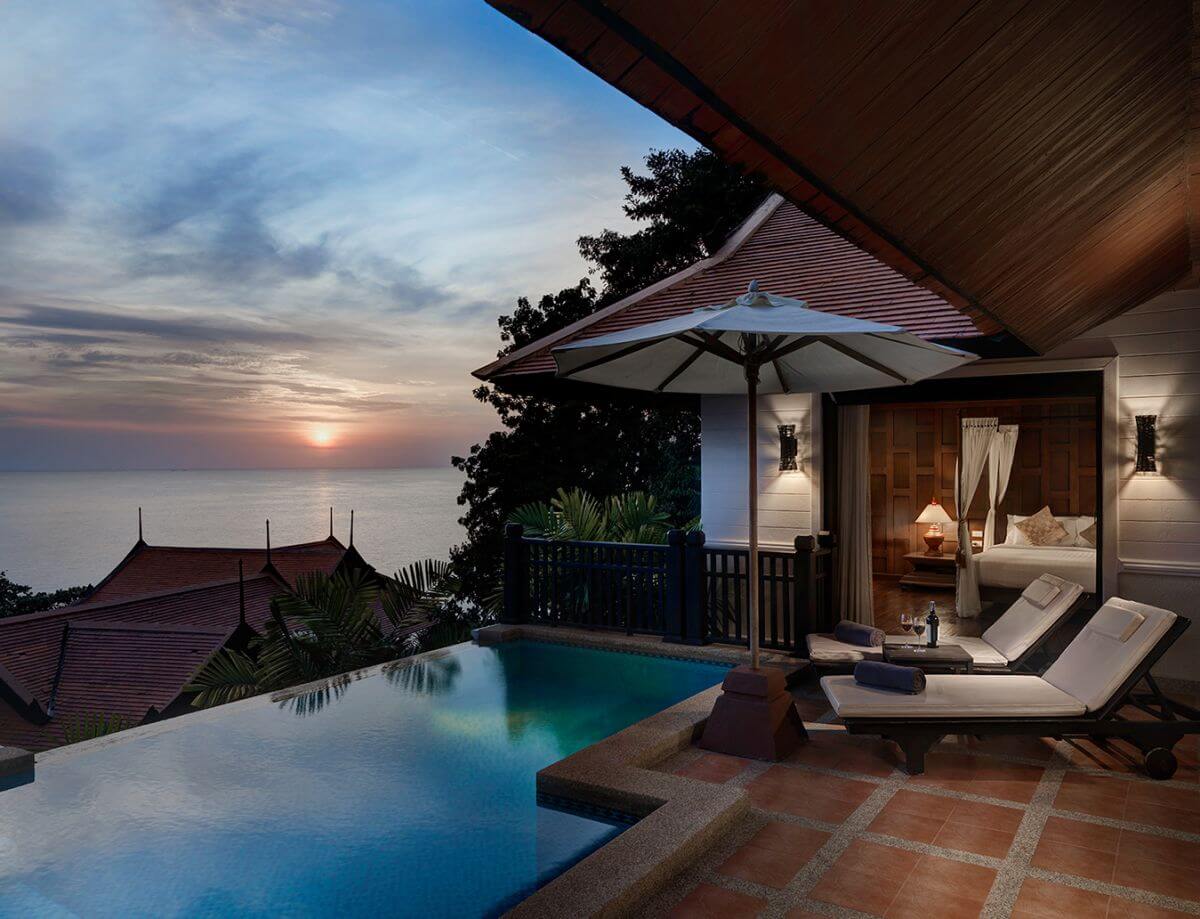 Built in 2005, Rawi Warin is set on a hilltop that commands stunning views across Klong Tob Bay. While there are 185 guestrooms and eleven spacious suites to choose from, the enormous luxury villas are worth splashing out on if you're coming here.
These private villas come complete with their own swimming pools and patio areas, which feature striking views of the bay. Guests can also take their pick from a wide range of spa treatments, and lovers of fine dining will not be disappointed with the food on offer.
Chiang Mai
De Naga Chiang Mai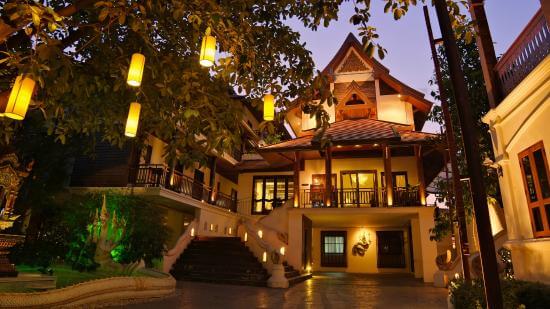 Modest, stylish, convenient and traditionally-designed. The De Naga is everything you're looking for in one place! This hotel in Chiang Mai is actually much larger than it looks from the outside, so there are plenty of rooms and suites to choose from.
The Lanna (old Chiang Mai) design is tasteful yet traditional, featuring a lobby packed with Thai statues, vases and wall-hangings.
Most are 2-level deluxe rooms complete with crimson colors, traditional furnishings and plenty of space! The hotel is on the corner of a delightful suburban lane in Chiang Mai, with heaps of cafés and shops for you to explore right on its doorstep - a great way to find out about the local area is by taking a tour in Chiang Mai.
Four Seasons Resort Chiang Mai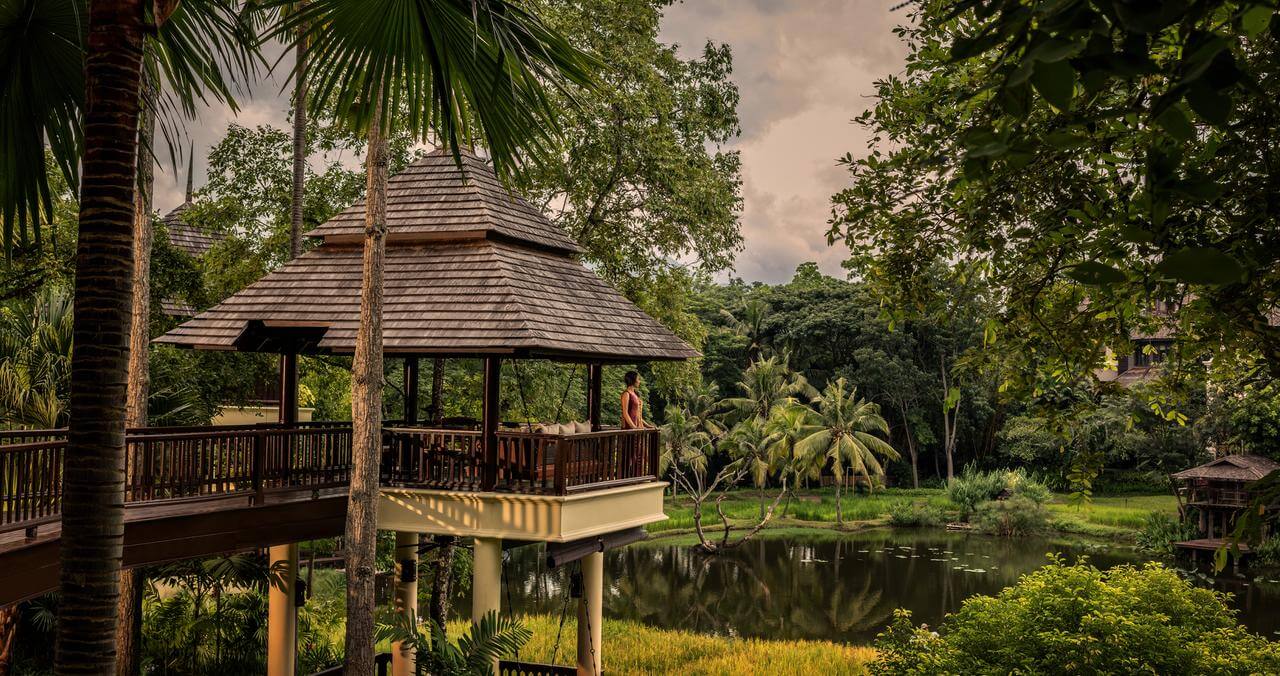 This exquisite, secluded, Thai style Four Seasons resort is set in 20 acres of lush grounds with a working rice farm, lakes, waterfalls, and lily ponds with magnificent Lanna (Northern Thai) style pavilions, pool villas, and private residences.
The Chiang Mai hotel features vaulted ceilings, traditional artworks, teak floors, and lots of relaxing outdoor spaces to enjoy. Expect to recline in relaxing swing sofas with views of lush rice fields.
The top-end, wide range of private residences includes 1-bedroom spa residences to 4-bedroom split-level residences complete with private pools. All of which include live-in butlers, and a daily buffet breakfast. The resort also has plenty of activities on offer like rice planting, a cooking school, and guided nature trail tours.
Makkachiva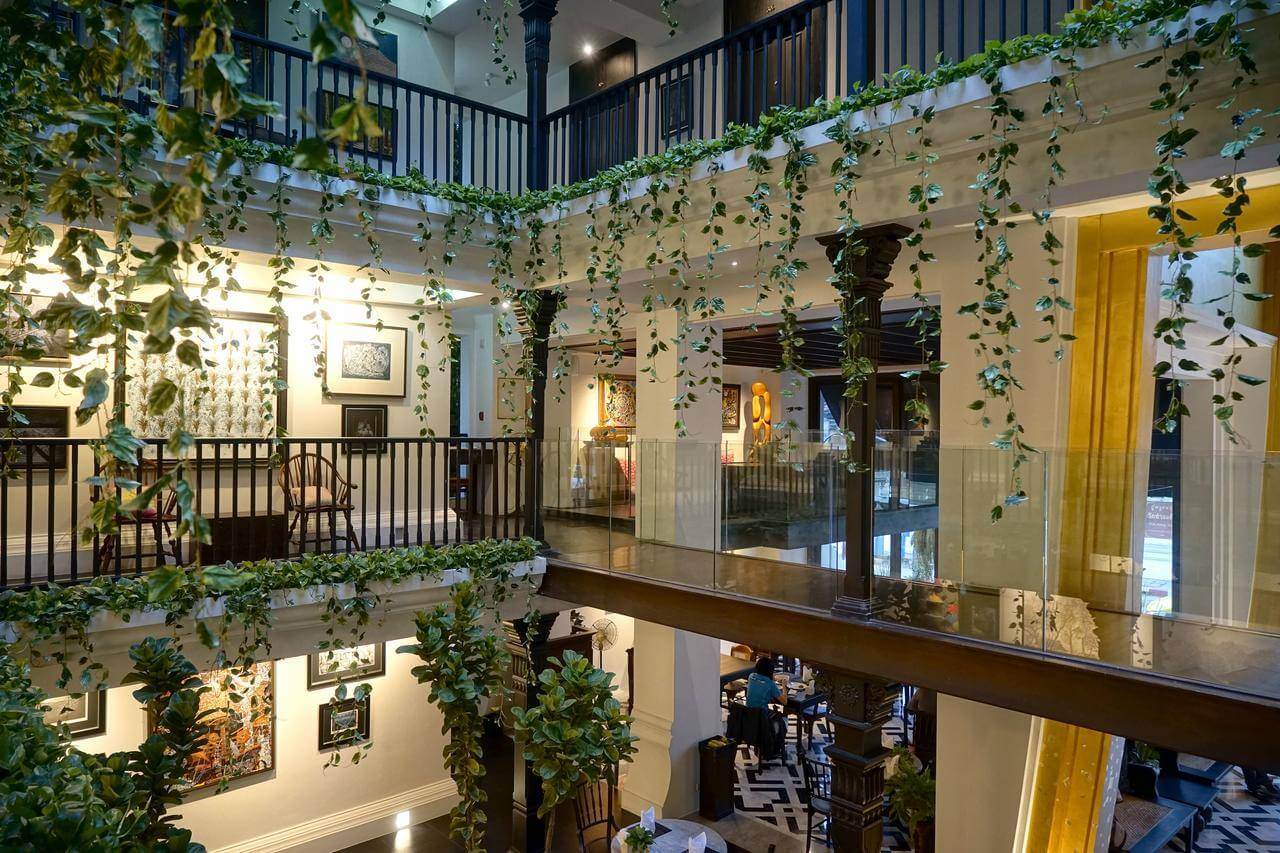 Makkachiva is tasteful, welcoming and central – but shoes off, please! This classy 4-level boutique hotel in Chiang Mai is immediately likable with an entrance shaped like a temple, a lobby featuring elegant Thai furnishings, corridors lined with colorful art and an internal courtyard smothered with ivy.
The Deluxe Rooms are designed very much with Buddha in mind, and also contain a rocking chair and extended desk so you can get your wisdom cap on!
Views from balconies of the temple across the road might also spark some inspiration. But if not there are plenty of cafés and shops to explore nearby in the center of the Old City. A great Chiang Mai experience!
Get your VACATION on!
Expertly curated emails packed full of vacation inspiration, travel tips and more!