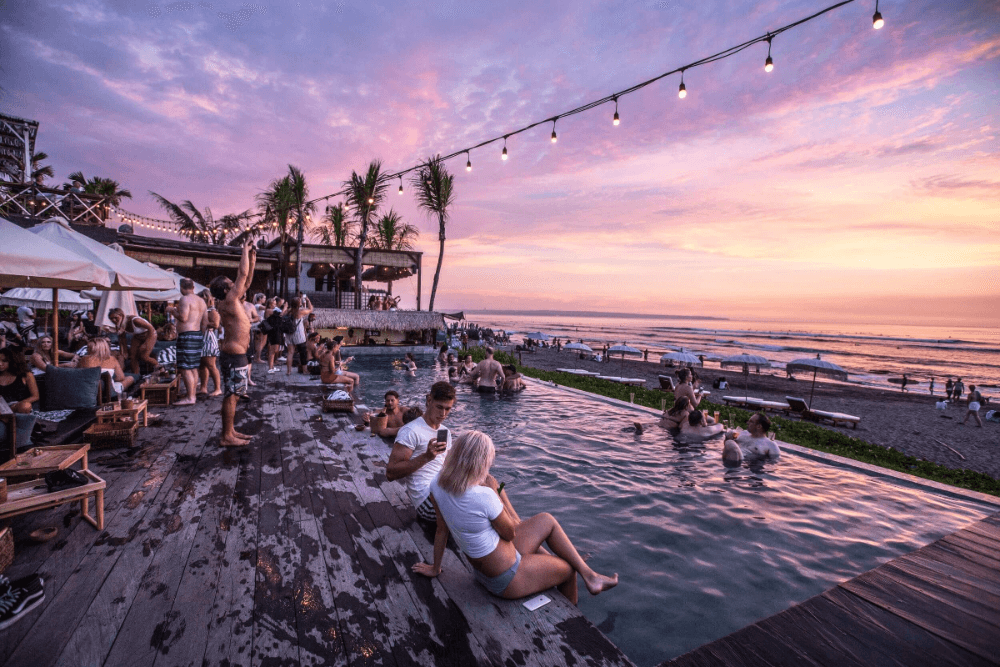 Canggu
Insider's Guide - What to do and Where to go in Canggu
Welcome to Canggu, a tucked away surfer town on the west side of Bali, a little north of Seminyak. It's a special place, some would say the home of good vibes, quality cafes, and the best surf one could ask for.
When you imagine Canggu, you can feel the slight breeze through your hair and the sweet taste of Acai bowls lingering. The most magical part is that even though the island is now internationally known, Canggu doesn't hit the spotlight anywhere close to its big sister cities Ubud, Kuta, and Seminyak.
Canggu is still our little secret, and we're so excited for you to experience what we love so much about our home. Below we list our all our must-do's while visiting Canggu!
Instaworthy Cafes
Crate Café
Using social media, Crate Café has singlehandedly made themselves stand out of the sea of cafés in town by being the most Instagram-able café in Canggu!
With deliciously oversized portions of smoothie bowls, scrambled eggs, and the yummiest French toast you'll ever had, you'll be wanting to order everything on the menu!
With phenomenal breezy morning vibes, Crate Café is your hot spot to be for the best brunch in town! With crowds coming in early, don't be surprised if you find the line going out the door!
Phone: +62 812 3894 3040
Website: http://www.lifescrate.com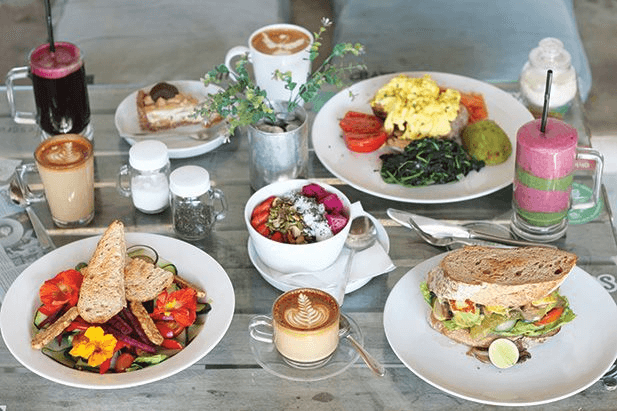 Milk & Madu
Number one in our hearts for their hearty and healthy meals, Milk & Madu is one café we can't recommend enough.
Enjoyed by everyone, this open-air neighborhood café is an especially great spot for family and friends' get-togethers as it has its own children's play section! With tables being busy throughout the day, you won't be disappointed with any meal you chose to have!
We highly recommend coming in for their 2-for-1 pizzas on Sunday or their mac and cheese any day of the week!
Phone: +62 851 02781872
Website: http://www.milkandmadu.com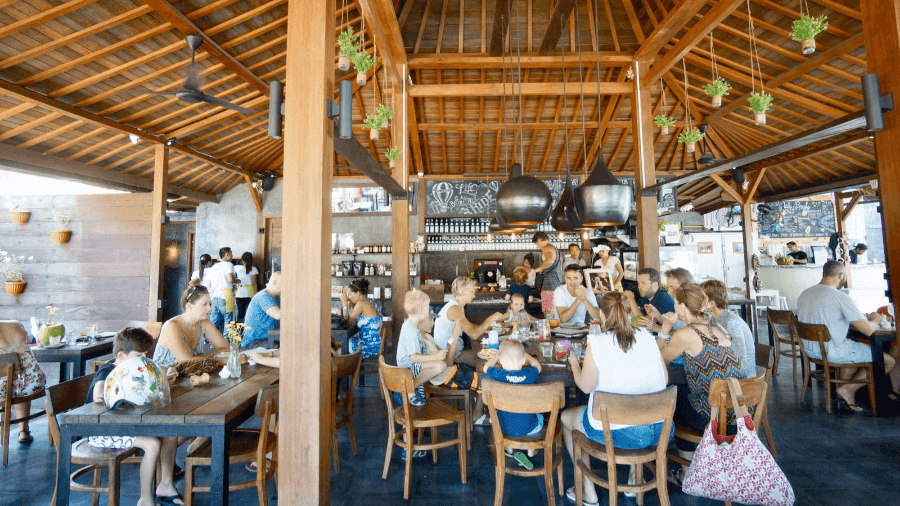 Restaurants
Quince Cafe
It's not a hype, it's definitely not an Instagram trend. Arrive at Quince for a foodie experience that will leave you surprisingly overwhelmed from the perfect flavor combination you were not expecting.
Tucked away in a quiet corner of Berawa (One of Canggu's neighborhoods), this family-run café crafts together the perfect artisanal dishes. With it's fashionable presentation it pushes the boundaries further than any standard avocado toast.
As many struggle to decide what to order as each dish is a must try, we highly recommend their Polenta Pancakes paired with a Dirty Chai for brunch or lunch!
Phone: +62 813-3852-2529
Website: https://www.facebook.com/QuinceBali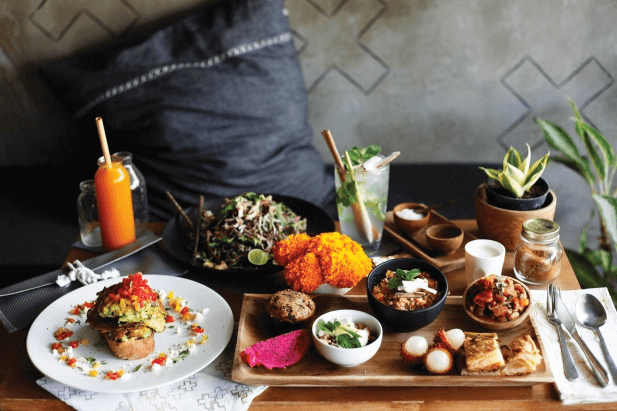 Two Fingers
On a different path from the blossoming cafes around town, the recently opened Two Fingers hits hard with the best Mexican food in town!
Complimented with a bold and edgy aesthetic, the indulging dishes, attentive service, and unreal specials really makes for a great night out with your closest buds!
Their menu hosts a variety of mouthwatering dishes known to make you question how you possibly could have found the best Mexican food in the world right here in little Bali!
Insider tip, don't forget to make your reservations for Broke Mondays (15K IDR Tacos) because the house certainly will be packed!
Phone: +62 819 0699 2244
Website: http://twofingersbali.com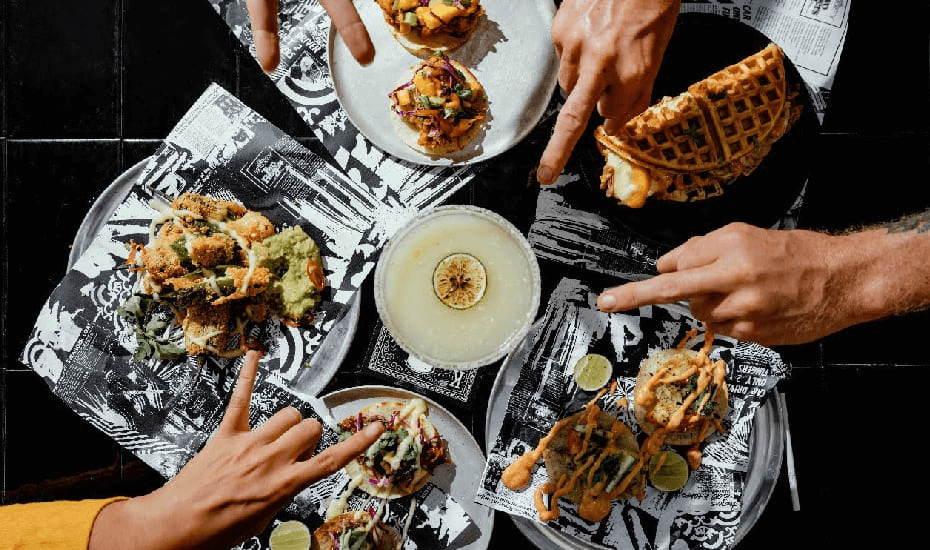 Moana Fish Eatery – Tahitian Kitchen
This one is special. This one is about paradise. No distractions, no complications – Moana knows prime seafood and they stick to it. Their relaxed indoor garden environment provides for ultimate island vibes.
Treat yourself to the perfect Maui Poke Bowl paired with a delicious cocktail or watermelon juice served in a funky light bulb! We're certain the kitchen must be holding secrets because they truly have the freshest tuna you'll find in all of Bali – it'll leave you craving to return for your next meal!
With all tables full each night of the week, a reservation is a must but the huge portion sizes really makes it all worth it!
Phone: +62 812 3815 8373
Website: https://www.facebook.com/moana.fish.eatery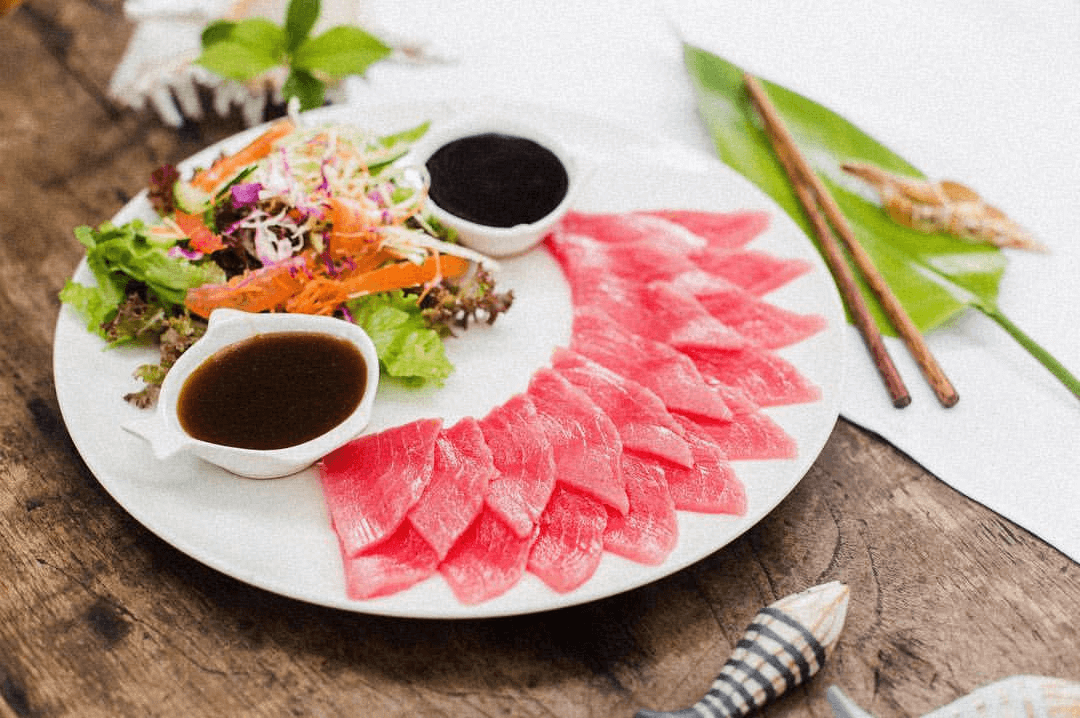 Day Pools
Finns Beach Club
With Canggu being the most laid-back town on the island, Finn's is definitely the most "boujie" spot in town! Nothing says luxury more than sipping cocktails at Finn's beachfront 30-meter infinity edge pool.
As a venue with such innovative architecture, 5-star service, and flavor-packed appetizers (especially the sushi), there is no question if Finn's lives up to the hype. With mega-clean facilities and the best spot to lounge in the sun, Finn's will have you already planning your next Bali trip!

Phone: +62 361 9347344
Website: http://www.finnsbeachclub.com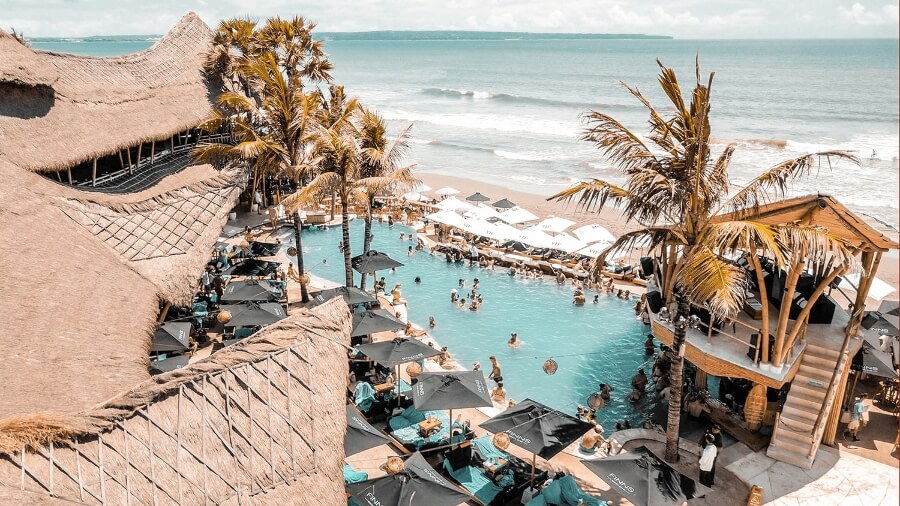 The Lawn
Ultra chic style and bohemian vibes is the perfect way to describe The Lawn. With their perfectly laid back ambiance and oceanfront pool view, The Lawn is enjoyed by everyone looking for a chilled out good time!
With the sea breeze through your hair and the sunshine hitting your skin perfectly, you'll find yourself losing track of time as soon as you lay back on your towel.
The endless supply of fresh coconuts won't help your cause either! Visit The Lawn for a refreshing pool day you'll never forget!
Phone: +62 821 4592 7396
Website: http://thelawncanggu.com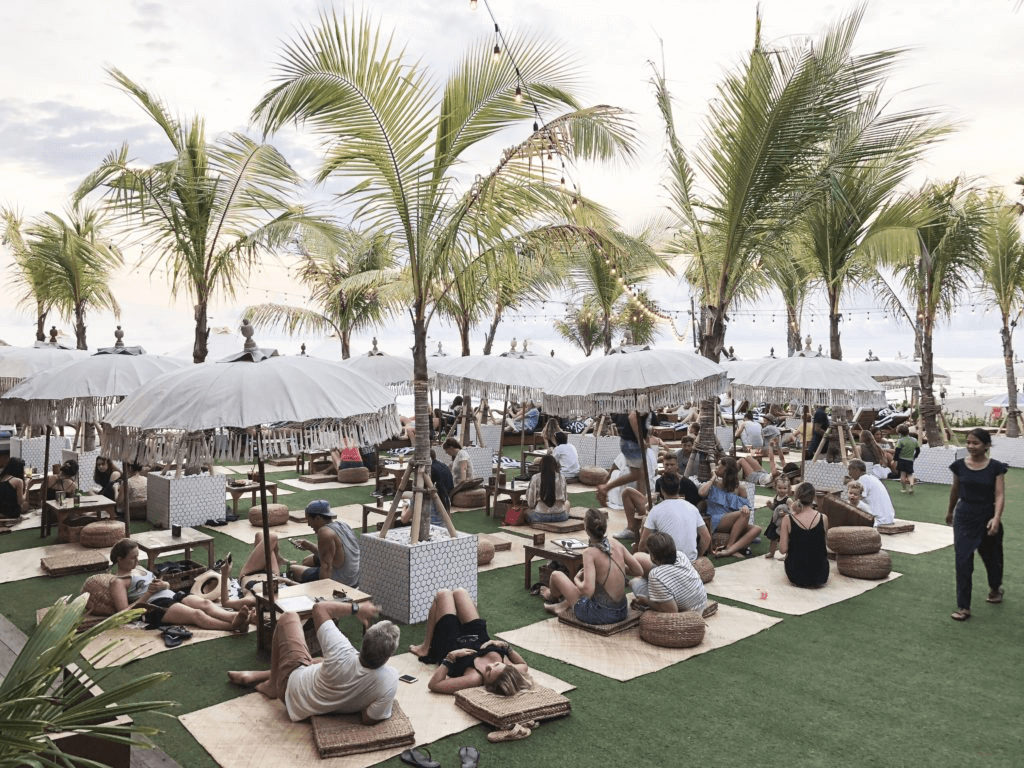 Gym Sessions
Crossfit Wanderlust
Internationally known and for good reason, Canggu's fitness scene is growing tremendously fast! Crossfit Wanderlust is the largest and most equipped Crossfit gym in Bali!
As a major trip highlight, you won't regret starting your morning at this one-of-a-kind gym! With a smooth drop-in process and heavily experienced instructors, you'll treat your body to a workout session it truly deserves.
Gym-goers often boast that the Wanderlust team becomes your Wanderlust family! You're bound to make tons of friends even on your first visit!

Website: http://www.crossfitwanderlust.com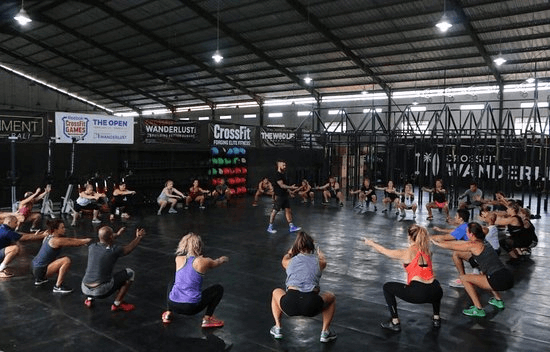 Canggu Nest
As Canggu's newest high-end boutique gym, Nest really delivers the heat! By providing a variety of amazingly effective workout classes, you'll find a session for all work out styles/fitness levels.
From Boxing to Female Fit, classes are hosted by extremely knowledgeable and friendly instructors! With class sizes averaging about 5 participants, trainers ensure all executed correctly and safely to ensure maximum gains!
Don't hesitate to drop in for a class that'll leave you sweat-dripping and ready for a well-deserved massage!
Phone: +62 813 3946 7554
Website: https://canggunest.com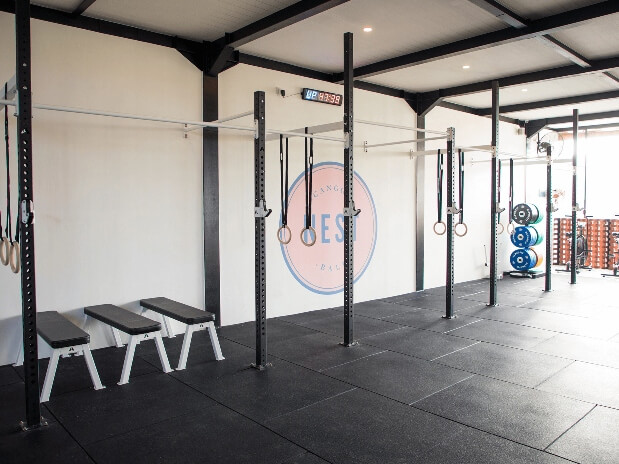 Sunset
La Brisa
Only those who are lucky witness the beauty hidden inside La Brisa. In our best words, we describe it as our jungle playground as guests find themselves wandering through the intricately-designed areas of this beachfront day club.
With pure views of local kids and happy dogs playing along the sand, this is your spot to embrace the most authentic sunset and truly mesmerizing energy in all of Bali!
Keeping it as genuine as possible, La Brisa will effortlessly make itself your happy place and have you returning each day.
Phone: +62 811 3946 666
Website: http://www.labrisabali.com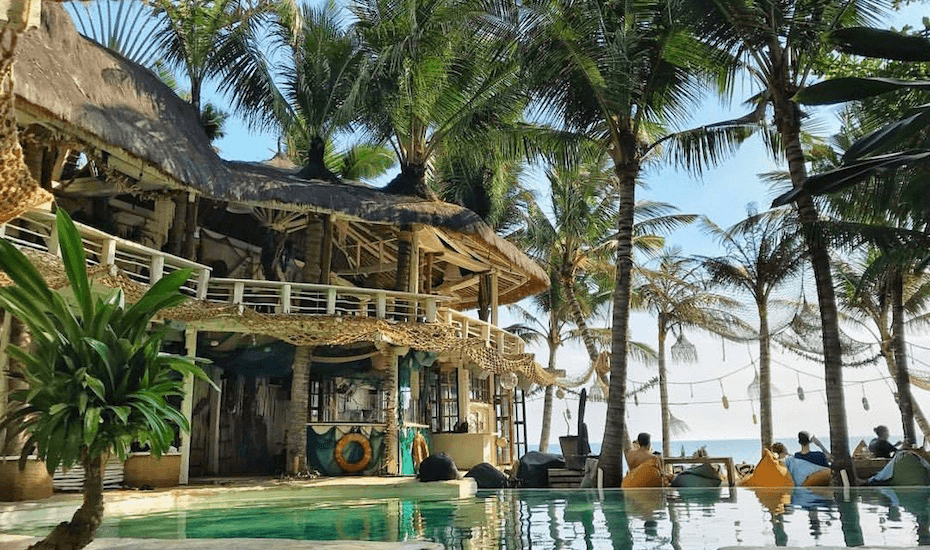 Tanah Lot Temple
As one of Bali's most sacred monuments, Tanah Lot Temple is famously known for its majestic sunset backdrop and refreshing energy.
Only a few kilometres from Canggu, this beautiful Hindu shrine is placed perfectly along the sea shore, a truly picturesque location.
Through the beauty of its astonishing scenic views and nearby crashing waves, you'll find peace and tranquility unlike any other.
To make the most out of this spiritual trip, we highly recommend going with a knowledgeable guide to avoid tourist traps, bad weather, or high tide.