Weather in Ho Chi Minh City
Weather in Ho Chi Minh City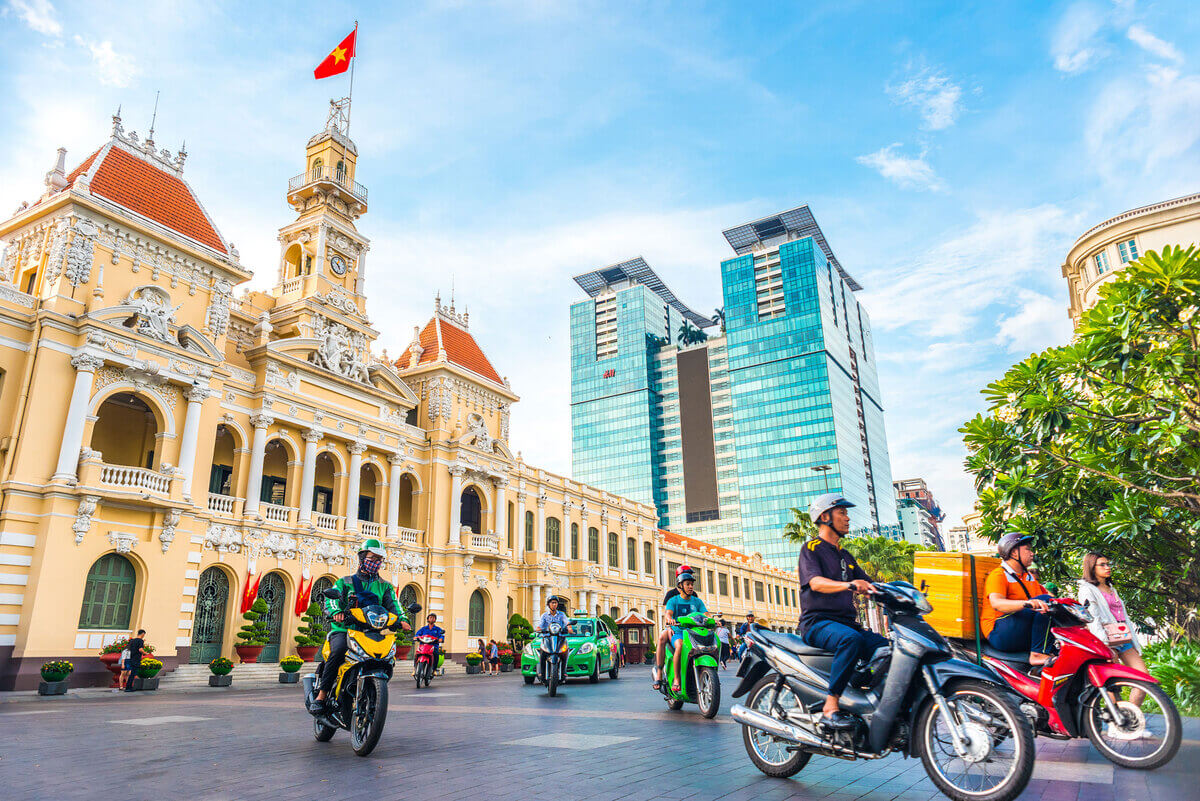 Knowing the best time to visit Ho Chi Minh is essential. If you're lucky enough to be planning a trip to this beautiful city, you want to make sure you're traveling at the right time; ideally avoiding the sweltering heat and dodging the monsoon rains.
After all, alongside the stunning architecture, relaxed culture and the mouthwatering food, it's the tropical climate that draws tourists in from all over the world - so make sure to learn more about the best time to travel to Ho Chi Minh to avoid the weather extremes!
We've packed this page full of useful information which will help you easily choose the best time to visit this alluring city - once you decide on the best time to go, make sure to check out our amazing private tours in Vietnam and make the most of your trip! In fact, the best way to explore this fascinating city is by booking a guided tour and having a local help you discover all there is to see!
We might even be able to help you out here as we offer some of the best tours such as the Ho Chi Minh instagram tour: the hidden gems, the 'Cu Chi Tunnels & Mekong Delta Experience', the Ho Chi Minh local foodie experience and many many more!
If you already know everything there is to know about the weather in Ho Chi Minh and want to find out more about this amazing city, make sure to check some of our other blog posts, where we cover subjects like:The best things to do in Ho Chi Minh, The 5 most instagrammable spots in Ho Chi Minh City and The best Vietnamese food you HAVE to try.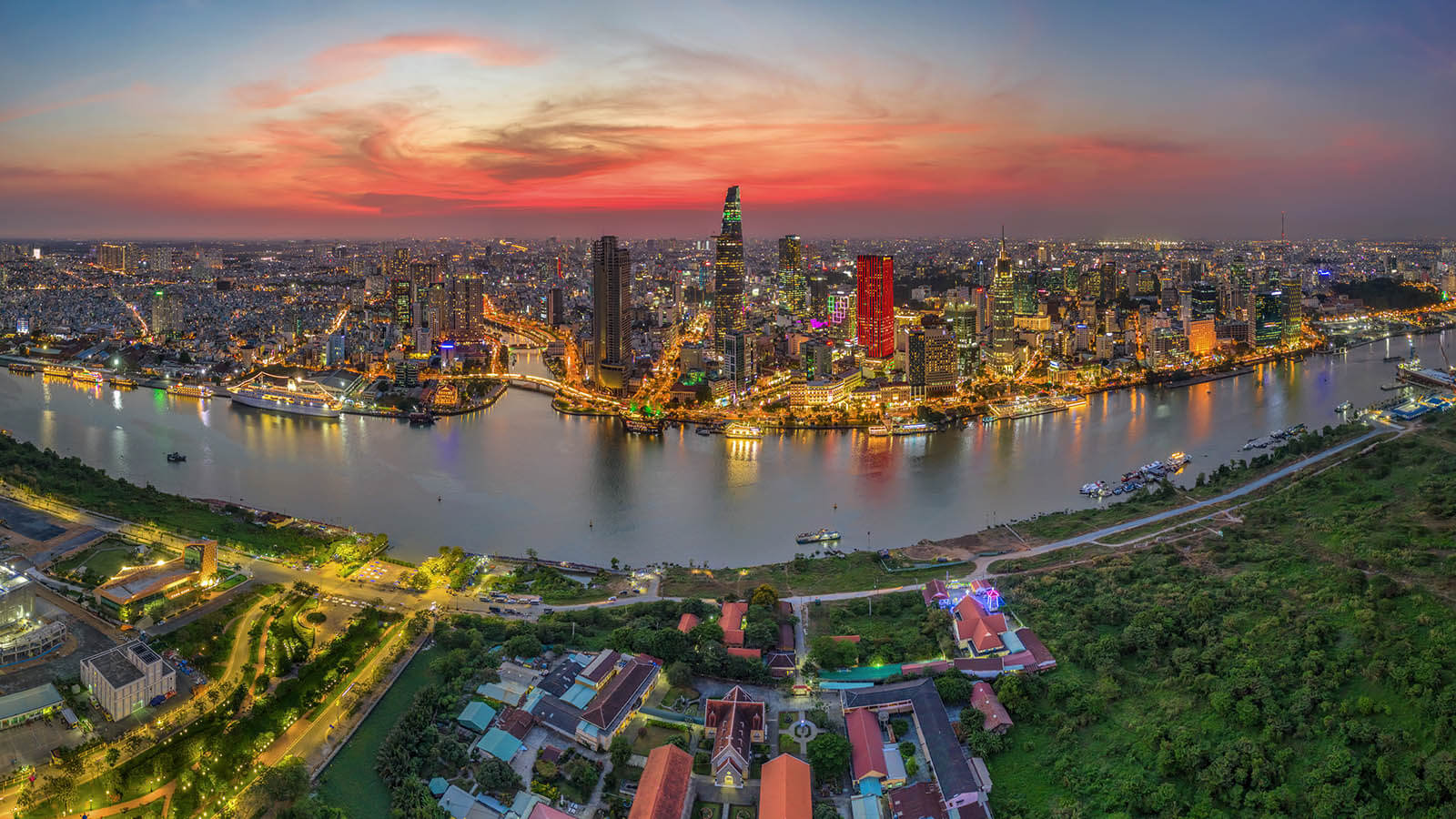 SEASONS IN HO CHI MINH CITY
Ho Chi Minh only has two seasons: wet season and dry season.
The South Vietnam weather is characterized by tropical sub-equatorial climates with high temperatures. The annual average temperature in South Vietnam is between 25°C and 35°C. and the temperature difference between day and night is low. All year-round, the temperature of South Vietnam is high and the climate in this region has little change.
Dry season in Ho Chi Minh: December - April
Dry season in Saigon lasts from December to April, is hotter than the rainy season (with the temperature around 33 °C) and nearly has no rain. Although traveling in this period is more convenient, travelers need to be careful with heatstroke by avoiding going out at noon.
Hottest Month: April ( 87 F / 31 C)
Coldest Month: December (80 F / 27 C)
Wettest Month: October (7.5 inches)
Sunniest Month: March (272 mean monthly sunshine hours)
Rainy season in Ho Chi Minh: May - November
The monsoon season, with an average rainfall of about 1800mm annually (about 150 rainy days per year), usually starts in May and ends in late November. During this period, although it will rain heavily almost every afternoon, the rain is short and clear quickly. Sometimes, you can experience sunshine and rain at the same time while the sky's still blue. Especially in October, there will be extreme tides which may cause severe flooding, so be well-prepared with boots and a water-proof backpack!
Average temperatures by month:
May: 94 F / 78 F (34 C / 26 C)
June: 92 F / 76 F (33 C / 25 C)
July: 91 F / 76 F (32 C / 24 C)
August: 90 F / 76 F (32 C / 24 C)
September: 90 F / 76 F (31 C / 24 C)
October: 89 F / 75 F (31 C / 24 C)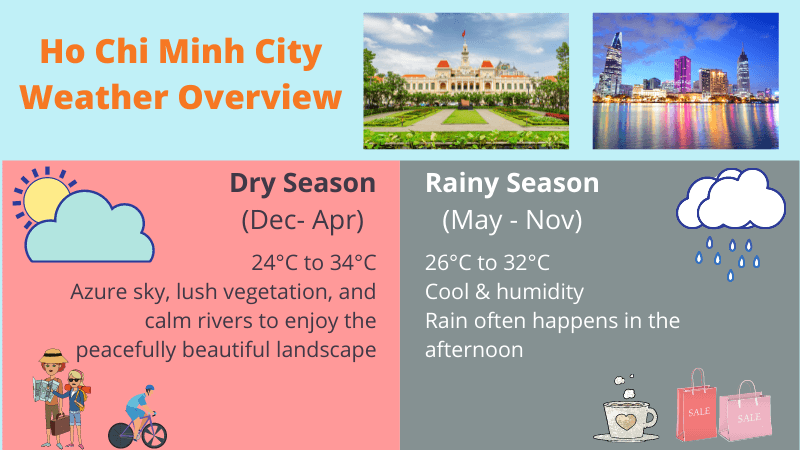 THE BEST TIME TO VISIT HO CHI MINH
We recommend visiting Ho Chi Minh City in the dry season when it's dry and the temperature and humidity are also much lower compared to the rest of the year. This is why most tourists visit Ho Chi Minh City in the dry season, as there is hardly any rain that can ruin your trip. It allows you to enjoy a full day of sightseeing and explore this largest metropolis of Vietnam without worrying about getting wet.
Our Best Selling Tour
All-Inclusive

Ho Chi Minh City Instagram Tour: The Hidden Gems

If you find yourself in Ho Chi Minh City then you must join us on a Ho Chi Minh City Instagram Tour: The Hidden Gems. This popular, all-inclusive Ho Chi Minh City tour takes you to places in Saigon that no other tour does. Your fun and knowledgeable guide will make sure this is an unforgettable day out. Jam-packed with famous landmarks, architecture, and secretly located spots, including the Notre Dame Cathedral, The "Pink" Church, and a Hidden Weapons Bunker, this Ho Chi Minh tour is the perfect way to see the city.
This time is also the high tourism season in Saigon particularly and Vietnam generally. You should plan your trip and book related services such as flight tickets, hotel, transfer… in advance. However, you can absolutely come here in the rainy season. Most of the rains are quick showers, don't last the whole day and you still have a chance to explore the city in sunshine when rain stops.
What to expect temperature wise by month:
Hottest Month: April ( 87 F / 31 C)
Coldest Month: December (80 F / 27 C)
Wettest Month: October (7.5 inches)
Sunniest Month: March (272 mean monthly sunshine hours)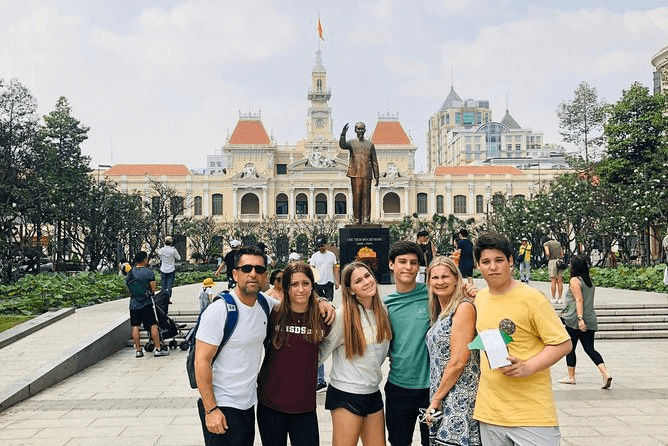 THINGS TO KNOW ABOUT HO CHI MINH DURING RAINY SEASON
When planning your trip during monsoon season (May-October), make sure to consider possible floods. Nearly half of Ho Chi Minh City in Vietnam is less than one meter above sea level, making it highly vulnerable to flooding. So it's no surprise that when the rainy season hits many areas in the city flood over.
Should this stop you from booking a trip during the rainy season though? No, absolutely not! In fact there are many unexpected perks and things you can do that you might have skipped otherwise:
Everything is cheaper: As during monsoon, the number of tourists visiting Vietnam is pretty small, you can have a chance to enjoy your vacation with a low budget. Usually, tourism at this time is not at its peak. Flight tickets, accommodations, etc...everything will be much cheaper and this means you'll have extra money to spend on fun things like massages, shopping, eating out, book tours etc!!


A lot of travelers tend to avoid Vietnam and its rainy season with the fear that it'll rain down all day long. However, it's not like that at all. We think it's one of the best times to visit Ho Chi Minh City as the rain is quite refreshing and helps clear away the dirt on the roads and smog and pollution in the air.


You can participate in a Vietnamese cooking class: this might be something you will skip if the weather is nice and that's a shame! So rainy days are perfect to learn new skills!


Learning about Vietnamese architecture: The rain cannot prevent you from admiring and learning about all the many beautiful buildings, the architecture, churches, pagodas and mausoleums. You can still get lots of insights into Vietnamese history through those kinds of activities


Enjoy a coffee break. Hanging out at a cafe and drinking Vietnamese coffee is a popular pastime for locals and visitors. It doesn't matter what time of day it is or if it rains as people need to have their iced Vietnamese coffee with condensed milk. Want to know more about the famous coffees in Vietnam and where to find the best coffee shops? Well, we dedicated a whole blog post to it as coffee is a BIG thing in Vietnam!


Get a massage. What better way to enjoy the rainy weather in Ho Chi Minh City than to pamper yourself with a massage?! Ho Chi Minh City has some of the most affordable massages you can find for 90 minutes to 2 hours.


Go to a museum like the War Remnants Museum and learn all about the Vietnam war


Go on a food tour: One of the best ways to dive into the local culture is to join a food tour (at night) where the local tour guide will bring you to interesting places in the city to taste many different kinds of food. There are a lot of tasty dishes in Saigon, and it will be hard for you to decide what to choose. So the tour guide will bring you to the best places to taste the must-try food in the city.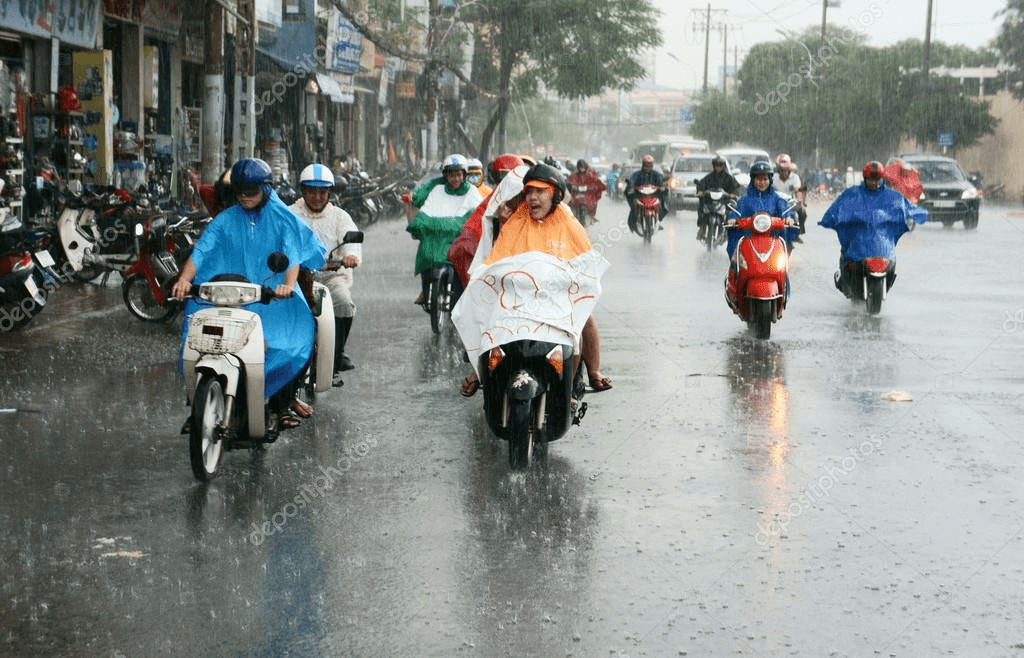 CONCLUSION
As you can see, choosing the right time to go to Ho Chi Minh can have a big impact on your holiday, both for personal comfort and packing purposes (when traveling during the rainy season)
On the other hand, some people might tell you there isn't one best time to go to Ho Chi Minh. Each season comes alive at different points of the year, and regardless of when you go, there will be something for you to do.
You'll never be truly short of any sun, and even the rainy season is perfect for shopping, enjoying a massage and learning more about the city's history and its museums! 'The best time to travel to Ho Chi Minh' really does differ from traveler to traveler.
If you're happy to be flexible and don't mind some rain showers from time to time, then Ho Chi Minh is somewhere you can travel to all year and we know you'll have an amazing time regardless of when you go!
From the breathtaking architecture, to the busy night markets, everything about this city is enticing and your time here will be beyond special! If you are looking to explore other parts of Vietnam, our private tours in Vietnam are designed to allow you to fully immerse yourself in the Vietnamese culture, no matter what time of the year.
If you have any questions about the best time to visit Vietnam, or you have any concerns, just ask our friendly team who is always on hand and ready to help!
So what are you waiting for? Time to start your next Asian adventure!
Get your VACATION on!
Expertly curated emails packed full of vacation inspiration, travel tips and more!