 Damnoen Saduak Floating Market
Damnoen Saduak Floating Market
Popular Market in Bangkok
Damnoen Saduak Floating Market
Popular Market in Bangkok
Attractions Details
| | |
| --- | --- |
| 📌 Address | Damnoen Saduak Bridge, Damnoen Saduak, Ratchaburi Province 70130 |
| ⏰ Opening Hours | 8:00 AM - 5:00 PM |
| 💸 Entrance Fee | THB 400 |
Find it on google maps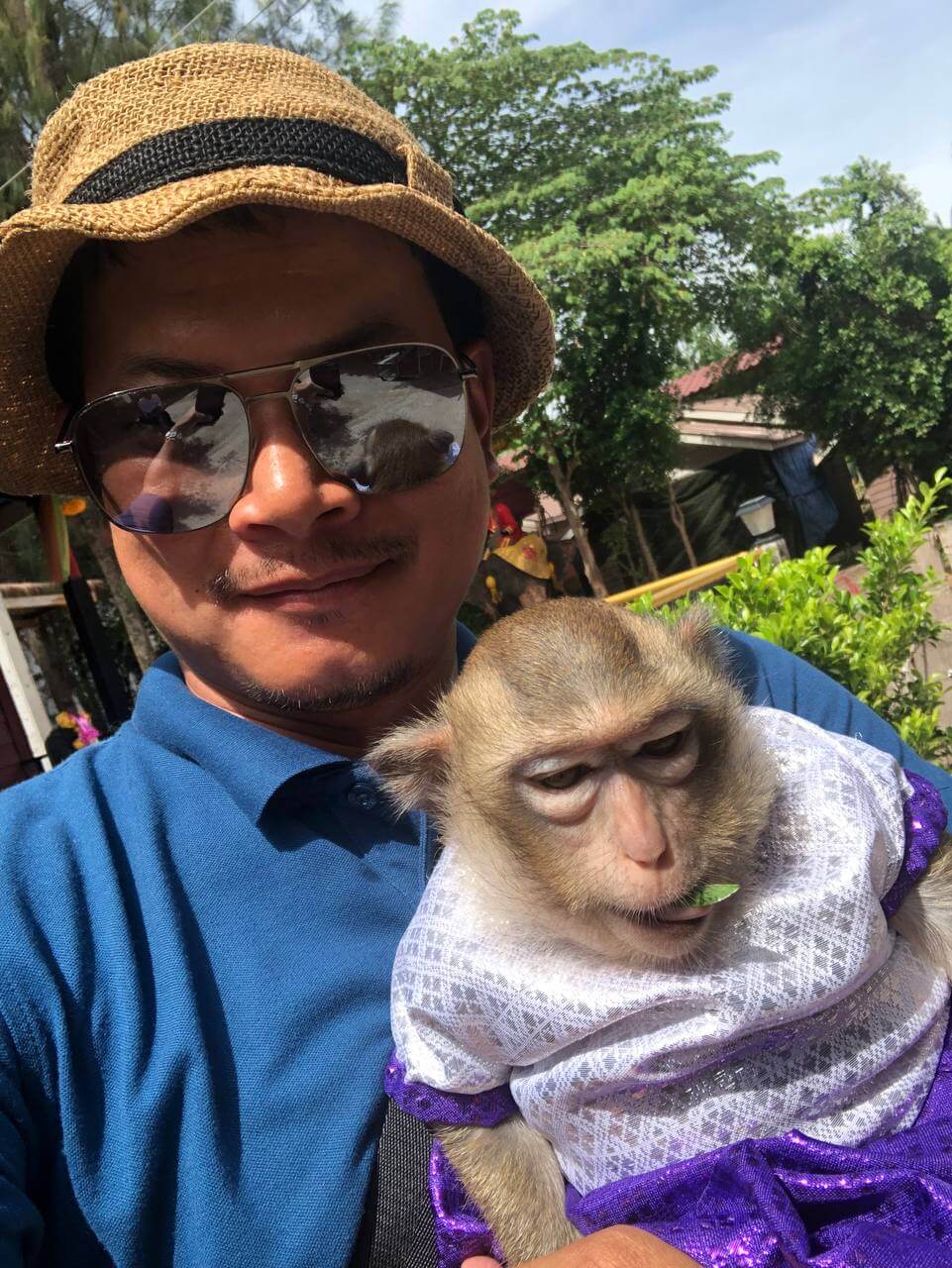 Chaiya
Local tour guide
"Arrive early in the morning to experience the vibrant energy of Damnoen Saduak Floating Market before the crowds arrive, and don't forget to try the delicious boat noodles from the local vendors for an authentic taste of Bangkok's culinary delights."
The Damnoen Saduak floating market is the most famous floating market in Bangkok and should definitely be on your bucket list of Bangkok tours!
Although the market is located an hour from Bangkok by car and some extra travelling, we think it's worth going the extra mile since it's truly an unforgettable experience.
Visit Damnoen Saduak Floating Market on Our:
All-Inclusive

Maeklong Railway & Floating Market Tour

Our Maeklong Railway & Floating Market Tour is one of the most authentic ways to see Bangkok. This 8-hour Bangkok tour is jam-packed with two of Bangkok's most famous markets as well as breathtaking temples, delicious food and more! Starting with a floating market, you'll struggle to know how the day can get better but this all-inclusive Bangkok tour just keeps on giving. Your private Bangkok tour guide will show you some of the favorite, cultural spots in the city including the Wat Bang Kung temple which is hidden beneath the trees. This private tour in Bangkok is one not to be missed!
Damnoen is truly 'the Venice of Thailand and its floating market is spread over a maze of canals where you can buy everything from fresh vegetables, to live chickens, freshly-made mini coconut pancakes, noodles and souvenirs. A visit to this market is an unusual and unique shopping experience and you will notice there are surprisingly a lot of female vendors !
When it comes to buying something from the vendors, you will need to get vocal! Potential buyers need to shout price negotiations from the side of the canal (or from inside a boat, depending where you find yourself), until a deal is reached. It's a pretty busy and hectic experience but that's all part of the Damnoen Saduak Floating Market fun!
Fun Fact: did you know this market was one of the locations being used in the 1974 James Bond movie "The Man with the Golden Gun"?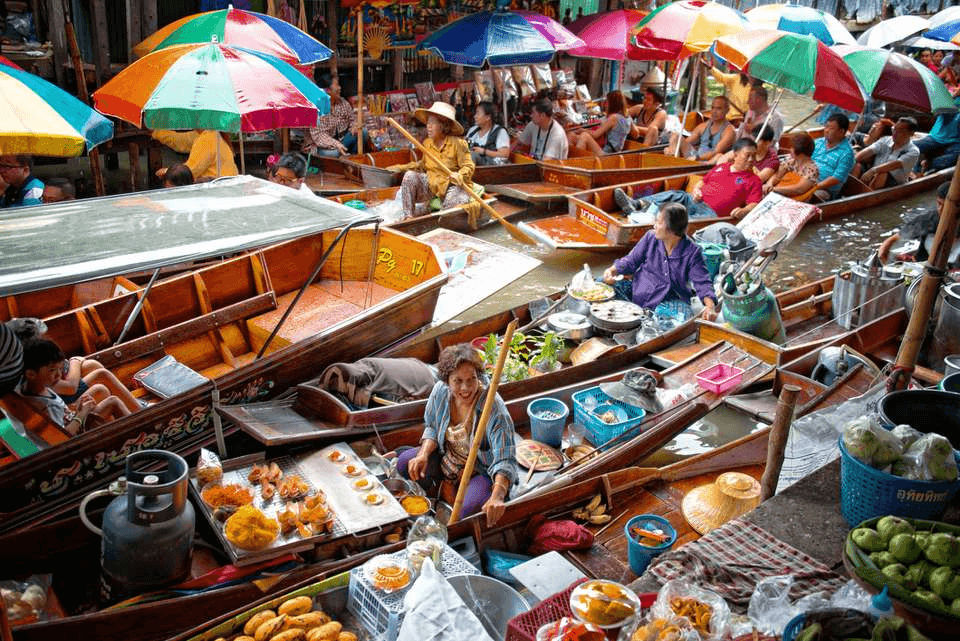 How to get there:
It's possible to get to the market under your own steam, but it does involve a bit of planning ahead.
By taxi it will take you about 1 hour/ 1,5 hours from Bangkok to get there. Make sure the taxi driver turns on the meter!
By (mini)bus: The earliest bus from Bangkok's leaves at 6am and it will take you around 2.5 hours to get there.
The easiest way is to book a private driver or by booking a guided tour!
Our Top Trending Bangkok Tours
What's the best time to visit?
An early morning start is worth it to avoid the heat and catch Damnoen Saduak at its liveliest. You don't want to be arriving in Damnoen Saduak any later than 10 am, or the boats start clearing up and going home. The market is busiest in the morning from 07:00 to 09:00 and is active until noon, but try to get there as early as possible!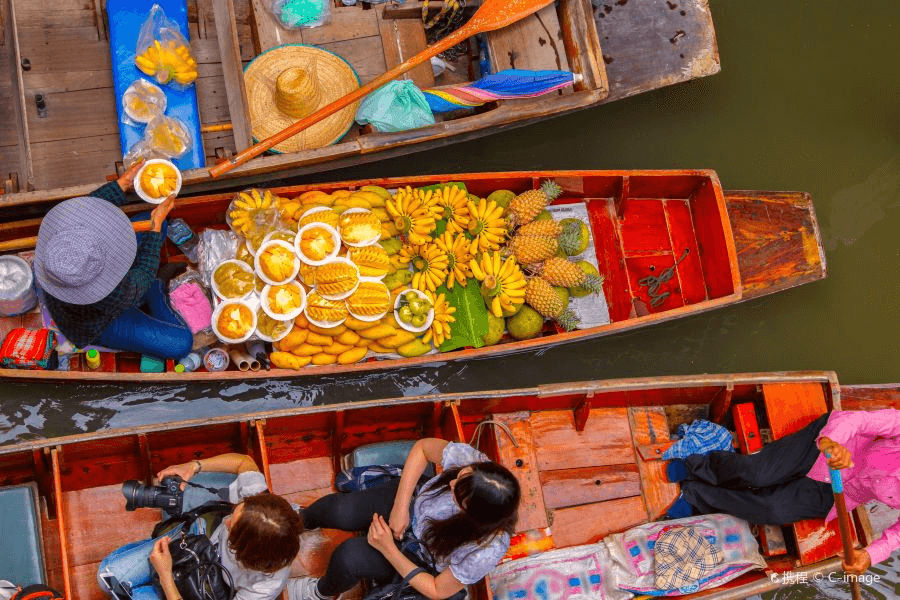 Best spot to take a picture?
Every moment in Damnoen is picture-perfect, so be sure to bring your camera!
Tips:
Make sure you keep your hands and arms well away from the side of the boats as the canals are narrow and there is lots of bumping going on as the boats draw alongside each other.
There is no ticket or entrance fee to get into the market. There are fees to ride a boat (up to 1000THB if you haven't already booked a tour), but no ticket to enter the market itself.
Attractions Details
| | |
| --- | --- |
| 📌 Address | Damnoen Saduak Bridge, Damnoen Saduak, Ratchaburi Province 70130 |
| ⏰ Opening Hours | 8:00 AM - 5:00 PM |
| 💸 Entrance Fee | THB 400 |
Find it on google maps
Frequently asked questions
Where is Damnoen Saduak Floating Market located?

Damnoen Saduak Floating Market is located in Bangkok, Thailand.
What is the operating hours of Damnoen Saduak Floating Market?

Damnoen Saduak Floating Market is open from 7:00 AM to 5:00 PM.
How can I reach Damnoen Saduak Floating Market from Bangkok city center?

You can reach Damnoen Saduak Floating Market by hiring a taxi, taking a guided tour, or using public transportation.
What can I expect to find at Damnoen Saduak Floating Market?

At Damnoen Saduak Floating Market, you can find a variety of fresh fruits, vegetables, local food, souvenirs, and traditional Thai handicrafts.
Are there any activities to do at Damnoen Saduak Floating Market?

Yes, apart from shopping and exploring the market, you can also take a boat tour along the canals, try traditional Thai food, and experience the vibrant atmosphere of the market.