Best Beaches in Ho Chi Minh City
Best Beaches in Ho Chi Minh City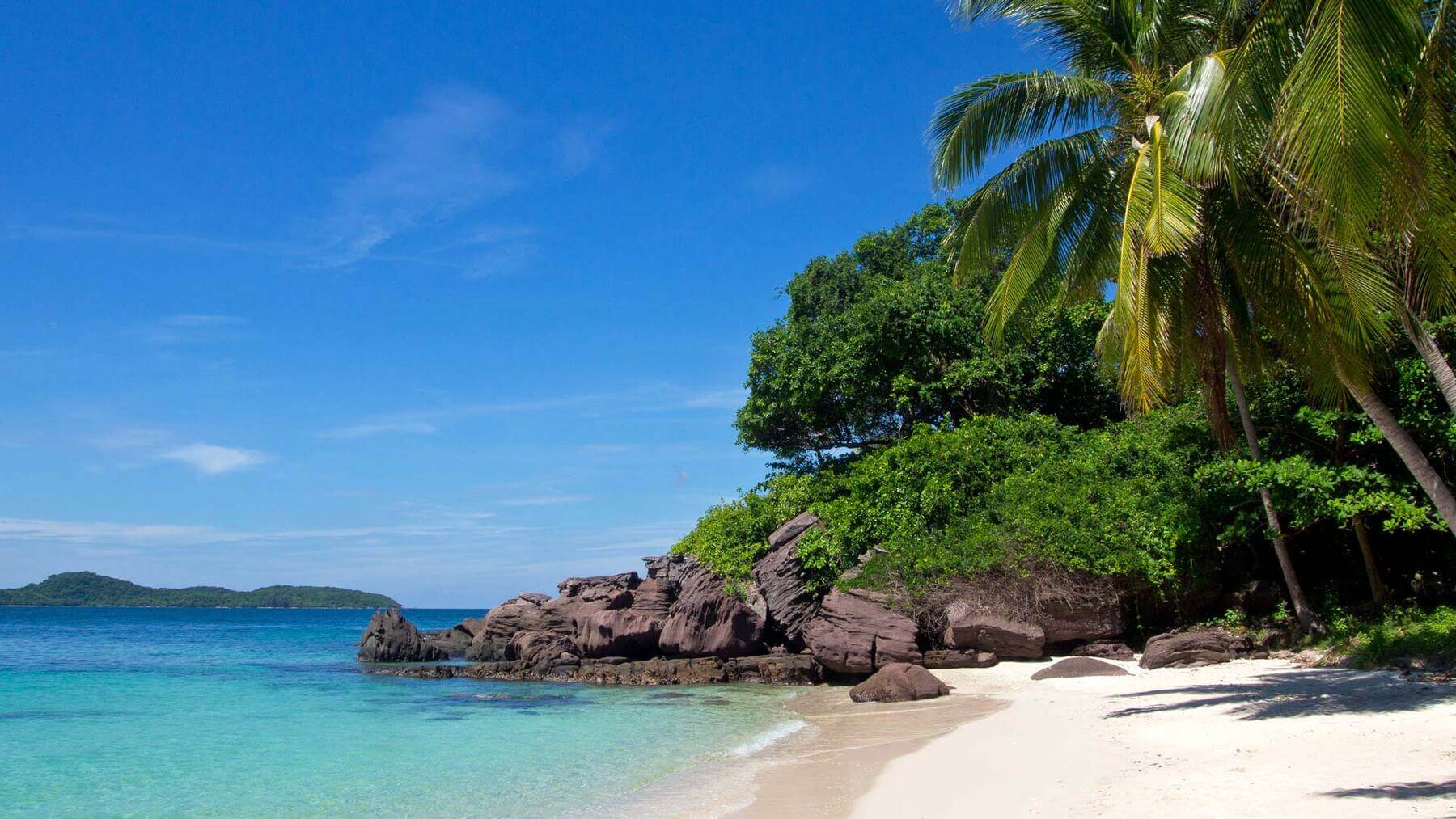 Ho Chi Minh City is known for its French architecture, delicious food, towering buildings, rooftop bars, crazy nightlife, bustling open-air markets, glitzy shopping malls and museums to name a few. Many people love the busy, vibrant atmosphere in this city that never sleeps, but spending a lot of time in Vietnam's capital can become overwhelming after a while: the never ending traffic jams, the pollution, the heat and the humidity, all of these things can take their toll.
And although you might absolutely adore the city, even the most die hard Ho Chi Minh fans might come to a point where they want to escape all the craziness of the city and start craving some beautiful beaches where they can put their weary feet on sand rather than steaming concrete. A place where the water is cool and the air is fresh!
You'll be surprised that there are actually many beaches near this big concrete jungle and a lot of beaches can be reached in only a few hours of traveling. In fact, there are a handful of easy escapes, not too far from Ho Chi Minh!
Before diving into these little getaways, we love to remind you that you are not on your own when it comes to tackling Ho Chi Minh City! We are very proud to say that we were voted the number one tour operator in Vietnam and we offer some of the best tours in Ho Chi Minh City! Our guides are truly the most friendly, funny and beautiful human beings you will ever meet and they can't wait to show you around!
If you enjoy this blogpost, you might like some of our other posts too such as: "Weather in Ho Chi Minh City" or "Best restaurants in Ho Chi Minh City"
Ready to explore some of the best beaches near Ho Chi Minh City now? LET'S GO!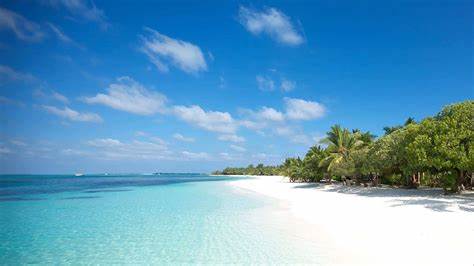 Vung Tau
The pretty seaside town of Vung Tau is where locals go to relax, soak up the sea breeze, and indulge in seafood feasts. Vung Tau may not have the most epic white-sand beaches, but just 2 hours from Ho Chi Minh City, it's perfect for a quick getaway.
This beach has a waterfront promenade which is dotted with cafes, shacks and shops for renting out loungers, beach umbrellas and kayaks. As this is the closest beach to Ho chi Minh city, the place is flocked by tourists and locals, especially during weekends, for day trips and picnics.
There are 4 different sections of the beach, 2 of which are particularly busy. Bai Truoc (Front Beach), Bai Sau (Back Beach) are the main tourism spots while Bai Dau (Mulberry Beach) and Bai Dua (Pineapple Beach) are less crowded and offer pristine scenery. There is also a lush ecological forest with coconut and mangrove trees, creating an extremely airy and fresh environment.
Distance from Ho Chi Minh City: 96 kms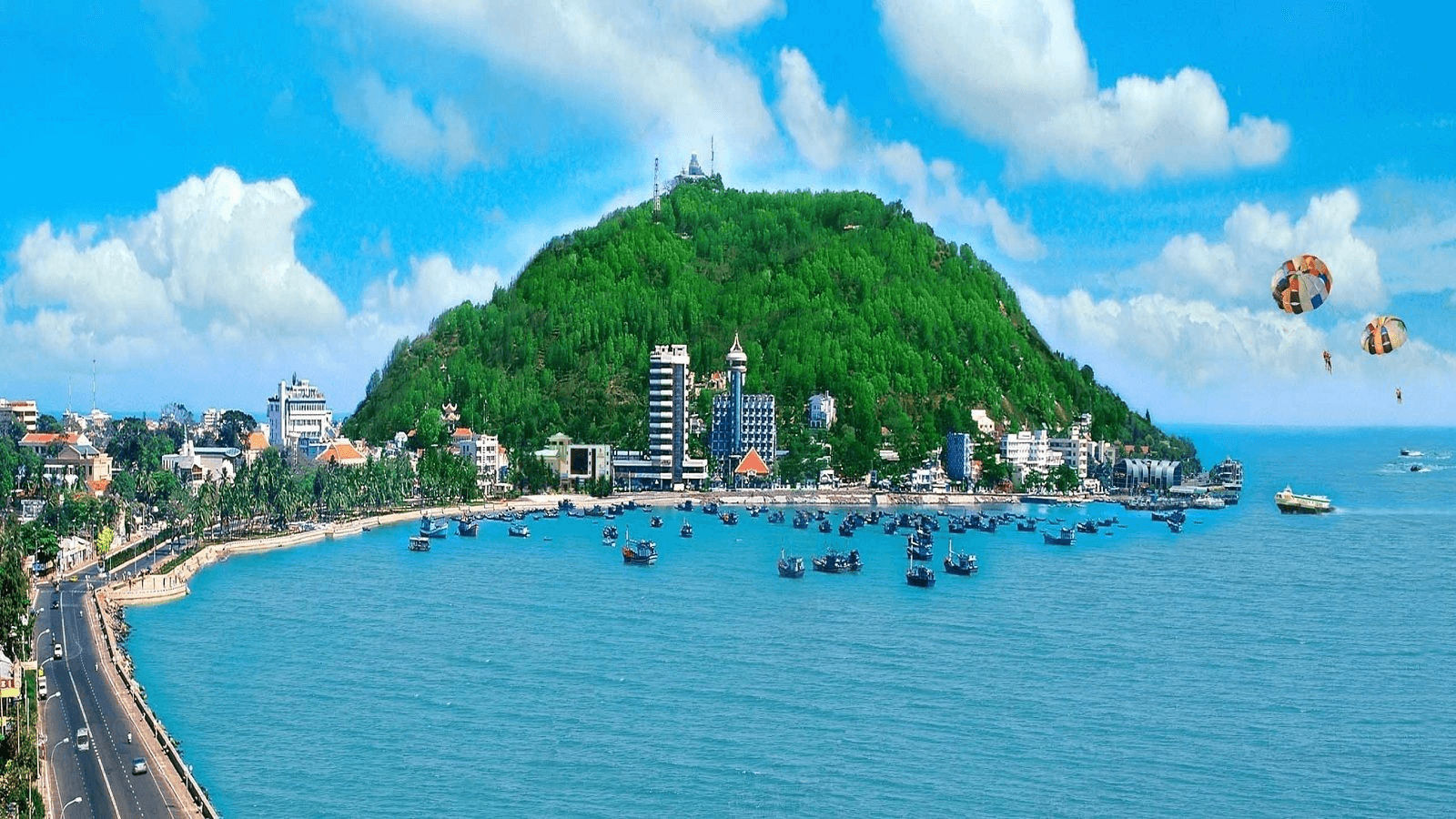 Hồ Tràm beach
Want to experience a gorgeous beach area that is only a couple of hours away from Ho Chi Minh City? Head to Ho Tram (Hồ Tràm)! This area is an hour away from Vung Tau, so you could combine both places for a weekend trip.
This small beach town is popular as a weekend getaway due to the numerous beautiful resorts and boutique accommodations along the oceanfront. You can hang out along the beach and just relax for a few days. Ho Tram Beach has nearly 10 m of palm trees, fine sand and unspoiled waters.
It is set within Ba Ria, Vung Tau Province which is approx 125km from Ho Chi Minh City. This means it is slightly further than Vung Tau, but a much quieter and peaceful location.
Distance from Ho Chi Minh City: 113 kms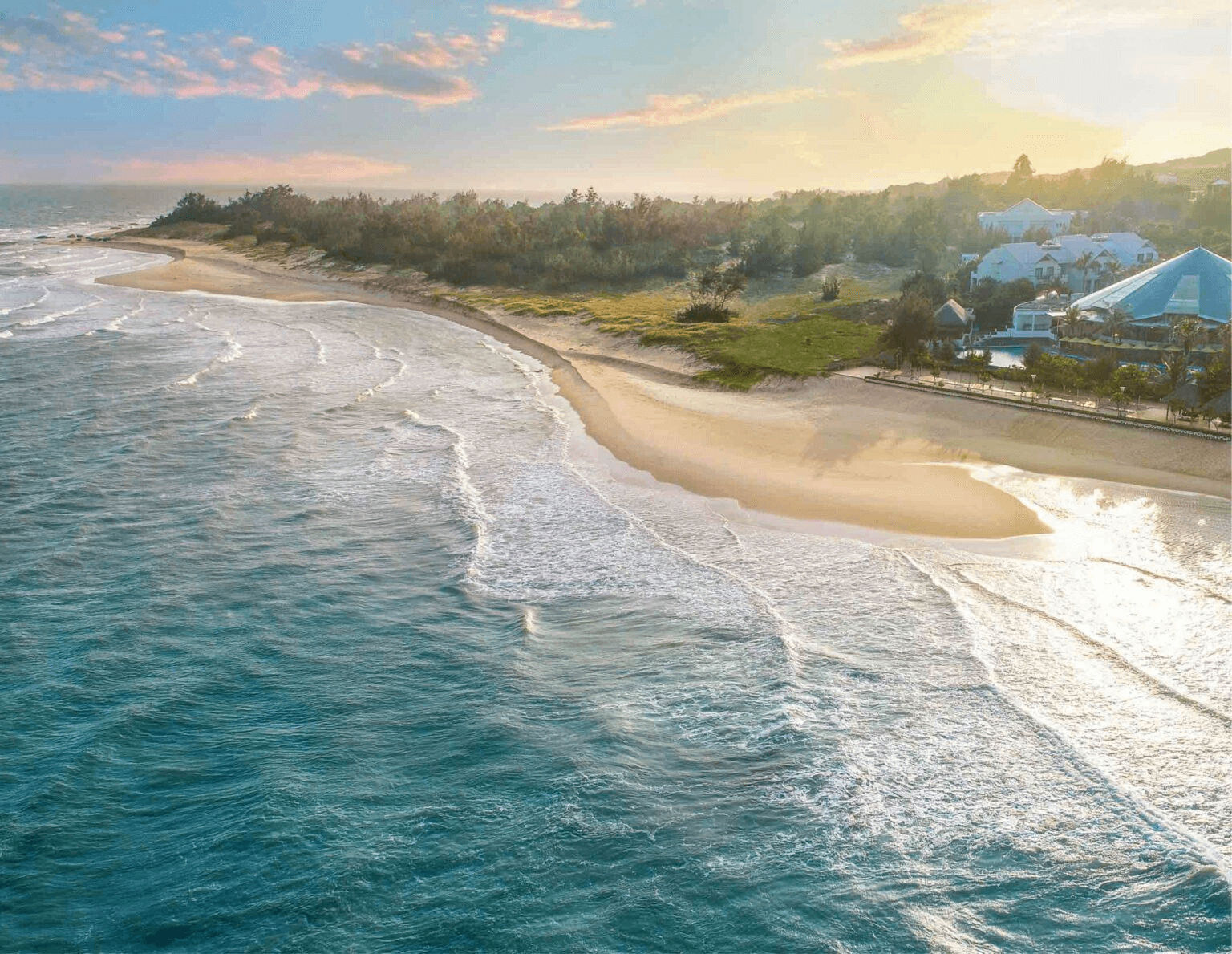 Phú Quốc
Travelers who don't mind taking a short flight (1 hour by air), Phu Quoc Island is a paradise destination in need of visiting. And even though it is necessary to take a flight to arrive on Phu Quoc, the cost of domestic flights in the country is very affordable.
Phu Quoc is a beautiful island with crystal clear waters, incredible sunsets, lush tropical landscapes, perfect sandy beaches and welcoming locals. It is the largest island in Vietnam, the size of Phuket in Thailand. The northern part of the island is relatively unaffected by its status as a UNESCO protected national park, but there are numerous luxury resorts, funky bars and cafes along the southern coastline.
Sao beach (Bãi Sao) is one of the most beautiful tropical sandy beaches in Phu Quoc island. Nestled on the coast of An Thoi town, it is 25 km from the center. With smooth sandy shore and clean and clear sea water, it is one of the most visited beaches.
The beach looks impressive with the unspoiled beauty of gorgeous landscapes. Stretching fine sand over 7 km, Sao Beach, or so-called Bai Sao, is considered owning the cleanest and whitest sand on Phu Quoc island.
How to get to Phu Quoc from HCMC: Take a 1-hour domestic flight to Phu Quoc International Airport (airport code: PQC) and take a taxi to your accommodation.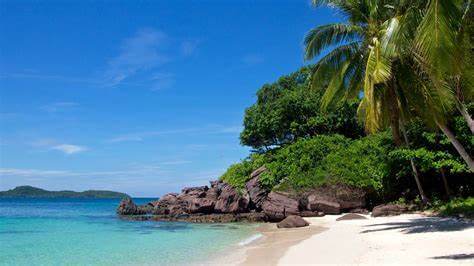 Doi Duong
Doi Duong Beach can be found just outside Phan Thiet, a prominent coastal town about 4 hours away from Ho Chi Minh City by car. The travel time is a little longer, but it's so worth going the distance! This wide sandbar houses plenty of beachfront resorts and hotels, where travellers can relax on sunbeds, enjoy a wide range of water sports or pampering spa sessions during their holiday
There is a large green park, named Doi Duong Park, right next to the beach. Unlike other beaches in Mui Ne, Doi Duong Beach is not a fine white sand beach. The beach area is embraced by a green poplar forest so it's an ideal space for tourists who want to relax in the tranquility of greenery.
Other nearby attractions include Mui Ne's iconic sand dunes which are about a 1 hour's drive, while the Ocean Dunes Golf Club is only a 25 minute walk from the beach.
Distance from Ho Chi Minh: 193km - 4 hours by car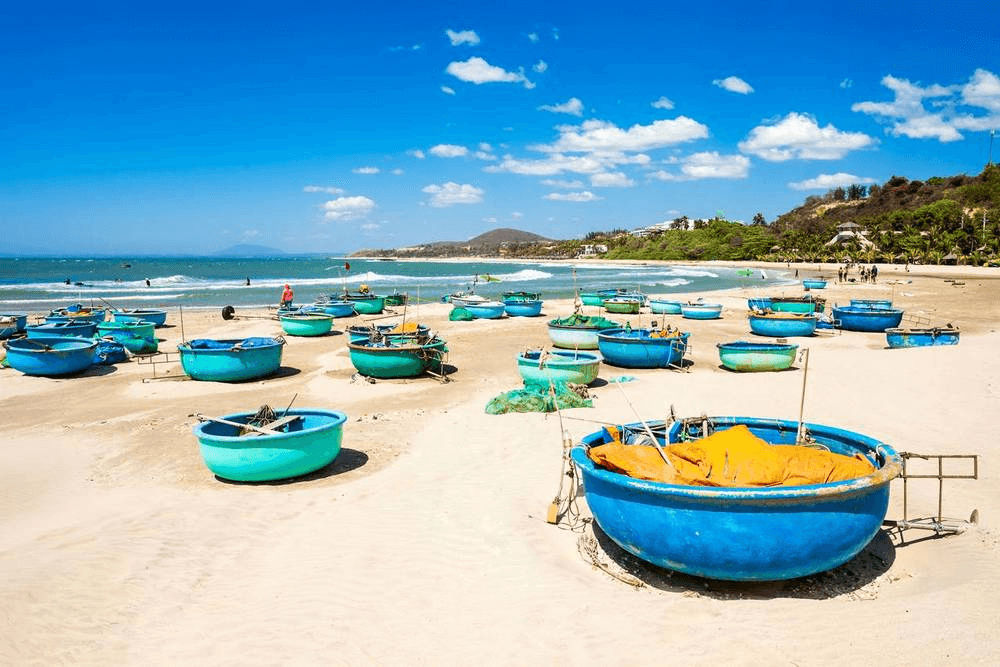 Con Dao Islands
Okay, this one isn't that close in terms of distance, but Con Dao Islands are just incredible. Consisting of 16 uninhabited islets just off the southern coast of Vietnam, each offering expansive beaches shaded with evergreen trees.
Accessible within an hour's flight from Ho Chi Minh City, the main island was once the site of a French-run prison for Vietnamese involved in the independence movement, but today it's a popular spot for snorkeling, swimming, and diving.
The more remote islets are known for hosting turtle breeding sites, so if you're visiting between June and September, you may even get a chance to watch turtles laying their eggs.
Distance from Ho Chi Minh: 1 hour by plane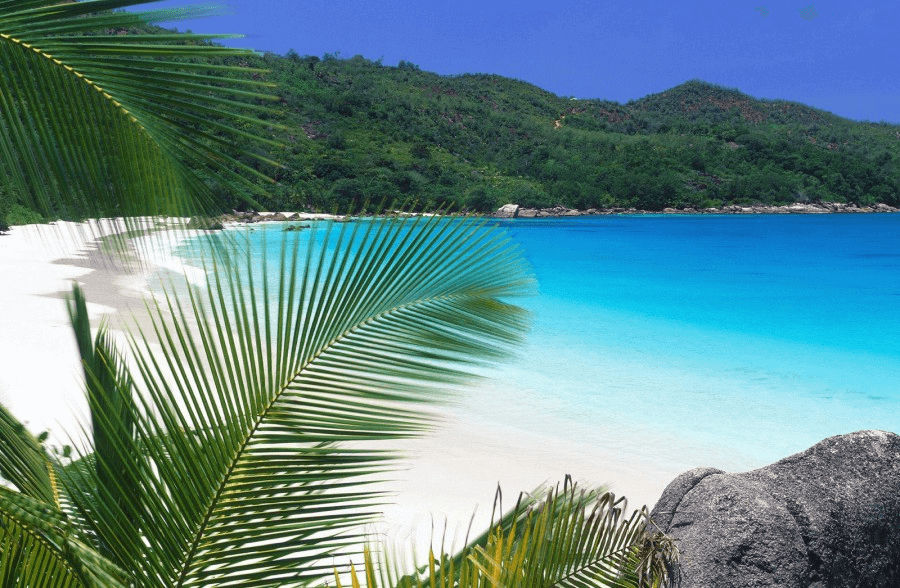 Our Best Selling Tour
All-Inclusive

Ho Chi Minh City Instagram Tour: The Hidden Gems

If you find yourself in Ho Chi Minh City then you must join us on a Ho Chi Minh City Instagram Tour: The Hidden Gems. This popular, all-inclusive Ho Chi Minh City tour takes you to places in Saigon that no other tour does. Your fun and knowledgeable guide will make sure this is an unforgettable day out. Jam-packed with famous landmarks, architecture, and secretly located spots, including the Notre Dame Cathedral, The "Pink" Church, and a Hidden Weapons Bunker, this Ho Chi Minh tour is the perfect way to see the city.
Mui Ne Beach
Mui Ne Beach is a coastal fishing town in the south central Bình Thuan Province of Vietnam. The distance is about 200km from Ho Chi Minh City and it takes 4.5 hours of driving. Mui Ne has beautiful beaches and steady wind conditions that make it a good destination for windsurfing, kitesurfing, sailing and other water sports.
Mui Ne ward has two beaches; Ganh Beach and Suoi Nuoc Beach, both with a number of resorts and a few shops and restaurants. But the most highly developed area is Rang Beach in Ham Tien ward which extends west of Mui Ne.
Mui Ne is also well known for unique white sand dunes, featuring several lakes and even swamps straight in the middle of sandy terrain. It is also the only place in Vietnam with hot air balloon ride service for adventurous tourists.
Distance from Ho Chi Minh: 4,5 hours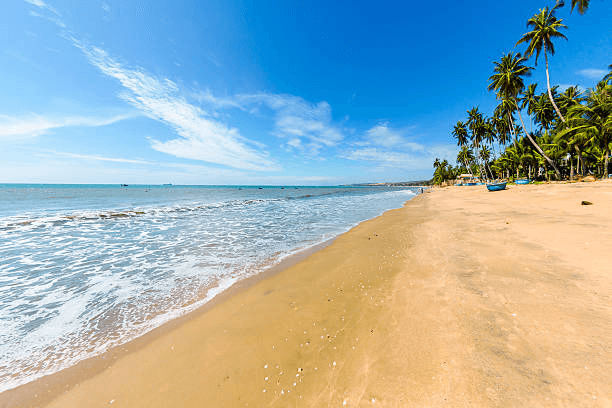 Long Hai Beach
Long Hai beach, located 100 km from Ho Chi Minh city is a very beautiful beach located in Long Hai town. Although it is a quite famous destination , Long Hai beach still retains a wild beauty and incredible peace.
The main appeal of Long Hai is the main sweeping beach. It is backed by a long promenade and also comes with plenty of accommodation options, including cheap beach bungalows and luxury resorts with private sands. This is truly a paradise to relax, swimming, tasting fresh seafood, drinking delicious cocktails on the beach, or diving into cool waters. Besides, the beach is also 15 km away from Vung Tau beach so you can combine both of the 2 beautiful beaches on your trip.
Other attractions in Long Hai include Chua Phap Hoa Pagoda, the tunnels at Dia Dao, and the caves at nearby Minh Dam. Long Hai comes alive during Vietnamese New Year (Tet) festival, with hundreds of fishing boats mooring up.
Distance from Ho Chi Minh: 100 kms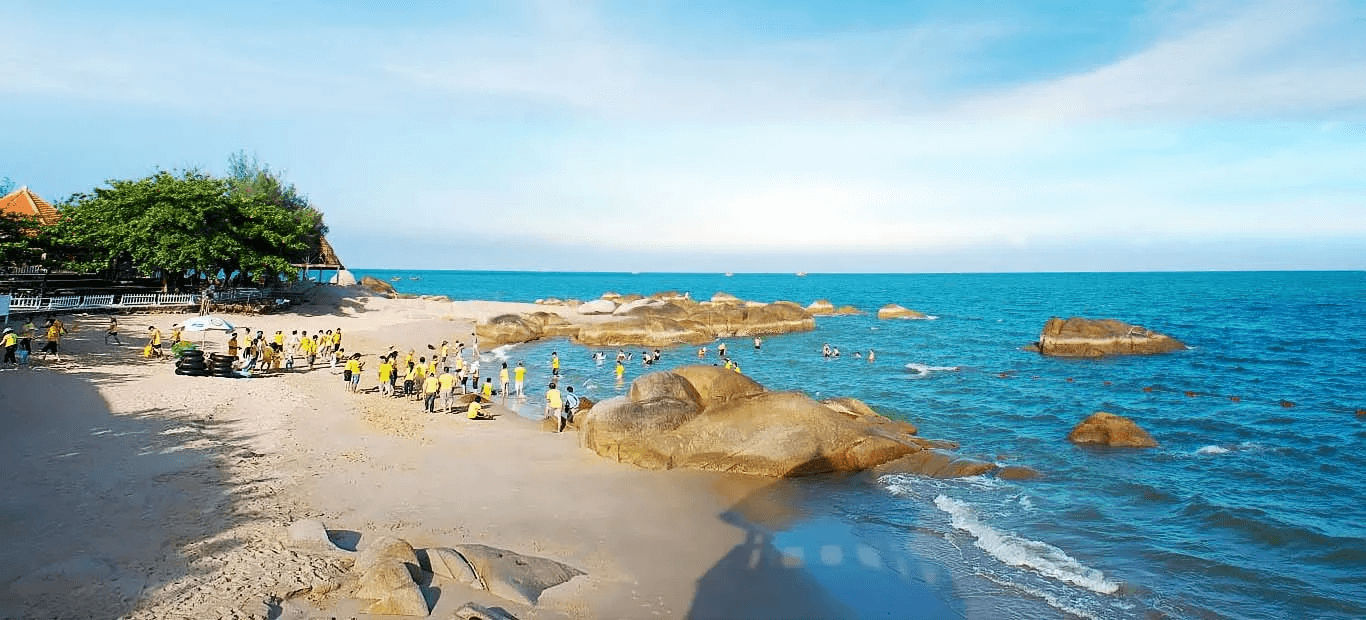 Conclusion:
So if you are looking to escape the city for a day or even a long weekend, you now know what your options are after reading this blogpost! Happy we could help! If you make it back to the city and just thinking about the heavy traffic makes you stressed out again, know that we offer private tours in Ho Chi Minh that include a driver that will happily take you around town!
Our tours are all-inclusive so you don't need to worry about anything!
Have an amazing mini break!
Get your VACATION on!
Expertly curated emails packed full of vacation inspiration, travel tips and more!